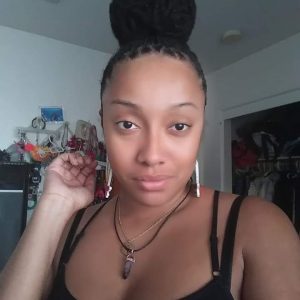 Today we'd like to introduce you to Riyah B.
Riyah, let's start with your story. We'd love to hear how you got started and how the journey has been so far.
I am an Artist, my father discovered my singing talent at three years old I walked in while he was playing the keys he was also a great singer and producer that was actively working on music and becoming successful in it he stated I hummed to the melody he then gave me music to learn to sing from the Jackson 5 (Micheal Jackson) Chaka Khan Teena Marie, etc.
I did school talents and my 3rd/6th grade teacher Dina Ramsey insisted I close by ending the talent show with a song every year I attended Brentwood Elementary in Victorville, CA I started taking my singing more seriously and entered a karaoke competition at 12; my father said I was ready to be introduced to the world now he says to my mother as a child I went by my birth given name Mariyah Burton as a singer. I entered karaoke competition as Riyah at 12 and dropped the rest of my name to have this now as stage name I won but shortly after my father was diagnosed with a brain tumor that left him paralyzed from the waist down as his spine was full of tumors they said he had two months to live he went on to live two and a half years in that time I sang joined a gospel band did countless shows in the la and San Bernardino County area with and without the band I attended High Desert academy in Victorville CA, I got a call to audition on Americas Most talented kids at 15 right before my father died and then I auditioned and passed and made it on show in he died.
After the loss of my father I continued on chasing stardom me and my mother decided to move to Las Vegas to continue my mission as a singer and went on to be on Apollo and then sang national anthem for the Lakers both when I was 16 I did countless showcases and karaoke competitions in Las Vegas I auditioned for cirque so lei in Las Vegas and passed to train for show in Montreal Canada however mother would not let me move forth because I would be leaving country at 17 and would not complete high school I stayed in Las Vegas graduated from high school went to a community college and worked on taking my musical career in my own hands at this point I was 18 about to be 19 I won countless awards for my singing talent and I was ready to be my own Artist I joined a jazz vocal ensemble class in college learned how to scat formed my own band briefly did shows through the black student union college of southern Nevada and my jazz vocal class and entered poetry slams and won 1 or 2 1st 2nd and 3rd place since, jr year in high school I had been writing songs and raps at 16 and at 12 I started writing poetry and kept writing poetry and been recording music now since 12 I was tired of singing only ballads although it is my foundation since I grew up listening to jazz, r&b and soul.
I didn't only listen to those genres my parents would also play other genres like soft rock pop disco and hip hop so I enjoy ALL music just as long as I can feel it, I then wanted to write my own music more and perform it so I started doing more open mics and went to studio layed down original material performed with my band and sometimes with tracks I met this nerd/creative man in college in the midst of all this name Anthony McIver and had my son at 21 we were together for four years we broke up and co-parented when my son was four months old my son we named Mu'Zair which his name is inspired by music zair means king so my son is the music king which I call him my second gift from God my first gift being singing. I went on to continue carrying my career after my mom had to direct her focus more on her own life and booked gigs competed in competitions with her support still I soon made a name for myself in Las Vegas and became not only a singer but an artist I started rapping more writing more and forming my sound I started working more with musicians became a member of musical teams such as the nappy-headed hero's spell buk collectibles/poetix Team Vegas, I was known for my hooks and features I did around the city of Las Vegas as well as my extraordinary stage performances at showcases and open mics where I would sing with substance range Grace spit bars and make it jazzy when I would show my scatting skill I was named Riyah B. By a musical team member in friend Ebonee Epiq Richardson. I later signed to a label called I want in March 2017, I left the label officially according to an invalid agreement in March 2020 due to feeling constricted and being treated wrongly as an artist and individual.
I now have four new singles out on ALL Digital platforms my next one is a remix dropping Sept 18th, 2020 ft. Solace, AiYo, and Veronica Cooper entitled Fake Friends, my second EP entitled Frequencies of Da B is scheduled to drop on ALL Digital platforms Oct 2020 and my 1st album not yet titled will drop April 10th, 2021 which is my father's birthday. I wanted to honor him and release it on his birthday as he and my pain has inspired my journey in music. I will be shooting my first visual since 2015 in September 2020 to one of my singles out on digital platforms. I hope to inspire and continue to inspire ALL through art and music as I am finally finding my sound and appreciate the recent comparisons to Erykah badu, Jill Scott, Lauryn Hill, etc. I am going to keep going till I reach my vision of success.
We're always bombarded by how great it is to pursue your passion, etc – but we've spoken with enough people to know that it's not always easy. Overall, would you say things have been easy for you?
My father dying when I was 15 always been hard for me to come to terms with and I miss him dearly and truly, I watched my mother go through a lot raising me as I wasn't an angel and I also witnessed her always be with a man that didn't ever appreciate and value her she was and is always trying to remain strong she is a warrior and inspires me to keep striving and surviving because no matter the pain I witnessed her go through she remained strong, when I started dating I didn't always make the right choice in partner as I wasn't always treated the best. I believe it was because I didn't always value to myself as to why I was treated poorly and would be so promiscuous at one point in my life. I struggled with finding a true match and feeling the void of my father passing. I would often write about my pain and experiences in my music as I still do to this day. I am now in a relationship with an amazing woman name solace who is a radio personality for her show seeking solace every Friday at 4 p.m. on Hot7025fm.com she has helped me grow as a person, Artist and has helped me recognize my self-value.
Can you give our readers some background on your music?
I'm musically inclined and poetically defined hood and classy in my vibes yet they are one of a kind. I rhyme like your favorite lyricist but sing like your favorite songstress my gifts are God-given and I'm consistent and undeniable, I am continuously ambitious driven and determined, I've remained humble with a heart of gold despite all I have been through. I don't let rejection stop me or hold me, it is my life's mission to inspire and heal people through song and help people love themselves and walk in their truth. I am proud of myself for not ever giving up or allowing anyone to define my destiny for ALL my dreams will become a reality.
What were you like growing up?
I was loud, bubbly, funny, outspoken and outgoing, ambitious, crazy and I use to get picked on a lot. I would be called Mariyah scary and hairy I was told I was annoying cause I sang everything I loved music and always had my headphones in I wrote poetry a lot was an outcast and stayed to myself had lots of associates but only a small selection of friends I had lots of behavioral issues grades were great but stayed in principal/deans office from talking back to someone of authority or defending myself from being picked on I remember in the 7th grade I was in pre-algebra class and my teacher was named Mr. McCarthy he gave us all an equation to solve needless to say algebra was one of my favorite subjects me and an Asian kid named Tuan were the only ones who solved the equation I remember lots of people in class cutting their eyes at me trying to figure out how was I one of the ones to figure it out I was very smart a nerd you would say but trouble always found me because I found myself always trying to defend myself from being an oddball my interests were music and cute boys but those boys didn't ever talk to me because of how peculiar I was.
I found myself becoming a little bit more popular when I got to high school but the haters was always there no matter what though I still continued to bold and beautiful as I always was regardless of what anybody said I was called weirdo then when guys started paying me attention one said I looked like a supermodel from the way I dressed while girls in my grade were Rockin Jordan I was rocking Ralph Lauren and Steve Madden high heel boots I like to be different I didn't like to follow trends whatever I did I strived to stand out even if even if that meant being loud vocally or just in my attire I stayed getting dress code my mom was a bargain shopper she found all the cool clothes and stuff period at thrift stores and Ross and she'd put stuff together because of that I would throw myself together vintagely and people didn't understand that I used to walk around singing for cupcakes and cinnamon rolls and would greet people and say right fist in the air proud black brother black sister I loved rocking my Afro and I would wear my hair straight from time to time but I was most comfortable being authentic Soulful and unique my light often puzzled and offended people this was me growing up but what's crazy is this was me growing up but me still to this day just in a more refined state the difference between me then and now is back then there was times I was still trying to fit in with people that are not even anywhere happy and living in their own truth now I am me unapologetically and I don't water myself down anymore to fit in with who I thought I was supposed to be.
Contact Info:
Website: Riyahb.com
Email: riyahbooking@gmail.com
Instagram: Its_RiyahB
Facebook: Missriyahb
Twitter: ms_hoodncklassy
Image Credit:
Sound The Groove, Riyah B., Veronica Cooper, Solace, Felina Flossy, Khalii Deuce
Suggest a story: VoyageLA is built on recommendations from the community; it's how we uncover hidden gems, so if you or someone you know deserves recognition please let us know here.