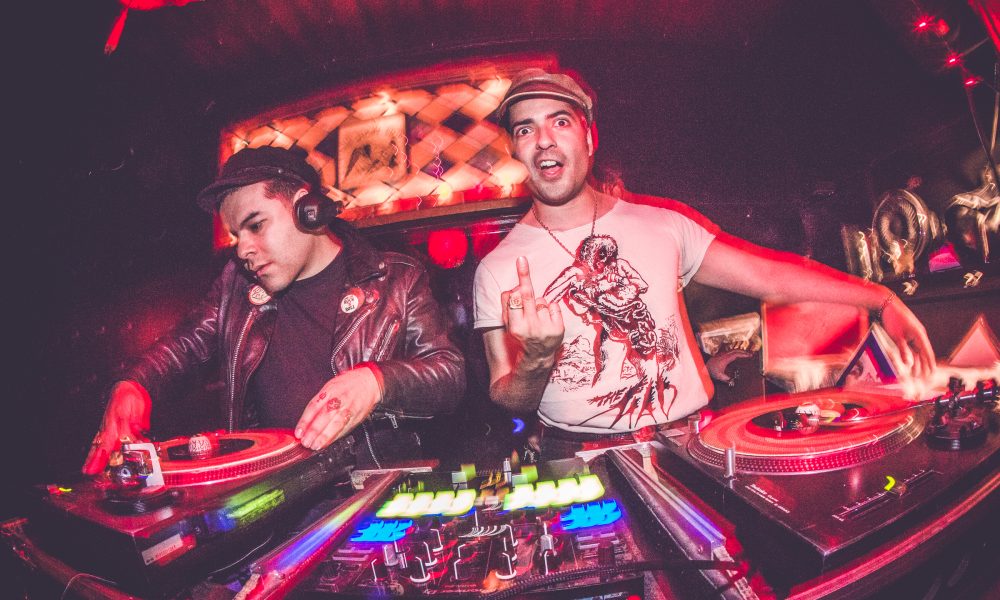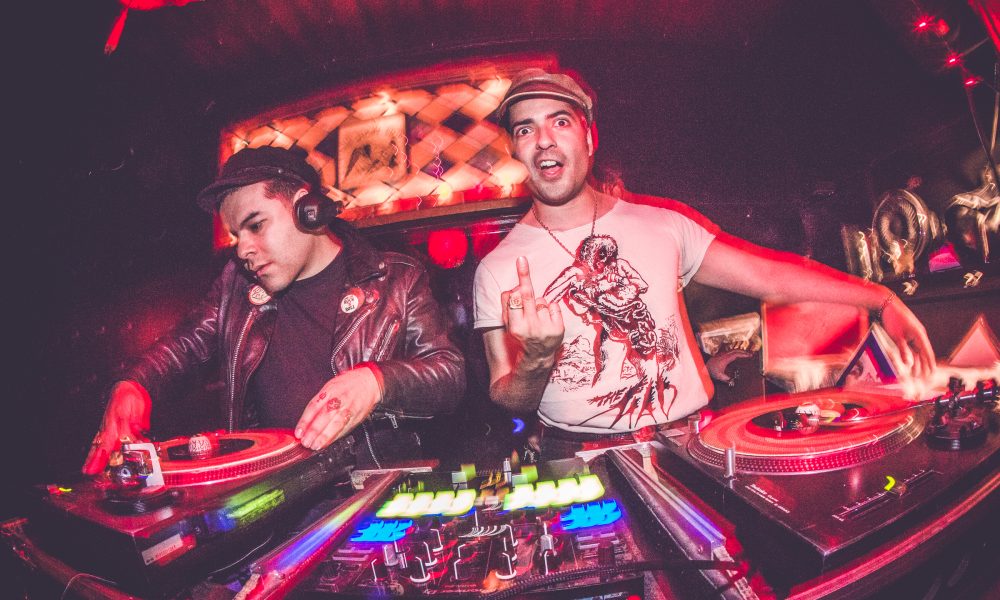 Today we'd like to introduce you to Rick Barzell.
Rick, please share your story with us. How did you get to where you are today?
Rick:
We both didn't really know each other back when we grew up in the LA punk scene and began going to shows at an early age, but our stories are pretty much similar. When we were finally old enough, or in my case, finally got a hold of someone's old ID that said I was, we went to dance parties at various bars and venues that catered to more rock n' roll and indie music. We got into 60's music and pretty much got into collecting vinyl 45's and started DJing at friends' events.
Roger and I met back at those 60's parties and became friends. This must have been around 2005 or so. Some years later, we started our own small event in Downtown LA back when there literally was nothing happening over there. That was short-lived, and he went on to start the Cretin Hop rock n' roll dance party in 2012 while I was off spinning records at various events. We then had an idea to start up another 60's-oriented dance night in 2014 called Green Slime which became successful. With that night we had the option to have a band perform every month as part of the monthly event, which pretty much got us into doing more booking and promoting of concerts.
We're now constantly booking events under the Cretin Hop and Green Slime names, and both are going strong.
Roger:
It was started from going out to 60's Soul & Garage nights. Inspired by our amazing DJ friends Tony The Tyger (Satisfaction), Jackie Hoodoo (Black Eyed Soul Club) and Sparky (The Bullet). These great gents put on some of the best 60's club Los Angeles had to offer. This is where Rick Barzell and I met. Rock N Roll outings. I was so heavily influenced by it and eventually, it sparked me to start something of my own but also very different from what they were doing.
Cretin Hop started in 2010. It took a hiatus and was brought back in 2012 and has been going ever since. It started as a simple idea to provide a home/environment for rock n rollers. A place to hear the sounds of the 50's-70's rock n roll. It sprouted in the midst of the edm nightlife and was to provide an alternative of that culture. My favorite nights that I would attend unfortunately came to an end and there weren't many options for the music I came to love. Cretin Hop blew up through the selection of records that are played and limited edition giveaways that were done to make attendees feel apart of the night. It's been a lot of hard work, time and love spent on growing the brand that is fueled by the love of music. It has now grown to be much bigger than I ever anticipated and its focus is not only on DJing but also bringing live music from bands that represent the culture and music we love. We've had the great opportunity of booking/working with some of heroes and favorite acts, such as; Slaughter and The Dogs, The Dickies, Derv Gordon of The Equals, Giuda, Wayne Kramers MC50, Jerry Lee Lewis, Mark Sultan, The Sonics, The Exploding Hearts and many more.
Rick and I eventually decided to start Green Slime. Which was birthed in 2014 and is a night dedicated to 60's Rock N Roll and have built that also to be a successful night. Recently selling out Zebulon for our five year anniversary this past August.
We're always bombarded by how great it is to pursue your passion, etc – but we've spoken with enough people to know that it's not always easy. Overall, would you say things have been easy for you?
Rick:
It's somewhat been a smooth road for the most part, and I feel that the only struggles we had were with the Green Slime 60's events. There's only so many bands to book under that umbrella, and we've booked most of the 60's style garage rock and psychedelic bands that we could find. Both Cretin Hop and Green Slime are mostly catered to a niche rock n' roll crowd, but I feel that Green Slime was even more niche in that it's all 60's music. Having Green Slime events more sporadically as opposed to monthly has made it more enjoyable however, and has made it much more of a special event to attend for people that are fans of it.
Roger:
It has not been a smooth road. Haha. It's been a lot of blood, sweat and tears. Passion for the love of rock n roll and goal to provide a home/outlet for like-minded people to have a place to BE. There were times in the beginning when it was brought back in 2012 that it was literally only five people in the bar. It has taken a lot to build the Cretin Hop brand. By the time we decided to sprout Green Slime it was a no brainer as Cretin Hop by then was a successful night and was more of a smoother night to build. As opposed to kicking it up from scratch as Cretin Hop started. We've been grateful and fortunate for the support of both nights and the fans of rock n roll nights like ours that keep attending and seeking out the rare records we play.
We'd love to hear more about your work and what you are currently focused on. What else should we know?
Rick:
We're a rock n' roll concert booking/promoting/production company that completely curates 1 of a kind events in the L.A. area. We specialize in bringing international rock n' roll bands in the world of punk, garage, R&B, and soul to the people of Los Angeles.
What I'm most proud of with this company is that we're booking and promoting events that we love, and sharing that with people that enjoy it.
Not many people are doing what we're doing in LA, and what sets us apart is that we live and breathe rock n' roll on a daily basis. Bands want to book with us because we identify with them. We're not clueless bookers and promoters just looking to book at any given venue, or just book a hot new act because it's what's "trending". We're creating events where everyone involved (bands, DJ's, venues, visual artists) is going to be proud of it.
Roger:
Cretin Hop and Green Slime are rock n roll brands that specialize in DJing rock n roll music, merchandising, booking and promoting. We are known for our fun events that feature live bands and wild dance parties in Los Angeles, I'm proud to have built these brands and provide a home and memories for people that share the same love.
What sets us apart from the others is our dedication to be different. We have our own take on everything we do. From giveaways like Glow In The Dark buttons and enamels to specially designed tote bags and shirts. We also share the same mentality with our promo work and doing specially animated graphics to stand apart from what currently exists out there. We carefully design our brand and market ourselves to be different and represent our culture.
What were you like growing up?
Rick:
I grew up as a quiet kid who happened to be rebellious by nature. It started with skateboarding and progressed into musical taste. As I got older, I got more and more into music which turned into attending punk shows on a weekly basis. Being surrounded with the same types of people with interests is what got me out of my quiet insecure bubble and taught me plenty of valuable life lessons.
Roger:
Personality-wise, I suppose a bit shy and quiet. I guess I can still be that way at times. I'm sure my closest friends would roll their eyes at that. Haha. As a teen, I developed a desire to collect records and seek out music that isn't normally heard. Back in the day it was bands like The Stooges, New York Dolls, Johnny Thunders & The Heatbreakers. I recently was at Jone's bar on Santa Monica Blvd. Cool spot. I walked in and they were playing Thunders and remembered being a teen and being made fun of for listen to that kind of music. Strange to hear it at a bar on the west side aka NormieLand.
Contact Info:
Website: www.cretinhop.net, www.greenslimela.com
Email: cretinhopla@gmail.com, greenslimela@gmail.com
Instagram: @cretinhopla, @greenslimela
Other: Personal DJ and promoting instagram page: @rbarzell66

Image Credit:
Photo by Michael Haight
Suggest a story: VoyageLA is built on recommendations from the community; it's how we uncover hidden gems, so if you or someone you know deserves recognition please let us know here.