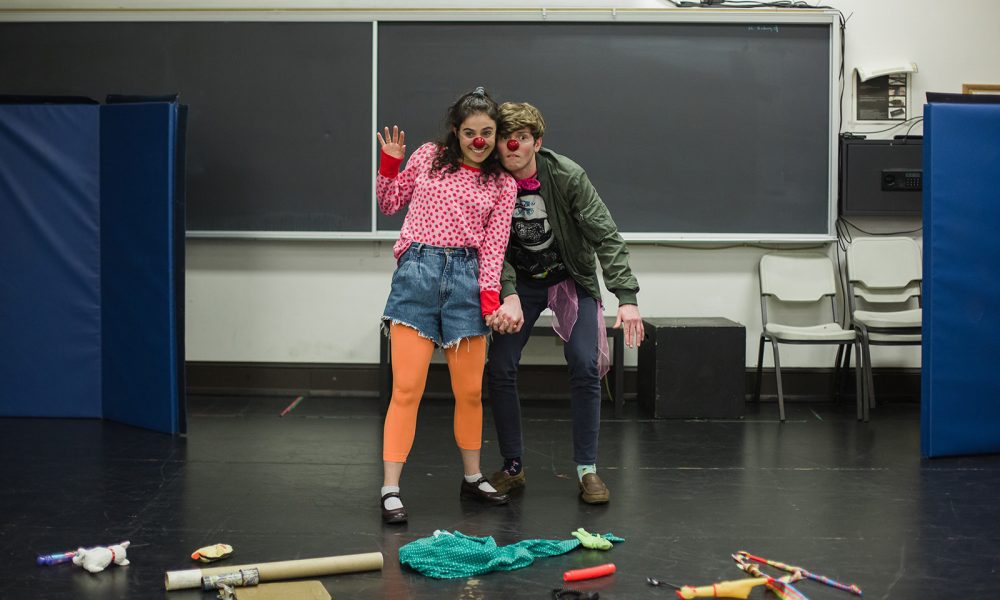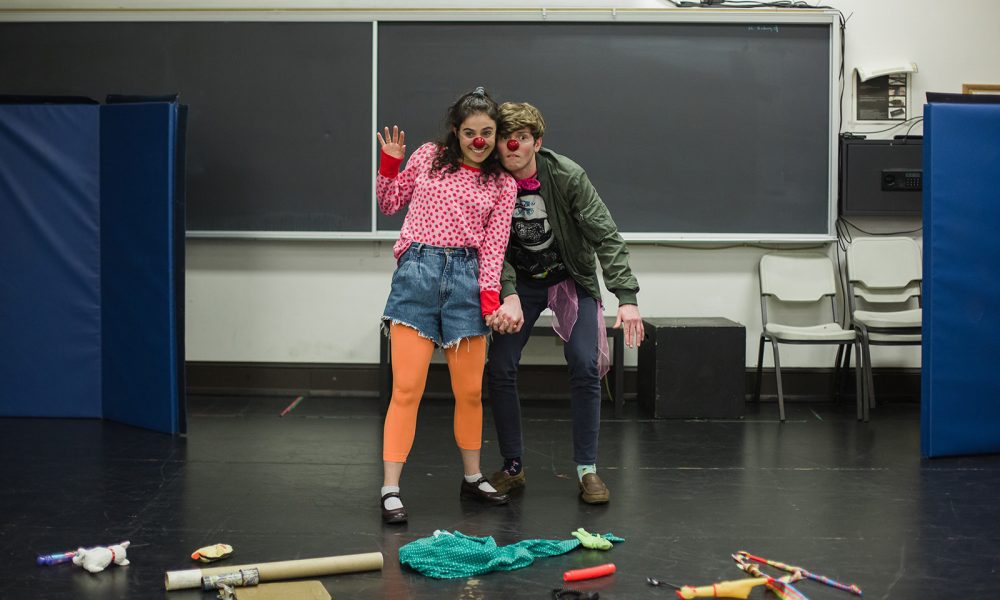 Today we'd like to introduce you to Rebecca Mellinger.
So, before we jump into specific questions, why don't you give us some details about you and your story.
I grew up in New Canaan, CT and have been pursuing acting since I was little in the New York area. In 2017, I graduated from the University of Southern California with a Bachelor of Arts from the School of Dramatic Arts as well as a minor in Culture, Media, and Entertainment from the Annenberg School for Communication and Journalism.
During my study abroad experience at the Royal Academy of Dramatic Arts in London, I was introduced to the art of clowning to support our physical comedy development. I was hooked. I found that clowning expanded my imagination, encouraged me to be the silliest version of myself in front of audiences, and gave me the freedom and space to explore myself and my emotions. I credit clowning, the art of simply being and solely taking our cues from audiences, as the course that really prepared me to act on the stage and in front of a camera.
When I got back to campus for my senior year, the School of Dramatic Arts happened to offer its first Medical Clowning course. The School's Medical Clowning Program is the first University training program of its kind in the United States. I trained as a professional medical clown under USC Medical Clowning Program Director, Zachary Steel, for the year. As a performer, my through-line has always been to create and utilize theatre as a means of promoting social change by inspiring the audience to explore, analyze, and be active participants in what they were viewing. Medical clowning gave me the opportunity to actively utilize my passions to support various communities which, in a way I had never dreamed of, enabled me to work in the social change sphere. When I graduated, the School of Dramatic Arts offered me the opportunity to help build its new Medical Clowning Program while pursuing acting full time. I feel extremely lucky to have had the opportunity to work as an actor in Los Angeles and symbiotically grow this program over the past three years. In leading the program's fundraising and development efforts, two current clinical trials, and community expansion, I have actively witnessed and participated in supporting vulnerable communities through art and entertainment. The effects of medical clowning on hospitalized patients, adults in long-term care facilities, foster youth, young adults with development disabilities, and more are undeniable, and I will forever be an advocate for art-based activities in healing and education settings. Thus, as I continue to expand my knowledge of and work alongside community and issue-based organizations in Los Angeles, I have had the opportunity to continually solidify the types of art projects and organizations I am most passionate about supporting and uplifting.
Overall, has it been relatively smooth? If not, what were some of the struggles along the way?
In terms of my personal development, I never imaged I would graduate with an acting degree and immediately start working in the development, research, and nonprofit sectors. My job combines various industries that otherwise, I would never have had the opportunity to jump into and learn about. This experience continues to aid me as I work for the Medical Clowning Program and begin exploring the documentary field as an Impact Producer. Ultimately, I do feel that it has been a relatively smooth road – an acting career always has many bumps along the way, but I feel very fortunate that is has been well balanced with the medical clowning program which has given me a strong foundation and a greater purpose.
In regard to the Medical Clowning Program, we definitely have had some bumps along the way! As this is a newer intervention used in the United States and the stereotype of scary clowns due to the entertainment industry's portrayal in horror films is prevalent, we feel it is extremely important to conduct clinical research on the practice to offer its data and our analysis to future partners as evidence of the practice's efficacy. While there have been impactful research studies published abroad, we feel it is imperative to analyze our own practice and believe it will support us in growing our program (although this quest takes years to complete). Due to COVID-19, our two current clinical trials are on pause and we are unable to employ our clowns weekly in hospitals and community centers in Los Angeles. We have had to adapt our practice over the past few months to ensure we can honor our mission during a time of great need. We are now offering free virtual medical clowning sessions to hospitalized patients, those in care facilities, as well as those isolated at home.
Luckily, being in a fully virtual world, did not prevent our clowns from alleviating pain and anxiety, building community, empowering participants through play-based exercises, and greatly improving the hospital or stay-at-home experience for those who might be isolated and in need of laughter at this time. We plan to continue this program even when social distancing measures are lifted as we can now reach more communities and more patients than ever before. Yet, as clowning is such an individualized intervention, we are really looking forward to continuing our medical clowning courses, our research studies, and supporting communities in person.
USC School of Dramatic Arts Medical Clowning Program – what should we know? What do you do best? What sets you apart from the competition?
Utilizing classic clowning methodologies such as humor, imagination, and play, medical clowning interventions help improve health outcomes for populations suffering from various illnesses and diseases, as well as help improve patients' experience of what ails them – physically, psychologically, and behaviorally. Physically, the interventions have contributed to decreases in high blood pressure, boosts in immune system responses that produce increased levels of infection fighting antibodies, enhanced respiration, and reduced muscle tension. Psychologically, medical clowns have helped increase patients' endorphin levels and significantly decrease anxiety. Behaviorally, medical clowning has had positive effects on patients' self-esteem and self-control and has enhanced patient-to-provider and patient-to-caregiver interactions and communication.
The USC School of Dramatic Arts Medical Clowning Program blends the art of performance with the sciences of medicine and psychology to improve the physical and mental well-being of hospitalized patients as well as communities in need. As the first training and research program of its kind in the United States, its mission is to teach the joyful art of medical clowning to undergraduate students and LA-based professional performers, integrate the practice into healthcare and community settings, and through clinical research trials, validate a modality that can be utilized to improve the patient experience and bring laughter and playfulness to the healing process.
The programs established partner hospitals include the LAC+USC Medical Center (LAC+USC), the county's largest provider of healthcare, the Children's Hospital of Los Angeles (CHLA), and the Norris Comprehensive Cancer Center (NCCC). The program has certified 25 undergraduate medical clowns and ten professional adult performers who clown regularly at the program's partner hospitals, serving over 3,000 patients annually. Additionally, The Medical Clowning Program has further partnered with LAC+USC and the USC Norris Comprehensive Cancer Center (NCCC) to provide education and training at LAC+USC and NCCC to hospital staff and future doctors on the benefits of medical clowning and how to incorporate its techniques into their daily medical practice.
In addition to providing services to hospitalized patients, the Medical Clowning Program has expanded its services to The Children's Bureau for youth who have experienced child abuse and trauma and for legal guardians who seek creative strategies for connection and engagement, to Golden Heart Ranch for youth struggling with developmental disabilities, to dialysis patients at The Painted Turtle, a camp for children suffering from severe medical conditions, and more.
Through training, on-site professional work, and diligent research, the program is advancing the field by employing passionate community-based artists to radically transform the wellness of all those in need. We are extremely proud everyday to employ our diverse and talented group of medical clowns. As we believe that medical clowning plays a transformative role in improving the patient experience, I feel extremely fortunate to be working for a program that is the first of its kind in the United States that has such a pure mission of shaping a healthier humanity through art.
What is "success" or "successful" for you?
I definite success very differently in all the careers I currently juggle which include acting, the medical clowning program, and impact producing for documentaries.
In terms of acting, I prioritize working on projects that have an underlying social message and employ diverse talent both in front of and behind the camera. With this career, one that is non-linear and extremely difficult to "succeed" in, I constantly check-in with myself and ask, "Does this still make you happy?" As long as I am collaborating with other passionate creatives on projects that fuel me, I will feel successful in my acting pursuit.
In terms of the medical clowning program, success can be defined by simply seeing the children and families we interact with smile and laugh together. Building community, supporting the healing process in hospital and community environments, and getting feedback on our practices long term impact from the participants is our most important criteria. Additionally, I am eagerly awaiting the evidence of our research studies which include quantitative and qualitative measurements. Success will be defined by these studies as we will be able to better analyze our training and our practice from the data gathered.
For the documentary world, I am still figuring out what success looks like to me! I am extremely proud to be supporting feature-length documentary Duty Free's impact campaign that addresses economic insecurity, age invisibility, and care for elders in the United States. For this specific film, how many people have intergenerational discussions around the film's themes and how many partner organizations work with us to achieve our impact goals will be markers of success. Learn more about the film here: https://www.dutyfreefilm.com/.
Contact Info:
Website: https://itsc.usc.edu/
Phone: 2035367286
Email: rebeccapmellinger@gmail.com
Instagram: Rebecca's: @rebecca_mellinger // Medical Clowning Program: @losangelesmedicalclowns
Image Credit:
Gina Clyde, Brian Sacca
Suggest a story: VoyageLA is built on recommendations from the community; it's how we uncover hidden gems, so if you or someone you know deserves recognition please let us know here.