Today we'd like to introduce you to Randall Araujo.
Hi Randall, please kick things off for us with an introduction to yourself and your story.
Well, it's a long one. My husband David and I love the Lord with all our hearts. Jesus is our passion in life! So, we have worked in the church for a long time. A few years ago, we felt like God asked us to start a brand new church. But we weren't sure where to go. At the time, we were living in Modesto, California. If you've never been there, Modesto is known for growing almonds. Not to mention, we lived by a farm so the constant smell of manure was always lurking nearby.
I literally asked google, what cities in America need Jesus most? Los Angeles was one of the top ten. After visiting other cities like Las Vegas and San Francisco, when we drove through Los Angeles, we felt the peace of God and knew this was our spot.
So. in August of 2020, right in the middle of a global pandemic, we moved our family of five to the big city! We have three kids: Ryan (8), Rose (6), and Raegan (3). They absolutely love Los Angeles. From the moment we moved here, we fell in love with the city's beauty, the history, but most of all…the people.
For 12 months, we prayed over this amazing city. We would walk huge circles around the Mid-Wilshire neighborhood asking God where we should have church. We also tried to make many relationships. A church is not a building, but made of the people inside…so we needed to meet people. When we moved here, we knew no one. So we had a lot of work to do! And slowly people started joining the "Launch Team."
Through MANY closed doors, we connected with a new friend, Jorge from Awesome Coffee. He let us host some 'Start Up Parties' at his amazing coffee shop. We were able to connect with some really cool people through those events who were searching for a faith community.
After securing a location (which was a miracle story), we hosted our first live service on September 12, 2021! We've had Sunday gatherings ever since then and building an amazing family where people can come learn more about God, worship him, and make friends! Since then, many people have given their hearts to Jesus and we've even water baptized three people!
Our desire has always been to show people the Father's Heart in order to transform the city of LA with God's love. So that is what we're doing. Showing people God's love one person at a time. In short, heal hearts and transform the city.
Along the way, we have seen God show up in indescribable ways. I know not everyone believes that God is real and that's ok. When I look at my life, I can't deny the very existence of who he is and all that he is done. I would not be here today if it weren't for the Lord and his love for me. If I can share that with one person here in LA and inspire them to live for Jesus, my job is done.
That is our story.
Can you talk to us a bit about the challenges and lessons you've learned along the way. Looking back would you say it's been easy or smooth in retrospect?
Has it been a smooth road? Absolutely not?!
Sometimes when I share the story of our 'starting a new church in LA' in sounds very exciting…and don't get me wrong, it was exciting!. But many times when you watch a pastor give a sermon or check out a church online, it seems really glamorous, but let me tell you….there was nothing shiny about planting a church. In fact, many times, it felt lonely.
When we moved we came from a very strong church community and we had many loving friends. Upon arrival, much of that was stripped bare and we had to start from scratch.
I am thankful for the many MANY churches who partnered with us along the way. We could not have done this alone. We have over fifty churches offer support whether through prayer or finances or sending people remodel our building. I am forever grateful to them and our fellowship.
But man, this has been hard! Let me share a few struggles.
When we first moved to LA, we had a mix up with our apartment. (Yes, we moved from a 4-bedroom home to a 2-bedroom apartment with three kids!) We thought there would be a fridge and there was none. We thought we would be able to get our belongings out of storage, but they were not available for 2 days. So our first 48 hours in LA consisted of no fridge and sleeping on the floor. Tough start.
In the first couple of months, our 2-year-old daughter at the time fell off a bunk bed. In the middle of the height of COVID-19, we had to take her to the Emergency room where she received 11 deep stitched in her eyebrow! Praise God she didn't lose an eye!
Some other struggles consisted of the crazy expensive cost of living in LA! I read a study recently that said Los Angeles is the 7th most expensive city to live in the world! So securing a building for our weekly services was extremely difficult! Prices were way over our budget!
But here's the thing. There's a verse in the Bible, which we believe is God's letter to us. It says this, 'And my God will meet all your needs according to the riches of his glory in Christ Jesus.' So even though times are tough…they still are many times! I know I can trust God. He always provides. It never seems to be in the way I expect or hope, but he always provides!
As you know, we're big fans of you and your work. For our readers who might not be as familiar what can you tell them about what you do?
We started a church in the Mid-Wilshire neighborhood called The Heart LA! (check us out on all the social things!)
Our desire is to heal hearts and transform the city! We have weekly gatherings on Sunday morning at 10 am. We'd love to meet you!!!
We meet in the old Busby's on Wilshire and Detroit. We like to say we're a bar turned church!
ddress: 5364 Wilshire Blvd, Los Angeles, CA 90036
I am most proud of the amazing team we have! We have a group of people who serve the Lord and this community on a regular basis. They are so caring and loving. I have had people tell me, 'When I came to this church, people weren't just nice. It seemed like they really wanted to connect with me.' That makes my heart smile! We have people who really care. When people really care, change happens.
What were you like growing up?
Well, I'm speaking for me and my husband David because we have launched this church together.
I grew up in a Christian home in Las Vegas, but it wasn't until I went to college to play basketball and failed miserably that I turned to the Lord. There I found Jesus and my true identity. It wasn't in what I did, but who God says I am. This was so freeing for me! I never wanted to be a pastor. In fact, since my parents and grandparents were all ministers, I was trying to get away from all that. But my heart began to change when I realized the WHY behind it all. Once I experienced a true relationships with Jesus….not a fake show up to church on Sunday kind of relationship, not a check the box kind of relationship…but a true relationship where even in the mess of my life God still chose me, I couldn't see myself doing anything else but to share the life-altering news of Jesus. I will be forever grateful for my parents and grandparents. Thank God they didn't give up on me.
David was born in Hawaii where he was raised by his mother. His mom was from Vietnam but passed very early in his life after they moved to Las Vegas with his siblings. On his own, David raised his younger sister, Denise. After college, David was a graphic designer and then became a teacher. David accepted the Lord later in his life and gave up his design career while on a mission trip to South Africa! After we got married, David joined me in full-time ministry! (I could write a novel on all these stories, but you see the picture!)
What a journey it has been!
Now, in Los Angeles, David is a graphic designer again to pay for the passion of planting a church! He loves to help people and see beautiful things created out of nothing!
Contact Info: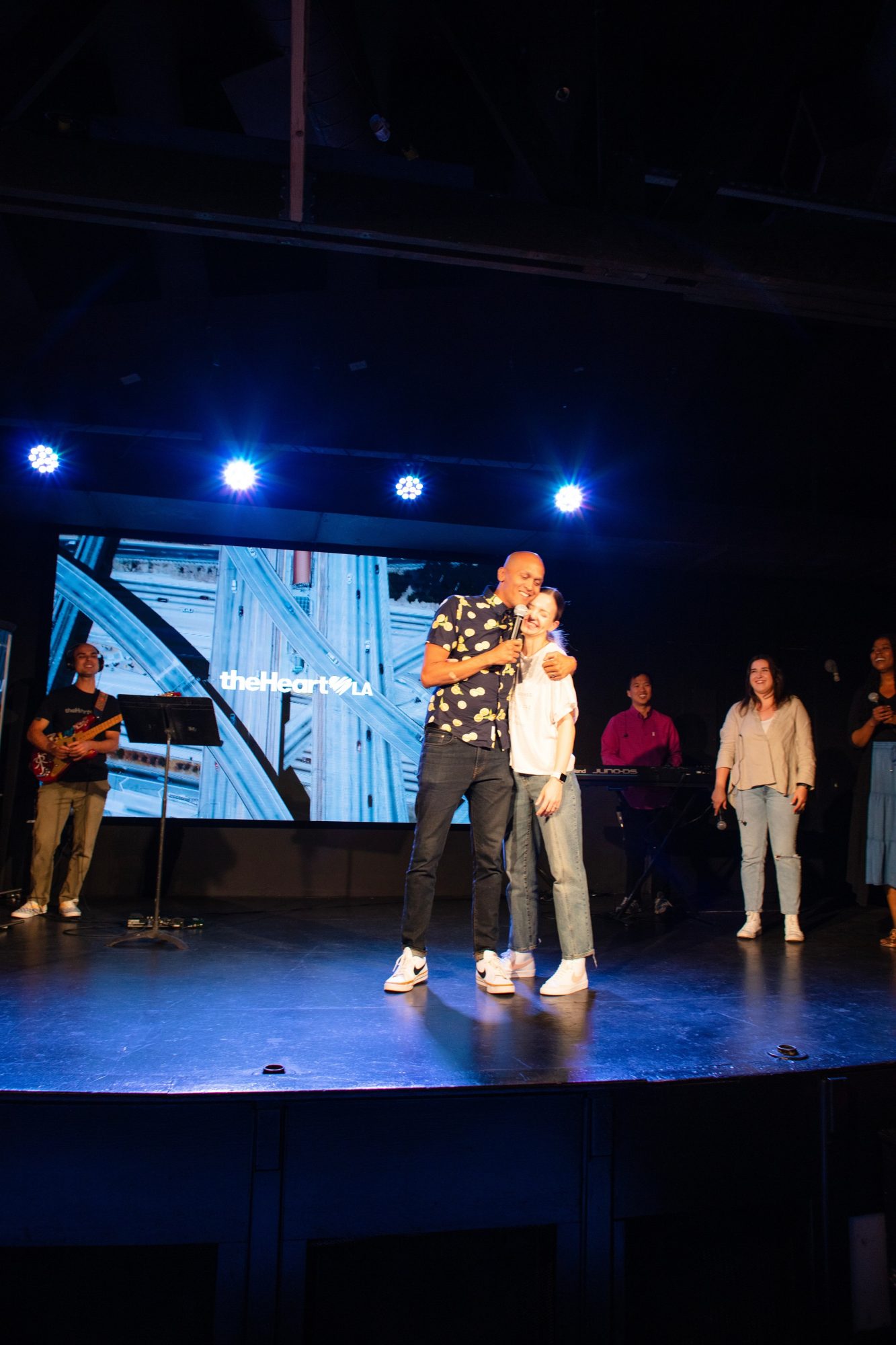 Image Credits:
Pictures by David Araujo and Daniel Lee.
Suggest a Story:
 VoyageLA is built on recommendations from the community; it's how we uncover hidden gems, so if you or someone you know deserves recognition please let us know 
here.