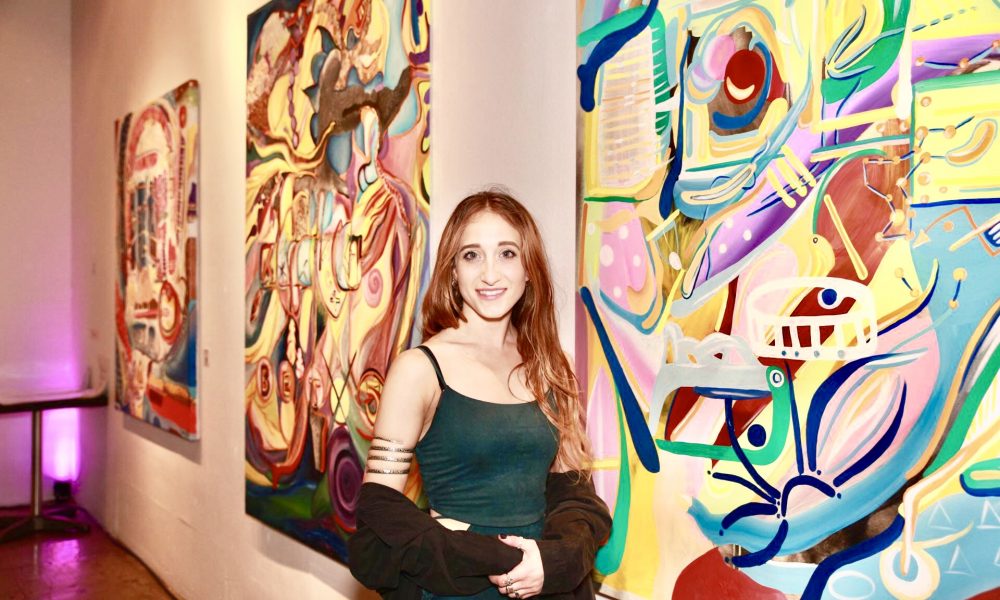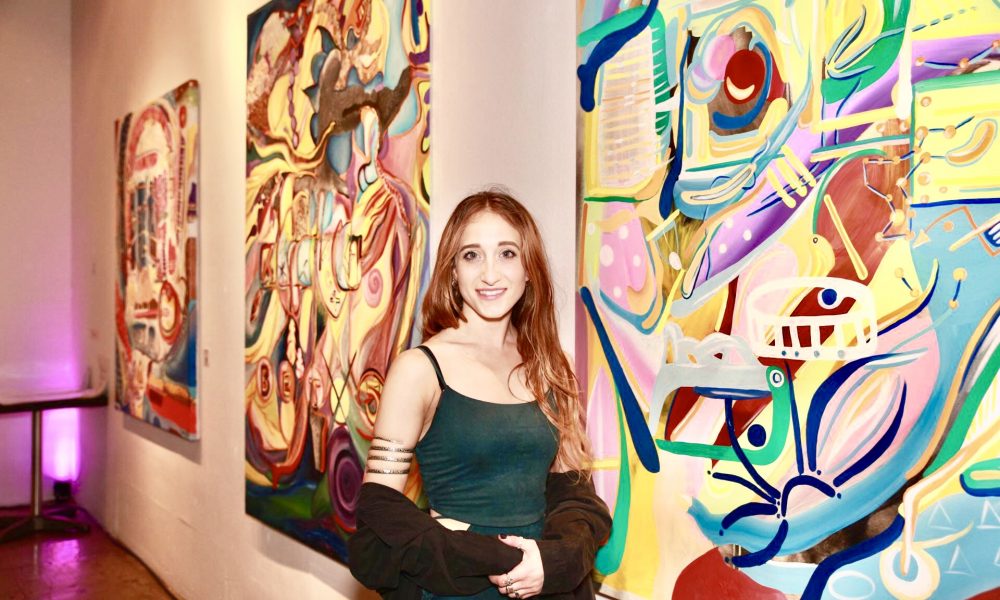 Today we'd like to introduce you to Rachel Berkowitz.
Every artist has a unique story. Can you briefly walk us through yours?
As cheesy as this may sound, creating art truly is my vocation. I was an imaginative child, always sketching the people and places around me, creating new forms, and dreaming up new worlds. Over time, as my skills, as an artist improved, I realized that I was able to express myself best through art. I pursued a BA in Fine Art at UCLA, and the rigor of art school taught me to enjoy the process of discovery, the experimentation, and the construction of creative work. Right now, my artistic practice is exploring the concepts of luck and fate, chance and choice. I am interested in how people seek to shape their destiny in the face of uncertainty through objects, symbols, and especially social interactions.
I was fortunate to grow up in London, a great city for the arts. Visiting museums with my family or on school trips was a regular thing to do, and I was never without my sketchbook and pencils. This exposure to historic and contemporary art gave me a good grounding in art history. London attracts people from all over the world, and its diverse mix of cultures inspired my own art.
Moving from London to Los Angeles has meant adapting to new surroundings. The new imagery and ways of being have made their way into my painting and photography. Although I still draw inspiration from Europe, this city has challenged me to experiment more and create my own visual history.
Please tell us about your art.
My most recent artwork has been through the mediums of photography, printmaking, and painting. While living in Los Angeles, I have felt compelled to make artwork from direct experience, thus visually representing social interactions within different spaces. The creative process starts by immersing myself in different social situations.
In my street photography, I allow my subjects to become aware of the lens, but I aim to capture moments of vulnerability and perfect spontaneity. A recent example was a documentary project of my grandmother ("Gloria") in her house a few months before she died.
In my fine art photography, I construct the scene along with my subject, and the forms, lighting, and colors are carefully controlled but indicative of our social interaction. I applied this process to my "Fairfax Royalty" series, which was shot in and around the streets and alleyways of Fairfax Avenue. Working with my subjects, and informed by Renaissance portraiture, the images capture the Kings and Queens of a neighborhood in transition.
Within my paintings, I choose to work abstractly, expressing concepts that are more personal and evocative of situations, rather than displaying a particular moment or experience. There is absolutely nothing more satisfying to me than applying paint to the canvas, physically creating forms with brush strokes. I was also classically trained as a musician, and I find that producing paintings is like composing a piece of music. The boldness and certainty required to create large-scale paintings is what I love to practice most.
At the moment, my artwork references life choices, decision-making, and temptation. Through intensive color choices, shapes and forms, I try to construct paintings that are abstract but accessible. What is most important to me is that my audience is able to interact with the visual content. I want the meaning of the art to be grasped from the work itself. The project "Gamble" is a trio of abstract paintings inspired by the risk-taking behaviors of gamblers in Las Vegas. The paintings use surrealistic imagery from slot machines, religious symbols, and ancient texts, touching on themes of temptation, superstition, fortune, and faith. The colors and composition mimic the state of mind of the slots players, commonly known as "Machine Zone".
As well as painting, I have been experimenting a lot with digital drawings. I designed artwork for fashion brands, virtual and augmented reality projects, and even created my own visuals for gaming. Currently, I teach art to kids both privately and publicly in after-school programs and part-time. Inspiring the younger community is so important when finances for art education in public schools are at a dire low. Additionally, I had some of my artwork on view for six months in a charming storefront in Larchmont called "House of G&C" (House of Gratia and Caritas, Latin for "grace and charity"). The business owner, Melissa Wong, carefully curates a selection of home-goods to fashion products, all sustainably made, where a part of all profits goes towards a social cause or charity. Giving back creatively is a huge part of being a successful artist, and I am so thankful to be able to give back and inspire others through my own artistry.
What do you think about conditions for artists today? Has life become easier or harder for artists in recent years? What can cities like ours do to encourage and help art and artists thrive?
The conditions for working artists today have both positive and negative connotations. Firstly, it depends on where the artist is situated. The contemporary art scene here in Los Angeles is flourishing – it's possibly the best place for an emerging artist to be making art, exhibiting new work, and building a community. Both the critics and the public are open-minded to new ideas and art forms. I'm pleased to be working in Los Angeles right now.
Social media and ever-improving technological advancements have certainly created a new dimension for 21st-century artists. Social media platforms have certainly been a more lucrative way for artists to sell work, as they can reach audiences far greater than ever before. The possibility of producing artwork and instantly giving thousands of people access to it from all around the world is an astounding transition regarding the life of a working artist. Instagram has allowed for artists to create a newly formatted artist portfolio, where they can instantly sell work and be in contact with their fans and buyers. For me, Instagram has definitely been a positive source for my outreach, and I have gained work and been noticed from simply posting my artwork onto my profile.
On the contrary, I do believe that this increase and dependency on the use of social media within the art world has also impacted our society in a terrible manner. Because of the mass numbers of people using these outlets in such constant and vigorous fashions, images of art can be lost amongst thousands of replicas and appropriations. What is really unique and new anymore? How can one really judge a painting or photo by seeing it through a tiny square on their phone for a brief second? The beautiful physicality of the artwork itself is completely lost without sense of real texture and scale. With such strong digital advancements, can anyone just declare themselves an "artist" if they can make work and show it publicly, whilst simultaneously spending money on promotions and outreach?
Additionally, Instagram has created a sense of "celebrity" culture in reference to all art forms. For an artist to be successful in the current day, it is common that they will have a strong social media presence and following, even if it is not really them running the content. The mass number of artists trying to "make it" have a constant pressure to be "followed" and "liked" through many social media platforms. This need for approval to be consistently "relevant" and "iconic" in a fleeting digital newsfeed makes it harder for artists to focus on the physical art-making. For me, this shallowness of what digital communication has come to has to be acknowledged in the fine art world. In my opinion, the most successful artists are those who are able to address these current social media dilemmas, or successful digital promotion platforms, through the artwork itself.
How or where can people see your work? How can people support your work?
One can view my artwork directly through my website (www.rachelberkowitzart.com) and for more constant updates, through my Instagram: @shootmerachyb
My recent paintings were just exhibited in Venice, CA at the end of 2018, and I will have a solo showcase once I complete the digital aspect of the "Gamble" series by the end of 2019. I hope to show in both Los Angeles and London, as I did previously in 2017 with the Fairfax Royalty photography series.
As far as support, if you like something you see, please don't hesitate to contact me. I love doing painting commissions of all sorts, and if you see a painting that I have made but have already sold, feel free to ask me for a print. I am so honored and grateful when someone wishes to own something I have made, so I make prints of any artwork on request up to 13"x19" and I only charge for the paper cost.
Contact Info:
Image Credit:
Muyungo Events
Getting in touch: VoyageLA is built on recommendations from the community; it's how we uncover hidden gems, so if you know someone who deserves recognition please let us know here.