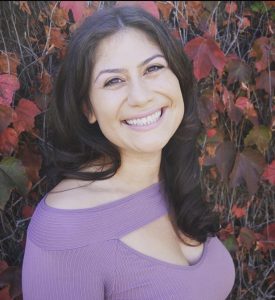 Today we'd like to introduce you to Rachael Shapiro.
So, before we jump into specific questions, why don't you give us some details about you and your story.
I have been working towards an artist's life my entire existence for I am the dreams of my ancestors. I slid down many tubes and tunnels to get here and my experiences as a performer helped me realize my true form as a Director. As a Director, I am a servant to people and their stories.
"They" say as an "adult", you "should" do whichever activities were played out at seven years of age. At seven, I was parading around on rollerblades in the backyard, acquiescently choreographing shows to music with my sister and cousin. I assigned my family members roles and printed out programs for our audiences (also family members).
In the 1940's, while my Mexican Grandfather was picking cotton to gain his American citizenship, my Jewish Grandfather was in Germany, fighting in the Second World War, all under the same sun. There are reasons why people immigrate to the US. My grandmothers were steadfast and reliable to their cores. My successes are a result of my family's endurance and faith to create better lives for the generations after them. Because I know my ancestor's struggles, I am grateful.
I lucked out growing up in Los Angeles. I adore this colorful city. My parents observed my artistic antics early on and signed me up for dance classes, singing lessons and art. I danced for the Miles Marsden Ballet Company and had a strange fascination with attaching safety pins to my leotards. I spent weekends in East LA with mis abuelos. My Jewish Grandmother treated me to many nights of live theatre and I was hooked. Mi abuelo used to say, "This one, this is one is going to be an artist!" He was right.
My parents moved us to Burbank for the excellent education system. They both taught for LAUSD for over 30 years in the inner city, the lord's work. I went to John Burroughs High, which fortuitously trains the best show choirs in the nation. There is nothing like singing an eight-part harmony with a solid group of people and traveling around in sequins smiling ear to ear. I was a natural-born, World Class Cheeseball.
In 2005, the desert mountains beckoned me. I craved Native American culture and artists living off the grid. I needed renaissance people, mysticism and big skies above to wrap around me. I received a BA in Theatre at The University of New Mexico. My twenties were spent studying performance art, physical theatre and I created countless shows with local theatre companies. I got lost in character work and exploring through experimental play; I loved shadow puppetry, prose and cabaret. Quick costume changes and belting high notes were amongst the most exhilarating. Tap dancing in a monkey suit was fun, too!
My favorite classes at the university were Theories of Performance, Performance Art, History of Theatre, Flamenco, Postmodern Acting, Native American Studies, Existentialism, Physiology for Dancers and Directing for the Stage. This is a shout out to all the teachers and lightworkers on my path who exposed me to the best plays, art movements and storytelling techniques. I received awards for my efforts and was invited to perform in Beijing, China, learning a lead role in just two weeks. My favorite role to date was playing Maureen in RENT.
I wrote and toured a solo show throughout the southwest and brought it to New York City. It was an interactive, kids show about a fairy who after losing her wings learns to fly again. I'm currently working on transmuting Adventures of the Green Feiry into a children's book.
After a decade in Albuquerque, I was ready for LA again. I longed for the sea and the hustle. So, my burlesque troupe moved me back to my hometown and I waited tables to keep me afloat. I began eating plant-based food and saw people heal themselves of cancer and heart disease through an alkaline diet. I was mesmerized by how plant medicine transformed my health and productivity.
I acted in B movies and began working as a Production Assistant in the film industry. I observed every department like a meerkat. Being on set felt like a familiar dream and I gravitated towards Directing quickly. I began ascending to different departments; wearing different hats in Production, Assistant Directing and the Art Department; working alongside the best in the industry. I admired eloquent leaders who spoke with mindfulness, efficiency and kindness.
Every piece is an integral part of the machine and I had to learn every role to understand what makes a good team. I love working with actors, I know how brave and fragile they are. In my own personal work, I create characters that express the duality between the magical and the mundane sensory world. We carry elements of both. We are torn between the ancient ways of our elders and modern society. I appreciate work that focuses on connecting with nature and healing as a community and planet. I also believe that this paradigm shift currently happening can be a means to help heal those who feel pain from being subjugated. I continue to work freelance in the film industry and learn something about serving everyday. I think my ancestors are happy because I am happy doing what I love.
Overall, has it been relatively smooth? If not, what were some of the struggles along the way?
I still grapple with pushing through comfort zones in my growth. I had to unlearn many negative thoughts and unhealthy habits to keep stamina in an industry with a high burnout rate. No job is worth your mental and physical health, so life/work balance is crucial to being a happy and whole human being.
I was obliged to retrain myself in confidence so I can lead a team safely to the finish line. Much like character development in rehearsal, I study my internal and external obstacles frequently to stay aware and strong. Being a woman in a male-dominated industry is something I navigate through often. My empathy is a gift I've accepted as a strength. We need more women and people of color in leadership roles.
To be honest, I found the high standard of living in LA quite a shock when I moved back. I had to banish concepts of lack to tap into my role as a working artist. I put total trust in the Universe and live with an attitude of gratitude every day. I talk with my ancestors often and ask them to guide me.
As soon as I started helping others, my life changed. We are here to serve others and I live by that concept. As a Director, I am here to be of service. Find what people need and match it with what you love to do, that's the magic formula. Be. Of. Service. To. Others.
Whenever I slip into thoughts of fear, I come back to the abundance in me. I remind myself of what I do have; my health, the elements in nature, my family, shelter, clean water, my mentors and close friends who I can laugh with for support.
We'd love to hear more about your work and what you are currently focused on. What else should we know?
I am currently working on segments for Spectrum News TV/Charter Network as a Director/Writer/Co-Producer. We create stories about immigrants who are doing amazing work in underserved communities. Never have I felt so aligned with my gifts as an artist and helping others.
I also work on my own shorts to submit to film festivals and continue building my Director's reel.
I visit the desert and dance underneath the moon when I need to get out of the city. I put on clown noses when I write and love supporting vegan restaurants.
If you had to go back in time and start over, would you have done anything differently?
If I had to start all over, well, then I wouldn't be me, would I? That sounds like a different life entirely. In a different life, I would like to be a whale, please, floating in the depths of the ocean, connected to the subconscious frequencies that lie unseen but present.
Contact Info:
Phone: 505-410-1840
Email: go4rachael@gmail.com
Instagram: rachael_shapiro
Facebook: Rachael Shapiro

Image Credit:
Lauren Ballestros, Jose Rodriguez, Charles Ancelle, Jenny Walkowiak, Abe Martel, Joanna Furgal, Anna Jenkins
Suggest a story: VoyageLA is built on recommendations from the community; it's how we uncover hidden gems, so if you or someone you know deserves recognition please let us know here.