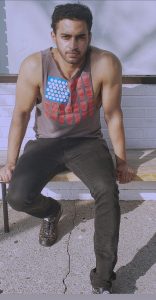 Today we'd like to introduce you to Poorva Wachh.
Poorva, can you briefly walk us through your story – how you started and how you got to where you are today.
From a very young age, I always felt that I was different, and I  wanted to be big in life. But I never dreamed that one day I would move to Hollywood and star in a big feature movie. At the age of 9, I hit the ball for the first time in tennis, and after a year or so, I started playing really well. I was a talented tennis player, and I fell in love with it. Even though I was good at studies, tennis became my passion and goal. My time table was playing tennis for six hours and going to school every day, except on weekends. I decided to take tennis as my profession, and I turned into a professional tennis player. During my school days, my main goal was to play and win big tournaments, because of this reason I could not pay much attention to studies. I used to participate in dance competitions and plays in school as well. I was interested in art, but I had no idea that it would become a major part of my life.
My very first acting experience was in the 6th-grade on a stage in front of the audience. I even directed the skit. I don't know how I did that, yet I did it. It was a simple comedy that takes place between an interviewee and interviewer. I still remember the laughs and applause that I received from the audience, and I think it was that moment where I lost all my stage fright and became more confident, and it's one of my most pleasant childhood memories.
In my early college days, my tennis career was not progressing well, and I was not happy with the results. I got frustrated, angry, and would cry for hours. Henceforth I decided to put an end to my tennis career, and It was a painful decision for me. But I had not lost my interest in art, particularly in acting. I still remembered that applause. Now theater had become my primary goal. I left India and moved to Hollywood to follow my dreams and pursued a Masters of Fine Arts in acting at the New York Film Academy in Los Angeles. I have to thank my courageous parents for always encouraging and supporting me in every part of my life, even when I chose an unusual path in my career.
Everything was new in Los Angeles, and my classes were going well. Moreover, my acting skills were improving.  In my final semester, I produced and starred in my thesis movie called "Peppermint." It is about a young Indian writer, and his American girlfriend stuck in an argument of commitment over conflict of cultural issues because of a failing marriage proposal and was directed by Shubham Sanjay Shevade. It was an incredible learning experience for me. It helped me to understand the effort that goes behind the production. Before that, I had met Shubham in his music video when he cast me as the lead. I guess that is when our professional relationship began.
Has it been a smooth road? If not, what were some of the struggles along the way?
Once I graduated with my Master's degree, it was not an easy journey at all. I had the training and the foundation, but I wasn't booking. I learned the basic requirements for an actor like headshots, resume, and reel, as I was taught having these things would make it easier to get an agent or a manager. And when I got my materials together, I began looking for one, and fortunately, within the first month, I was signed.
Simultaneously I started using online breakdown websites as well for acting gigs, and I started getting more auditions for various projects. Shortly I booked Alzheimer's PSA for a non-profit organization. I really enjoyed the shoot a lot because it was my first job that I booked after graduation.
Soon after, auditions became a part of my daily routine, both in-person and self-tapes.  I eventually booked two short movies, three commercials, and gradually my acting career was moving in the right direction. But I always wanted to do something huge, so my friends and I decided to do a feature film, and I wanted to star in it. Once we decided that I am the protagonist, the preparation for the role began. It was a very different experience from my previous roles and was challenging, considering that I was playing characters seven years journey in three segments. The journey was rather tricky and distinct, but it was memorable. Moreover, it became a remarkable breakthrough in my acting career.
Starring in the "The Big Rant" was one of my most significant achievements at this point despite doing four commercials, eleven shorts, and one PSA. The film is about an Indian voice-over actor (Harry) struggling to get his big break in Hollywood, finds out the plot of a recent best-selling novel which greatly resembles the book he was working on three years ago. He tries to get back into writing, but unforeseen circumstances arise. Actor Keith Szarabajka, who is known for "Supernaturals," "The Dark Knight," and "Argo," had also joined The Big Rant team.  He is playing the antagonist as Zelig. Therefore this offered me the opportunity to act with him as he was like Marlon Brando for me on set.
The current COVID-19 situation has affected the post-production of "The Big Rant," and we are all hoping that things will get better as soon as possible. In terms of auditions, I have been getting a lot of virtual auditions, but as an international student, the time is running out, which is an unfortunate thing. I was booked for two new commercials, and another feature film, all of them were postponed due to the situation. However, we are all together in this fight, and it is essential to overcome this and win the COVID-19 war.
Tell us about your business/company. What do you do, what do you specialize in, what are you known for, etc. What are you most proud of as a company? What sets you apart from others?
I'm interested in everything in the entertainment industry, but I'm most interested in acting and producing. Even though I stopped playing tennis professionally, it has contributed a lot to my acting career. It has taught me self-discipline, struggle, and hard work for the different characters that I play, so I'm always thankful for that. Ironically, tennis used to be a major element in life, but now it is just a part of my life.
Although I come out as a  friendly and jolly guy, I have been cast for both comedic and dramatic roles. I recently finished a commercial for a dating app called "Half our Deen," and it has gotten over ten thousand views on Facebook, Instagram, and YouTube. I also did another commercial for "Curogram" as a paid partner in that I played as a doctor. "Curogram" is a Telemedicine and Two-Way Texting service. Curogram is helping clients respond to the COVID-19 crisis with modern HIPAA-compliant telemedicine and Two-way messaging platforms. And right after that, I finished a short movie called "Life," which was a wonderful experience and an excellent crew. So once everything resumes, the main thing I'll be looking forward to is my feature movie "The Big Rant." I'm very excited about it because it has an impressive script and excellent crew and cast. It was a great collaboration. I have worked incredibly hard for this, and I  have done my best, I hope that you guys will like it.
What do you like best about our city? What do you like least about our city?
Los Angeles is a beautiful city. I feel like this city has so much to offer. It inspires and teaches me something new every day. The city is always busy, Los Angeles is a place of business, and upper-class citizens roam the streets and movie producers are filming their next big hit. One of the things I noticed after I moved and talked to people is that everybody is one way or another connected to the movie industry, and it just amazes me.
Everybody knows that LA is known for being a sunny and appealing city, but I'm going to talk about the current situation in the city with everything being locked down. I have quarantined myself for the past four weeks, and when I went outside, the city was empty. I never thought I would see LA like this, which is a different kind of experience for everyone that lives here. I believe there is always a reason behind everything, and  I hope everything comes back to the way it was and start working on my feature film again as well as my next upcoming projects.
Contact Info:
Suggest a story: VoyageLA is built on recommendations from the community; it's how we uncover hidden gems, so if you or someone you know deserves recognition please let us know here.