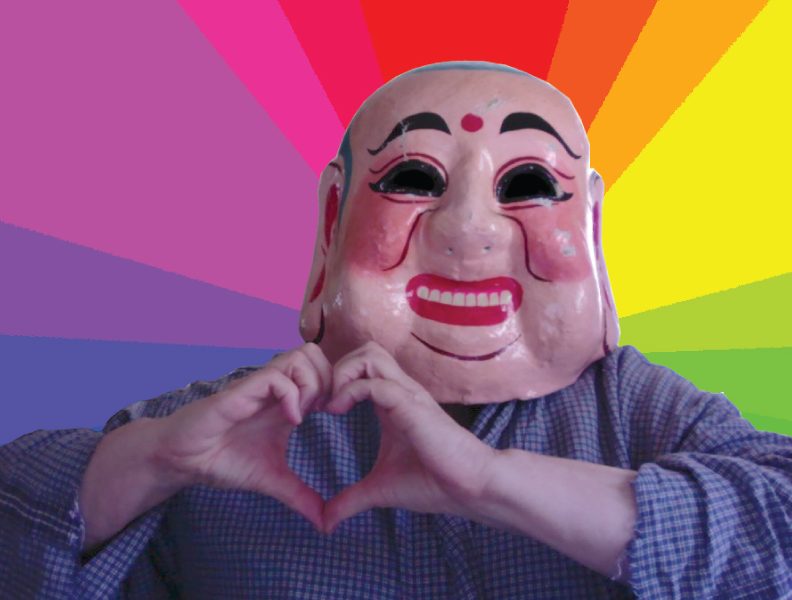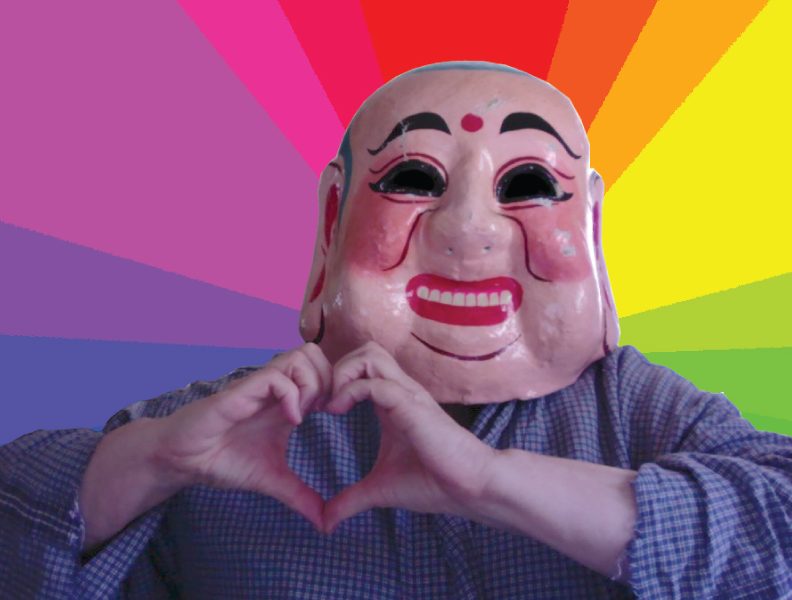 Today we'd like to introduce you to Pink Buddha and Terri Lloyd.
In 2009, Terri Lloyd's iconic Pink Buddha landed at Ground Zero, i.e., the L.A. art scene, and has been making absurdist mischief ever since. One never knows in what form the imperturbable PB will materialize. It has been sighted in guerrilla theater performances, on YouTube, Facebook, [Instagram too!], in small press art-lit mags, in commie porn chapbooks, posters, paintings, and other subterranean venues…
Pink Buddha manifested in 2009 out of a collaborative photo shoot that was intended to feature one of my (Terri) assemblage projects, "Baby Head Flowers." The flowers were instantly upstaged by me in silly jammies and a big pink paper-mâché mask. As soon as I put on the mask, Pink Buddha took on a life of its own. From guerrilla theater, video, photography, digital art, and more, Pink Buddha and I merged into an absurd singularity.
Collaboration and performance opportunities eventually waned. So I took the character to a medium where it could be who and what I wanted it to be unfettered by time, space, or any human constraints. Fascinated by the popularity of Photoshop as a verb and the meme as a tool of information and propaganda, Pink Buddha made a new home in social media. What better place to say the things I'm thinking out loud and get away with it. And get away with it PB, and I do.
To date, no one has ever questioned or trolled a Pink Buddha meme.
Has it been a smooth road?
There have been a few hiccups along the way. Terri was pretty generous with me in the beginning —after all my mask is a Chinese Laughing Monk mask typically seen at New Year parades and other events within the Chinese culture. Terri appropriated the mask and therefore felt no ownership of the mask itself. We had collaborated a lot with other folks. But there were a couple of collaborators that wanted to take complete ownership of what I was before I even knew what I was. If that makes sense.
As my mission and personality has developed over the years, that has changed. We have worked hard to develop an identity that is easily distinguished from the typical Laughing Monk. I almost know myself and my nature completely. (That's a zen koan sort of joke, emphasis on almost.)
Other struggles generally include adults being too seriously adult when I show up to perform or play. This makes me sad because I think these are the people who need me the most.
We'd love to hear more about your business.
So, Pink Buddha, as I hope you have gathered, is a performance character whose main mission is to playfully disrupt the status quo. In a word, get the adults to lighten up with the whole business of adulting.
PB performs live, makes videos, has a book on Amazon published by our friends at Black Scat Books. And a website shop filled with t-shirts, mugs, posters, and other swag in just about every size and shape.
Pink Buddha has also been seen in other people's artwork, such as the work of Phyllis Steen, and The Little Boy With Pointy Ears (aka Rick Krieger) –both of which are easily found on Facebook.
Currently, Pink Buddha and I are working with the filmmaker, Micheal Flowers on a screenplay titled Victory Garden. It's a story about a rabbit, some cats, Pink Buddha, murder and mayhem, and reconciliation. That is all we can tell you right now without violating the terms of our nondisclosure agreement. We expect the film to be done in the next few years.
As for what sets us apart from others… Hmm. I'd say we are kind of weird but very playful. The one thing we do take seriously is our mission to share love and wonder and to get adults to lighten up a little. And we are generally successful at doing just that.
Is our city a good place to do what you do?
To answer the question if our city is a good place to start monkey business like mine, I'd say, sure. As for people just starting out, wanting to do something similar, you can be a clown or performance artist anywhere.
Fish at your feet, build a village or community. The important thing is to commit to the work, the mission, the vision, where ever you are.
Pricing:
When I Grow Up And Other Mantras, by Terri Lloyd, $24.95 on Amazon
Think Pink mugs, $15.00
Think Pink T-shirts, small to 5X, $26.00 – $34.00
Contact Info:
Getting in touch: VoyageLA is built on recommendations from the community; it's how we uncover hidden gems, so if you know someone who deserves recognition please let us know here.