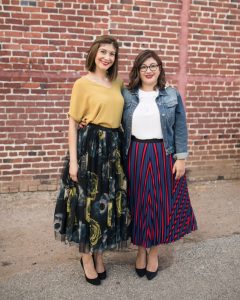 Today we'd like to introduce you to Paulina Padilla and Ary Madera-Reber.
Paulina and Ary, can you briefly walk us through your story – how you started and how you got to where you are today.
This is the story of how we, Paulina and Ary, two Latina Licensed Clinical Social Workers, created Connect Nurture to better support families and individuals by providing tailored, meaningful, and trauma-informed psychotherapy.
We are active pursuers of healing and social justice for the families that we serve, and we love what we do. Connect Nurture had its beginnings years before it was created in 2007 when we were just two green therapists in training at the same community mental health clinic. Turns out that each of us had dreams of helping our clients in a way that would feel empowering and inspiring to ourselves. Neither one of us would have predicted that less than a decade later, we would begin to realize those dreams.
Although we went to different graduate schools (Paulina in Long Beach, Ary in Boston), both of us pursued master's degrees in Social Work so that we might become licensed psychotherapists. It was pure serendipity that we started working at the same agency in the same month in 2007. Paulina had recently graduated from her master's degree program, and Ary was muddling through the remnants of postpartum depression. We were both at the cusp of transitions in our lives, ready to add "professional" to the litany of roles each one of us carried. Each of us was married with children, and the first in each of 1st generation Mexican immigrant families to obtain a master's degree. When we first met, we each thought the other seemed like a cool combination of smart and fun (honest!). We quickly became friends and bonded over the newness of calling ourselves "therapists". We looked to each other for advice, feedback, emotional support and lots of laughs. Both of us have had very busy personal lives on top of juggling our professional roles.
Our friendship was a beautiful lifeline that offered respite and a sense of belonging amidst the sea of responsibilities. As our friendship deepened, we learned that we had a shared passion for mental health prevention. Ary was working with children in school settings and pursuing a certification in infant and early childhood mental health. Paulina also worked with young children and families and learned first-hand about the power of prevention in early intervention. Our friendship and shared interests were the seed for our future work through Connect Nurture. Paulina would remain in the same clinic for eight years, while Ary moved on to another community mental health clinic that nurtured her passion in working with very young children and their parents before coming together again.
Fast forward eight years to 2015. We had each added another child to our respective families. Ary had made the choice to move on from a stressful job, and Paulina had major childcare stressors. Because our friendship was still going strong, we continued to depend on the other for compassion, inspiration, and general venting sessions. It was during one of our many conversations in the fall of 2015 that we realized that perhaps it was possible to create our own practice, one that would allow us to have a healthier work-life balance, that would be professionally fulfilling, and that would still give us the opportunity to serve our community. Although we felt just a teeny bit nervous, we were excited to take on this wonderful challenge and et voila, Connect Nurture was born. Having each other as support through the various stages in our lives had only deepened the drive to help others create and manifest the same kind of support systems in their own lives.
In our early discussions of how we envisioned Connect Nurture, it became clear to us that there was a gap in the provision of mental health prevention and early intervention services to young and growing middle-income families. Both of us have experienced challenges that include trauma, postpartum depression, anxiety, parental stress and burnout. Despite being mental health professionals, each of us has struggled to find accessible mental health and parenting support when we most needed it. The realization was clear: issues related to mental and emotional health can occur to anyone, and those that are in transition are often more vulnerable. A person's socioeconomic status, ethnicity, or educational background does not prevent them from needing early parenthood support, or from wanting a safe professional to talk to and ask questions. It was because of our own personal and professional experiences that we were inspired to create a psychotherapy practice that would welcome these families in need. As our practice has evolved, we have honed our focus to specialize in supporting Latinx individuals and their families. Although we are Latinx family-focused, we are also inclusive of non-Latino and non-parent individuals. We just seem to attract Latinx families the most!
Overall, has it been relatively smooth? If not, what were some of the struggles along the way?
It hasn't been smooth sailing since we had our lightbulb moment that we should start our own practice. We're sure it will surprise no one to hear that it's hard work creating a business from scratch. Of course, the initial worry about having enough financial resources to have our project fly off the ground was present. But once we secured what we needed, we also had to contend with the uncertainty of not knowing whether our vision would resonate with others, whether we had enough time, preparation, and knowledge to start something that was so deeply personal to us. Frankly, we had to learn to be ok with not knowing and being vulnerable when we are supposed to be the experts. We've had to push through our own limiting mentalities and continue to do so as our journey evolves.
One of the biggest challenges we've faced is the question of how we would obtain referrals; would we have enough people interested in the services we offer so that we can keep our doors open? The traditional mental health system is set up so that private practice providers work within insurance panels and thereby clinicians can have a full caseload of clients referred by their insurances. If you're in need of mental health support and are fortunate enough to have health insurance, your plan may cover visits to a mental health professional, and you may even be able to obtain some regular psychotherapy. But progress in psychotherapy is often not linear, and many insurance plans will only provide sustained psychotherapy treatments for the most severe symptoms, or for specific diagnoses. As therapists in non-profit settings, we both had experienced frustrations from not being able to fully aid client healing because of the constraints in the insurance and/or public assistance requirements. Services such as parenting support or maternal-infant interventions were not often approved.
Taking these factors into consideration, we decided to buck the system and establish our business as a private pay entity. This decision appeared initially risky when our phones weren't ringing. It took us months to book our first client, and there were times we would say yes to any opportunity out of fear. But, once we got a taste of what it was like to provide treatment that directly addressed our clients' needs, treatment that wasn't restricted by a limited number of sessions or specific modalities, we were convinced. We do our best work when we are allowed creativity and collaboration with our clients as they define what wellness and healing means to them. We haven't completely ruled out taking on contracts with some insurances. It is hard to turn away clients when we can't find a sliding scale that works for their means and being paneled with insurance carriers would be a way to help more people. Balance is a hard thing to find, intrinsically valuing the work we do and seeing it as worthy of compensation. We remain open to possibilities, even if they initially present as barriers.
Alright – so let's talk business. Tell us about Connect Nurture – what should we know?
Connect Nurture is a psychotherapy private practice that focuses on serving families going through every experience from pregnancy and postpartum (also known as the "perinatal period") to adolescence. Our focus is to help mothers and fathers heal from past wounds, understand themselves, and carry forward the support and knowledge they receive through to their children. We understand that the family is a whole system, and when an individual in that system is struggling, it affects the well-being of all. We connect with the families we serve because we too have been in a place of stress, pain, and struggle. Combine that with each of our expertise and specialized training, and we are able to provide services that are tailored to mothers struggling through perinatal mood disorders, parents seeking answers about why their young child does what they do, and support families with teenagers facing potentially drastic changes (just to name a few examples). Although we do focus on helping families, we also support non-parenting adults that are wanting to heal from past wounds, as we know first-hand that early childhood experiences can mark us well into adulthood. The work we do is very personal to us, and we strive to provide psychotherapy that is meaningful, culturally inclusive, and trauma-informed.
The longer we maintain Connect Nurture, the clearer it becomes how essential it is for our surrounding communities to have a resource that supports families through their life transitions in a way that provides non-judgmental support while challenging traditional ideology that isn't helping modern parents. It is our hope that by helping individuals learn new ways of connecting to one another, these connections will have a ripple effect that eventually affect families and communities in ways that create a sense of belonging and interdependence, like an invisible web of relationship threads that uphold us all when we most need it.
Any shoutouts? Who else deserves credit in this story – who has played a meaningful role?
We must acknowledge the privilege that we each hold belonging to a dual income household. Without our husbands we would not have had the financial support to kick start our practice. Our husbands continue to be great cheerleaders while partnering with us as our roles shift, our children get older, and household needs pop up. Our children and families have been patient and supportive throughout this process and we are deeply grateful for the love and encouragement we receive from them.
We'd like to give a shout out to the women in our circles that have shown bravery and courage. We've been profoundly affected and inspired by several badass, wise, knowledgeable and strong ladies that have formed our own relationship web: our sisters, our mentors, our friends, and co-workers. We were fortunate to observe and be guided by women who began their own private practice years before we did and seeing them step out and make their dream happen made it easier for Connect Nurture to seem possible. We exist because of those that came before us and will proudly carry the torch so that many more will join.
Contact Info:

Image Credit:
Bethany Gilbertson @wandercreative; Ary Madera-Reber
Suggest a story: VoyageLA is built on recommendations from the community; it's how we uncover hidden gems, so if you or someone you know deserves recognition please let us know here.