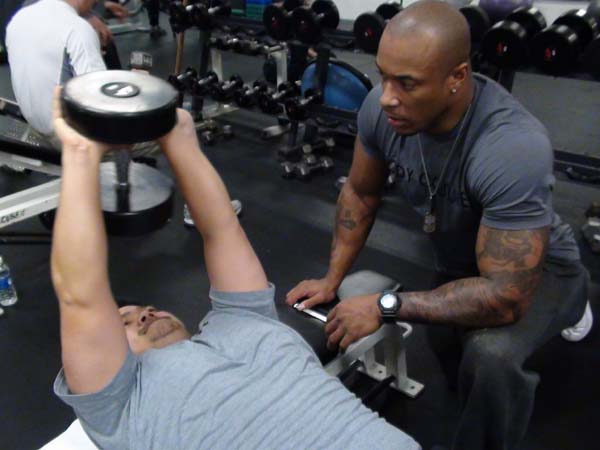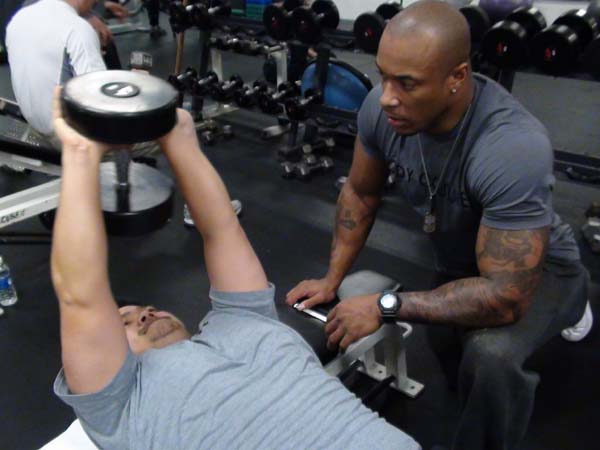 Today we'd like to introduce you to Thai "THE THAIGA" Edwards.
Thai, please share your story with us.  How did you get to where you are today?
When I'm not on set filming for Television or Film, you can usually find me at the studio. The three words I've been told that best describe me are inspirational, motivational, and dedicated… Fitness and Nutrition are the two key aspects I focus on as a coach.
Staying fit and healthy is a must for me, and becomes a lifestyle to all my clients. I had a clear vision throughout high school as a dedicated two-sport athlete to WIN at all costs, and that fitness would forever be a part of my life. Born and raised on Chicago's South-Side I was considered then, one of Chicago's top basketball prospects.
After high school I went on to play in the CBA after receiving a gunshot injuries that coaches claimed would have ruined my chances to ever play for the Division I school of my choice or possibly the NBA. After playing two consecutive seasons I returned to Dallas, Texas to later be discovered as a model, which in turn sparked my acting career. In 2000 I dusted off my cleats one last time and walked on to a Semi-Pro Football Team that went on to win a National Championship. Although very rewarding, I wanted to make a greater impact as well as take what I had learned as a professional athlete and share my knowledge with others. I have now been able to use these skills and experiences to teach others the importance of fitness and proper nutrition and how to make it apart of their lives. I'm a champion in life, and a life changer as well.
Has it been a smooth road?
I've been through it all. Whether it was personal or professional life still happens and there is absolutely "NOTHING" you can do about it! You can choose to do one of three things to suppress the way you feel, or to completely stop the pain and agony of it all. You can just give up… But then that makes you a loser, then there's suicide… "Yeah I've been there too" – But that's just plain SELFISH!! Then you would die with people thinking that you were always mental case. Or you can use those things to make the most powerful version of yourself imaginable! I'm a person who made a conscious decision to build a skyscraper from the worse pieces of left over mental, emotional, psychological raw materials that I was given. I shouldn't even be alive to have this conversation with you but I still am somehow. "I am here today because I just never knew how to quit or give up!" Through hard work determination, and perseverance I have achieved "EVERYTHING" I've set my mind to. Once your mind and heart totally commits to a cause, all the other parts of you have no other choice than to follow… Trust those words, I'm living proof!!
What are your plans for the future?
My plans for the future for Body Couture is to start an athletic apparel line for men and women and to bring on a few more trainers who can give clients the results they need. I'm also working on expanding my brand and becoming more of a presence within the fitness industry on Social Media like so many others. I have to admit between working in Hollywood, and running a company it gets a little hard sometimes to make time for these kind of things. There are a few of opportunities on social media that I have come across from individuals who would like work with me so that I can create an even bigger social media presence with monetization. Unfortunately to do this right it'll require a lot of my time… So I'll have to find away to prioritize my things a little better in order to capitalize on these opportunities if that is something I really want to do.
As for my acting career, I hope to keep honing my skills, so that I'll land bigger and better roles that would showcase my range and other abilities. My main focus more than ever is to continue to build and foster those relationships in Hollywood that would help solidify my brand as a respectable Actor/Entertainer in this business. After all Acting/Entertaining is what I came to L.A. For… Not too many people can move here and break into the business within the first year and actually be a working actor. I consider that to be a gift from GOD one that I plan to keep nurturing! I knew at a very young age that I was made to work show business and to impact people through my craft. Whether I'm in front or behind the camera, having the ability to entertain is what I am… Having the ability to train, motivate, inspire, and change people's lives inside and out is something that I'm just really good at!
Let's dig a little deeper into your story.  What was the hardest time you've had?
One of the hardest times of my life while living here in L.A. was when I was just starting out, I was working at 24hr. Fitness putting in 60 plus hrs. a week as an Elite Trainer ("laughing") and cooking for clients part-time as I was trying to get my company off the ground all while pursuing my acting career. Oh around this time I had a girlfriend at the time too who wasn't too supportive of any of this! She'd much rather I get a job I hated like her, just to make ends meet than to do something I actually really enjoyed. Like most women patience was something she knew nothing about…Even with the awesome plan I had beautifully laid out to become successful in my business venture and soon become a household name! When I came to L.A. from Texas I was starting from nothing… "I'm talking zip, zilch, zero" while she on the other hand had an actual job to transfer to. This was someone I cared very deeply for. Unfortunately like many other couples finances became an issue, so in my efforts to keep things together I found myself enrolled back in school at Pasadena City College getting my EMT certification so that I can become a Firefighter. I was training a few Captain's at the time and they all said that they'd love for me to work at their stations… Besides this would also ensure that I could get work anywhere if we had to relocate in case "SHE" wanted to change jobs if a better opportunity presented itself despite what my goals were in L.A. On the morning of the day I was supposed to graduate we had a huge fight… "I grew tired of constantly being reminded of all my short comings, and how unrealistic I was… And that I wasn't anyone special – Besides I was too old to be chasing dreams of stardom, or being anything remotely close to being called a celebrity, that I should just get a job like any normal person my age. "Those words cut deep, straight to the bone, especially when I was so supportive of everything she'd done." I had a huge wakeup call… The one person I cared for more than anything didn't believe in me at all. She said it so convincingly that for the first time in my life I even questioned myself!
My last words to her where "Don't worry… you don't ever have to do anything else for me again!" When she left for work, I packed all of my things in my truck and went to school. Later that day I graduated top 5 in the class and slept in my truck with all of my things… The next day I called the two clients who were Captains with the L.A. Fire Department so that I could start the hiring process only to find out that the department was on an indefinite hiring freeze due to funding and budget cuts. I was devastated… in the blink of an eye I lost everything and for what? "To add insult to injury, I went back to school for something I couldn't even use!" I didn't know what to do… there I was all by myself, thousands of miles from home, homeless, and probably going to have to live out my truck for a while with only a few dollars in my pocket left until payday. I was stuck between a rock and a hard place, that night I had one of the first hard cry's I had in a long time, the tears seemed like they'd never stop falling. That night I said my prayers, and fell asleep in the parking structure of 24 Hour Fitness. The next day I woke up to a voicemail from my then agent saying that I booked one of the leading roles to the first major project I ever did "Inappropriate Comedy".
Do you ever just stop and think WOW – I've made it?
Not too long after that I was asked to resign from 24-Hour Fitness, which I did reluctantly… but to my surprise every client I trained wanted to follow me. This was the seed money used to get myself another place to live, while officially starting BODY COUTURE PERSONAL FITNESS LLC.
After I shot the movie I was on two national morning shows doing press, and promoting the movie before it released and gained a lot of exposure which opened doors for other roles. Since then business has been great, and as for my acting career for the past 7 years things have been beyond consistent. Life is so funny… "The things we try to hold on to are sometimes the very things we should let go of in order to make room for all that is supposed to be" That's what having FAITH and always believing in yourself is all about! Sometimes things don't happen the way they need them to until you take a jump off the deep end.
Pricing:
Training is $375.00 to start and then based on the needs of the client there are training packages we provide to fit their budget so that each client can meet their fitness goals. Please refer to the website at www.bodycouture.org or call the studio to speak with a representative for more details. 
Contact Info:
Check out his work below: