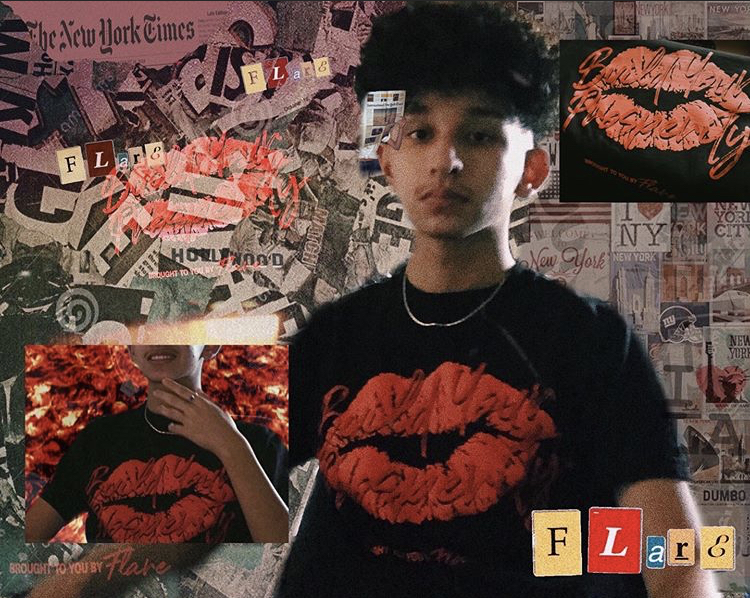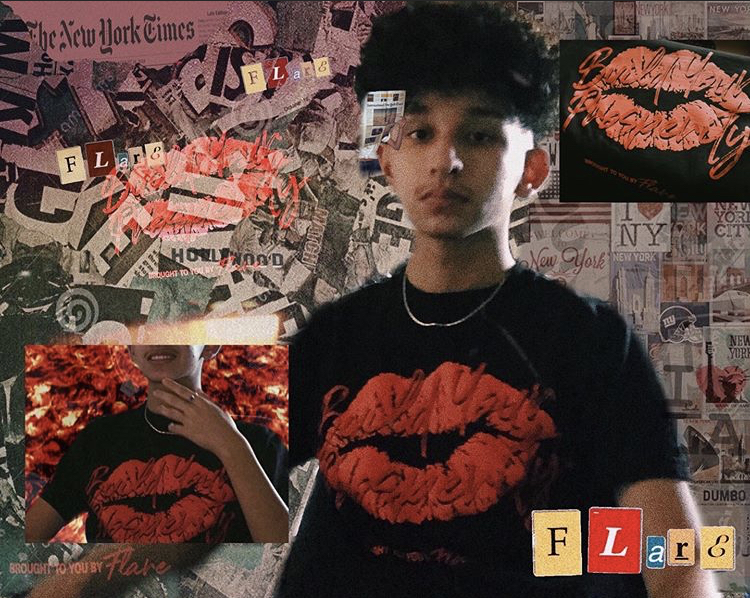 Today we'd like to introduce you to Ozzy Urena.
So, before we jump into specific questions about the business, why don't you give us some details about you and your story.
Well, I started my first brand when I was 13 in middle school actually. It was literally like a Saturday morning, May 6th, to be exact and it was like I always had the idea of wanting to make something just never fulfilled what but it did have to do with clothing. I also didn't necessarily want to keep asking for money and you know I was still pretty young to get a job. So I opened up my notes and started coming up with like corny names right and looking at other brands for inspiration as well. I decided on the name "Nov Amor", Nov being November, my birth month and Amor being Spanish for love, connecting to my Latino roots.
I launched the brand as soon as I possibly could making stickers out of some pocket money I had, selling each for $2. I sold the stickers around my middle school and I was hyped! People actually supported! On top of that, the word started spreading around my city and through social media so I would like visit other schools to sell/meet with people and even held a little meet up event at a local Yogurtland. It was awesome to see!! I had made some shirts after that, they were burgundy and yellow, so that was cool. And then I had made these simple hoodies right and what I would do is I would make a flyer, post it on Instagram and sit at a nearby park selling hoodies out of boxes and a duffle bag for a couple of hours. I don't think I was 14 yet but I did have a friend help me carry them so that was much appreciated.
High School came and since I didn't really know anyone during my freshman year, I would literally walk up to people all over school and introduce my self and my brand. I had later made long sleeves around the time so it really did help and I did get to meet a lot of awesome people, you know. It was all a cool and almost surreal experience seeing people really support your craft, obviously people you know some had their own opinions but I never let it faze me. I knew what path I wanted to be on in the end of the day. I remember I used to like stuff my backpack and a duffle bag with as many hoodies I could for the orders I got and skate to school like that in the mornings, trying to like keep balance.
I wanna say it was like that up until my sophomore year. During freshman year, I used to make little edits of when I would out after school everyday and post them on Instagram. I had it under "Flare Production" because that was and is my user, ozzyxflare "shining like a flare" haha… well yeah I always had a vision for it though since 2018, I want to say. I just wouldn't take that step forward into actually making it into something. I was just stuck in a comfort zone and eventually lost somewhat of a passion in Nov Amor really. I did make a website and held this cool skate event where a lot of people came by and a little BBQ at the local park I mentioned with friends. It was definitely what I wanted to do but with time, I wanted to make something new. Finally in 2020, I started to touch on Flare more and once the pandemic hit and other life experiences. I put my all in Flare. Months figuring out what true path I want to take and trying to communicate with people, etc.
So I pretty much put this brand I spent years and dedication on to the side and finally launched something new in August of 2020. At 16, I introduced Flare Los Angeles. I dropped the first "Build Your Prosperity" T-Shirts on the website and they did sell really good! Everything sold other than few smalls being left behind and I even got nationwide orders and featured on different platforms!
I want to build Flare to be its own community. I want it to bring people together regardless of their differences and being able to give back and represent my community while still building myself up and motivating others whether they be younger, older, close or far. I did always dreamt of opening up a store before I graduate high school; obviously there were some changes of plans but nevertheless, it's always in mind.
Right now, I do have more planned that's in the works, my next drop is coming soon so I'm really hyped on that.
Great, so let's dig a little deeper into the story – has it been an easy path overall and if not, what were the challenges you've had to overcome?
I wouldn't necessarily say it was always so easy. You know obviously you make mistakes whether it be financially or promotional wise and what not. Sometimes you really do lose motivation for whatever the reason may be but the brand is literally growing with you. It's what you create and that could really be a struggle because sometimes you want to make to this but you hold yourself back or get self-conscious about it, But I see it all for the better you know you learn from your mistakes as you grow. Like I wouldn't say I regret holding back Flare so much because there was a lesson out of that you know? Doing stuff like that is just lost potential for what you could bring into a reality so although the road was never the smoothest you could still craft a lesson out of it. At such a young age at the time, I did struggle with business management and spending. I was just a kid and still kind of am but it's just the things you overcome and get experience out of it.
Alright – so let's talk business. Tell us about Flare Los Angeles – what should we know?
With Nov Amor it was t-shirts, long sleeves, hoodies, stickers and pins. It was always known for being that local brand a kid had really and I could kind of say the same thing with Flare. Flare only has shirts as of right now but I do plan to do something with this chilly weather and not only that, I really want to expand and have fun with it. Like I do picture Flare lanyards or a mug or shoes or hand sanitizer if were being honest. All that miscellaneous stuff. It would be so cool. The thing is with Flare too is I want it to be motivational for the kids who are stuck trying make a way or for that one person whos scared to take the next step but still feel as were all apart of something you know. I want it to represent how you can really make something out of nothing and craft out your ideas. I mean, I, not even 17 yet was able to build and learn all of this, I'm sure you can too.

I really believe that if you truly set your mind to something you desire you can accomplish it you just have to put in the work, literally and figuratively. I did come across obstacles and still worked endless nights and I take pride in that. Yeah, my work isn't the best to some however it's like the dedication, passion and meaning I put in that brings its value even if it's just to me and you know, I also really try to express myself as comfortably I could. I hope my audience sees that and take something from it, I always enjoy talking and get to know the different people who like my stuff, they're awesome and I really appreciate each and everyone of them, I hope they all know that. I really think we all have something we can share, pursue and bring into this world just yet to be discovered if it hasn't already. And it could be anything really doesn't even have to be materialistic, as long as you enjoy it, you're chilling.
Is there a characteristic or quality that you feel is essential to success?
I mean, just not giving up. Like it's so easy to say and tiring to hear for many but with time, it's like you can truly built something. Just look around you, even the little things whether it be the job interview, an art project, or even on a personal level, there had to be some sort of dedication for an outcome. It's just the idea of knowing you can pursue and believing in yourself even when it gets tough. The mentality that you can make it though, realistically and eventually, and try to remind yourself the struggle will only be apart of your story.
Contact Info:
Suggest a story: VoyageLA is built on recommendations from the community; it's how we uncover hidden gems, so if you or someone you know deserves recognition please let us know here.