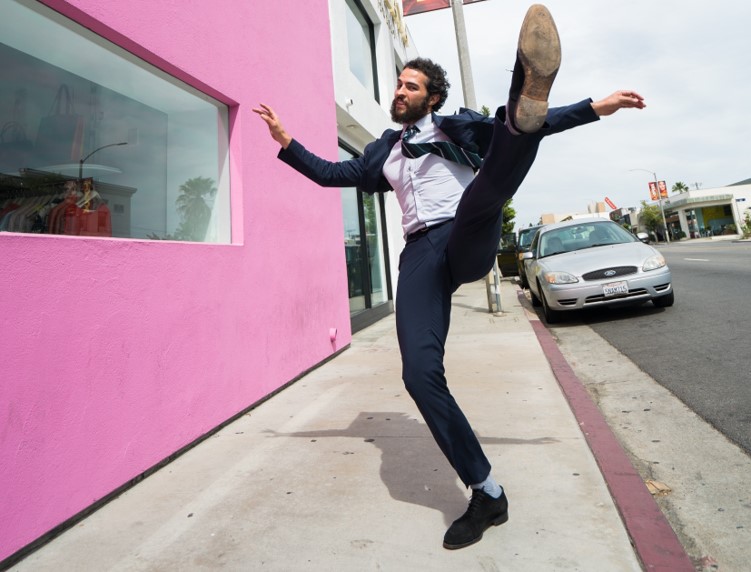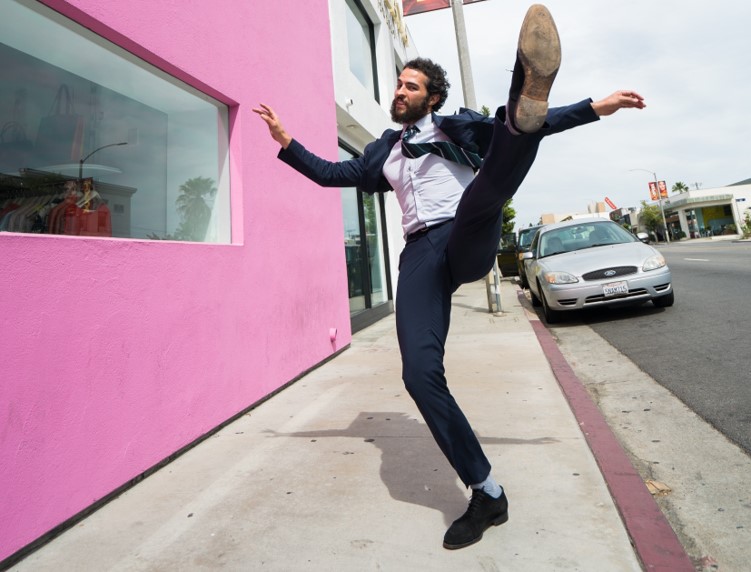 Today we'd like to introduce you to Ottavio Taddei.
Ottavio, please share your story with us. How did you get to where you are today?
Born and raised in Bologna, Italy, a beautiful city in northern Italy known for its historic architecture and impeccable cuisine, I grew up in a loving family that has made a lot of sacrifices to support and allow me to explore various fields throughout my life as they noticed my struggles to embrace a traditional career path.
Being the youngest of four males, it inevitably affected my upbringing. We attended the same schools, played the same sports and engaged in almost the same activities. However, I felt I lacked a guide to channel a different potential that I had burning inside me.
Many years ago a very popular reality talent TV show in Italy (AMICI), which was inspired by the movie "Fame", contributed to making Dancing, Acting and Singing more accessible to the general audience. Aspiring artists were selected to be part of a performing arts conservatory and it was quite revolutionary at that time to give space on television to the process and training of these performers.
After school, I would usually practice Basketball, Soccer and Tennis following the family tradition. When I was 16 years old I started practicing Kung Fu with some friends, a very different discipline in comparison to sports. I loved how it made me work on my body by making it stronger, more flexible and agile and I was no longer against an opponent. Knowing about my gained flexibility, a friend of mine persuaded me to help her out with her end of the year dance showcase and I danced my first pas de deux. And so my journey began.
I can certainly say that I discovered my true passions later on in life and I felt compelled and confident to fully invest myself into them later in life. I often wonder where I would be if I had the opportunity to pursue them fully at a young age, with that thought I consider myself a "late bloomer".
Somehow, accompanying a friend to take the the university admission test I decided to join him and take the test as well, I got admitted and directed to one of the most demanding courses, at that time I actually had no idea I would have made the cut and I had a whole different plan for my future. In fact, I wanted to study philosophy, probably the only subject that truly intrigued me in high school. Considering the opportunity at hand a part of me was still skeptical and scared to take such a leap of faith.
As a matter of fact I "cautiously" pursued and obtained a degree in Economics & Social Sciences, from the reputable Bocconi University in Milan.
Moving to Milan, a city with a long-time tradition of theatre, opera and dance with renowned institution such as the "Teatro Alla Scala", the "Piccolo Teatro Strehler" and the "Piccolo Teatro" to name a few, gave me the opportunity to meet and train with incredible artists. My passion for the performing arts overpowered everything else becoming my number one priority. Once I graduated from university, I had no other choice but to dedicate myself, wholeheartedly, to dancing. I kept training, receiving scholarships in Florence, then Rome. I started performing in ballet, modern and contemporary dance, aerial, vertical dance, stage flight in musicals, ballet and contemporary dance companies, opera companies in some of the most prestigious European and international theaters and venues. I no longer planned vacations with friends and family. I no longer cared for sports or going out. All I wanted was to better myself as a performer. If I traveled to another country or even another city, I would research teachers and companies to further my training. I studied with many of the most renowned dance and acting teachers in the world, such as Denis Ganio, David Howard, Wilhelm Burmann, Mauro Astolfi, Prisca Picano and Christophe Ferrari. I have been blessed to perform extensively in Italy, Qatar, Oman and the US.
Throughout my professional experience, I was pushed to approach more interpretational roles with confidence and that's when a compelling interest in acting developed. I hesitated getting formal training in the craft of Acting, visiting many schools in Italy, but never feeling I had found the right fit. After dealing with a health hiccup that kept me away from dancing, I decided to audition for the Stella Adler Studio of Acting in New York, I got in and moved to the US for the two Year Professional Conservatory program.
Following the Professional Conservatory, I then moved to Los Angeles to receive additional training targeting film and TV and Even though my appetite is never dormant I can now be proud to have a prolific career in film, theatre and dance. Of course, I don't feel it's yet time to sit down and self celebrate!
We're always bombarded by how great it is to pursue your passion, etc – but we've spoken with enough people to know that it's not always easy. Overall, would you say things have been easy for you?
The artist's way is hardly ever smooth.There are challenges connected to both the fields I'm focusing, as an actor in America I can portray a truthful foreign character from several countries and being fluent in Italian, Spanish and English is a wonderful asset although I can't really master an American accent to this day. It gives me an advantage in certain settings and a disadvantage in others. As a dancer, I work with my body, constant training is needed and it's time-consuming and It's hard to always be at The top of your game.
It's also a challenge to build a life abroad, embrace different cultures and obtain work permits to perform internationally. But, I finally feel at home in Lon Angeles after so many years. My life and most of my work is here.
Rejection is an extremely common and a normal aspect of these professions. Not everybody can handle it well. Of course, we have many examples of very successful actors and performers. It's a path I'd advise to pursue only if motivated by true passion, or you'll easily get disappointed!
Please tell us more about your work. What do you do? What do you specialize in? What sets you apart from competition?
As an actor and dancer, I've considered myself very lucky throughout my career. I've performed in so many amazing venues and productions, from beautiful, historic Italian theaters to 20 thousand seat live audience performances live broadcasted on national TV at the San Siro stadium in Milan. And from the Qatar Marine Festival in Doha to the Royal Opera House of Muscat in Oman. From the stage of the Metropolitan Opera in NYC to the Walt Disney Music Hall with the LA PHILHARMONIC orchestra.
I've starred in many awards winning short and feature length films in English, Spanish, and Italian. My most recent and prestigious credit is a supporting role in "Ford V Ferrari" directed by James Mangold, starring Matt Damon and Christian Bale. As well as the indie feature "His Only Son" directed by David Helling, starring Nicolas Mouawad, an established middle eastern actor. I've also acted in several plays at the Pasadena Playhouse, the Fountain Theatre the Marylin Monroe theatre, Stella Adler Studio of Acting theatre, the Phoenix House and many more.
With the outreach program at the Stella Adler Studio in NYC, I had the opportunity to assist Tommy Demenkov teach acting classes and performed self-generated material with talented people recovering from addiction. It WAS a special experience to witness how theatre gave them a channel to express their feelings and take their minds away from their daily challenges and struggles.
I love my job and I work as hard as I can. I do my best to learn new skills. I think having a physical background lends itself to the dynamism of my performances and makes me more comfortable handling stunt and fight work." It has also led me to portray characters that dance ballet, contemporary dance and Lindy hop etc.
I performed aerial work with special focus on stage flight, silks and vertical dance, jumping stilts in Oman at the Qatar Marine Festival, AND Michigan Technological University. I've also worked with creature costumes with Teatro Dell' Opera di Roma, LA Opera and LA Phil. Being ethnically ambiguous, allows me to considered for various projects. I'm particularly fond of working on drama, but I'd jump at the chance to perform comedic roles.
What were you like growing up?
I was a very independent child, I played a lot of sports and spent a lot of time with my friends, loved video games and fantasy role-playing and strategy games. not the most studious though! I had really nothing to worry about as a child, just having a good time and I wish I knew!
Apparently, when I was very young I wanted to be dressed only in white. I was definitely peculiar, never been easy to please and I still am that way, I guess.
I had always been quite competitive until I started dancing and became my only real opponent. I had a different reason to improve my performance and that reason was my love for the performing arts. I'll leave you with a quote of The great Mikhail Baryshnikov; "I do not try to dance better than anyone else. I only try to dance better than myself."
-I couldn't agree more. that is the true essence of being an artist as far as I'm concerned; to desire continuous growth and improvement of the self.
Contact Info:
Image Credit:
Dan Kumeiko first picture, Giordona Aviv 2nd 4th Riccardo Iacovelli 3rd , Julia Shoots 7th 8th 10th,
Suggest a story: VoyageLA is built on recommendations from the community; it's how we uncover hidden gems, so if you or someone you know deserves recognition please let us know here.