Today we'd like to introduce you to Olivia Crouppen.
Olivia, let's start with your story. We'd love to hear how you got started and how the journey has been so far.
While I was born into a family of cooks, with both my mom and brother professionally trained in culinary arts, my cooking education all started with an elderly baby sitter named Jazzy. To call Jazzy lazy would be an understatement. Whenever she came over to watch me, she just put on the TV and plopped me on the couch. Lucky for me, Jazzy loved to watch the cooking channel.
While the kitchen really was the heart of our home, Food Network was really where my obsession with cooking came from. As a 5-year-old I idolized all of the original Food Network chefs like Emeril, Sara Molten, Jacques Torres and Jamie Oliver. I loved learning while watching TV and really understood the ingredients because my family was so active in the kitchen.
Flash forward to my 6th birthday, where I requested my parents take me to an Emeril book signing at The Grove instead of having a party with my friends. I soon got my hands on Emeril's books and spice mixes and got into the kitchen, offering to cook for my family as often as I could. As I got older, I discovered the goddess that is Nigella Lawson, books by Donna Hay, Yotom Ottolenghi and other international chefs.
To this day 80% of what I watch is cooking related. Just like some people throw on a season of The Office while they're folding their laundry, I can ALWAYS watch a re-run of The Barefoot Contessa. Cooking shows have been in the background of my life for as long as I can remember.
When I was in high school, I took cooking classes and even worked at the local cooking school in Thousand Oaks called Let's Get Cooking. Around the same time, I became really interested in fashion and took up sewing. Eventually, cooking took a back seat as I traded in cookbooks for fashion magazines and set my sights on becoming a fashion designer.
After I graduated high school, I studied fashion design at California College if the Arts in San Francisco. While I loved exploring the food scene in the Bay Area, I had no intention of working in food and went full speed ahead in fashion, eventually moving to London for a year to farther study fashion and graphic design.
Upon returning to California, I quickly got several internships assisting celebrity stylists in LA and started producing photo shoots to develop my editorial fashion portfolio. The growing pains and pressures I was experiencing at this time combined with unresolved trauma from my past made this time of transition overwhelming.
This sense of overwhelm did not mix well with the image based industry I was immersed in and food soon transformed into a source of extreme discomfort. From my early to mid-twenties I completely robbed myself of the joy of eating, suffering from very disordered eating and orthorexia, which is the obsession with eating the "right foods."
At my worst, there were no "good" and "bad" foods, there were just no foods. I didn't even allow myself to see what I was doing to my body and spirit as controlling my eating and my physical form was the only thread holding me together. I had no awareness that my obsession with food and being healthy was a distraction from really looking at my emotional and mental health until I had the opportunity be on a cooking show.
While I was working at Farfetch.com as a wardrobe stylist, I started to get back into the kitchen but for all the wrong reasons. I wanted to find food that was "safe," meaning low in calorie but tasty. The more I cooked the more I wanted to use the ingredients I had previously completely cut out of my diet.
Once I started to loosen my grip, I really enjoyed cooking and remembered how naturally it came to me. I decided I wanted to share my food anonymously, so I started an Instagram account called "The Salad Bitch" where I posted my recipes. The more I put my recipes out there, the more requests I got to cook for dinner parties and events which led to a close friend suggesting I try out for the cooking show Masterchef on FOX.
I had never seen MasterChef, but I knew Gordon Ramsey was involved, and the opportunity would allow me to cook on TV, so I was in! On a total whim, I auditioned. I was super confident in my cooking skills even though I had spent the last five years totally avoiding food.
After the first audition, I received a callback, and from there I just knew I was going to make it on to the show. In order to compete on Masterchef, I left my job and went all in. While the opportunity to be part of the show felt really invigorating and was a pivotal point in my journey, this was a very difficult time.
My eating disorder was really at its worst while under the pressure of cooking competitively on a reality show. I was finally face to face with the irony that my entire world revolved around food, but I wasn't eating. Not to quote Florence and the Machine but, "it's always darkest before the dawn"…
For the first time in my life, I became aware that the way I looked was not good, and that the people that expressed their concern for me were justified. I also finally felt into the sadness I had caused myself by disconnecting from one of life's greatest pleasures and my natural talents.
Out of 40 contestants, I made it to 7th runner up in the competition before I was eliminated. After coming home and returning to normal life, I knew I could no longer work in fashion and that it would actually be bad for my health. I was determined to make the switch to the food industry, I remember thinking I would chop onions all day if I had to.
It took about a year of transition before I managed to work in food full time, but the work came with so much more ease than it had when I was wardrobe styling. Soon I was working as a private chef and landed a gig as the host of a live stream cooking show for an app called nom.com.
The work was so much more fulfilling to me, and I was able to use my experience in fashion and production to expand my services into recipe development and food styling for companies like BuzzFeed, Popsugar and many other household food brands.
All the while, I still did not even attempt to begin healing my relationship with food until 2016 when I finally broke down and decided to ask for help. I told my family I was not ok, which of course they had known for years. Once I started unpacking my relationship to food I became fascinated with the connection between the mind and the body.
I began to study holistic nutrition, Ayurveda and worked hard to eat intuitively. It was a slow process, but I finally began to heal and forgive myself. Taking a holistic approach to eating and living is what really led to lasting change. The way I felt was indescribable, it was as if I had new tastebuds, and in a way I did.
The understanding of how interconnected our mood is to the food we eat, the energy we put out, which leads to what we get back, is what now drives my love of mindful eating. Every single day I am so proud of the experiences I've had, both the struggles and the wins.
Even more so, I am grateful for the knowledge that nothing in life is that dualistic. There is no "good" and "bad," only lessons. I am constantly in a state of gratitude for all my body has done for me and can do. When I stop to think about the wonder of being in a body I am often left speechless, followed by this feeling that everything we need in life is within us.
I currently work as a holistic chef, culinary producer, and food stylist. This past year I have been working on a Youtube cooking show called "LivBaking" which just launched on an esteemed YouTube channel I have worked with for the past two years, called Bigger Bolder Baking. I never thought I would have my own cooking show, but I guess in a way it's what I have always wanted.
My culinary style combines multicultural flavors with nutrient-dense ingredients, to create dishes that are nourishing to the body and mind. I'm really passionate about breaking the rules of dogmatic diet culture. My food is all about removing the ingredients that cause fear and anxiety around eating.
By cooking without the use of any gluten, dairy or refined sugar my recipes provide a sense "food freedom." The result is bright, flavorful and energizing meals that truly feed you from the inside out.
We're always bombarded by how great it is to pursue your passion, etc. – but we've spoken with enough people to know that it's not always easy. Overall, would you say things have been easy for you?
Besides the obvious struggles I've described, the most difficult thing has been embracing the fact that I'm walking a path that has not yet been paved. There is something really comforting about the traditional idea of going to college then working in an industry related to your major & "working your way up." I think many have strayed from this trajectory, especially those younger than me. But, I still at times think a "stable job" sounds attractive.
I always knew I would have many different jobs and be part of many teams. While things are never boring, I can see the appeal of knowing exactly what I'm going to be working on in a months time. This just means I have to have extreme trust in myself and what I have to offer, which ultimately has only made my intuition and business stronger.
We'd love to hear more about your business.
I enjoy and specialize in every part of the creative process as it relates to creating food content. I like developing recipes and engineering them to be not just delicious but also nutritious. I, of course, am most at home in the kitchen testing recipes and try to do so with the awareness that what I cook is not only made up of the ingredients I choose but the energy and love I infuse them with. Once a dish or dessert is finished is where my love of styling and photography comes in.
Last but not least, I really enjoy finding innovative ways to share my recipes and perspective, whether it be via social media or hands-on mindful eating and cooking classes. I enjoy cooking and baking a really diverse range of things, but I think at this point some of my most popular recipes have been sugar-free baked goods, the most recent being a flourless and sugar-free double chocolate cookie.
What I'm most proud of is the community I've been able to create around the shared intention of truly feeding oneself – physically, emotionally and spiritually. There are so many that struggle with their relationship to food, I love bringing light to why eating can be so emotional and helping people tap into how powerful the act of cooking for yourself can be.
What were you like growing up?
I think Los Angeles has really always been at the forefront of health and wellness as well as media. I feel so fortunate to have a community of people around me who have encouraged me to pursue combining these two things. If I were in any other city, I would be advised to either start a blog or work in a restaurant.
Living in LA has really allowed me to have such fulfilling and diverse work. From commercials and digital media to private chef work, there are tons of opportunities here no matter what kind of food you are passionate about.
Contact Info: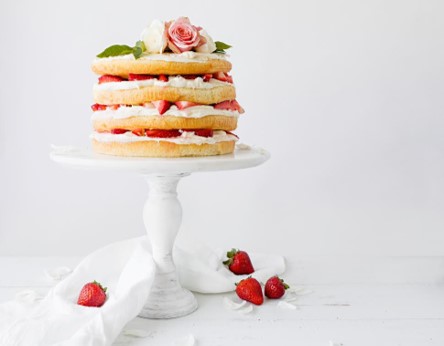 Getting in touch: VoyageLA is built on recommendations from the community; it's how we uncover hidden gems, so if you know someone who deserves recognition please let us know here.