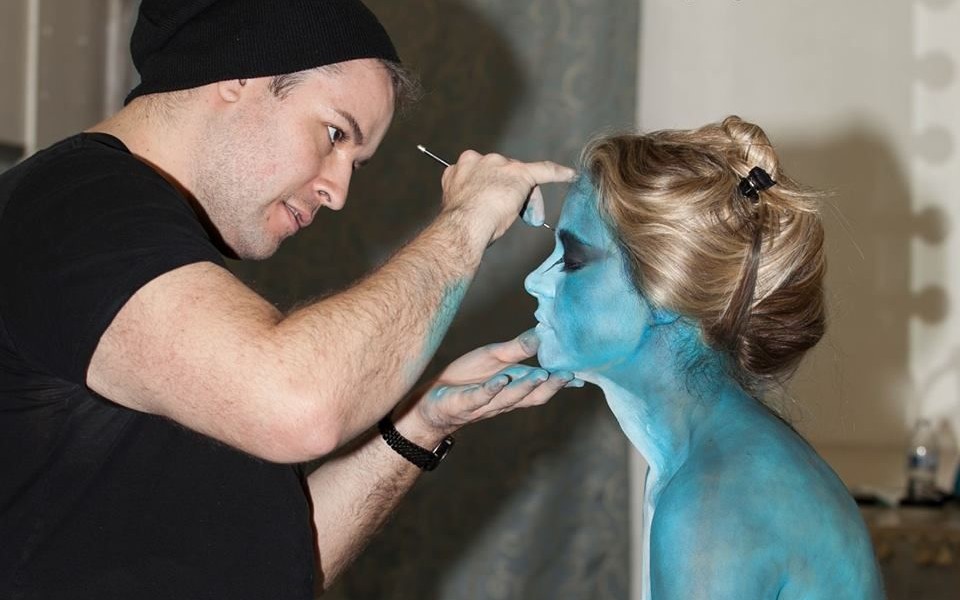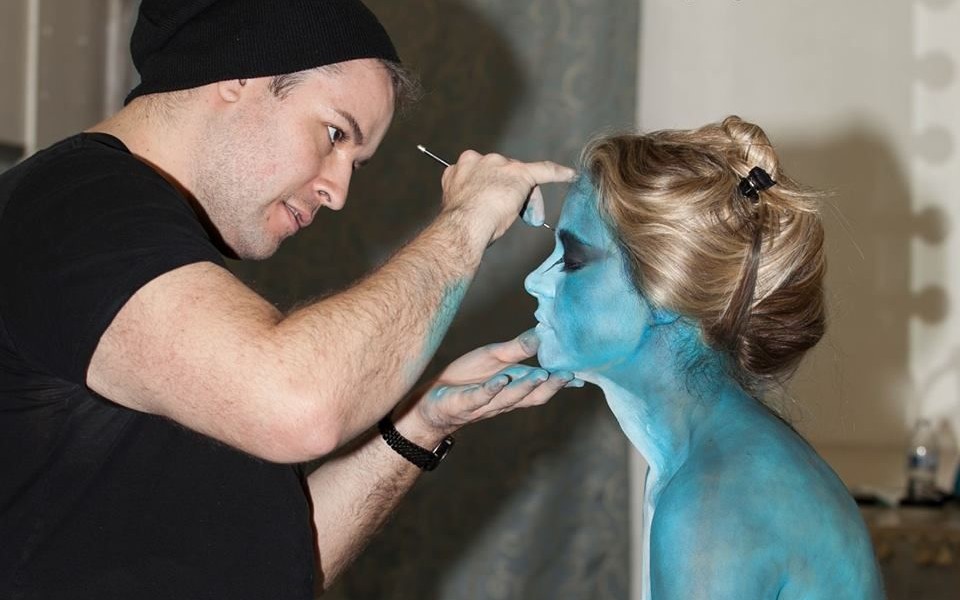 Today we'd like to introduce you to Ryan Roberts.
Ryan, please share your story with us. How did you get to where you are today?
My story actually starts in my theatrical roots as an actor first and foremost. I started pursuing makeup as a sort of side hobby interest during my senior year of college back in 2008. Now I had been doing stage makeup for theatre performances since I was 12, so that type of work wasn't unfamiliar to me, but fashion was a whole other story haha.
During our senior year, my college best friend, Emily, and I were looking at different avenues to pursue within the industry as we were getting a little burned out with acting. So she started investing in trying to become a model and by chance, happened to ask me to do her makeup for her first few photo shoots. Now granted, these were shoots in a small southern town and definitely not the kind of set up or result you'd get from something for a magazine by far, but she asked me anyway despite me never having done this type of makeup before. Boy it was a disaster! Haha. Looking back on it now really makes me aware of how much continual practice and perseverance really changes things as the results of that shoot were definitely in the theatrical strain of makeup instead of the fashionable. But we were young and didn't know much different at the time, so we had a blast anyway and that initial shoot was enough to awaken this desire for me to learn more and try pursuing something so intrinsically similar and yet vastly different than what I had spent my life preparing for, which was the stage.
From that moment on, any chance I could or any free moment, I was studying makeup and playing around with it on anyone who would let me near their face. My poor mom and sisters definitely got tortured a few times here and there haha. But I was obsessed. I couldn't learn everything fast enough, but I was definitely trying. I bought and read books upon books about makeup artistry and the tools to use and the techniques. Books like Making Faces by Kevyn Aucoin or About Face by Scott Barnes were just a few of the many that I devoured cover to cover trying to figure out what I was doing. I spent hours on YouTube (back when it was just starting and mainly it was just professionals who had tutorials, so there wasn't a vast amount out there then) and just recreated look after look on myself, sometimes at 3:00AM, until I felt I had a better handle on things. I did my best to understand what I could but being in a small southern town that wasn't known for being very progressive, limited my abilities to really flex my artistic muscles.
Flash forward 8 years later and here we are now! Moving to California in 2012 was definitely a life changing moment for me. I moved 3000 miles away from my family and support system, with nothing, to pursue a career in something I honestly had no clue if I was even good enough to do. But I believed in my dream and work ethic to make it happen, so I started testing with everyone I could shoot with and doing any sort of event revolving around makeup just to get my name out there and network. Getting a job at MAC was really helpful as it allowed me access to training and product knowledge that filled in a lot of the gaps I had had from my own self-teaching. I was able to practice and perfect my techniques every day on women (and some men) of all ages, skin types, and temperaments. So it really helped round me out as an artist, while still giving me the creative inspiration to try other forms of makeup and avenues. And since I had always had a passion for fashion and editorial makeup, I started focusing on that as a career specialty, but it wasn't until I quit MAC that I felt my work really take off.
I started working with a photographer by the name of Fidel Gonzalez, who's work I had been drooling over for about a year because it was just so gorgeous. We had been talking for a few months when he finally asked me to come assist him on a shoot he was doing in Downtown LA a few days later. I didn't really know what to expect since we had never met officially in person yet as most of our correspondence was via Facebook, but I showed up to the shoot and, as they say, the rest is history. Fidel and I hit it off and worked quite easily and well together, creating an amazing editorial piece that's still one of my favorites, and one of my first magazine cover stories.
After that shoot, Fidel and I began to work together a lot, shooting concept after concept, along with his husband, Josh, who had become my unofficial manager at the time, We worked on developing my portfolio, which was doing ok for some of the work I was doing in LA but definitely not strong enough to get me the type of work I was craving and started networking me with a few other artists, stylists, and photographers. Some of my best work and experiences in Los Angeles have been with these guys on set, and I wouldn't trade those moments for the world.
Has it been a smooth road?
Definitely not haha. All careers have their bumps in the road, but those are usually the moments that test your strength of character. For me, the struggles have been a constant hurdle to jump and make you stronger for getting through them.
One of the biggest road bumps I came across, not just in my career, but in my life period at this point was about a year after I moved to California. Long story short, I was unprepared for how much this move required financially and that kind of bit me in the butt after the first year. I ended up losing my car, getting kicked out of my apartment, and basically living on the streets for about 6 months and fighting to just survive, all the while going to work every day and doing everything I could to turn things around. I honestly almost gave up and moved back home at one point, but I couldn't afford the plane ticket back home. Luckily for me, things turned around overnight at just the right time and I was able to stabilize myself and get my feet back under me. It was a scaring feeling but one I look back on with appreciation because it really showed me just how strong I had become as a person and how much I could handle in time of crisis. That was a big eye-opener and definitely one that has helped me be better in my life and career goals since then.
How do you think the industry will change over the next decade?
Over the next 5-10 years, I'd love to see some major changes and goals happen for me personally. One would be a move to New York. It's something I've always dreamed about and wanted since I was a teenager, so it's on the life plan for sure. However, it's not just about fulfilling a childhood dream, but a career one as well since New York is a stronger market for the high fashion editorial and print work fields that I specialize in, so it would really boost my career to a new level as well I think. Another would be the development and creation of my own body painting company and team that would be able to travel for work and have fun doing what we love. Fully self-sustained and my own boss: that would be nice.
As for the industry itself, I'd love to see a resurgence of 1920s style trends since we are quickly approaching the 2020s of our lifetime. Bringing back that style of life and fashion, with a modern 21st-century twist, would be pretty cool to see I think. Pat McGrath, can we make that happen, please? Haha
Has there been a particular challenge that you've faced over the years?
I'd have to say my biggest challenge over the years would be the constant doubt of whether or not this was something I could honestly make a living at. Like many freelance artists, I've had my fair share of struggles both financially and personally when it comes to my career. Not all have ended badly, but there have been a few times when I have thought to myself "Maybe now is the time to just hang up my brushes and quit being an artist." These thoughts sometimes stemmed from stress…the stress of having to fight for a job and not getting it, or losing a job last minute that you were counting on to pay rent or afford your car payment… and sometimes they stemmed from the lack of creativity and inspiration because of being overworked and burnt out.
However, no matter what they stemmed from, these moments were moments of character and clarity for me. I was raised by my parents to be a strong, independent survivor, and nothing was going to keep me from my dreams. Not even my own rock bottom moments. What they did show me was that I was stronger than I thought, and gave me a new appreciation for the industry I love and made me want to fight that much harder for it. In some ways, I came out of those moments a stronger artist, and definitely a stronger person, because of them, and while they sucked to go through at the moment, the lessons I learned from them are what made me the dedicated artist I am today.
What advice do you wish to give to those thinking about pursuing a path similar to yours?
My advice for anyone wishing to pursue this industry as a career would be threefold:
1) First and foremost remember to stay humble. There is nothing worse than working with an artist who has an ego, ESPECIALLY if they're just starting out and no one knows who they are. No one is going to want to work with you if you have a diva attitude straight out the gate before you even make a name for yourself, so check it at the door and be prepared to work and pay your dues.
2) Constantly keep studying and practicing and learning. The moment you think you've learned all you can about this industry, quit because there is ALWAYS something new to learn.
3) Remember that this is a business and a job. While it can be greatly rewarding and fun to do, it is still a business and should be respected and treated as such.
Pricing:
60 min. personal beauty lessons: start at $150 a session
Personal appointments: $200 (depending on look)
Bridal: $300+ (depending on look)
Bridesmaids: $125 per
Halloween Makeup: anywhere from $100-$1000 (depends on complexity of look)
1/2 Body Painting: $400+
Full Body Painting: $700+
Contact Info:

Image Credit:
Photographers: Saryn, Fidel Gonzalez, David Ramirez, Ryan Roberts
Hairstylists: Michelle Almanza, Yaniv Katzav, Mirna Garcia
Models: Marilia Moreno, Courtney Paige, Maddie Cook, Kristina Tsetkova, Christalynn Valentova, Diana Morales