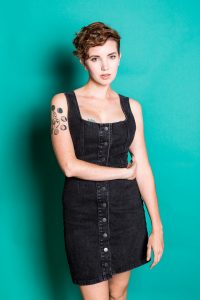 Today we'd like to introduce you to Nikki Black.
Nikki, let's start with your story. We'd love to hear how you got started and how the journey has been so far.
I went to Ithaca to study journalism and ended up getting involved in both the college television channel and the stand-up club. There are actually two comedy clubs at IC; one is purely stand-up and you have to audition to get in, and the people are sad and artsy (the one I was in), and the other one they also do improv and the people seem happy and like they have friends. Sorry, just wanted to start off on an extremely inane thing with the potential to be unnecessarily controversial.
So I started young, but I didn't do much of it because there are roughly ten people in Ithaca and we'd do a show a month if that.
After college, I went back home to New Jersey and started doing mics and shows in Philly. I was diagnosed with breast cancer when I was 23, just over a year after graduation. There was a sweet spot in there where I was performing in Philly and didn't have cancer, and I wish that could have lasted longer because for a minute I felt invincible. About a week after I was diagnosed I did my first set about it at an open mic, which was the first time a lot of people heard about it. I remember somebody asking me if it was a bit, which is so dark and hilarious.
I moved to Philly while I was still undergoing chemotherapy in an old apartment with four other comedians. I started running a monthly at the Adrienne Theater through Philly Improv. They gave me the slot and basically said, "Here, go wild," so I hosted as a crazed Victorian woman. It was called House Of Black, my co-host played the role of my butler, and I'd try to do as much Victorian and Victorian-inspired comedy as possible. Then we'd have just normal stand-ups on. Sometimes the performers would not really understand what was going on, which I loved.
After my chemo sessions were all finished, I had my port taken out, and that shook off a blood clot into my heart. I didn't realize anything was wrong until a few days later and I ended up flatlining in the hospital. A couple of months after that I moved to Los Angeles, still on blood thinners. I probably could have waited and healed longer, but I wanted to prove to myself that I was in control, not cancer.
I've been in LA for 4 1/2 years now, and I love it. I feel like I slowed down when I moved out here, but I have to remind myself that recovering takes time. I've also been really focused on prioritizing my mental health, which is paying off in big ways, and I feel like I'm in a place where I can really get moving again. I mean, I just signed up for a 6-week boxing course. What am I, a monster? Yes. A monster who is going to get the most out of this one life, even if it kills her.
I've got a little graveyard of mics and shows in LA, sometimes I'll resurrect one, but I currently host a monthly horror comedy show at the Lyric Hyperion, Midnight Macabredy, as Mistress Black, an actual demon from literal hell. Comedian/Writer Mikey Heller co-hosts as Vespertilio, an idiotic bat who is the bane of my existence. I encourage the comedians to do horror bits, but it's very "anything goes". I just want to give people a space to be dark, to try things out, and to have fun out there! I sincerely love doing the show and I've had comedians tell me that it is "fun", which is the best feeling in the world. Because, really, those are the opinions that matter: those of my beautiful, talented peers.
So, there have definitely been some challenges, but of all the struggles, what were some of the most difficult to overcome?
Did I say I had cancer? I had cancer.
I make jokes about it all the time, but cancer was and is a struggle. It shifted the way I saw myself, the way other people saw me, the way I saw them seeing me. I did a comedy competition two weeks after my mastectomy. I literally had the drainage tubes removed that morning. I wish I had been around to tell me it wasn't worth it. It's so easy to get burnt out as a performer, and even easier if you're already exhausted from surgery, chemo, or general illness-related stress.
When I was doing mostly cancer material, people used to say all kinds of bonkers things. I'd get asked what cup size I was planning to do for breast reconstruction. People would tell me they wished they could get cancer, so they'd have jokes as good as mine. People would tell me I should do less of the cancer material, it was becoming a crutch. The misogyny rampant in comedy is already horrible, and breast cancer was just a multiplier.
A couple of years after moving to Los Angeles I was diagnosed with Borderline Personality Disorder, something I've been working really hard to manage with a combination of one-on-one therapy and a Dialectical Behavioral Therapy group. BPD can make it hard to regulate your emotions and not act on emotion-dependent behavior, which makes it difficult to do anything at all, including content creation and performing in front of people.
I've been clawing my way out from under a pile of things holding me down, but luckily I keep those claws sharp.
We'd love to hear more about your work and what you are currently focused on. What else should we know?
My comedy has always come from a deeply personal place. I still do material about growing up in South Jersey, the most beautiful place on the planet (not being ironic – give me cheese fries and a beach and I'm a happy woman). When I was a teenager, I always felt like an outsider there, but now I'm really grateful for the caustic edge New Jersey gifted me. My friend Zack Reimers recently told me that I'm "mean but fair", and I think that's accurate. I'm a bitch but I'm your bitch.
My mom, whether she meant to or not, got me into the occult at a young age and now it feels etched into my bones. Horror and comedy are two sides of the same coin, and it's fun to play in that space. I have bits about my mom seeing ghosts and practicing witchcraft, and she's a good sport about it, bless her.
I got into Douglas Adams when I was around 10, which quickly spiraled into all kinds of British nonsense including Monty Python, Terry Pratchett, Neil Gaiman. I also love Shakespeare and have been fortunate to see a number of theatrical performances of his plays (hello, naked Russian presentation of The Tempest). I'd also say wry personal essay writers, like David Sedaris, have a style I could only aspire to but lovingly borrow from all the time. I love TEXT, you know? I live for DICTION.
Anime and the various tropes therein have also played a big role in shaping any character I've ever hosted as. If hitting the bong and playing with an Ouija board while the Mii Channel music plays in the background is appealing to you, you'll like me.
Any shoutouts? Who else deserves credit in this story – who has played a meaningful role?
Max Barth, a comic in Philly, went to college with me and encouraged me to get into stand up. He's been supportive of me as a comic and a friend, and he's one of my favorite people on the planet.
Alyssa Onofreo, A+ human being, is always cheering me on and helping me out on creative projects. There is truly nothing I can do to repay her.
Jess Lane put me on the first show I ever did in LA. She's been unwaveringly supportive of me, always has great advice, and is a kindred spirit in so many ways.
Nina Tarr has (maybe?) never said "No" to something I wanted to try with her, and I love that and am so appreciative of that energy and attitude.
Lisa Chanoux makes me *feel* funny, and she's boosted my self-esteem probably more times and more ways than she knows. She's a good one.
I met Madison Davis in Philly when she was living in North Carolina, and thank Jesus we're both in Los Angeles at the same time because I love her.
Ellie McElvain has not only been a peer in comedy but a co-worker and volleyball coach as well. She's answered at least two calls from me when I was having total meltdowns, and I know she'll continue to answer those calls in the future.
Finally, I would be incredibly remiss not to credit Mikey Heller, who has seen every version of me and continues to support me in spite of it all. He's come to almost every show I've had since we started dating, he's hung posters for my show, and he's the best co-host I could ask for.
Contact Info:
Image Credit:
Callie Biggerstaff, Abby Tebeau, Adrian Aguilar
Getting in touch: VoyageLA is built on recommendations from the community; it's how we uncover hidden gems, so if you know someone who deserves recognition please let us know here.