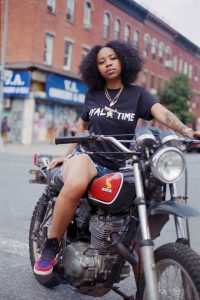 Today we'd like to introduce you to Nikki Anticss.
Hi Nikki, thanks for joining us today. We'd love for you to start by introducing yourself.
My story started in Brooklyn, NY where I was born and raised for the majority of my life. As a little girl, I was always creating and constantly inspired by anything that was around. Thanks to my parents, I was always in something in camp, school or outside in my community. I started off doing modeling in hopes to become one of those Disney Channel kids and quickly realize that I wasn't as interested as I thought I was.

I also remember trying pageants and also couldn't connect with the overall aspect of it. One thing that did stick throughout these times was dance. I would always create choreography with my friends Naiomi and Kiara for our yearly block parties and also attend Habawasani Dance School in Flatbush, NY. I quickly grasp the fundamentals of genres like modern, ballet, jazz, and also dancing within my Belizean and Caribbean culture. Going into high school, my first instinct was to go to a performing arts school but my parents had different plans. They wanted me to go to a catholic school where they offered a work study program in top firms, banks, nonprofits and much more companies around the city. I ended up going to the catholic school and joining the step team my first two years and working at JP Morgan Chase and then playing softball my last year while working at a non-profit. I was always getting in trouble for adding little things to my uniform.
Through my high school experience, I learned two things about myself. 1, I did not enjoy working in an office space where I'm not emotionally invested in the company, people and overall mission; 2, I was created to create. Though I enjoyed the experience I got, it gave me more insight on what I really wanted to pursue going into college. Picking the college or university was ultimately my decision but another hard choice because my two options were either upstate NY or Miami, FL. Which one do you think I went with? lol. I chose St. Thomas University in Miami and studied Communications Arts for four years. I didn't know anyone when I moved down there but ended up growing a network of DJS, Photographers, Videographers, Promoters and other creatives other by going out on the party scene and hanging with some of these creatives outside of that scene. I started my photography journey my first year but before that was constantly filming and editing videos for friends. I then found a love of shooting in the parties, capturing that joy and freedom, my friends and also Behind The Scenes content.
In Miami, I was constantly inspired by some of my peers to start my own but definitely didn't want to stay there and do it. I developed a connection and passion through my childhood for dancehall music. I was intrigued by the language, the sound, the look and colors of it. Out of all of it though, it was the women for me. The confidence, technique and curation of moves was something through growing up, I truly connected with. I think in my past life, I was a dancehall queen lol. Through that connection, I created my company It's Gyal Time Ent LLC, where I connect with woman who are inspired and are involved in the dancehall community to create spaces and events to connect the experience, music and culture of the term "gyal time". I'm always looking for a way to connect with others in my community or around the world that want to give themselves and others a chance to create.
Would you say it's been a smooth road, and if not what are some of the biggest challenges you've faced along the way?
I would say I wish but I don't. I'm grateful for those struggles because I have a constant yearn to learn. I've realized that those struggles are lessons and I can either ignore the lessons or take it and do better next time. Reflection and time are two important things to me. Trust and friendship have always been struggles for me but through reflection and time, I realize where I could have pulled more weight but not to dwell on things. I like challenges because I'm a quick learner but sometimes I tend to get distracted because I'm constantly inspired by things. I'm willing to continue the road whether it is smooth or not as long as my purpose stands and is carried out to make my kids' future easier.
Appreciate you sharing that. What else should we know about what you do?
At the moment, I identify myself as a creative because of the many works I've been involved with. When I got back to Brooklyn in 2018 after graduation, I started my journey as promoter and event planner by working with my late mentor Micro Don at It's Just Dancing Party in NYC and every October for Miami carnival with SocaVivor. Within those works, I was still doing photography with the name "Nikki Say Shoot" and also hosting events. Within all these avenues, I then narrowed what I was doing to event curating and hosting. As I started doing more Gyal Time events like Backyard Backazzz, The Gyaliversary and hosting other cultural Caribbean events, I started getting more eager to start Djing and MCing. Growing up in Brooklyn, I used to go to my cousins in Crown Heights and hear them DJing all night. The culture of clashing, dubplates and mixing all became some of the things I learned about throughout my journey and heavily influenced a part of me wanting to start Djing.
Also, I wanted to connect and put more women in the DJ scene so I curated my first event with a DJ line up including all women in March for Women's History Month. At this point, I'm known as that face for its Gyal Time Ent and one of the little female promoters in my city connecting with the DJs to promote the culture. Besides Gyal Time events, I had the opportunity to curate a weekly event at Clydes Caribbean in Pearls called Easy Swing Sundays located in Williamsburg. Every Sunday, I had a different DJ every Sunday with 2 for 1 drink specials and private birthday celebrations. I'm most proud of my works and that ultimate connection I've formed with my supporters. It's truly the authentic interactions for me. Everything I do is with intention so when people come to me and tell me how much they've enjoyed one of my mixes, events or any creative production, it makes me even want to continue that path regardless of the negative. What sets me aside from others is my ability to want to understand why I'm doing what I'm doing. Truly seeking who I'm inspiring and leading them to continue that path to just create what feels right. I want to understand all my creative sides and explore them and I'm just getting started.
Have you learned any interesting or important lessons due to the Covid-19 Crisis?
I have learned a lot due Covid-19 this year in myself, friends, family and my environment. Before the year started, I started working with Blacka Di Danca and Danca Agency, which he owns, to cast music videos, management and creative consultant. When Covid-19 hit NY, the agency decided to house some of NYC top instructors/choreographers dancers and create an online platform for them to still teach and connect with their students. After three months, we decided to head to LA, where we continue building content and our networks in a bigger space. Through this, I've learned that community is very important. Your tribe matters and so do you. Working together with these individuals not only made me gain different perspectives but learning how to ask for help.
I was always a person who because I was always eager to learn, taught myself a lot. I've always been a "get it done yourself " type of person and hardly would depend on others. I would often get burned out and creatively stuck. Creating a team and an environment where you can count on people made it easier for me to focus on my other projects. It always made me appreciate those who can in my life to truly help. My whole creative process has changed due to Covid-19 and I'm grateful for it. My patience with myself and with my projects is a process I'm truly enjoying. Getting more in-depth and strategizing with those who I wouldn't have been able to connect with and having those open conversations on pushing the culture forward. We are currently still in LA and building with the team to hopefully build a community of creatives with the same mission of generational wealth and staying in control of their creativity.
Pricing:
Gyal Time Shirt $30
Gyal Time Hat $30
Contact Info:

Image Credits:
Sho Shots Dutty Vannier Photographir aka Mr BT$ ILLKINGZ GRAPHICS
Suggest a Story:
 VoyageLA is built on recommendations from the community; it's how we uncover hidden gems, so if you or someone you know deserves recognition please let us know 
here.