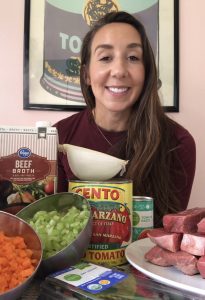 Today we'd like to introduce you to Nicole D.
Nicole, can you briefly walk us through your story – how you started and how you got to where you are today.
I've always had a pretty active lifestyle, ever since I was a kid. I was a dancer starting at age four, I ran track in high school for a couple of years (though I was never good at it), I was a rower for a few years in college, and I got into distance running in college and grad school. But the one thing that was always missing for me was a solid understanding of nutrition.
I was an incredibly picky eater growing up (I didn't even eat turkey until college), and I used to get sick often because I wasn't eating properly fueling my body for all of the activity I did.
When I got to grad school and started to prepare for a move to Los Angeles, I began to change my fitness goals. I no longer wanted to just be "skinny." I wanted to be strong and muscular, and I wanted to develop a better understanding of nutrition. Around the time videos launched on Instagram, I found videos of so many women squatting, deadlifting, and performing the Olympic lifts, and I thought "I want to do that. I want to look like that. I want to be badass and strong like that."
In between my first and second year of grad school, I had an internship in New York City. I lived in Astoria, Queens that summer and was looking for gyms nearby and found a CrossFit gym. I tried it out, and overall didn't really like it (finding a welcoming gym with GOOD coaches is hard to come by), and I really only wanted to focus on powerlifting and Olympic lifting – I didn't want to do all of the other things that come along with joining a CrossFit gym (burpees and fancy pull-ups can suck it).
When I moved to Los Angeles, I found an Olympic lifting coach within a CrossFit gym, and I dedicated 3-4 days a week to learning the sport in a supportive environment with a team and a coach. Five years later and I'm still getting stronger, having a lot of fun trying different strength sports (I transitioned into the sport of Powerlifting in 2019, and I've dabbled in Strongman which is SO MUCH FUN). I have loved this journey of being strong, eating a ton of food, putting on muscle and strength, and making changes in my body and my mind by building confidence with heavyweights in the gym.
And of course, along with a badass strength routine, I've developed a really positive relationship with food. I understand that food should make me FEEL good and not LOOK a certain way. I pay attention to how foods make me feel in the gym – if I have too much pizza and ice cream and don't consistently eat enough protein, my performance in the gym isn't great and I feel weak and slow. But when I'm eating clean, balanced meals (a healthy balance of protein + carbs + healthy fats + lots of veggies), I feel strong, energized, and my workouts feel amazing.
With my personal interest in fitness, strength, and food, and my professional background in marketing + content development, I created Dope Kitchen, which went "viral" totally on accident. But when I saw the opportunity to continue making content and inspiring people to eat well and fuel their bodies, I kept going, and it has brought so much joy to my life in such a crazy year.
Great, so let's dig a little deeper into the story – has it been an easy path overall and if not, what were the challenges you've had to overcome?
When I created Dope Kitchen, I didn't really have a plan (and I still don't). It's not my full-time gig, it doesn't pay ALL of the bills, but it's just a fun creative outlet for me to explore my own creativity and spread a positive message. I truly am just being myself. What you see on my social profiles is exactly who I am around my best friends. I don't hold back my personality on Dope Kitchen (but I do hold back a lot of my personal life – I don't need the world to know EVERY detail of who I am!).
Becoming an "overnight influencer" (though I hate that term – because I do so much more than just "influence") does come with a variety of struggles. I won't lie – there is an aspect of social media addiction that comes with this newfound popularity. I'm constantly checking my comments and DMs, I read everything, and even though 99% of the response I get from followers is incredibly positive and heart-warming, I do feel the effects of the 1% of people criticizing me for the things I cannot change – from comments about my looks, my voice, my personality, etc. I am very grateful for the support of so many strangers, but there is always a struggle in learning to overlook the mean comments and people telling me that I'm annoying, or cooking something wrong, or doing something that they do not like.
Dope Kitchen – what should we know? What do you do best? What sets you apart from the competition?
My "side gig" is called Dope Kitchen – it's primarily a TikTok cooking show where I get high and cook delicious and *mostly* healthy things. I am also a powerlifter and a huge hiker/backpacker/camper, so I love to share more than just food with my followers – my life is vibrant, active, and fun, and I want my followers to understand that you can be happy, healthy, and active while being a cannabis user.
My professional background is in marketing and entertainment. I have a Master's degree in Entertainment Industry Management – something I don't talk about often with my followers – but I credit so much of my fast growth and success with Dope Kitchen to my academic and professional background. I've managed social media pages for huge brands in entertainment and digital media, including food brands! So to me, it's really funny that while most people turn their hobbies into their side hustle or full-time jobs, I turned my full-time job into a hobby.
What I'm most proud of with Dope Kitchen is how I've been able to make a huge impact on people's lives, specifically with how they are changing their relationship with food because of my videos. I get so many DMs from women (and men) who thank me for helping them to see food as fuel and not evil. They are beginning to develop a healthier relationship with exercise because of me. Many of them are interested in lifting heavier weights instead of just doing cardio all the time. I try to teach people that exercise should not be a punishment for eating, and food gives you the strength and energy to do incredible things. It has brought me to tears on several occasions to read DMs from people who are inspired by my content to start treating their bodies better.
And there's so much that sets me apart from other people on the Internet. I combine comedy, cannabis, and cooking – something that nobody else is doing. I've been told that I'm like a 420 version of Hannah Hart from My Drunk Kitchen. There are a lot of cannabis influencers and content creators out there, but cannabis is front-and-center in their content. For me, it's more of an after-thought, and the food + lifestyle is the star of my content. I just want to teach people that there should be no shame in cannabis use, and it can help you relax and have fun with yourself. It really helps me enjoy my "me" time when I'm in the kitchen getting creative. Even before I started filming myself cooking high, I'd be making a mess while cooking, making myself laugh, talking to myself or FaceTime-ing my friends to tell them about something silly I just did while cooking, and I'm having so much fun documenting this for the rest of the world to see.
What moment in your career do you look back most fondly on?
My Dope Kitchen journey only started in April 2020 and really started to take off and take shape in June 2020. I'm really proud of the fast growth because it makes me feel like I've finally found a purpose in life, which is to make people laugh and inspire people to work hard and be their best selves.
But what I'm most proud of is the impact I've made on people, specifically women who have struggled with disordered eating. Women are taught that they need to be skinny, do a ton of cardio, eat nothing but salads, and their worth is defined by how they look. I want women to throw all of that thinking into the garbage where it belongs. Strength training allowed me to become the most confident person not just in the gym, but at work, in friendships, in dating, etc. Building a strong body has helped me to build a strong mind, and I want to encourage women everywhere to embrace food and fitness knowing that it can change their lives for the better.
So many people view fitness as punishment for food, or view certain foods as "bad for you" or are constantly wondering what nutritional benefit a certain food has on their health. I get a lot of questions like "Why do you choose almond butter over peanut butter" or "What is the nutritional value of Liquid Aminos" and I'm like "….uhh… Almond Butter tastes good, and I am just using Liquid Aminos because I ran out of Soy Sauce." People are constantly over-thinking their food choices and over-analyzing every calorie they put into their body, and it doesn't need to be that way. I eat things because I like to eat them, not because a magazine article told me that eating blueberries will help me burn fat.
I'm proud of the fact that my message about living a balanced life, eating a balanced diet, and being kind to yourself when you want to eat cake *once in a while* has resonated with so many people. I want people to pay attention to how food makes them feel, both physically and emotionally, and to recognize those feelings and start to incorporate more of the "feel-good" foods into their diets (e.g., Eating a balanced plate of veggies, rice, and delicious meatballs made me feel so much more satiated and satisfied than eating a bowl of popcorn and some ice cream. But eating a small serving of ice cream after my balanced dinner also made me feel good without over-indulging in too much sugar!).
Contact Info:
Suggest a story: VoyageLA is built on recommendations from the community; it's how we uncover hidden gems, so if you or someone you know deserves recognition please let us know here.