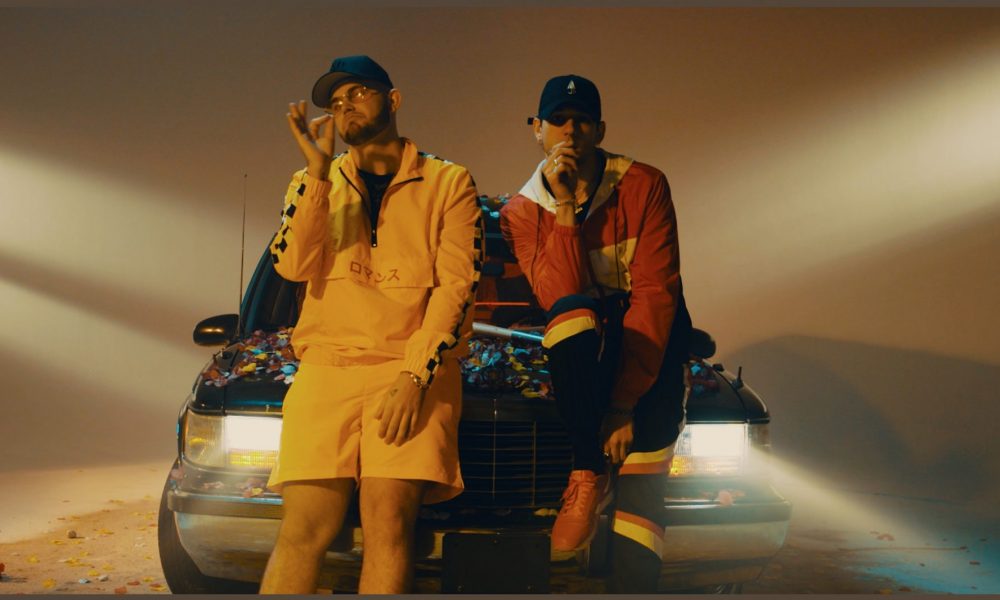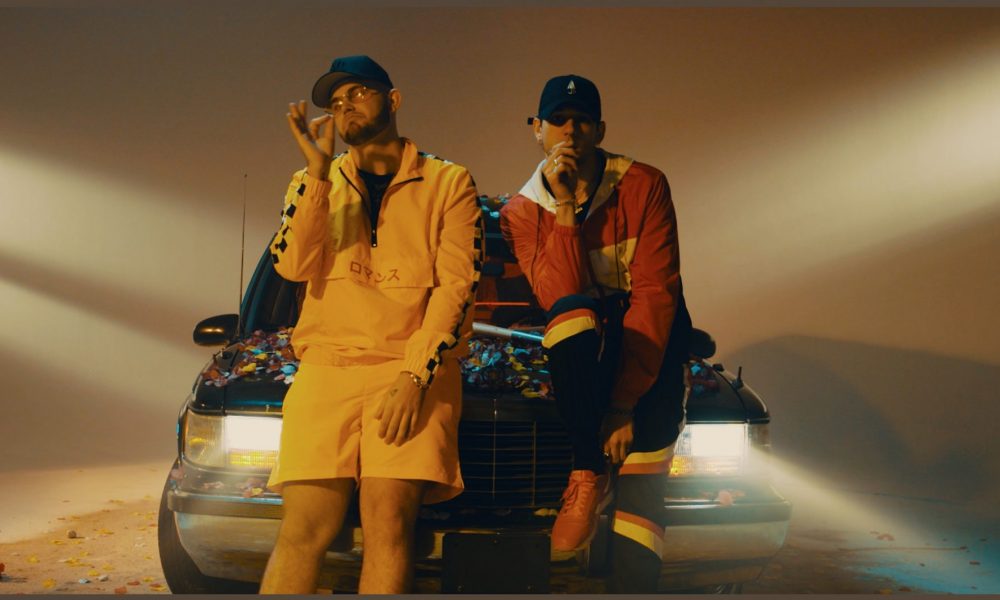 Today we'd like to introduce you to Nick Scary and Flow Namath.
April 94 is composed of two life-long best friends (both born in April of 1994) from upstate New York who've been making music together for almost ten years. Independence is one of the key factors in our process – as all of our production is done by Flow Namath and all of our artwork is handled by Nick Scary. On the surface we're two goofy, average kids in our 20's trying to make our way in this twisted world, but the moody vibe of our music shows another side entirely. Our music often expresses emotions that are suppressed by most people, emotions we try to embrace openly. Our production ranges from unique, new school sounds, to stripped down, simple beats allowing space to display complex melodic lines. It's nearly impossible to stick us into a box as our music is truly genre-bending. And our gloomy vibes belong to us as much as they belong to anyone in the world's current state.
Overall, has it been relatively smooth? If not, what were some of the struggles along the way?
As much as we've done a lot of the work for ourselves, we've been blessed with amazing support since day one. But that doesn't mean there haven't been plenty of hiccups along the way.
On our first tour with Joell Ortiz and !llmind, from upstate New York all the way west to California (LA, Oakland, and Sacramento) our rented van broke down on a bridge just outside of Chicago. Being only 21, we had used Namath's mom's information for the rental, and because she wasn't with us the company, we rented through (fucking Enterprise) refused to pick us up or replace our vehicle. We were already broke and truthfully probably shouldn't have even been on the tour, so us standing there outside our van, the sun setting, tractor trailers wizzing by us going 80 was a pretty low point. We finally found a tow company after a few hours of waiting there and they took us to a nearby hotel and then scurried the shit bag van to an Enterprise nearby. We had literally only done one show on the tour so far and it already seemed like we'd be going home with our tails between our legs. Three days in Chicago before our next show were spent going from rental place to rental place, being denied each time. We even went to a shiesty used-car dealership and considered spending our last dollars on a shitty old mini-van. After the Chicago leg, our next show was in Indy, so, much to the dismay of the MegaBus driver, we loaded bags and boxes and boxes and bags of equipment on to the packed mega bus and made our way to Indy. Thank God Flow's mom is a saint because she met us there with another rental. It was truly a miracle that she did that rather than beat our asses. Oh yeah, we also forgot to mention that for half of the shows there was a maximum of ten people in the crowd.
Other than that, we've done dozens of local shows, some great, some awful.
When we finally decided to move out to LA, making the trip from Rochester to the west coast in four days in a box truck eating nothing but PB&J's was an obstacle in and of itself. When we got here, we lived in a two bedroom in Hollywood with three people – we shared a room with our bed's touching. Our studio was crammed in between the wall and our beds but we made due.
There are plenty of other hurdles that we could explain, but as far as a more philosophical outlook to the question we as artists constantly have to overcome the fear of failing. The fear of not being good enough. The balance of knowing your place but knowing your worth. And mostly just always keeping faith in your process and always trying to improve on it. As long as you're creating art you believe in, you're on the right path. And when you feel in your heart and soul that you're on the right path, any obstacle you may come in contact with seems like nothing. It's all just a part of the story.
We'd love to hear more about your work and what you are currently focused on. What else should we know?
As we said before, we've been making music together for the better part of a decade. What started as us rapping in the cafeteria together only progressed further and further over the years. Our sound has morphed into something so much more than rap music. And our brand and overall outlook of what we want April 94 to be has only gotten bigger. Doing everything ourselves is so important to us because we feel like that's the best way to ensure that the message that WE want to get across is the one that we're putting out. And with Scary having been an amazing visual artist his whole life and Namath being a classically trained musician, it's been a pretty obvious choice to do as much as we can ourselves. At the root of it, we just want to create amazing art that comes authentically to us – both visually and sonically. But it's really more than that. We want what we say to be felt. No one is happy all the time, no one is sad all the time. Life isn't always glamorous, but it's also not always filled with struggle. It's all a balancing act and that's something we think really comes out in our music.
Our sound is so diverse that one song may not sound like the next, but it all belongs together because it's all coming from us. We've both been influenced by every genre of music imaginable and think it really shows in what our sound has become. Every genre has started to really taken influence from its counterparts, and our music has too. So while we are incredibly unique as a group, our sound still fits within the modern landscape of the industry.
We're most proud of that genre-bending. It wasn't on purpose, it was just what naturally started to happen in the studio over time. And with us being able to control every aspect of the creative process, there's no reason to limit ourselves to one sound or another.
Any shoutouts? Who else deserves credit in this story – who has played a meaningful role?
First and foremost, our artistic influences deserve a lot of credit. We grew up studying every word of Jay-Z, Big L, Eminem, Biggie Smalls, Nas, Big Pun, and way too many more to mention. And then, as time went on artists like Frank Ocean, Mac Miller, and Daniel Caesar really unlocked a whole other side of us. Especially Mac. Being suburban white kids who spent a lot of time doing fucked up shit they had no business doing Mac was an obvious comparison for people to make to us early on and we used to hate it even though we've always been huge fans. But if you follow his career arc we have no problem admitting that as his sound changed so did ours. We started off as the backpack rappers just like him, but as time went on strictly doing that got boring to us and unfortunately, a lot of that music is starting to die, so though we still love that stuff it was just natural that our sound moved away from that and he definitely had a lot to do with it. But jazz artists like Dexter Gordon and John Coltrane and Miles Davis, and 70's artists like the Temptations and Bill Withers and the Isleys and Marvin Gaye, and bands spanning from the Beatles and Pink Floyd to Nirvana and Dave Matthews have all greatly influenced us as well.
As far as people close to us, we couldn't even begin to list them all.
Our first experience in a studio was with Justin Yelle of Kaotic Records in Rochester. He really took us under his wing and became like an older brother to us. We had keys to the studio and were free to go in and out as we pleased. He taught us so much as far as the engineering side of things goes and we wouldn't be anywhere we are now without him.
Meeting Hunter Lyon (an incredible director) and our homie Jitta at our first video shoot was also huge for us. We've remained close with both and they schooled us to a lot of stuff over the years and we've remained friends with both of them. Jitta is one of those people who isn't afraid to put others on to game in fear that they'd capitalize off of it. He's always down to share new stuff he's found and spread the wealth and that's super rare in this industry.
Our homie Rennie (an amazing producer, artist, and sound designer) has also been massively helpful on our path. He's pretty much the only person we trust with our mixes and he was a huge reason that Flow started producing everything we make. He was out here for an internship a couple of years back and the time we spent with him really opened things up creatively for us.
Aside from that, we can't thank our families and close friends enough. Since day one, even when quite frankly we were absolute trash, we had their undying support. Whether it be our parents selling our merch for us at our shows, or our homies coming to every show no matter how annoying it was to sit through fifty awful opening acts, they've all always had our backs. It would be unfair to name anyone in particular and leave anybody out because truly they've all been the driving force of what we're trying to do since day one.
Contact Info:
Image Credit:
Zach Frank, Zach Mazzochetti
Suggest a story: VoyageLA is built on recommendations from the community; it's how we uncover hidden gems, so if you or someone you know deserves recognition please let us know here.