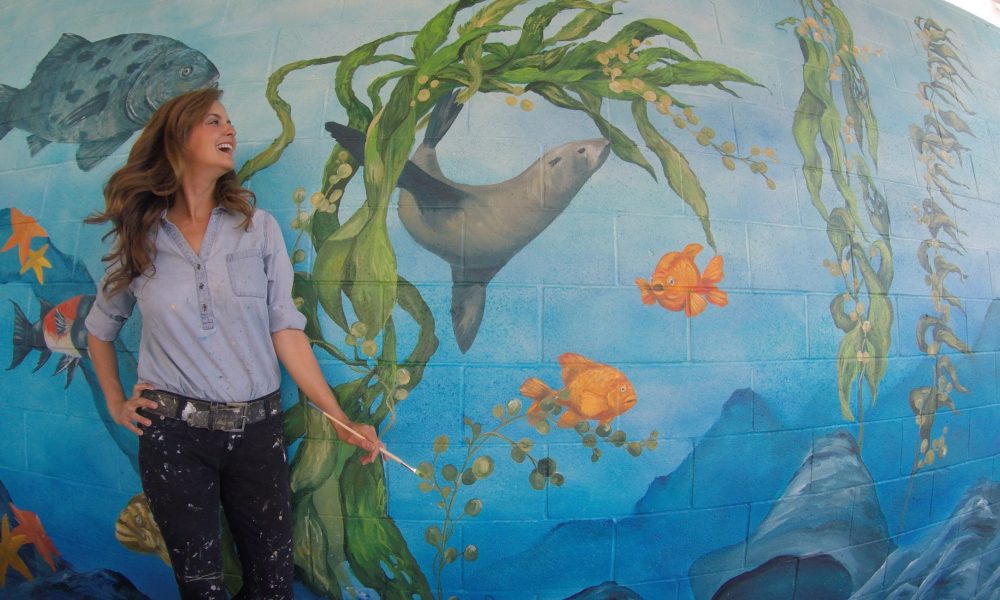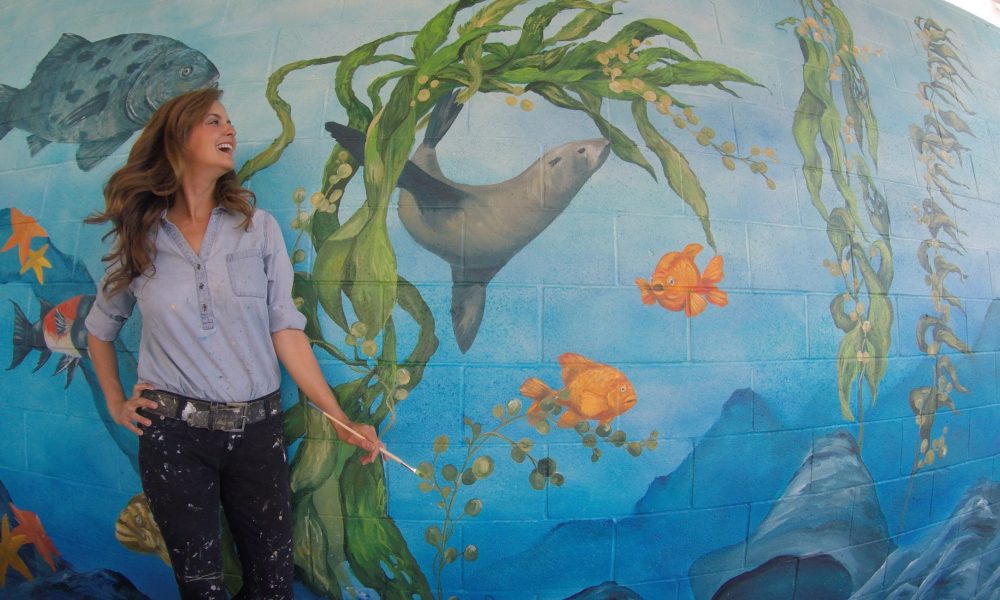 Today we'd like to introduce you to Nichole Blackburn.
Every artist has a unique story. Can you briefly walk us through yours?
I was never a great student, but I was a really good artist. In high school, I would ditch all my classes to go to the art studio where my favorite teacher, Mr. Kooper, taught at Redondo Union High School. Mr. Kooper saw my dedication. He encouraged me to create a portfolio, which eventually got me a scholarship to Otis College of Art and Design's Young Artist Program. At Otis, I learned quickly about drawing from live nude models and not being shy about it (easier said than done at 15 years old.) In the beginning, I would sketch shorts on all my drawings of the male models. However, it was not long until I embraced the human form while learning values, shadow, light, and color. After that initial experience, my world of art came to life in vivid colors.
After high school, I became bolder and worked bigger with my paintings. In college, I started dabbling in large-scale murals, earning a B.A. in Fine Art and Design from San Diego State University. In my spare time, I would paint murals for frat houses in exchange for a case of beer. I had no idea, I just wanted to paint and practice. I also taught children's art classes at the San Diego Museum of Art, as well as worked as a designer for the San Diego Union Tribune. At the time, I realized the most important thing was to learn as much as I could about the art world, not just techniques, but also the business side. I continued to explore as much as I could with art, eventually traveling to over 45 countries worldwide to fully broaden my artistic experience. Traveling has a huge impact on the art and colors I am working with at the time.
After college when I was 21 years old, almost by accident, I started a decorative painting business in Manhattan Beach. I met this funky, artsy girl named Demi who had just moved to the South Bay from Utah. We were young, ambitious and literally started a painting business from a pipe dream we imagined while bartending together. Demi and I would paint all day and bartend at night for high-end clientele. The bar patrons would hear us talking about starting "this amazing painting business." People would say, "Hey! You should come check out the custom house we are building and give us a quote." Demi and I would show up in matching overalls with red bandanas and create these amazing finishes for restaurants, private homes, and celebrities. With a lot of hard work and determination, our painting business became a raging success. Demi and I painted together for five years, laying solid groundwork and a great reputation that would follow me throughout my art career.
As I progressed as an artist, I strived to learn as much as I could about decorative painting and murals. I invested in as many painting classes and workshops as I could, training all over the world with the top muralists and decorative painters in the industry. Most recently, I moved to Paris, France (2014-2015) to study with world-renowned decorative painter Jean Sable at his atelier in Versailles. Prior to that, I apprenticed on the East Coast with William Cochran, one of the country's leading trompe l'oeil muralists. During this time I joined a select team of six artists who worked on a five-story public mural project called "The Dreaming." I had the pleasure of studying under world-renowned artists Nicola Vigini (Italy), Pascal Amblard (France), and Sean Crosby (New York), as well as Melanie Royals of Royal Design Studio.
Fast forward to 20 years later, I am the founder and Creative Director of Celadon Studio and Fine Art, a Los Angeles-based business whose main focus is large-scale murals and decorative painting. I have had the opportunity to travel all over the world painting murals professionally in some of the most amazing spaces that most people would never get to see. It is a thrilling, inspiring and satisfying career path. I truly love my clients and care passionately for their vision in each space.
I am also very passionate about my nonprofit. Big Sky Countries is a non-profit organization founded in 2008 whose main focus is donating large-scale murals to children's facilities around the world. Since 2006, murals have been painted in Thailand, Ireland, the Philippines, Bolivia, New Orleans, Costa Rica, Atlanta, Ecuador, and all over the Los Angeles area. These children's facilities include elementary schools, orphanages, children's hospitals, and youth centers. All children, faculty members, and well, everyone is encouraged to paint.
When I am not painting, I enjoy spending time with my twin sister, practicing yoga, hiking, and traveling to far off places.
Please tell us about your art.
I have been drawing and painting my entire life. With knowledge in all areas of color and design, I have worked on everything from large–scale murals to canvas art; three-story ceilings to murals in elevators. My specialties include decorative wall finishes, custom murals, skies, and ornamental ceilings.
Ceiling murals have always been one of my favorites. I vividly recall all the ceilings I have painted, but most of all, the first one: My first ceiling mural was at a private residence in Palm Springs, California. It was for a well-established bachelor who wanted his formal dining room ceiling painted as if "a midnight sky was on fire." I was 22 years old and so nervous that I spent the next two nights painting from midnight until 5 am so the rest of the construction crew couldn't watch me. During those two nights painting, I remember completely falling in love with the process and challenge of painting overhead. The final ceiling mural turned out to be a huge success. In my Client's words: "Now that's $%&* ceiling!" To this day it is still one of my favorites. I thrive off the challenge of painting overhead and giving the viewer something unexpected.
I love my work because I am always painting something different. The job of a muralist is very physically demanding because of the large nature, climbing up and down scaffolding, negotiating outdoor elements, and the safety factors. Then the creativity and artwork come at the top of the list, so it's a lot of hats to wear.
My most rewarding work has been with my nonprofit, Big Sky Countries. I started Big Sky Countries when I was in my 20s, after realizing that making loads of money was surprisingly not the key to happiness. For me, creative freedom paired with traveling, as well as painting with children was far more satisfying. I grew up an art brat in high school, always ditching my other classes to go to the art studio, and I would stay up all night drawing in my sketchbooks. I wasn't always the best student, but when it came to art, I was confident and free. In schools where art programs have been taken away, especially for kids that are not academically inclined, I want to show that art can be a huge success, both mentally and as a career choice. Some of the most brilliant children I have painted with were also the most withdrawn, anti-social and considered misfits. Funny enough, I relate and paint the best with these kids.
What do you think about conditions for artists today? Has life become easier or harder for artists in recent years? What can cities like ours do to encourage and help art and artists thrive?
I think it is a great time for artists to be alive and thriving! With social media connecting people around the world, it is easier than ever for artists to expose their art to the public and potentially reach millions of people. These days artists can become an overnight success based on the ability to share a trending piece with a click of a button.
I love that Los Angeles has embraced its art culture. I see more and more public art coming up by local artists celebrating their community. I notice people interacting with murals and making it their "own" art with photos and selfies. I hear about artists being paid more and gaining well-deserved respect for their hard work. If Los Angeles wants to continue to see it's artists thrive then I believe it starts with the kids and providing Art-based scholarships, as well as funding school art programs with a focus on college-bound art majors.
In many ways, life is easier for artists because they can share their artwork easily with Instagram, YouTube, and Twitter. However, artists also have it harder because these forms of social media bring more competition and cause viewers to always be looking for "the next thing."
I would love to see elementary and high school art programs brought back to schools with proper funding. There are so many kids out there like myself, who were not good students or great at sports, but excel in the Arts.
How or where can people see your work? How can people support your work?
Most of my work is in private homes, which is unfortunately difficult for most people to see. I do have some public murals and decorative painting in places like: the InterContinental Hotel in Century City, Zico Corporate Office in El Segundo, Cafe Del Rey restaurant in Marina del Rey, Lakeside Golf Course in Burbank, and Eureka Tasting Kitchens to name a few. I also paint a lot of murals for LA Unified School District, with murals at many schools especially in the South Bay. My general rule for schools is if they fund a mural, I will also donate one to them. It's my way of giving back. One of my favorite schools, Gulf Avenue Elementary in Wilmington has seven large murals I painted throughout the campus. It's amazing how much color and life murals can bring to a space!
For my nonprofit Big Sky Countries, there are so many ways to get involved and support. If you know of a children's facility in need of a Big Sky donation mural, let us know. We seek out children's facilities such as elementary schools, orphanages, children's hospitals, and youth centers, especially those that have little funding and are in dire need of our support. Donating brand new or gently used art supplies will always go to use for a children's art project. We can also use water-based paint from the last year, as well as water-based primer. For more information, you can find a complete list of how to get involved at: http://www.bigskycountries.com/get_involved.html.
Contact Info:
Address: Celadon Studio and Fine Art
1601 North Sepulveda Blvd #607
Manhattan Beach CA 90266
Website: www.CeladonStudio.com, www.BigSkyCountries.com
Phone: (310) 971-8044
Email: nicholemblackburn@gmail.com
Instagram: NicholeBlackburnArt
Facebook: Nichole Blackburn Art
Image Credit:
All Images by Nichole Blackburn
Getting in touch: VoyageLA is built on recommendations from the community; it's how we uncover hidden gems, so if you know someone who deserves recognition please let us know here.