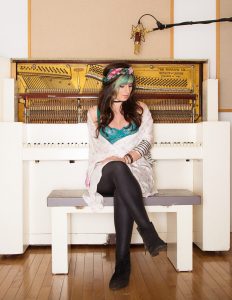 Today we'd like to introduce you to Nicci Funicelli.
Can you briefly walk us through your story – how you started and how you got to where you are today. 
I've been a performer all of my life. For as long as I can remember, I've always told people that I was going to be on stage and be a singer. There was never a doubt in my mind that I'd be doing anything else with my life. My first performance was at 7 years old, singing "Somewhere Over The Rainbow" at a talent show in New Jersey to a track my dad arranged for me. He is a jazz guitar player who trained at Berklee, so I developed an affinity for music early on. My brother Jim, now my partner and Head Audio Engineer at our company JENGA Productions, was always interested in the technological side of things. He was totally that kid who would take a toy apart just to figure out how to put it back together. So pretty naturally, being opposites, we have always worked really well together in music. I grew up singing in Catholic Church starting at age 11. I'm Italian, so culturally church was definitely a Sunday ritual for my family. I sang as a cantor with an organist and mentor named Maddie who, sadly, has since passed away. She taught me a lot of what I know about reading music, pronunciation when singing in another language. She yanked me out of school for paid gigs that she'd book me on through the church, which besides Sunday services, included weddings and funerals. Performing locally in talent shows and musical theatre as a pre-teen lead me to my first recording experience in a recording studio and I absolutely loved it. I was 13 and I could never stop thinking about how I wanted to get back in the studio. I've always been obsessed with the human voice, so when I realized it could be manipulated on a whole new level, sonically, it became a huge goal for me to get into songwriting and get back in a studio to work on my artistry. I made the move to NY when I was 17 and in a short while was performing locally with the likes of Kathleen Battle at Ashford and Simpson's "Sugar Bar". I've been super fortunate as a young performer to be able to share the stage with many living legends, some of which include Grammy Award winning Edna Wright and the Honey Cone, Darlene Love, The Temptations, Debbie Reynolds, and Barbara Eden. Shortly after moving to NY I relocated to LA at 18. When I got to LA, I found work and an agent relatively quickly. I was working as an On-Camera actress in Film & TV, a Voice Over actor, and a singer to build my resume. The same agent wound up booking me on a few tours as a singer where I was able to tour the country. I lived between Vegas and LA and once the touring was over, I really wanted a space to facilitate my songwriting and recording as an artist. My brother and I decided to open our own recording studio in the North Hollywood Arts district. At the time, we were co-writing a lot of pitch stuff for labels out of our space with Shayon Daniels, now our head Producer at JENGA Productions. We quickly and naturally developed an effective workflow as a team, writing and producing for ourselves as artists and pitching to both Major label and independent artists, as well. This is how we formed JENGA, it means "to build" in Swahili and we are a company that is very into the idea that building up others and their careers will in turn build your business. We relocated a few times, before finding our current recording studio home base in Atwater Village. The location has an incredible backstory, as home to the Black Eyed Peas for 20 years, many hits were made there you can definitely feel those good vibes in the space. Things were going well and some of the people we were working with in Los Angeles were relocating to Nashville. We collectively saw an opportunity for expansion and opened a Nashville location in the Historic RCA building on music Row, which is currently run by our partner Mallory.
Currently, I am an Artist, Songwriter, Vocal Producer and Owner of JENGA Productions. We are a Production team, and Recording Studio, which means we are a one stop shop and can take a project through its beginning idea phases and see it all the way through the final Mix and Master. It's been amazing to be able to actively work on my own artistry and be a part of so many incredible artists' stories. I also own a teaching business, JENGA Performing Arts (JENGA PAS) where we offer private Vocal and Piano Instruction to artists of all ages. It's really special to be able to give back in that way and share the knowledge I've gained thus far through teaching. I feel really lucky and look forward to all that is to come in this next year.
Has it been a smooth road? If not, what were some of the struggles along the way?
I would say that this career path hasn't always been easy, and still is not easy, but it's definitely always been worth it. I'm a firm believer that anything worth having is worth fighting for. For a long time, I had to take tons of odd jobs to support my life and then continued to take even more jobs to build the recording studio. The only way to get to where you want to be is by working hard, being good to those around you, and by investing and betting on yourself. I'll never forget performing on Jay Leno one day and getting all this special treatment, and the next day having to go into my job as a cocktail waitress and thinking how crazy this town is, and how resilient you have to be. I've been beaten up by gang members in LA at a club where I was working as a bottle service girl, just crazy experiences that you go through that make you really resilient. I mean, there's honestly too many insane experiences between living in NY, Vegas, and LA to even put them all down in one article, but my experience has been overwhelmingly good vs. bad. I feel lucky, but it's also really rewarding to know that everything I have, I've built from the ground up and self-funded. That's always a really great feeling as a creative young woman in business, to know that people trust you with their ideas and dreams. To sum it up, if you're doing what you love, it often doesn't feel like work, because it's what you were made to do.
Tell us about your business/company. What do you do, what do you specialize in, what are you known for, etc. What are you most proud of as a company? What sets you apart from others?
JENGA Productions is an Exclusive, Boutique, Full Service Music Entertainment & Lifestyle Company. As an artist, I struggled to find someone who really understood my project and cared about the details that go into an artistic vision. JENGA was formed to eliminate that frustration and create a tailored experience for artists, where they can feel seen and heard.
What I'm most proud of as a company is the feeling people get when they walk into my space. Our clients immediately feel comfortable and inspired to create art. We're personally, inspired by the idea that a creative collective should feel like family, like you're at home and like you can be free. There is always a good vibe in the space and we are committed to keeping the creative process inclusive, and feeling great for everyone involved.
What sets JENGA apart is that we truly care, not only about the quality of the content we put out there, but the journey it takes to get there. How you treat people during a creative process really matters and comes through in the final work. Another thing that makes us unique as a company is that we're a 3 person team. Because of that, we're able to create a song through all of its phases with a very fast turnaround time. We continue to be genuinely excited to meet with new artists and have the opportunity to create something sonically amazing.
What were you like growing up? Personality wise, interest wise, etc.
I grew up in a small beach town in New Jersey in the 90s, surrounded by a huge Italian family. As a kid, I was first and foremost, super loud and pretty wild, haha. I always had a strong sense of humor, was super sassy, was very weird, and really enjoyed singing and talking to everyone I met. Every report card I got before the age of 12 had "chatty" as a remark from my teachers, but I've always loved to be social and around people, sometimes to a fault. I have 3 brothers, so being the only girl, I would say I was really in touch with my boyish side. I played all sports, played trumpet in band, I did lots of different types of choirs, performed in regional musical theatre, and sang a ton of karaoke in my bedroom. When I was really young, my parents owned a toy company that made musical toys, and some of the first midi for karaoke machines, so I would get to demo all these karaoke recordings. My favorite was the Whitney Houston one, Whitney is my vocal icon and queen. If you've ever seen the movie "Big" the giant floor piano was my parents' toy design, so I loved going to things like Toy Fair at FAO Schwarz every year as a kid in NY. I'd say it was kind of a charmed existence for a little kid. I have some incredible memories like meeting artist Todd McFarlane from SpiderMan and Spawn and hanging out with Shari Lewis the ventriloquist and writer of Lambchop at 7 and just feeling like these were people I looked up to so much.
I've always been a hard worker and had 3 jobs at 13. I cleaned motel rooms, was a busser at a restaurant, and sang multiple masses at my local church weekly. I've always enjoyed being involved in a ton of stuff. I was doing everything from working locally with Habitat for Humanity where I learned to use power tools, re-roof houses, and build wheelchair ramps, to going to the beach to go crabbing, surfing, or fishing.
Pricing:
To book studio time, pricing starts at $50/hr
As a production team, we also offer full service package deals with scaled pricing.
We work with everyone from major label to independent artists.
JENGA is available for filming Music Videos, Film & TV projects, and photoshoots.
Email us at info@jengaproductions.com for a quote on your project.
Contact Info:

Image Credit:
Gavin Von Karls
Suggest a story: VoyageLA is built on recommendations from the community; it's how we uncover hidden gems, so if you or someone you know deserves recognition please let us know here.