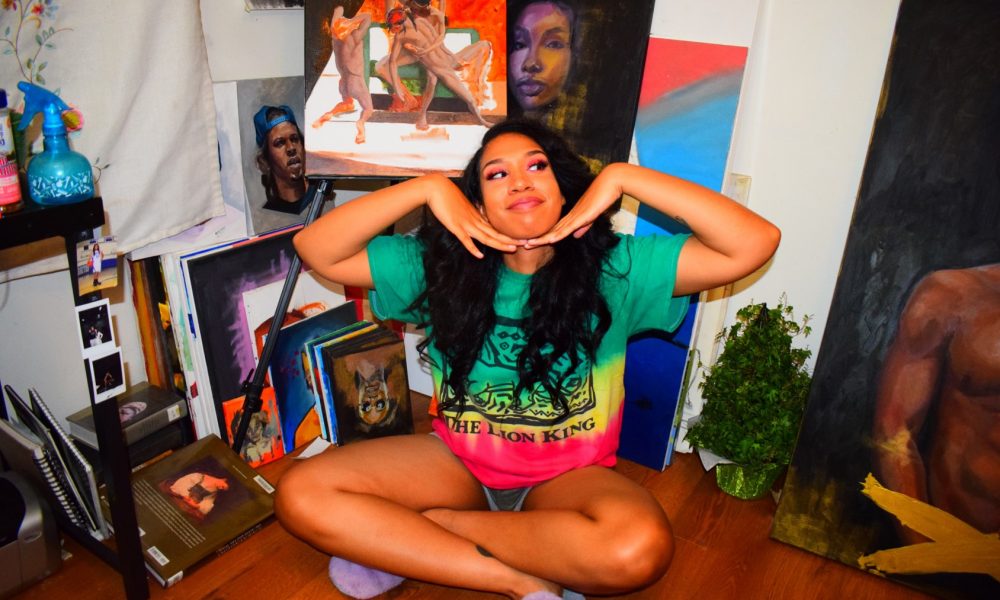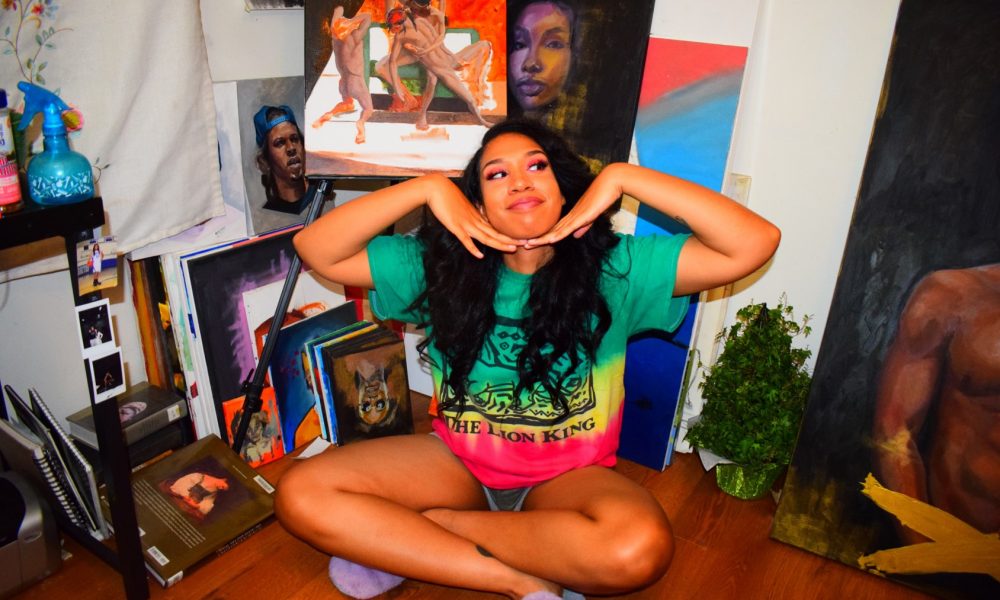 Today we'd like to introduce you to Nia Late.
So, before we jump into specific questions, why don't you give us some details about you and your story.
I've always been artistic. When I was a kid I would write stories, songs, invent things, draw and paint on everything I could get my hands on. There were several major encounters with art that solidified my innocent childhood hobby into an actual career and dream that I would later pursue. The first was my encounter with uncle Pudgy. I personally didn't know him. He was a man related to one of my cousins on the Mexican side of my family. All I really knew of him was that he was in prison for a very long time, and me nor my cousin knew why. What we did know was he was an amazing artist. He would send amazing Chicano pictures of clowns and women and beautiful handwriting. That was the beginning.
My second encounter happened at my grandma's house. My parents worked a lot so my mother and father would often leave my brothers and I with our grandma and very young uncles to pass the day.
My uncles were in high school during that time and maybe it was some kind of teenage angst thing, but they were heavily into tagging. I loved how my uncle Gabriel would draw in particular and so after seeing how he would draw out characters and words, I began to delve more into faces and tagging myself. I, however, kept all my terrible penmanship on paper.
I had gone through a really rough time during my transition into high school. It was 2008, during the real estate market crash. My parents were real estate agents and it was very difficult for them to sell houses. We ended up having to move due to our house being foreclosed on. I had just got into high school and I was already a very shy and awkward kid. I needed a way to be loud and get people to notice me without having to say anything. Because when you're good at something people know you. At least that was my logic.
I ended up joining the basketball team on accident. I had wanted to join volleyball but was to scared to quit and tell the coach who recruited me that I didn't wanna play. I ended up playing all four years; got good enough that I went and played in college. During those four years, I got even better at drawing.
Going into my freshman year of college, I didn't think I was gonna major in art because of the whole "starving artist". I was tired of starving. I was trying to ball out so I thought I would major in business and run some corporation. That obviously didn't happen.
The last encounter was all the art classes I took. How fun and challenging and frustrating and happy they made me. I especially loved figure drawing. That was my favorite. I loved drawing the female body in particular. How organic it was. This absolutely amazed me. After taking so many art classes my coach and my mother told me that this was something I needed to pursue and so I did.
I learned oil painting my junior year of college and excelled at it. One thing I do regret tho was how lazy I was. Deep down, I still didn't take myself seriously because who would ever want my paintings? On top of it all, I was very aware of America's history with minorities and that alone made me think I wouldn't be able to make any noise.
I think after really coming to terms with how little history I found of the black image in art there was, I decided to become a new master.
Years after college, there were several controversial deaths involving young black kids that shook my core. That made me angry. I wanted to burn everything metaphorically and physically. After I got over my anger tho, I decided instead of focusing on what was wrong, I needed to spend all of my energy on uplifting the people who needed it. I decided to take the black image and make my own stories. I love carravagio. A lot of the darkness you see in some of my paintings was due to his work. Another favorite of mine was Sargent. The way he would get so many textures and draw a face with such subtle colors and yet noticeable strokes got me excited.
I have painted a lot of musicians because of how important music is to me. Certain songs to me sound like certain colors and one day I'd like to really capture that. A HUUUGE part of Urbn Lgnds is not just art as in design, but I'm very influenced by music and what it does for people. You hear a good song and it could make you so happy and pumped. Or you can hear a sad song and BOOM, you're crying in your care because you're imaginary boyfriend broke up with you. For the most part, I don't just paint just any musician. It has to be someone I really respect and someone whose values are similar. They have to be about love. Sounds corny as hell sometimes but what I believe to be the ultimate love. Love and acceptance for yourself. Some people(mostly me probably) call it finding God.
All of this tho has lead up to my life long project. This is what I'm meant to do with the rest of my life. Urbn Lgnds. I don't want it to just be another clothing brand or retail shop. I want to actually help people. Young people. The little me's and the teenage me's and shit, maybe even the adult me's around my community. I'm talking LA, Compton, Long Beach, Inglewood, Lynwood. All the places that make California what it is. It isn't the big industries or whatever, it's the people. It's the black people and Mexicans and Asians. That's what makes this place the best place to be at. All these events have lead me to this. My job. To uplift the urban community.
We're always bombarded by how great it is to pursue your passion, etc – but we've spoken with enough people to know that it's not always easy. Overall, would you say things have been easy for you?
It's been rough. Not all of it of course. Most of it has been inner turmoil and my own voice trying to shut me down. That has been my biggest obstacle. I still deal with self-doubt and it doesn't help at all that I'm a huge perfectionist. But one thing that I've learned just from painting and continue to learn when I forget is that it doesn't always start off great or perfect. But you kinda have mix colors and scrape shit off and mix colors again and keep looking at proportions until finally, you're 15 hours in and the nose you scraped off three times is starting to look like a nose and you see the face come together and wow! You start to realize that you can do this and then BOOM! You're satisfied with what your work and you move on to the next one. I don't think what I'm doing and what I'm trying to accomplish is gonna be easy. But its a process. And I find that everyday I'm getting a little better at it.
So, as you know, we're impressed with Urbn Lgnds – tell our readers more, for example what you're most proud of as a company and what sets you apart from others.
The company is fairly new. Right now, we have several things up, and another concept being previewed. Some apparel, some tribute candles. That's what we're known for right now.
I think the easiest answer to what we do would be for me to say apparel. We make dope apparel and other stuff, we haven't dropped them yet but we're making skateboards and just all sorts of dope stuff to represent the beauty of the urban culture. I'm talking art and music-wise. But honestly, I don't wanna just say that. I think what I would really like for people to know is our goal. Our goal is to uplift these communities. We plan on starting local and then going out to different states and shit… the world to. Why the hell not.
What I'm most proud of as of now is that my team and I are going for it. Like I said before, it's not easy just starting a business. Going for it. People look at you weird or try and knock you off your own shine or laugh or whatever. That alone makes me so proud of the people who are supporting me, my brothers–I call my brother Drain "The God", my younger brothers, Myles and Emmanuel, for everything. If I need motivation, I ask them if I'm not sure on if a design is good, I ask them. If I need them to make a song to a visual, I call them. And my long time friend Jassy, she's been so patient with me. They're here with me and that's what I'm proud of.
I think what really sets us apart is that my team and I? We're regular people. We've been broke and homeless and gone through this, that AND the third. But who hasn't. And as much as possible, we wanna break barriers and do what we can for our homes. That's it.
So, what's next? Any big plans?
On a smaller scale, a little more near future, I'd like to have my own warehouse and a storefront. That's my milestone goal.
Eventually, I'd say like maybe 10-15 years, this is going to be huge. We're going to be financially set and well established. We're gonna have all our dope merchandise and be known throughout SoCal and then the US and then the rest of the world. After that, I'd like to start off local and start-up an art program for the inter-city kids. There's so much untapped talent and potential there. This program is gonna have elite art classes, including graphic design, coding, painting, music, video editing, all things art. Not only that, but it's going to have a branding and business side to it that teaches how to build yourself and brand yourself. All the business side of art you don't really hear about. That's so important. I was lucky enough to go to a school that touched on that subject.
Urbn Lgnds is gonna be big enough to where I'd like to take some of those kids who are learning all this stuff give them internships and shit if they would like to work there, have them come in with legit well-paying jobs.
Another thing I wanna do is build more skateparks in the inter cites. I am absolutely terrible at it but I've always had a love for skateboarding and people who do it. I want my own skatepark and I want to sponsor some kids who live in these urban areas. Get a whole team and just watch them grow and change some lives.
Nip and Tyler the Creator are huge inspirations for me. And if they can do it so can I.
Contact Info:
Image Credit:
Nia Lateju, Sonia Alonso
Suggest a story: VoyageLA is built on recommendations from the community; it's how we uncover hidden gems, so if you or someone you know deserves recognition please let us know here.