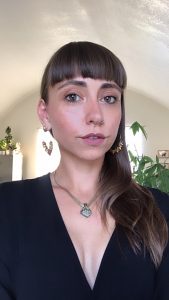 Today we'd like to introduce you to Nele Moens.
Nele, please share your story with us. How did you get to where you are today?
In 2015, I sold my retail business, The Public Image, in my hometown of Antwerp, Belgium along with most of my belongings and moved to Los Angeles. Having spent four years working in retail, I naturally transitioned into a Brand Manager position at a local fashion start-up on Melrose Ave, Laser Kitten.
However, music had always been my first love. Ever since I was very little, all I wanted to do was work in or make music. That's not how things initially worked out for me, but I very much felt like this was a time of "now or never". Ultimately, a friend introduced me to the founder of a renowned Advertising Agency, who had recently acquired a production studio. So I left fashion to start as their Executive Assistant and found myself running the studio full-time about six months later.
I hired and managed a team of five amazing Stage Managers and got the chance to work on incredible music video projects for the likes of Miguel, Rita Ora, and Lil Skies, produced by industry legends such as Boy In The Castle and Lyrical Lemonade. The following year, I signed my first artist, Justn, who had just returned from tour with Bas, playing keys and singing backing vocals. We spent the first ten months solely in the studio. There were days where I worked 10 hours at the production studio, only to hop on over to the recording studio after work for another 5 hours, go to bed at 2am, get up at 7 am and repeat it all again the next day. Not the most sustainable lifestyle for me, lol, but there were times where there was no other way to get it all done.
We had just finished Justn's first single, "All Time", and we're looking for the right master engineer when all of a sudden Corona happened. A new job I was starting got put on hold, all the festivals and concerts were being canceled, studios weren't hosting sessions, nobody really knew what to do other than stay put. We continued with the mastering of the song. God bless the internet for making this all possible. Considering listening parties were out of the question, I was trying to come up with an alternative way to get Justn and his song out into the world.
Being originally from Europe, I have been thinking about ways to make bridges between both continents since the day I moved here. I (co-)hosted a lot of events and concerts over the years, held ticket sales in-store and worked together with Faded, a local hip hop concert series, so I know a lot of amazing folks on both ends of the world.
That's what sparked my idea to organize a digital world support tour for Justn, which he named the Screens Only Tour. We brought together a roster of 8 incredibly talented artists across three different continents; the United States (V.C.R, YG Tut, Innanet James, Dave Coresh), Africa (lordkez) and Europe (Danitsa and Blackwave.). Four days a week, Justn opens a concert for an artist on their Instagram Live. I really believe the collective is the key. By connecting artists with each other, with managers, with audiences, with A&R's in countries and continents they might otherwise not have access to, all we can really do is grow and ultimately be successful. Nobody makes it alone, everyone got put on at some point by someone. So I pay that forward and believe in building through community. The response so far has been so great, has come from unexpected places at times and I feel extremely grateful for everyone who believed in this. My friend Lauren Gaballo designed the flyer when she's already so swamped with work.
Other friends and collaborators such as Valdair, Dax, Jay, Ari, Toon, Tobie, Othello, Bert, Shilo, Lance, Paakow, Vaughn, Hossien and Flow have been so significant on days where I needed a soundboard, advice or simply support when I was grossly overthinking and slightly panicking lol. And that's not even including all the amazing folks who shared the flyer, who show up for every concert, for all the supportive messages in the comments during the lives. Recently, we had people tune into a live from all over the world: Johannesburg, Abu Dhabi, Los Angeles, Chicago, Paris, Barcelona, Antwerp and Brussels! It's really introduced me to a bunch of like-minded people everywhere and you already know we're scheming on our next move.
Keep an eye on @screensonlytour, I just gave it it's own Instagram account, more soon to come! I'm very excited to see how this will continue to unfold. The blessing of losing the job was gaining the time to put all this together. Everything for a reason. Never know, maybe this will ultimately land me my dream job at a talent management agency or department too! Manifesting it!
Great, so let's dig a little deeper into the story – has it been an easy path overall and if not, what were the challenges you've had to overcome?
Hahaha, it has not been a smooth road, but that's okay too. Growing up, I had a pretty hard time and had to raise myself. When I wanted to start my store at 23, I took my business plan to every bank in the city to apply for a small business loan. However, without assets, capital or a family member to co-sign, they all sent me away. So the first year of business, to make ends meet, I would keep the store open during the day and go work as a cleaner after hours. After that first year, I started freelancing as a social media manager, which was something I could work on in between serving customers, so that was much easier to manage. Eventually, the store became profitable enough to sell, which was obviously something I had never done and I definitely went through a huge learning curve with that too. But I did it.
Any "first" never comes easy and inevitably comes with a long list of mistakes you have to make in order to learn how to improve and move up. That's a universal rule and applies to anything or anyone, so I take that as a package deal and valuable learning experience each time. But your socio-economic background makes a huge difference in the amount of bandwidth and resources you have to process all your "firsts". We should be offering a lot more services and support to vulnerable youth and their endeavors to start a small business. My first entrepreneurial experience wasn't easy, but I will say it made me incredibly resilient, resourceful, determined, communicative and a highly-skilled creative problem solver hahaha.
All that experience has made it much easier this time around to build something again from the ground up. I'm significantly better prepared, understand my own gifts and know what to expect. I understand the value and importance of a network. And I put people on any time I get a chance to. I take a lot of pride and joy in that. Moving from fashion to music initially seemed entirely impossible. Folks just did not understand why I wanted to switch to begin with, let alone how my skillset could apply to what they thought were two polar opposite industries. But luckily I learned early on, a lot is possible when you really put your mind to it. Just filter out the outside noise and always follow your gut. Now here we are and I've only just begun. Humble beginnings, big dreams.
Please tell us about Screens Only Tour.
I'm going into my second year of working as an independent artist manager, which has always been my dream. My diverse background is definitely my greatest asset. Having owned and sold a business, developed apparel collections from ideation to manufacturing and B2C/B2B sales, in addition to the experience of working in live-action production on music videos, make me really well-rounded as a brand and artist developer. There's a lot to learn still, but I have the skillset to get me there and I enjoy what I do every day I get to do it.
Outside of that, we just finished the Screens Only Tour, a digital world support tour. I think I'm most known for my ability to connect with folks and then subsequently connect them with each other. This tour is an accumulation of all my previous experience + that exact ability and it was so amazing to bring that all together. Could not have done it without Justn, who really gave his all in each performance and championed me through the entire process.
Is there a characteristic or quality that you feel is essential to success?
My sense of empathy, resourcefulness, and my inability to take no for an answer. I believe there's a solution to everything, keep going until I found what that is, and reach my goal. Once I set my mind on something, I will get it done no matter what.
Image Credit:
Flyer design by @lauren_gaballo, Justn image by @chasefade, lordkez image by @tauriqdolley
Suggest a story: VoyageLA is built on recommendations from the community; it's how we uncover hidden gems, so if you or someone you know deserves recognition please let us know here.