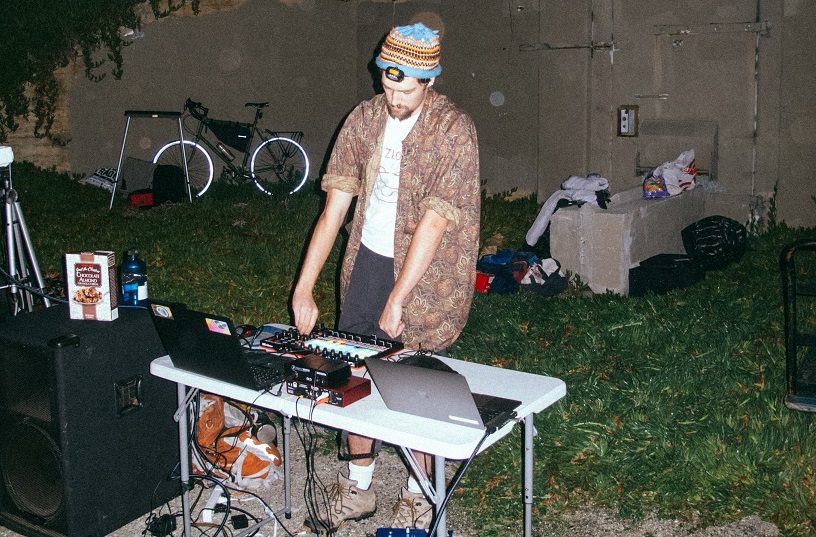 Today we'd like to introduce you to Neil "The Zlorngler" Koons.
Neil, let's start with your story. We'd love to hear how you got started and how the journey has been so far.
I make what I call "pseudo wonk hop Void beats" (or sometimes "zlorngul hop"). It's not a genre, but a description of what I make. Just like my music is a kind of abstract description, or coded journal passage of what I was feeling around the time it was made for me to decode later. I always get a better understanding of the point of a song or album a year or two later, when I have a better understanding of what I was doing in life at the time looking back, where my mind was at. I think often when I'm making music it's more the raw energy of it that I'm feeling when creating. Then later, I realize what it really meant, where it was coming from. Making music has gotten me through a lot of difficult times, still does.
The story of my growth as an artist has been a spiritual journey of self-discovery. It's a journey thats taken me from being a kid who played video games, got good grades in High School, and began going to college for Computer Engineering. To where I am now at 26 years old – making experimental beat music and psychedelic visuals for the love of it and offering my creativity and creative skills to others. Its been a total change of values and mindset. From being content to find enjoyment within the rules of a game someone else created while working towards the goal of a high paying programming job after college. To now, where the goal is being able to immerse myself in creativity and self-expression and make money from my creativity and the skills that go into that.
I've been playing saxophone since I was 11 years old. Started making beats at 19. It was around then that I really discovered my passion for music. It was around then too that I first really started listening to Hip Hop and electronic music. I put a ton of time into making beats since then. Most days I spend some time producing music, and its been like that steadily for 5, 5 and a half years at this point.
In 2017, a homie who goes by blakblakblak and I co-created "Raptor Chapter Records." Its a collective for experimental beats. A home for our music and our friends' music. As a collective we have about 30 albums on the Bandcamp page at this point. Most of it is released for free. Some are released on cassette too, which I dub at home with my tape deck. We sometimes put on shows as a collective. Typically at DIY venues, or out in nature. We actually were going to start putting on a monthly Raptor Chapter event at the New Scotland Yard Pub in Canoga Park, then the whole COVID 19 Quarantine happened and that show got postponed. It was going to be on April 2nd, 2020, blakblakblak's birthday. He released an album that day, as did The Cold Unknown who is also part of Raptor Chapter.
This past year I started focusing much more on how to make money off of my creativity. I've always had a very DIY approach, so I have a pretty diverse skill set; I'll get into all that later in the interview.
Has it been a smooth road?
The biggest obstacle in pursuing music has been the experimental nature of the music that I'm driven to create. Personally, I can't force myself to make music that sounds too much like something I've heard before or cater to what's popular. A lot of venues aren't into experimental music. My music is still very beat-driven, electronic, dubby alien music. In a general sense, it fits in the same genre of a lot of music that you commonly hear in nightclubs. But my music is a different take on it. I tend to avoid things that are kind of standard or expected in a genre. Which makes it much more interesting for me, but also more difficult to digest for people who are there just to dance and not focus too much on understanding the music.
On the business side of things, there's been minor obstacles the whole way. Since I had no formal learning about how to run a freelance business or promote one, I've had to learn new things every step of the way. Pricing, advertising, working with people, time management, organization, etc. I don't really view them as obstacles, but I've needed to have the mindset the whole time of knowing that I have a lot to learn and being open to that, and being able to analyze what works and what doesn't. I've had to solve many, many different types of problems and try new things. Especially because I offer many different services.
Can you give our readers some background on your music?
I'm a freelancer in the audio/visual world with many different skills and services to offer. I started out freelancing at the end of 2019, focusing on making trippy music videos for other artists and VJing shows. I mostly do digital video synthesis and video effects, but lately I've started learning how to do 3D modeling. I'm starting to incorporate that into my videos too. My video synth rig is a digital modular system that I control with my APC40, the same MIDI controller that I perform my beats with. When I VJ, I usually do a combination of live video synthesis/effects and launching premade visual loops. I'm putting together some visual loop packs for VJs that I'll be selling on my website. Should have some for sale in the next week or 2.
I've also been teaching private lessons for the music production software Ableton Live. I've been doing that via Zoom video chat, due to the COVID19 quarantine. I've been doing mixing and mastering for other artists' music. I sometimes sell beats to other artists – I never wanted to focus on selling beats because what I make aren't the type of beats that most rappers are looking for. But I'm always happy to work with rappers if they dig my style. I would be stoked really to produce for the right rapper. I just wouldn't want to end up making beats that sound too much like someone else's style. I also play saxophone; I'm always open to recording something for your project.
I make physical art too with oil pastels, pens and markers. I usually draw some kind of abstract otherworldly scene. It's from the same cosmic space as my music. I sell originals, as well as prints of my drawings and digital art.
I have merch for sale – I've been self-releasing my music on cassette tapes for the past couple of years. I dub the tapes in my room and stick a self-designed/printed tape label sticker on them. Going to be making CDs soon for upcoming releases. I've been screen printing shirts and drawing on them with paint pens. I also have a Teespring.com store, which makes it easy to sell shirts that have my digital art on them.
Is our city a good place to do what you do?
LA is definitely one of the best places in the world for the type of beats that I make. The "LA Beat Scene" is home to a huge number of my favorite artists. Artists like Flying Lotus, Ras G, Madlib, SAMIYAM, Jonwayne. The experimental hip hop/beat scene has been put on by artists from the start really. It's not a mainstream, commercially-centered genre/scene. It's about people making the music that they channel spiritually and really feel. For their own sanity, their own expression. The weekly event Low End Theory, at The Airliner Bar in Lincoln Heights, happened every Wednesday night for something like 12 years. Really the illest shows I've been to. I only started going in the last two years of LET – they stopped doing shows two years ago. But the six or so times I went, I heard some of the best sets I'd ever heard. Met a lot of my favorite artists in person. Low End was put on by artists in the LA scene. It wasn't some money-driven thing – it was about being a home for experimental beats, for the love of the music and the community. There's other recurring events still going on in LA that put on the same kind of music and keep the community thriving. Beat Cinema puts on 2-3 shows a month. Always a killer show. I'm on the lineup for their Beat Battle for 2020. Its a tournament of 24 or so beat makers. It was going to be on March 14th, but got postponed due to COVID19, so who knows when it'll happen.
Besides the scene for experimental beats, there's tons of musicians and artists to work with. So it's a great place for me to be doing what I'm doing.
Contact Info:
Website: www.zlorngler.com
Phone: (818) 307-5749
Email: thezlorngler@gmail.com
Instagram: @the_zlorngler
Suggest a story: VoyageLA is built on recommendations from the community; it's how we uncover hidden gems, so if you or someone you know deserves recognition please let us know here.