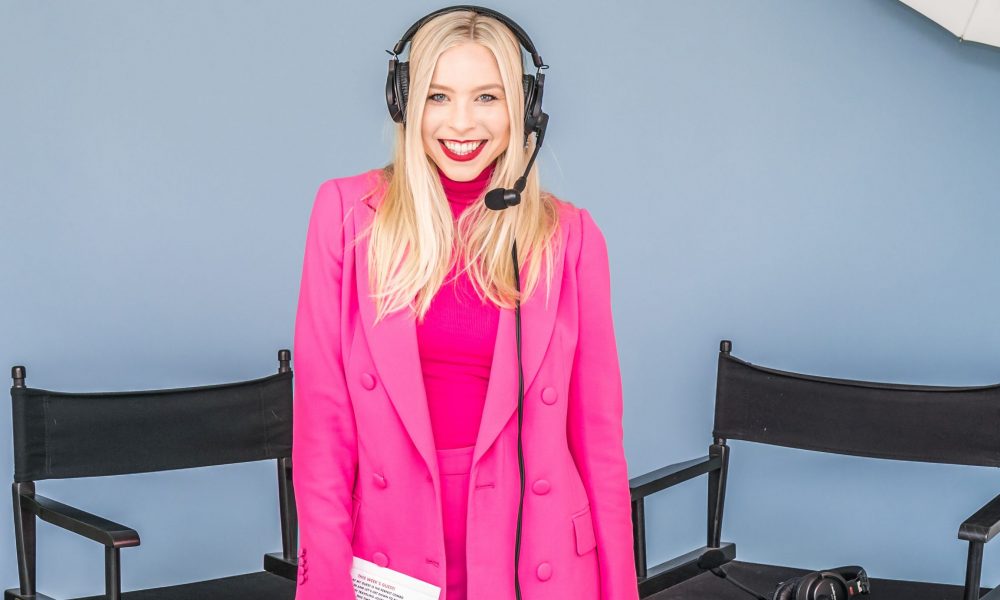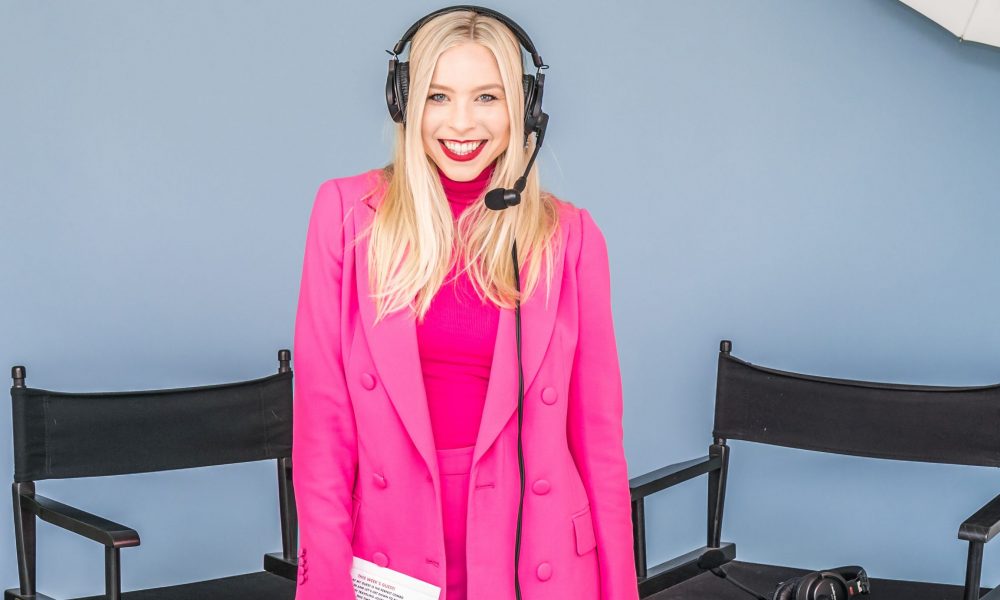 Today we'd like to introduce you to Morgan Larson.
So, before we jump into specific questions, why don't you give us some details about you and your story.
All I can say is…"More is More" has been my philosophy since the day I was born in Green Bay, Wisconsin. With all my electric energy running wild, I took my first gymnastics class at the age of 3 and just kept tumbling through each phase of life. I was obsessed with the Olympics and competed as a gymnast until I was 14. Floor was my favorite event because of the dance component in the routine.
Once my feet started dancing, I could not be tamed. I transitioned into dance full time. I competed in dance competitions all across the country, took every dance convention I could, danced in musical theater performances, choreographed numbers for Accent on Dance Studios and spent every moment through High School dancing in any way possible.
I packed up and moved out west where I received my BFA in Dance from the University of Arizona. In those four years, I credit those learning lessons, friendships and experiences to my successes in LA today. I am a huge advocate for college dance. My BFA gave me the skillset to endure long days on set, enhanced my choreographer side, gave me mindfulness for each person in the room and forced me to develop a strong time management mentality. JUST DO THE WORK and it will all be worth it.
After graduation, I remember driving from Arizona to Los Angeles in my little red Toyota and truly feeling the city of stars was in reach. I auditioned for Bloc Talent Agency, signed with them, and started auditioning that very moment. My first job out here in LA was dancing in Teen Beach Movie on Disney Channel. This job changed my life. All I had known up until this point was performing on stage in front of a live audience. I did not know that dancing in a film was so unique and extraordinary. From the second we wrapped filming, all I wanted was more tv/film action on my resume. I have not stopped that quest for the past nine years!
I can honestly say that every single year my athleisure styling, my focus and my overall gumption towards the entertainment industry continues to get better and pushes me to the next opportunity. Whether I am filming a national commercial or dancing in hot hot sand or shooting a scene at 2 am in the Hollywood Hills…you better believe I am finding that lens and smiling so big. Did I mention, More is More?!
Which leads me to this very moment typing in my LA home. Now, we are all caught up with one another…more details can be discussed over a cup of coffee.
Overall, has it been relatively smooth? If not, what were some of the struggles along the way?
I wish I could see the romantic comedy movie version of my story….goodness, it would be filled with all the audition flops, tears in Trader Joes parking lots over jobs I did not get and hour long phone calls with my mom. I do feel it would be set to a cool Gwen Stefani track so it would be worth watching all the misses and funny bumps along the way.
It has not been smooth sailing, but it has been real goooood to live out. In one day, I go from Cloud Nine to stormy grey back to Cloud Nine all before dinner. But that is what makes LA so great. I crave the good cloud all the time and I dance in the rain when it comes to make the grey go away.
I do wish there was an easier route to get what you want in life. I have lived this creative lifestyle since I moved to this city so I do not know any other way. Yes, it is rough. Yes, I had to get tough. And when I finally got each opportunity, I made it count.
The phone call I received when I booked Teen Beach Movie, the YES I answered when asked to perform on the 71 city tour for Dancing With the Stars and the excitement I felt when I sat in the movie theater watching my performance in La La Land is what holds me over until the next job comes.
The best advice I can give is…be 100% FULL OUT YOU. If you live a freelance life, you are either perfect for the job or it's not meant to be yours. You gotta be the leading lady in your own life and not care so much about all the outside storminess. All the distractions pull you further away from that Cloud Nine. So in those moments of hard times where doubt and turbulent thoughts creep in when I am in-between jobs… The in-between job moments are real tests to the dream…I just try to remember the cloud and pick my chin up.
Versatility is key in this industry. Knowing when to speak up and when not to is also key. And how to 'read a room' is one of the most valuable skills one can acquire.
Sometimes you break a heel in the middle of an audition. Sometimes you land the part. And sometimes you create your own path and start your own podcast, Totally UnMorganized. I've made a lifetime of good and bad stories with putting myself out there….but a Girlboss breaks boundaries creates her own path and rocks a rad pair of boots…all of which I am trying to do on the daily.
So here's to challenging yourself to be a Girlboss. Embrace the struggle. You can do it.
We'd love to hear more about your work and what you are currently focused on. What else should we know?
I am best known as a dancer, actor, creative and more recently host of my very own podcast, Totally UnMorganized. I am all about making what you truly want happen at whatever scale possible. I do hope I am known for being more than my craft…that is the goal. All I can say is, the big moments mean more when I can share the news with the good ones in my life. I work on being a rad person by surrounding myself with rad people.
I am proud of the life I created out here in this city, the love I found and all the laughing I do within my makeshift family. All the big dream jobs do seem to come and go. As much as I wish those big moments would stay forever, what actually does stay forever in this city is the community of good ones I have. One of which is my fiancé. I should actually describe him as one of the incredible ones.
Dance has taken me all across the country, thrown me on the Radio City Music Hall stage, placed me on a commercial during the Super Bowl and even landed me on the big screen. When it comes to my dance career, I have lived out my wildest dreams in front of the camera including performing in La La Land, Ted 2, Valley Girl, Yes Day, Teen Beach Movie and Teen Beach 2. I have been featured as a Troupe Member on Dancing with the Stars and was the assistant choreographer to Mandy Moore on Dancing with the Stars Juniors. My favorite job will forever be dancing as a flight attendant for the Virgin America Airlines Safety Instructions video that played on every flight. I have somehow danced my way in music videos to national commercials to tv shows as well as the Academy Awards! Recently you can catch me on Flirty Dancing, The Covenant on Amazon Prime and Zoey's Extraordinary Playlist on NBC.
Through this city I came across the most extraordinary people and entered the right rooms at the right times. I truly cherish every project and relish in the moment. In my experience, whatever field you are in if you get the opportunity to be in rooms with people that make you better…you made it. Josh, I'm talking to you.
Any shoutouts? Who else deserves credit in this story – who has played a meaningful role?
I have 3 Girlbosses that are total stand outs in my life.
Girlboss #1. I owe my mom A LOT. She is the one who picks up my phone calls at any hour of the day. From the very beginning, she drove me to every single class and flew me to every college audition. Still to this day, she guides me to take risks and supports my gusty moves. I need someone like her to listen to my ideas and just go with it. She also pulls me back down to earth when I get a little carried away. Without a doubt, she is it. My mom pushes me to enjoy each radical moment, savor the experiences and lead with a grateful heart. I waiver back and forth with my crazy lifestyle and she seems to make every crisis a bit more manageable. We have grown together over the years and somehow each day we keep getting closer. The older I get, the more I need that momager of mine.
Girlboss #2. I credit my first dance teacher, Miss Kellie, for my gumption to the craft. She let me explore my teaching side, my choreographer side and helped define my performer side from the first day I entered her dance studio. She creates this positive environment to thrive and allows artists to flourish. Kellie has always been my biggest cheerleader, the coolest bombshell in Wisconsin and knows exactly what to say about life. All her students (including me) want to be just like her when they grow up.
Girlboss #3. I am continuously inspired by the choreographer, Mandy Moore. Whether I am performing for her, assisting her or watching her work on television screen… she will forever be my biggest mentor since moving to LA. I learn from observing creatives. Mandy is prepared, cultivates a strong vision, has strong work ethic and is a mastermind of utilizing rehearsal time. She reveals stories in her own unique way. I love how she is a strong female in this industry. I also really like being in the room with her. She is the ultimate.
Contact Info:

Image Credit:
Lindsay Rosenberg
Suggest a story: VoyageLA is built on recommendations from the community; it's how we uncover hidden gems, so if you or someone you know deserves recognition please let us know here.