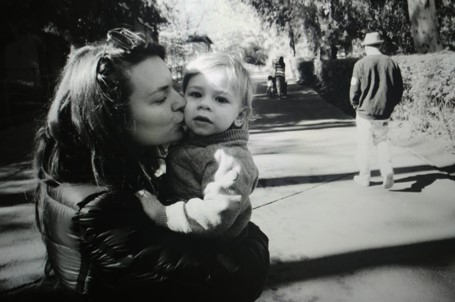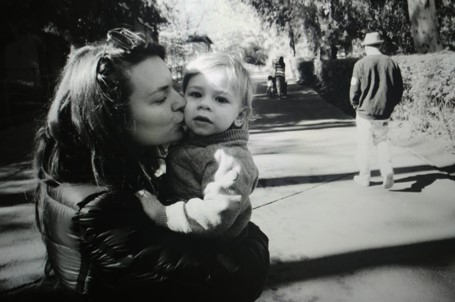 Today we'd like to introduce you to Julie Barzman.
So, before we jump into specific questions, why don't you give us some details about you and your story.
I was born and raised in France, my father is a Film director and was filming movies and tv shows in a lot of different places: From France to Cancun to India to the Dominican Islands and more. I was lucky enough to travel with him and my mother throughout my childhood where I was mostly home-schooled. I remember studying in Cancun while my father would film a movie with alligators and parrots or in India and emerging in the beautiful culture wearing saris, bindis, and jasmine in my hair. Now looking back, it was surreal and to this day it has been a profound learning experience of the world and different cultures.
Things started getting a little rocky with my parents after my brother passed away from a car accident in Moorea, Tahiti. My mom was destroyed and never truly healed but she wanted to go back to Los Angeles where she had met my father and lived with my brother for a long time. My father's family is American and French, my grandma and grandpa rocked Hollywood back in the day and were blacklisted. They consequently went to France and had seven children. My grandmother eventually went back to LA and at 98 years old she still writes scripts and continues to be an incredible inspiration. Most of my uncles and aunts came back to the USA and graduated from Harvard to Berkeley and other amazing schools. In other words, My attraction to living in Los Angeles was in my blood, but before knowing that, my mom and I moved to LA. I was about eight years old and I went to the Lycée Francais where I learned English and had the best time of my life. Two years later, we had to go back to France for family reasons and my heart was crushed. I still remember the flight going to France thinking, "I'll be back." Terminator's voice 🙂
My mom decided she wanted to move to Saint-tropez out of all places. It's quite interesting growing up there, tiny village with a lot of history and prestige. I went to school there for eight years and loved it but it definitely made me tough-skinned and I grew up fast. I think the French generally grow up fast but Saint-Tropez has a way of teaching you valuable lessons and giving you an immense confidence to stand out and be who you want to be.
I turned 18 and moved to LA, by myself, and it was hard. It was so hard leaving my mom but at the same time her and I didn't have the easiest relationship after my brother passed away. Still in some ways, she was my best friend— she taught me to be independent and never afraid of telling her anything. I moved to LA for acting, to be closer to my American heritage and grandma and test my talents. LA swallowed me up and spit me out but I fought hard, to find myself, love myself, got into spirituality and health and made friendships I couldn't be more thankful for. I did the acting thing for a little bit, bartending and went to SMC learning theater and psychology. I always knew that to be a good actor you had to understand people. I was starting to work more in the industry when I was abruptly shocked with terrible news of my mother passing away of a heart attack back in France. It was hard—very hard— and I had to put everything on pause to heal, really question my choices, who I was and what was the most important for me in life: family.
My dad at the time lived in Hong Kong with my stepmom Gigi and my little sister Cassidy, I went to visit and stayed for a little while to get back on my feet. I was considering moving to Canada for acting to start over when I met the love of my life, Kyle. He had lost his mother to cancer as well and had launched with his family a cancer charity, Rhonda's Kiss, in her honor providing financial help for all non-medical expenses. His positivity and wanting to give back to the world was incredibly healing and we found immense support in each other, and our shared values and morals.
We decided we wanted to start a family and we now have a little boy, Oliver Kingsley who will turn two in July and who changed our lives. He is teaching me so much every day and has emerged a passion at being a mom and how hard it can get. It has shaped everything that I have always wanted to be and how I want to be at service for others by helping other mothers through the ups & downs of parenting.
Overall, has it been relatively smooth? If not, what were some of the struggles along the way?
It hasn't been a smooth road, I've experienced a lot of loss like I mentioned, and heartbreaks. Moving to a whole different country was not easy, and I've felt lonely or misunderstood a lot of times, but that permitted me to understand people better, to be more empathetic and have a desire to help others. I also had a tough pregnancy, I had an intense morning sickness for almost all of it, I learned to laugh at it towards the end and I suffered of postpartum depletion and depression.
Pregnancy and becoming a new parent is lonely and isolating especially without any of our mothers around. It has truly been overwhelming and sad for me to not find relief in my mother or a mother figure. Also, the sensitivity and vulnerability that becoming a parent has triggered in me was unexpected. I see everyone as "someone's child" and sometimes can be tough to process, especially with everything that is going on in the world. I'm already a sensitive person, now I just cry at every movie I see in the theaters. All good. The need to protect is so cliché but so true. I am truly learning fundamental aspects of who I am and who I want my son to be. Kyle and I strive for growth and love every day to truly become the best version of ourselves. We look straight in the eyes of our ugly and our beautiful because any struggles are not a coincidence. They truly bring you where you belong, even if sometimes you just wonder why the hell you are going through certain situations. I can honestly say that without my baggage I carried, the strength that my parents have taught me at a young age, and decided to heal through books like Marianne Williamson and spirituality, I would've never attracted Kyle into my life and be where I am.
We'd love to hear more about your work and what you are currently focused on. What else should we know?
I am a mom blogger! (I never thought I would say these words.) I started it because there were things that I was left mind blown wondering "how the hell did no one tell me about this?" Especially not having any private convos with my mom, there's times where I was hoping for some tips on some "not so open talks" that should be spoken about! I started talking about my experiences, venting and being as relatable and nonjudgmental as possible on my platform, I found immense relief knowing I wasn't the only one struggling with certain things.
I specialize in gentle parenting. I provide support for mothers or fathers who need advice on sleep training, traveling with kids, the first few months and break the social pressures to ease in your parenting style and feel good about it! I am also launching a coaching practice to support new mothers. I saw the pressure on parents and babies being very closely analyzed and expected to perform milestones quickly. It was heavy and made it a little more difficult to come from a place of intuitive parenting but also taking that information in. I wondered, at what point do you disregard what doesn't serve you without feeling overwhelmed.
I'm the most proud of being able to be of service and help others. I want to have a voice that can hopefully heal or help someone…even one person…I went through things that my only way to heal was to gather the pain, learn from it and share it with others who would need the support or going through the same things and hopefully avoid having the same happen to them.
Because of my advantage of growing up in another country, I have traveled a lot, I think that element sets me apart. I really look into different cultures and take that in and help people be the parent they want to be. For example, In France, we give time to a child to do what they will do when they're ready. They are more inclined to look into the child's rhythm of growth, what could promote a delay; that most of the time is not the definition of a red flag or a development issue. Also, for instance in Japan, co-sleeping is a norm. So, I'm truly fascinated by implementing the things I'm learning and share it for any kind of support.
Any shoutouts? Who else deserves credit in this story – who has played a meaningful role?
I'd say my parents. My mom was my teacher and my dad is my mentor. My mom was academically very intelligent but she also was street smart. She was born in Morocco and her strength in life, her power, her presence, and her grace was the many things she tried to teach me…that hopefully I embody sometimes….. 🙂
My father has a beautiful philosophy of life, he is so In tune with people, has traveled the world and immersed with different cultures. He understands humans and has an immense respect for them. He always comes from a place of understanding, even when there were things I thought he'd be mad about, he would always listen with an open heart and wonder how we can move along, heal but also learn from this. He's helped so much through my move in Los Angeles and many other things. I definitely would not be living in this city without him. He has this ease to be supportive and want the best for everyone.
Kyle has also played a role as a mentor. Besides being my love and father of my child, he is fascinating. His hunger of knowledge, reading, psychology and helping others is intimidating at times. I've felt a lot of times like "Wow, I have a lot of work to do…." but he embarks me in his learning and successes, it's very eye-opening and inspiring. He is interested in the world, in humans. We will watch tons of documentaries from the food industry to our planet to music legends and read and pass along books. He's taught me to constantly look deeper, especially in things that I know nothing about! It is truly helpful in my business.
I have a few girlfriends that have been around for a long time, they're my rocks, we're each other's cheerleaders. A set of good girlfriends who can be around you, even at your lowest, or when you have to wear a diaper after giving birth is one of my most meaningful support system. Especially in Los Angeles, I've learned to hold on to people that freaking loves you and get you.
My mom friends and community have played a huge role in pushing me to do this. We have helped each other and entering this new role without them would be unimaginable. Offering advice, helping through sleep training and different aspects of motherhood is a passion.
I also have a life coach that has been extremely helpful for guidance and healing. I truly believe that any coach should have a coach themselves! It only gets you better everyday.
Contact Info:
Image Credit:
Picture of Oliver by himself: Natasha Cecere, B&W: Paolo Barzman, other: Kyle Stefanski
Getting in touch: VoyageLA is built on recommendations from the community; it's how we uncover hidden gems, so if you know someone who deserves recognition please let us know here.