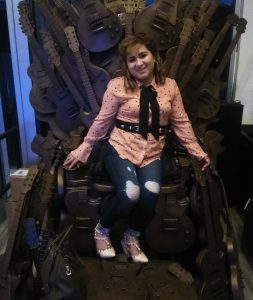 Today we'd like to introduce you to Mireya Perez Gonzalez.
Mireya, please share your story with us. How did you get to where you are today?
It started when I was growing up in Mexico. I loved cutting fresh flowers from the wild when my grandma was taking care of me and decorating our home. As I grew, I would pick wildflowers from our local forest & wild Terran and arrange them into little bouquets. Which I would sell for 10 pesos to help with our economic situation a home.
When I turned twelve, my father left to the United States in the hope to give us a better life he said. Being sad that my father had left I keep making my little bouquets to make more money so my father didn't have to be so far away. As the months passed, my father would send us money and gifts my mother was happy and so were my brother and sisters but I rather have my father with us, I told them. When I turned 15, my father came back from the United States. I was so happy to see him. He told us he wanted us to have a better life and to be prepared for life.
He told me and my sisters that if there was a profession we liked that he would pay for our classes with the money he had saved those three years, he was gone and working very hard. One of my sisters said she wanted to work with hair and another said she wanted to do makeup and nails. I had an old magazine of flower arrangement and wedding events that I would look at everyday. I knew one day I would be creating beautiful works of art with flowers. So when my father asked me, I naturally said I wanted to be a florist. My father laughed at me and said there's no money in flowers it's ok for fun or a few pesos but no for a profession he said. Seeing me sad and about to cry he agreed with me and said whatever makes you happy my little princess. I instantly took his offer and found floral design classes in Sinaloa, Mexico.
Of course, I took my dad along to look for them. Being able to go to school my sisters and me we moved to Mazatlan Sinaloa the big city there. Where I took my classes for floral design and high school at the same time. During the weekends I would help some florist at there shops to learn more tricks of the trades and make a few pesos at the same time. I was so happy making flower arrangements was my calling my art. When I was 18, I immigrated to the United States. When I got to Los Angeles, I looked for a job right away. At first, I went to a few flower shops in the area but none would hire me because they thought I was too young and didn't believe I knew how to make flowers arrangements.
As I keeped looking, I saw a sign for a sales position in the flower district where they sold vases and silk flowers I got the job right away. I told my boss that I knew how to design flower arrangement. He was skeptic at first because I was so young. But one day his wife wanted us to decorate the store and I told her I could make some arrangements with the silk flowers we sold she agreed. I made her beautiful arrangements that she loved. When my boss saw them he was amazed and told his wife where she had purchased them and she told him that Mireya made them. He then told me if I could start making them to offer them for sale. Being happy to have a job doing what I loved to told him of course. After a year of working there, a lady walked into the store looking for silk flowers and saw me doing an arrangement and asked me if I had ever worked with fresh cut flowers I smiled and said of course. She then asked me if I ever was interested in working in her store as a designer to give her a call then she left and gave me her card. I was happy with the offer and one step closer to my dream. I called her a few days later to go check out the job offer. I saw how many different kinds of blooms there was and felt like a little kid at the candy store.
So I said yes to the job offer as a designer there. I made beautiful displays for weddings and any type of event that would use flowers. I quickly got to be her lead designer there and would work very hard from 4:30 am to 4:30 pm everyday. I worked there for five years and had two daughters by that time. Sometimes life is not so fortunate so I was a single mom. Taking care of my girls and working full time was very hard but I had to provide for my daughters and my self. I always have considered my self a strong woman. Then I saw an opportunity to improve my life and my daughters as well. I saw a wholesalers leave one of the spaces in California flower mall and quickly jumped on the opportunity to open my own flower shop. I was happy but a little scared at first, but seeing my two little ones gave me strength and courage to go ahead. So I opened my store with the little resources I had. I remember that I only had one table and a desk when I started and no decorations. I remember the first week I started I got a small order I was so happy and started to make arrangements for floor sales. As a couple of weeks passed, a few of my friends came by to help me decorate. I would make beautiful arrangements and would do plenty of floor sales.
One day working here, I meet the love of my life he was buying flowers for his mom. As time passed by I kept getting ordered for weddings and events. I soon became very popular part of that I owe to channel 52 Sandra Bonilla and social media. Every Valentine's day and mothers day they shine some light on my work. Now we have been part in reality t.v shows. One of them larrymania we've been on channel five channel 11, 9, we've been in a few radio station where there have been part of giveaways. We've done events for a number of celebrities and very important people as well. We'll check out our IG and see for yourself. Now, apart from just doing weddings and events, I offer classes on floral design. And try to help women achieve their floral dream as well. I help them from. The simple to the complicated steps. I always tell my students to never give up their dream and to do what they love. I tell them that I fell so happy Every time I do a wedding seeing the bride so happy when they see there floral arrangements and there floral set up. I think part of that is that I loved what I do. I do every wedding like if it was me who was getting married and those florals we're going to be for me. I think that's why I have good reviews and a great following. So once again thank you for hearing my story.
Overall, has it been relatively smooth? If not, what were some of the struggles along the way?
No, I think everything is a process and we're always learning. I always try to do my best to keep my clients happy. I think the hardest part of when I had my business was when I had my third daughter. It was hard because I had a few weddings on schedule the following month after I gave birth, but by that time I had a good team and my husband to help me with my events.
Mireya's Flowers – what should we know? What do you do best? What sets you apart from the competition?
I think what set me apart is the weddings that I do. We always try to go beyond of what is expected of me. I love all my brides that have selected me to be their florist and would never let any of my clients down. We always have a least two events per week and always at least one wedding per week. Part of that is because of the great team that I have now.
What is "success" or "successful" for you?
Success for me is seeing my clients happy with my work.
Contact Info:
Address: 824 San Julian St Los Angeles CA 90014.
Inside of California Flower Mall
Unit #121 Mireyas Flowers
Website: Mireyasflowers.com
Phone: 3236170324
Email: mireyasflowers@gmail.com
Getting in touch: VoyageLA is built on recommendations from the community; it's how we uncover hidden gems, so if you know someone who deserves recognition please let us know here.