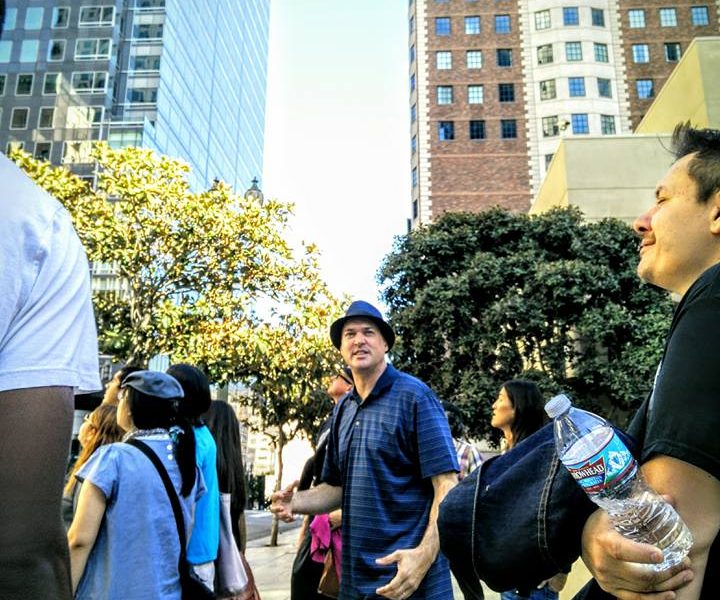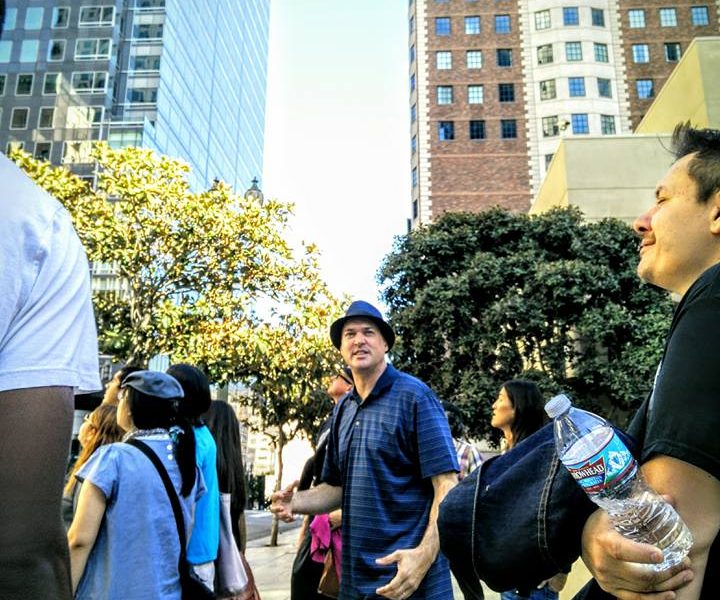 Today we'd like to introduce you to Mike Sonksen.
Mike, please share your story with us. How did you get to where you are today?
I am equally a scholar and performer as a poet, journalist, professor and tour guide. I believe in uniting theory with practice. My interests began early in my childhood.
I have been curating city tours professionally since 1997. Over the last two decades, I have given thousands of city tours, most of them for Red Line Tours, the Museum of Neon Art and the Museum of Architecture and Design and more recently as an independent contractor. I am an advocate of community-based public history promoting the utility of historical knowledge to empower and deepen the public's connection to the past in a real-world platform beyond academia. A city tour is one of the most effective means to impart historical knowledge in an accessible and public fashion.
The starting point for giving city tours has been two-fold for me. As a third-generation Los Angeles native, my first exposure to history and geography was through listening to stories from my parents and grandparents. My grandfather schooled me on Southern California geography from a very early age. He told me many stories about the Great Depression, the streetcars of Los Angeles and how agricultural the region once was. We would drive in his car listening to jazz on 88.1 KKJZ back when the call letters were KLON.
We drove everywhere from Long Beach to the South Bay to Downtown L.A. to the San Fernando Valley and the entire time he would tell me stories. At Point Fermin in San Pedro, he recalled proposing to my grandmother there in 1941. Almost everywhere we went he had a story whether it was the Griffith Observatory or the Central Library. I learned from him at a very early age the meaning and power of place and memory.
These family stories came to mean even more to me during my undergraduate years at UCLA shortly after the 1992 Rodney King Uprisings as I took several classes on Los Angeles history, geography and urban studies. I read widely and books like The Power of Place by Dolores Hayden, the City of Quartz by Mike Davis and writers like Wanda Coleman, Luis Rodriguez, Carey McWilliams and Lynell George further reinforced my interest in all things Los Angeles.
My information sources for giving tours have always been a blend of both oral history from longtime residents and the many books I have studied on Southern California history, geography and architecture. My praxis is about uniting oral history with knowledge from books and more formal historical sources. The blending of these two together makes for a more balanced approach that unites theory and practice.
Overall, has it been relatively smooth? If not, what were some of the struggles along the way?
It has not been a smooth road and there have been more obstacles than I can count.
Nonetheless, the spirit of sharing the city's true history and also becoming an educator along the way have propelled me as a writer to keep going. I have worked as a tour guide, freelance journalist, poet, high school teacher and professor. I spent many years freelancing and it as my belief in the work I was doing that kept me going, even when my money was tight or I became fatigued. Somehow I always found the energy t keep going.
Almost every time I faced seemingly insurmountable struggles, eventually, some blessing would appear out of nowhere and push me to keep going. After all these years, my faith has deepened and this keeps me going.
Alright – so let's talk business. Tell us about Mike the PoeT – what should we know?
Rather than a company, I am a writer/performer that also does city tours, teaches writing workshops and mentors high school and college scholars. I like to empower others and this is very important in these challenging times. I have does this work equally as an educator, writer and tour guide. I believe in giving everyone "the right to the city."
In this era of gentrification and selling the city off to the highest bidder, I am aware how my neighborhood tours could be a gateway for boosterism, but my intent has never been to sell the property or promote a neighborhood for redevelopment. Furthermore, cities across America continue to become more privatized, and this is problematic. The French philosopher Henri Lefebvre coined the phrase, "the right to the city," and believed that public space should not be privatized. He called the city "an oeuvre, that all citizens have a right to participate in." Urban historian David Harvey expanded on Lefebvre's philosophy, further iterating:
"The right to the city is far more than the individual liberty to access urban resources: it is a right to change ourselves by changing the city. It is, moreover, a common rather than an individual right since this transformation inevitably depends upon the exercise of a collective power to reshape the processes of urbanization. The freedom to make and remake our cities and ourselves is, I want to argue, one of the most precious yet most neglected of our human rights."
I have always felt that giving city tours celebrates this right to the city and that it reinforces the entire community and our common interests. This is why I like giving tours of specific neighborhoods beyond Hollywood and the more popular tourist pockets of Los Angeles. The entire city has the right to be celebrated.
As the writer, professor and poet Dolores Hayden writes in her groundbreaking 1995 book, The Power of Place: "To look at ethnic and women's history as the missing mainstream experience means respecting the urban places that house ordinary working people. It means caring for the urban landscapes of South Central and East Los Angeles, Chinatown or Little Tokyo as part of understanding what it means to live in a city."
The forgotten pioneers — often women or people of color — are rarely remembered in books and documentaries, but through conversations with longtime community residents. The stories and folklore are priceless, and I have done my best to collect these over the years. As much as I have studied Los Angeles and traveled all over the city, I always defer to longtime community members and like to have them share their stories on the tour whenever possible.
Much of my approach in sharing public history is influenced by Dolores Hayden and her book The Power of Place, in which she advocates for a people's history. She writes: "Public interpretation of historic places requires a broad understanding of urban history… Its best measure is shared meanings, Native American, African American, Latino, Asian American, and Anglo-American meanings, female as well as male values, children's experiences as well as grown-up patterns of life. It is city dwellers' shared lifetimes that create an American sense of place. In scale and approach, this is the opposite of top-down thinking that underlies urban design as grand-scale redevelopment planning practiced by American cities."
Hayden is critical of the top-down approach as this approach has minimal understanding of an area's history because it is much more focused on development and economics. She sarcastically calls this perspective, "the John Wayne view" and usually marked in public as a sculpture of an old white man on a horse. In opposition to this, Hayden is interested in the people's history because it is the lifeblood of the city. She further writes, "Listening to the resonant stories of working people in inner-city neighborhoods is the first step. Connecting the stories to reclaim the landscape as people's history is the next." The celebration of people's history triggers "social memory," and remaps the urban landscape.
I am not the only one doing this work and there can never be enough of us working on this project of sharing public history, but I am driven by this mission and it brings me joy. I have also published close to 100 of my former students and this has brought me great joy.
Any shoutouts? Who else deserves credit in this story – who has played a meaningful role?
There are so many people that deserve credit. I am really big on crediting people because many times the innovators and pioneers get overlooked. Often times the one who started something does not become popular or as well known as they should. Usually, someone comes along, sees what they are doing and adapts it to the marketplace. For this reason, I always like to celebrate pioneers and the early innovators. I have learned a lot from so many of these individuals across Los Angeles.
When I have given walking tours of Leimert Park, I always bring the group to Ben Caldwell, the owner and founder of KAOS Network. Ben has been in Leimert for over 35 years, and he has been involved on the ground level on many important projects in the area. He was also involved with the Los Angeles Rebellion group of Black Filmmakers from the 1970s. Ben is a giant. He has always been very kind and graciously received my tour groups whether it was students from Woodbury, LMU, University of Redlands or the walkers I brought from the Museum of Architecture and Design.
I have also had the poet AK Toney join me on city tours and share his poems and experiences. Toney brought me into the Leimert Park poetry community over 15 years ago, and he has been sharing his work there for 25 years. I have also had my former students; the siblings Dante and Monique Mitchell share their poetry on my Leimert tour and several others across the city. The Mitchells grew up in Leimert and were in my class when I taught at nearby View Park High School.
Similarly, when I have done tours in Boyle Heights, I had lifelong East Los Angeles resident Tomas Benitez share his experiences. Benitez always dazzled the audience with his 60 plus years of stories. I also always have the Boyle Heights native poet Francisco Escamilla, aka the Busstop Prophet share his stories and poetry on the tour as well. In Boyle Heights, we have also stopped at the Otomisan Restaurant that has been in the area 60 years along with the Rissho Kosei-Kai Buddhist Temple on East First Street.
I have featured other longtime community residents on other tours as well such as native Angelena poets and educators Rocio Carlos and Traci Kato-Kiriyama. As stated earlier, I always defer to longtime residents because their experience and knowledge trump book knowledge or academia. This idea of sharing authority is common in all fields, whether it be in art museums or even medical research.
The voice of community members is paramount in the historical process. Much of the backlash against gentrifiers and oblivious newcomers to an area is that they do not value the neighborhood history and the residents that have always been there. Newcomers may paint over a longtime sign or be unaware of the traditions that define the neighborhood. I have a deep respect for the longtime residents, their culture and their willingness to share their stories with me.
I have had many mentors. An early mentor I had was my 3rd and 4th-grade teacher, Marguerite Felice Navarrete. The seeds she planted in me over 30 years ago continue to sprout and there are not enough kind words to express how exemplary her teaching skills were and my deep gratitude to her. Others who have mentored me include Mike Davis, Wanda Coleman, Luis Rodriguez, Sesshu Foster, Steve Isoardi, Lynell George, Dr. Lauri Ramey, Dr. Francisco Balderrama and Dr. Lamont Yeakey.
Pricing:
Three Hour Walking Tour of Literary Los Angeles $35
Contact Info:
Getting in touch: VoyageLA is built on recommendations from the community; it's how we uncover hidden gems, so if you know someone who deserves recognition please let us know here.