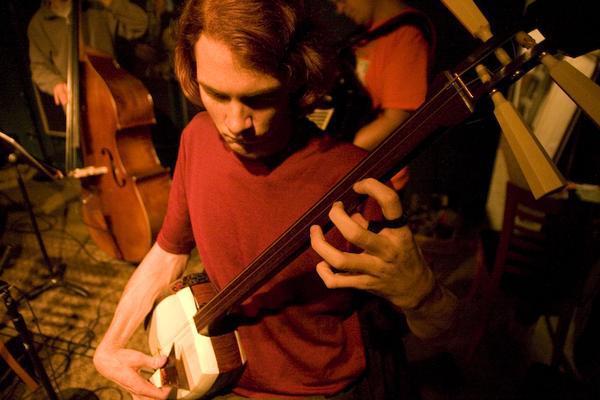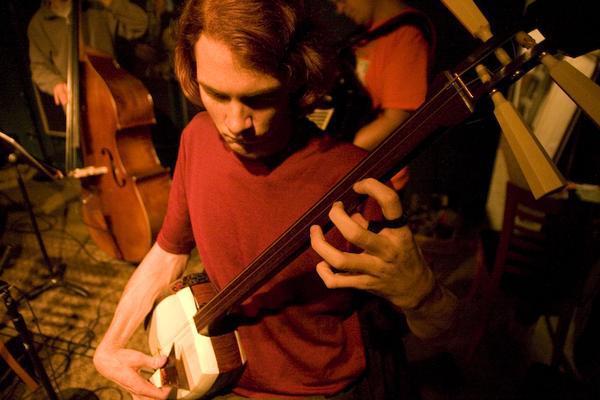 Today we'd like to introduce you to Mike Penny.
Mike, can you briefly walk us through your story – how you started and how you got to where you are today.
It's been an exciting road for sure! The first instrument I picked up was guitar when I was nine years old. A few years later, I added trombone and drums. It wasn't until I was 18 that I learned what a shamisen even was. In 2004, when I was 18 years old, I attended a world music summer camp held annually in the redwoods of Mendocino, CA called Lark in the Morning. I saw the shamisen for the first time at that camp, and it was being played by a fellow named Kevin Kmetz. I was absolutely entranced by the powerful tones and look of the shamisen, and I decided right then and there that I wanted to learn to play. Later that year I moved to Santa Cruz, CA where Kevin lived to study with him almost daily. As I became a better player, Kevin started tapping me to perform with him at various live gigs. Pretty soon I started making trips with Kevin to Japan and performing with him out there.
In 2006, I was awarded for my performance in the annual Kanagi International Tsugaru Shamisen Tournament as the second non-Japanese competitor (the first being Kevin, who is half-Japanese) ever in the history of the event. After that, I just dove headfirst into the life of a gigging musician and was on the road for years. That period was sometimes tough, but now I look back and am happy to have had those experiences. The struggle to make a living as a musician continues, but I think I've been fortunate so far. I'm especially grateful to Kevin for showing me the ropes and bringing me along with him in those early days. What's strange to think is that before I went to the music camp and saw the shamisen, I had no particular interest in Japanese culture. Not that I had a disinterest, of course; it just wasn't on my radar. Now, Japan is such a huge part of my life as both a shamisen player as well as a staff member of Japan Foundation, Los Angeles where I work as a Japanese Language Grants Specialist.
Life can be delightfully strange.
Can you give our readers some background on your music?
I'm a shamisen performer and composer from Los Angeles. In case you're unfamiliar, the shamisen is a three-stringed percussive lute from Japan. (Think Kubo and the Two Strings.) For the past 15 years, I've toured throughout the U.S. and Japan in various groups and as a solo act. I also do recording session work from time to time, and my playing was most recently featured on the Sony PlayStation game Ghost of Tsushima.
What I enjoy most is playing and writing music on the shamisen that incorporates unique features of many different styles, yet does not betray the instrument's traditional beauty. For example, I'm an avid fan of folk music from the Balkan countries, and I love adapting those challenging melodies to my instrument using both traditional and non-traditional techniques.
While I pop up in all sorts of projects ranging from jazz combos (Red Eye 2 Tokyo) to taiko groups (East L.A. Taiko), my main focus is Mike Penny Orchestra (MPO). MPO is my studio/YouTube project where I make the kind of quirky 80s shamisen prog-pop that I've longed to hear.
MPO Bandcamp page: http://mikepennyorchestra.bandcamp.com/
MPO YouTube channel: https://www.youtube.com/mikepenny01
What moment in your career do you look back most fondly on?
My proudest moments so far have been performing live with my shamisen students and seeing their excitement and pride in their own musical improvement. The shamisen is such an expressive and fun instrument, and it's been rewarding sharing it with people and seeing them take an interest or even decide to take it up. I'm also proud to have cultivated my own unique shamisen style and even a small following right here in Los Angeles!
I mention L.A. because of its diversity and rich history make it a constant source of inspiration to me. I think about L.A. a lot when I write music and make videos. One of the first groups in L.A. I started to perform with regularly around 2005 was the Taiko Center of Los Angeles (TCLA), formed by the late Shuichi Tom Kurai, and playing with them exposed me to a lot of places in Los Angeles that I had never really heard about. Even though I grew up in L.A. County, it wasn't until I started performing with TCLA that I learned how many awesome neighborhoods and pockets of unique Angeleno cultures there were here.
The pandemic has been hard for so many people, not least of all artists, but it's been heartening to see a lot of support for and among musicians in Los Angeles during this scary time. Musicians and music education certainly need more support and deserve to be valued more in our society, but I think L.A. is one of the better places for a musician to be right now. Not just for opportunity, but for community as well. Sorry – tangent! Back to the question… I still have so many goals and there are still so many projects I want to bring to life that are stuck in my head for the time being, but I think my proudest career moment will be when I know that I have made a lasting contribution to the shamisen community either through my teaching, my playing, or maybe both.
Contact Info:
Suggest a story: VoyageLA is built on recommendations from the community; it's how we uncover hidden gems, so if you or someone you know deserves recognition please let us know here.