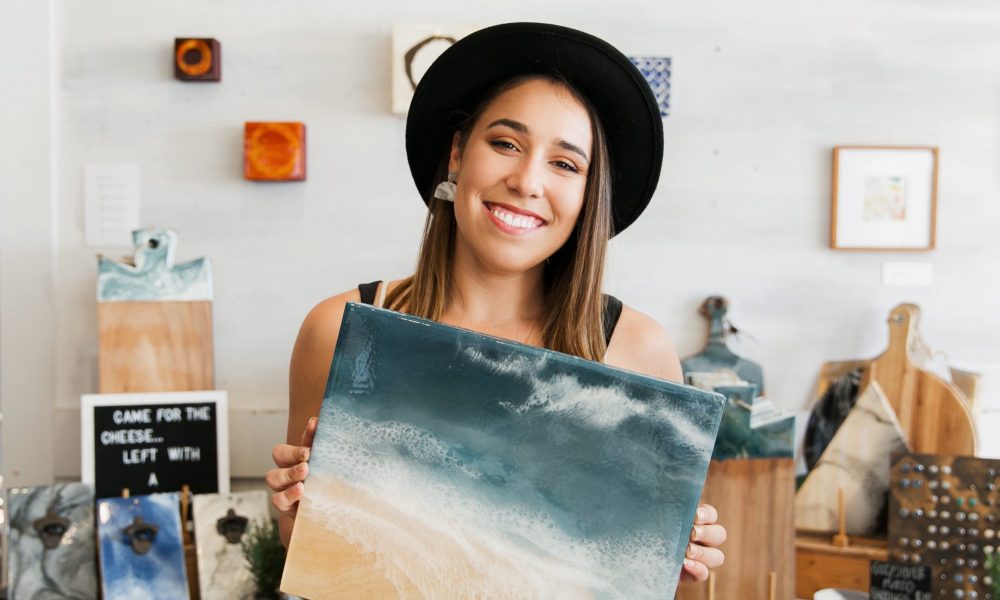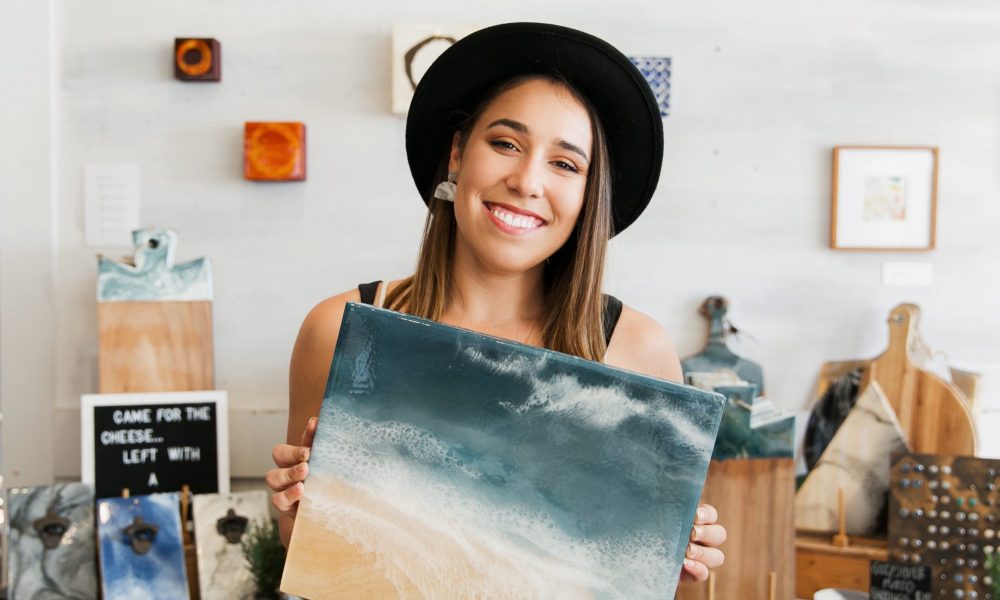 Today we'd like to introduce you to Mikayla Gierut.
Mikayla, let's start with your story. We'd love to hear how you got started and how the journey has been so far.
Art has always been an influential element in my life. I have always tried to use my artistic creativity whenever humanly possible because I knew it was something I was good at and allowed me to approach situations differently than most people. It was also something I could always lean on when I was sad or stressed, and time just seemed to melt away when I got into the process.
Its kind of funny… a lot of people ask me how exactly I got into resin art and why I chose it and to this day I still have no freaking idea how I should answer that question. I guess I was just scrolling through my Instagram explore page and found it during a rough time in life, and thought to myself "what the hell, I'm going to try it!"- an accidental discovery I guess you could call it.
It took so much trial and error to finally get a hang of it. Sure, there's plenty of YouTube tutorials out there, but resin art is no joke. It requires so much careful attention to detail, and can often get dangerous at times (not to mention the extreme hazard resin can pose to your health without taking the proper precautions). Resin is also one of the most expensive art mediums out there.
But despite the high costs and dangerous risk associated with the art, I was hooked. I kind of surprised myself with how obsessed I became with resin art. There were (and still are) nights where I literally get zero hours of sleep because I am brainstorming ideas for my next piece. As the months passed, I craved experimenting with this amazing medium on different surfaces.
I love entertaining and interior decorating myself, so I thought to myself, "how cool would it be if I made cheeseboards that could be hung on a wall and then brought down for those wine nights with friends, or trendy beach picnics?" Sure enough, after launching my very first collection, they started flying off the shelf. The word spread, demand grew… I had to capitalize on this opportunity.
As a result, I launched KaylaRae Resin designs. There were times of course that challenged my sanity (example: sanding 100+ boards just a few short days from an event lol). But looking back on the amazing journey I have been through, I have found that there are no such thing as coincidences, and everything happens for a reason. Your success is not defined by you needing to take a step forward each day.
Sometimes you need to instead take several steps back to really re-evaluated what you value in life and what makes you happiest. I thank god every day that I ignored my close friends and family's stressors of getting a job straight out of college and listened to what my heart and soul really needed,
Great, so let's dig a little deeper into the story – has it been an easy path overall and if not, what were the challenges you've had to overcome?
I have always struggled with ADHD and anxiety. I was diagnosed when I was seven years old and was put on medication that was to be taken daily. It was not easy accepting that I was different and needed to go to the doctors more often than other kids my age.
I required much more parent-teacher conferences than my peers, and I was always heading to tutoring straight from school. I hated that I needed that extra help to be completely honest.. I felt like nothing helped, and was both physically and mentally exhausted in trying to keep up. Apparently, my ADHD isn't what most people think-hyperactive impulsive type.
Instead, I was diagnosed with "inattentive Adhd." in other words, I have a very hard time paying attention to detail (which I find incredibly ironic because of my artistic abilities). There was a period of time in high school when I attempted to remove my medications from my daily regime. I thought that maybe I had just gone through a phase when I was young and "grew out of it."
Unfortunately, after discontinuing the prescriptions, the symptoms arose even worse than before. To make matters worse, I started to get bullied by friends, classmates, and (here's the shocking part) even TEACHERS for "spacing out" and not paying attention. It hurt my self-consciousness a lot and made me believe that I wasn't good enough to follow through on anything. I just couldn't stop daydreaming and sketching during class.
As a result, I started to worry a lot about what others thought of me… to the point where I stopped expressing my creativity and making art altogether. Looking back on it now, I feel as if that was the beginning of a "snowball effect" of my mental health. I eventually went back on medication and saw a huge improvement immediately in my academic performance.
I even went away to attend my top school choice- the University of Arizona- with a partial scholarship. It felt like I was finally getting somewhere with my life and was the first taste of self-acceptance in years. However, when it came to picking a major, I had absolutely no freaking idea of what I wanted to do in life. How could I choose my life's career at the age of 18?!
I thought I might want to go into the medical field (like my mother who is a doctor), or into environmental science. I eventually chose environmental science because it was the last tie I had to appreciate art in its most natural form. I loved my major, and I did fairly well as I acquired a scholarship within the college of life sciences. After graduating from college, I thought that environmental science was what I was put on this earth to do.
I loved my classes, the material was easy for me to grasp, and I actively engaged in conversations about my lessons outside of school. However, after graduating, I realized I had set expectations for myself that weren't entirely mine, to begin with. After what seemed like hundreds of applications and only a small handful of hopeful interviews, I turned up empty-handed.
I was depressed, beat down, and bullied by my own mind. I would always think to myself, "I knew I wasn't good enough for that position! why did I even try to apply for that?!" It was toxic to my heart, and my head became consumed with all this negative energy. In June of 2017 (just a Meer few weeks after graduating college), my world was turned upside down. My parents divorced.
My life was split in two, and so was my heart. Being the oldest of three daughters, I felt like I needed to support what was left of our family, and do everything in my power to rekindle some kind of unity and ground in my life. With that brought a lot of weight onto my shoulders. The pain became unbearable, and it was the last straw to my mental health.
I can recall clearly all the uncertainty that was swirling in my head at the time… no job, no money, no idea where I would live, everyone in my family was mad at each other… I was so incredibly exhausted and felt like I had nowhere to turn. I don't know what it was, but something deep in my core told me to make art once more.
Despite all the bullying I had gone through because of it during grade school, I knew it was my only escape .. but I just needed to do it in secret, free of judgment or criticism from others. It had been years since I had picked up a paintbrush or pencil, but the moment I decided to trust my instinct, everything changed.
Please tell us about Kaylarae Resin Designs.
I am an artist who specializes in using epoxy resin (the same stuff used to glass surfboards). I not only create large art pieces, but I am most known for my cheeseboards, coasters, and other home good items turned into "functional art." I am passionate about emulating the environment in my work. Whether it be mimicking the ocean or eye-catching rock formations, I always strive to bring the beauty of the outdoors in.
I especially love to use organic, neutral colors in all my pieces to bring a sense of serenity and familiarity to space. Additionally, I feel that this approach has also given my art a lot of versatility in terms of working with every home's style.
Resin is certainly not an easy medium to work with. In fact, throughout my many years of experience with other artistic mediums, resin art is BY FAR the absolute hardest to master. I am still learning new approaches in achieving different effects with the resin. The challenges resin has posed me is what motivates to become better.
I think what I am most proud of is the fact of how bold and willing I have grown to become these last few years. I was always the shy girl and had such a hard time approaching strangers for my entire life. My little sister will always make fun of me for how I would always recruit her to ask for crayons at a restaurant when I was little, or how I could never make a phone call to a stranger without hanging up in fear.
To be honest, I admit that I have a little bit of social anxiety, and to this day I still have small episodes of it before many of my art events (this is where I thank my sweet and ever so patient boyfriend for putting up with my crap lol). I think I have always been scared to express my voice and opinion because I had always feared that others might look down on me. But I have found that once I make the jump and share just a simple smile with a stranger, I am unstoppable.
I have truly surprised myself with how easy it is to talk to people and believe in my work that I am often so critical of myself for. Since starting KaylaRae Resin Designs, I have connected with so many other like-minded individuals who support me immensely and allow me to grow. Within the two short years of opening my doors, I have slowly but surely found myself weaving my way through the small, but intricate networking web of Laguna Beach.
What is "success" or "successful" for you?
In my opinion, success perspires from those who concentrate their energy on activities that truly matter in their eyes. Sometimes this means returning to your roots and reflecting on what made you happiest as a child.
My number one motto has always been "everything happens for a reason." when you invest positive energy towards things you want to accomplish, everything will align itself on its own. I didn't learn this lesson myself until I pursued my own business, but I always think about what would have happened if I had not have made that jump.
There are so many other kids my age that is so geared to worry about failing that they skip taking the time to really listen to their heart and finding what they love to do. With that being said, I think it is so incredibly important to find a hobby that you are extremely passionate about before even getting a big boy/girl job.
Having a hobby will help push you further outside your comfort zone and make more personal progress than any big-time job. Bonus points if you take it a step further and make some pocket change from it! Looking back on the amazing journey I have been through, I have found that there is no such thing as coincidences, and everything happens for a reason.
Your success is not defined by you needing to take a step forward each day. Sometimes you need to instead take several steps back to re-evaluate what you value most in life and what really makes your soul the happiest.
Contact Info:
Image Credit:
Riley Starr Photography
Getting in touch: VoyageLA is built on recommendations from the community; it's how we uncover hidden gems, so if you know someone who deserves recognition please let us know here.