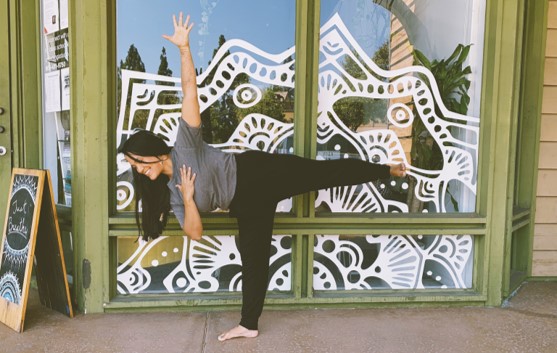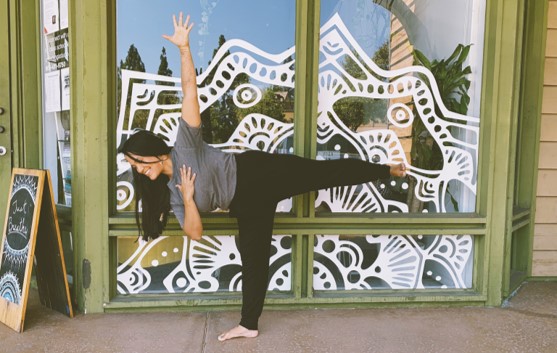 Today we'd like to introduce you to Michelle Pasos.
Michelle, can you briefly walk us through your story – how you started and how you got to where you are today.
I'll never forget the day my husband and I were driving on the freeway and he said I should open up a yoga studio. I laughed because that was a dream I let go of knowing what it would take to pull off. Just five months later, we opened our doors as United Yoga Studio in the small town of San Dimas, CA.
The beginning of my yoga journey was a common one. I was 18 years old going to Cal State Fullerton getting my bachelors in Kinesiology and was one of those people who was always at the gym. I saw yoga on the group fitness schedule of classes, decided to give it a shot and was hooked. My curiosity and competitive spirit kept bringing me back as I learned to tackle the more advanced postures. What began as a physical practice transformed into a mental, emotional, & spiritual practice stirring me towards stillness, peace, self-acceptance, and compassion towards myself & others. 6 years later, after I graduated with my Masters in Kinesiology I decided to quit my bartending job at Chili's and signed up for my 200 Hour certification through YogaWorks. It was a one-month intensive that I had no idea would change the course of my life. Before the training, I was planning on being a high school teacher and coach. Well, God had other plans.
Yoga not only brought me closer to my faith but it made me aware of my true self which positively impacted and influenced every aspect of my life. I felt called to share this gift with as many people as I could. So I did. I started a donation-based class in my backyard. At first just one night a week with my sisters and my mom. Then one night became three and my backyard was filled with up to 25 people or more from people in our community. From there, teaching opportunities flooded my way. Over the years, I have taught at studios, gyms, schools and nonprofits. I have taught men & women in law enforcement to boys in juvenile hall detention facilities. I guide prenatal mamas on how to prep for labor and teach mama and me yoga postpartum. It brings me so much joy sharing the yoga lifestyle with people who either have had a misunderstanding of it or who have never experienced it before. I feel honored to teach yoga to all types of people. To people who are in pain, stressed, depressed, and anxious. To people who are unhappy with their health, jobs, relationships, or overall stuck in a rut. To people who don't feel comfortable walking into a gym class or can't afford a studio membership. My goal was and still is to make yoga accessible to everyone. It never ceases to amaze me how this beautiful practice transforms lives.
Many yoga instructors dream of opening their own yoga studio and there I was living that dream out. People said I was crazy because I was starting my little family and back then I had a one year old and baby #2 on the way. I've heard it said, "Good ideas are always crazy until they're not". Those people were right, I was crazy. I said goodbye to the stability and schedule of teaching academics and all the benefits that come with it. Instead, my husband and I sold our home that we spent our 20's saving up for in order for me to essentially teach yoga full time. We have invested into our own business. That's so crazy but crazy would also be not living out your calling and part of my calling is to share the yoga experience to everyone!
We're always bombarded by how great it is to pursue your passion, etc – but we've spoken with enough people to know that it's not always easy. Overall, would you say things have been easy for you?
Owning your own business does not come without obstacles. Not knowing if we are going to make the next month's overhead and payroll is a true test of faith. We have poured a lot of our savings into our studio and although we are grateful to have that as a resource it's scary wondering if we will run out. Fear and doubt will scream that we're never going to turn a profit and that it'll all be a waste. However, faith will whisper and remind me that we are surrounded by abundance and that everything will manifest even incredibly more than we can think or imagine.
The hardest part of being an entrepreneur is being a parentpreneur. My husband Matt and I both work part-time outside of owning our business. We have three littles one ages 4, 2.5, & 1. While he's closing up at Starbucks, I am writing this at 10:30pm on a weekday because sometimes that's the only time to get work done. At any moment my youngest might wake me to nurse. I will most likely wake twice more by the time the sun comes up letting our toddler in our bed or massaging the knees of our eldest with oils because he has growing pains. Tomorrow I'll answers emails from clients, texts from teachers, and brainstorm our next marketing strategy. I'll check MindBody a dozen times, stop by the studio for maintenance, and work on our website. I'll create flyers for our upcoming yoga retreat and think up our next Instagram post for our current teacher training. Meanwhile, we'll be juggling cooking meals, changing diapers, breastfeeding, playing legos & ball and working on the yard or cleaning the kitchen for the hundredth time. Raising a family, running a household, and sustaining a marriage on top of managing a business is a total balancing act and it's easy to lose yourself in it.
Being an activator & achiever myself, my sympathetic nervous system tends to go into overdrive. I give give give to everyone and everything. To my husband, kids, family & friends, mama community, and studio which often leaves nothing left for me. In the last few years, I had a breakdown about every 6 months. I fell into the dangerous trap of teaching others how to be well when I am was not well myself. When this happens it will manifest physically, mentally, or emotionally. So now I know. I know how important it is to ask for help. I have had to get creative on how to outsource the tasks of running a business. I am so grateful for my United Yoga teachers, my Azusa Pacific interns and the members who work for yoga. Having help with maintaining the studio, running social media, and leading my Maia Mamas community is a game changer.
I am also learning to set boundaries saying no a lot more in order to say yes because you simply can't pour from an empty cup. So this means, saying no to exciting ideas on workshops or even saying no to teaching extra classes right now. Instead I am saying yes to furthering my own education and spending extra time with my family. Saying yes means having daily practices when I wake up and when I go to sleep that anchor me back to my heart, mind, & body. This means scheduling a monthly pedicure, massage, and maybe facial. This means having a physical therapist AND a yoga therapist. This means being disciplined in hydrating, taking supplements, moving my body, and being out in nature every day. This means crying in the shower, solo dance parties, and singing at the top of my lungs while driving. So my encouragement to anyone and everyone is to evaluate what they say yes and no to and to integrate as much self-care as possible and exploring what that looks like specifically for you.
So let's switch gears a bit and go into the United Yoga Studio story. Tell us more about the business.
Our town is not saturated with yoga studios like LA and OC. It's an exciting place to be because we get to plant seeds and we are starting to see the fruits of our labor as we recently celebrated our three years since opening. We offer donation-based classes and provide classes that meet the diverse needs of every student. Our teachers aim to make every student feel seen and to provide modifications and variations suited for their practice. With over 25 classes a week and styles ranging from Restorative to Yoga Sculpt to Yin to Prenatal, we offer various styles and times daily. Community is our jam and where we see the real magic happen. You can join a goal setting workshop, attend a sound bath, or dive deeper by doing our specialized yoga teacher training. Our students learn about mindful movement taking classes with our lead trainer Dr. Heather Thomas. They learn how to really own their story and implement yoga philosophy in their daily lives with our lead trainer Marina Stirdivant. I am so proud to be currently teaching our 6th cycle of students. This winter we'll be also launching our 2nd annual retreat in Joshua Tree. Our retreat includes delicious home cooked meals by my husband Matt, lots of yoga, lots of inspiration, and lots of community.
So you can find community in different forms at United. We have a long term vision to open up more boutique studios in low-income communities that offer completely donation-based classes offering free yoga in the park, schools and local businesses. Our mission is to create a culture of UNITY encouraging your heart, educating your mind, and empowering your body. We exist to make yoga accessible for everybody & everybody!
Has luck played a meaningful role in your life and business?
A philosopher once said, "Luck is when preparation meets opportunity." Some people are lucky to have been put at the right place at the right time. Others hustle and make changes because they are either desperate or inspired. My parents our both first-generation immigrants. They had difficult upbringings but decided to be bigger than their circumstances. They set out goals to leave a legacy for their family and they have. My dad a pastor and my mom a teacher both received their doctorates and have dedicated their lives to God, people, and family. I'm lucky to have grown up with parents who passed on to me the idea of dreaming big, hustling your heart out, and having unshakable faith to sustain you.
My faith in God, true grit and hope in the future has allowed me to co-create my dream life. I'm a firm believer that you have the power & ability to do the same. I aim to encourage you to identify your strengths, follow your curiosity, and grind until a door opens for you. Along the way, you can be sure that doors will close. You will be told no. You will fall. Expect all the resistance but keep going. You WILL see everything come into fruition. The opportunities are endless.
Contact Info:
Suggest a story: VoyageLA is built on recommendations from the community; it's how we uncover hidden gems, so if you or someone you know deserves recognition please let us know here.