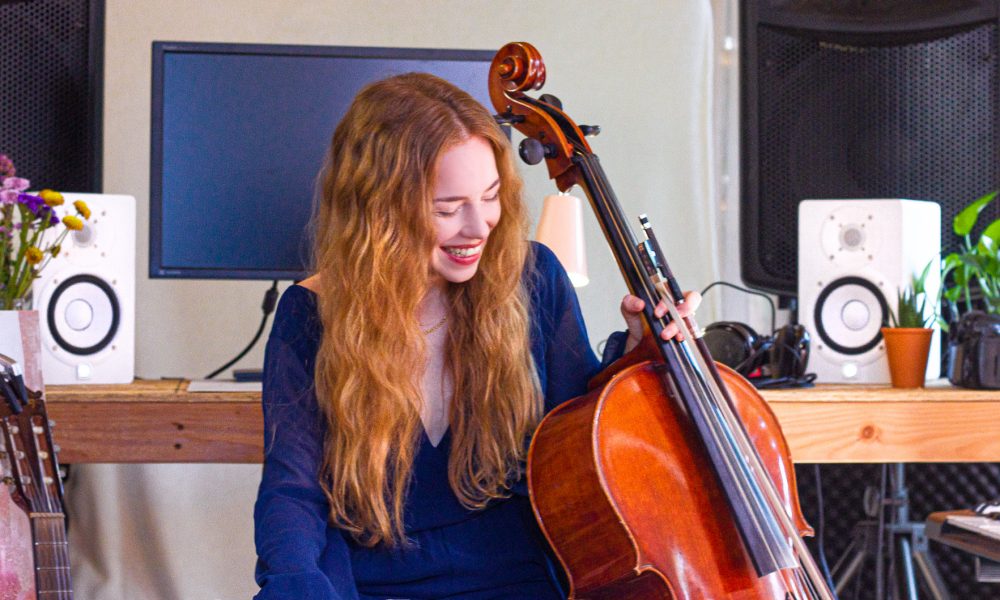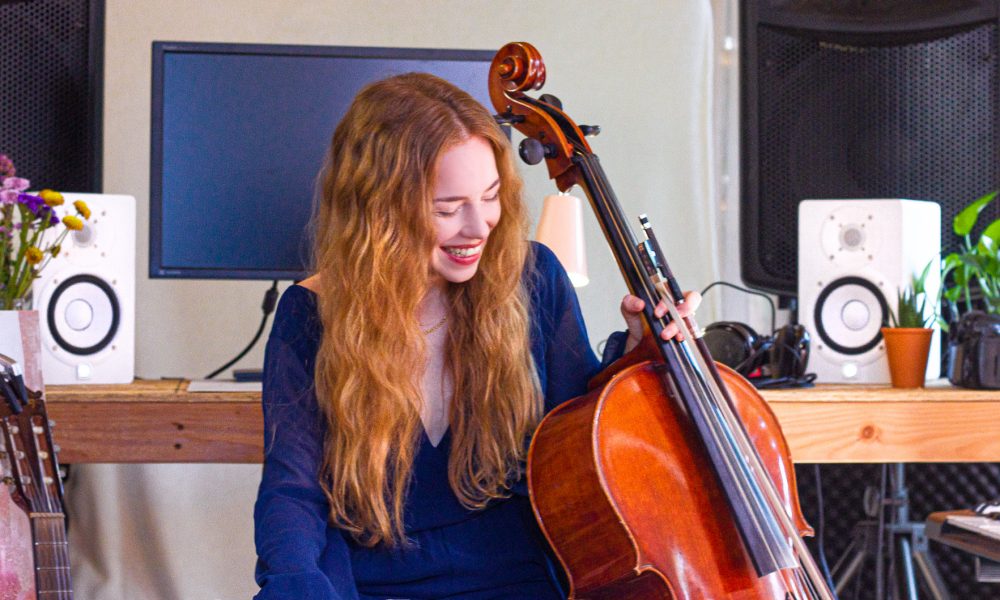 Today we'd like to introduce you to Michelle Packman.
Michelle, please share your story with us. How did you get to where you are today?
I didn't come from a musical family at all so my parents didn't enforce any practice regimen, but they gave me a ton of encouragement and I practiced a lot anyway out of pure love. As a kid, I really loved novelty, so the fact that there was this one thing that always got me so stoked really made finding a life path easy. I knew I wanted to be a musician by my sophomore year of high school. I studied cello performance at Bob Cole Conservatory at Cal State Long Beach, where my training was strictly classical, but I was smart and also took some business classes with brass player, John Van Houten, who contracts other musicians for recording sessions at scoring stages around town, so that gave me an edge as a fresh graduate. Many of my peers at CSULB had more talent than I did, but they didn't learn how to build a structure around that talent and many of them quit music which is so heartbreaking. I think a lot of musicians really struggle with that, so I was very lucky to have met John. My other mentors during this time were Steve Rochford (who would balk at my use of the word "gig"), Maggie Parkins, and the late cellist and jazz arranger, Freddie Katz.
Out of college I gigged (sorry, Steve) around town, and for a few years there, I didn't take any time off, weekends were actually my busiest. I played weddings, taught, and got the occasional big session. During this time, I played for League of Legends, Trans-Siberian Orchestra, Hallmark, and others. As my career developed, I became aware that the insular academic version of music I learned at CSULB was holding me back. The two things I really lacked were improvisation and music tech skills. Both of those things increase one's flexibility in the industry and flexibility is really the difference between sinking and swimming. I tried to study them on the side, but it wasn't enough because I was often staying up until the wee hours since that was my only time to practice, so in order to develop those skills in a way that I could really give them my all, I went back to school. I enrolled at Berklee College of Music in Boston, with the help of the North American Tour Scholarship. I was at the cusp of a really booming career, so it was a hard choice, but I'm glad I did it, and it actually leads to a gig with Eminem at Boston Calling.
While at Berklee, I studied Contemporary Arranging and Production. It's basically every step of the production stage, from setting up a studio, writing the music, recording, mixing, and mastering, everything you need to be an independent musician in the current climate. I loved that your primary instrument stays close to you through that whole process at Berklee, even if you're not a performance major. I was surrounded by creative playing and for the first time in my life, people who took the art as seriously as I did, which was really missing my first time around. I studied with some incredible improvisers, Eugene Friesen, Sarah Caswell, Rob Thomas, Ned Rothenberg, Kenny Werner, I can't name them all… everyone I learned from was so inspiring. I also dug in deeper with business and aced all of my music law classes. It was invaluable.
Now that I'm exclusively in LA again and working full-time, my new skills have paid huge dividends with the emergence of Covid-19. I'm pretty swamped with remote recording work, and I'm so thankful to my intuitive self that I didn't settle for practicing after-hours and YouTube tutorials as production training (although those definitely got me through a lot of nights in the student production suites- I'm not totally discounting the power of public knowledge). As a hardcore introvert as well, the remote recording situation works better for me than public performances. I'd consider myself a hybrid cellist-producer these days. My income is almost entirely made from my home studio.
So that's the first part of the question. But I think the second part is more important and gives the first part vital context. In terms of where I am now as a human, and as a person aware of a bigger picture, I feel self-assured, whole, and content. By random chance, I've lived through several unrelated traumatic events. The death of my best childhood friend, domestic abuse, and others. Because I had a really solid childhood, the end result of all of that trauma and the work I put in afterward to codify and understand it has left me accompanied by a self that has a hard-forged sense of right and wrong, a fantastic radar for people, a sense of deep gratitude about the special moments I'm given, an acceptance of impermanence, and resilience over small problems. I love and trust myself wholeheartedly. My priorities resonate now. Life is all about finding the truly good people and investing in them with whatever you have, the best of which are time and simple kindness. Our relationships with other people supersede everything else if we want to live a fulfilled life, and this is my main pursuit now, music is just the vehicle. I'm also an avid reader, which has put the knowledge of psychology and self-love at my fingertips and I think that, above all, has saved my life. That and dogs. Pets really are little drops of therapy sent straight from heaven.
When I was young, my journey through life was all about whittling away novelty and distractions to find one single thing to view through a microscope. I did this by studying stuff like the Shostakovich Sonata, the Saint-Säens Cello Concerto, analyzing Bach, having headphones in my ears nearly 24/7 to internalize the musicianship of the cellists I respected. At Berklee, there was a lot of that too, with transcribing artists like Chick Corea, Miles Davis, and Monk, giving presentations on drum replacement and parallel compression.
Now that I'm older, what I thought was the apex of life's hourglass has sort of inverted. What I mean is… the majority of people have this misconception that leaning into the nuance of a craft is a recipe for isolation. I have found that it's actually the heart of earned solidarity. It has become a bridge to the world. To the outside world, it might seem inconsequential to play a somewhat obscure string instrument, I've heard a fair share of reductive assumptions about what I do. Through my pursuit of this path, I've come to understand so very much about life. Being an expert at anything makes you really acquainted with courage and vulnerability, and that can teach you nearly everything you need to know about life if you make the choice to listen to the lessons and never lose courage. It has given me a path to understanding the world around me, injustice, racism, and the true depth of cruelty. Our world abounds with turmoil. In 2016, Herbie Hancock and Wayne Shorter wrote a letter to the next generation of artists, and the part that resonates with me is this: "…we live in a time of great confusion and pain. As an artist, creator, and dreamer of this world, we ask you not to be discouraged by what you see but to use your own lives and by extension your art, as vehicles for the construction of peace… Focus your energy on becoming the best human you can be. Focus on developing empathy and compassion. Through the process, you'll tap into a wealth of inspiration rooted in the complexity and curiosity of what it means to simply exist on this planet. Music is but a drop in the ocean of life."
Yo-yo Ma is the finest example I know of a cellist who has done just that and used his playing career as a vehicle for goodwill ambassadorship. As a teen, I was blessed with the privilege to sit in on a rehearsal of his, after which he gave a speech and introduced a quote that I've heard him reference many times since. It is by the master Pablo Casals, and I've kept in my back pocket all these years: "I am a person first, musician second, and cellist third." So to really answer your question, that's where I am today. Trying to be the best human I can be. Shining my little light into the dark places of the world, hoping to unwind shame and validate the human experience. People like Yo-yo Ma can do that expertly via the world stage. I'm pretty content doing it with my little studio. It's a small megaphone, but it works for me.
Has it been a smooth road?
Again, I think this boils down to the internal and external worlds.
The struggles within us human beings are ever-present, and every internal flaw carries with it a certain amount of shame and a certain amount of blindness, putting it on a spectrum of willingness to admit the problem, accept it, and work for change. Everyone has struggles that lie all across that continuum, and we have a threshold of shame somewhere on that spectrum that prevents us from facing the truth of certain personality traits and behaviors. I'm trying my best to push back the threshold all the way so that I can face more and more of what holds me back internally. It's all about self-love. It peels back shame and helps to bring the best version of yourself into the world. I think being an artist is all about validating others by being in touch with those things so internal work and embracing flaws isn't something you can skimp on if you are in a creative field.
One of my challenges I feel fine sharing is that, for a time, I struggled with comparison, since I came to music late relative to my colleagues, some of them have been playing since infancy. But I've learned that since technical finesse isn't ingrained in my identity (along with a fear of punishment if I depart from it), I don't have reservations about expanding my knowledge into other areas, because I have so very much proof that learning new things is totally achievable if I push myself. I've also learned a lot over the years from those same colleagues who have confided in me just how difficult their childhoods were for them, so I'm kinder to myself now and I'm proud of my family for practicing healthy values. Not to mention, all of that -life- I lived… the hours playing with neighbor kids, the gymnastics lessons, the girl scout meetings my mom made me go to (that I'm super thankful for now), the times my brother and I fought over the Playstation controller as kids… I think about what a huge tragedy it would be if those were replaced by memories of being stuck in a room practicing.
Another thing I've had to overcome is limiting beliefs. Turning 30 brought up the limiting belief that is repeated as an adage in our industry: that your learning life is over at 30. I've heard this said, verbatim, many times. Well, I'm in my 30s now and I'm still learning all kinds of shit! I'm learning Finnish too because my partner is a Finn. Finnish is on par in terms of difficulty with languages like Mandarin and Japanese for English speakers. My point is, I've learned to basically ignore limiting beliefs altogether. If I have the time to think them, then I have the same amount of time to do something to contradict them, so that's a change I've made In my life. If I start to think a limiting thought, I stop it in its tracks and just go do the thing I'm afraid of failing at. Those limiting beliefs are our egos protecting us from failure. The thing that helped me was mentally reframing "error", really there's no such thing as failure. Every attempt made is another iteration, and if we stop before we have the chance to develop, that is a choice to view something as failure that was really just a seed. There's a metaphor I read once in Timothy Gallwey's Inner Game of Tennis. I'm sort of paraphrasing here, but essentially it says when you plant a seed in the ground, you don't berate it for being insufficient, but you instead watch with wonder at its growth. Through the whole life cycle from seed to stem to rose, until death, it's still a rose, and it's perfect just the way it is. I see too many people quitting before getting that chance to bloom. 🙂 Speak to yourself like you'd speak to your best friend, your puppy, or if you're a trash elder millennial like me, your adorable little succulents.
I have a list of things I can do where I can be lazy one way or another and still make gains, like working on my website, reading a book, watching a production tutorial. I can do all of these in PJs sitting in bed, so they really help me on the days I'm feeling off. If it's obvious that I'm burned out and I've been fighting for productivity and nothing works, I fully embrace the dopamine binge as a part of the cycle. Mac n cheese, ice cream, and trash TV.
Having the life of a musician is also fraught with physical pains from repetitive use. I still think of these as internal because you do have some control and they can be managed. I exercise every morning and back off playing if I feel a part of my body start to complain. If I know I will have to push myself for a couple of days, I make sure to schedule some rest time afterward, and I work on just audio editing, for example.
As for external obstacles and things you can't control, they really suck sometimes, but they help you dig deep to your best qualities and help develop your compassion. I think the hardest obstacles are the difficult personalities I've met in my work, not so much when people genuinely struggle with their inner demons or are ignorant because they haven't faced their biases yet, which is only human. If they're an otherwise good person, I have compassion still. But there is something altogether more sinister when people let their demons run unchecked and purposely hurt others for pleasure or get high from diminishing the potential of others. I've seen truly ugly stuff in this business. The sheer amount of damage done by people taking away the potential of their peers has to be the single greatest inhibitor of the advancement of our species. So my advice to those wonderful, hardworking, and deserving people currently struggling with difficult bosses, coworkers, even partners, please remember to never clip your wings for another person. Real compassion and love is letting other people soar. It must be difficult to be the kind of person who likes to hurt other people, now that I know a little more about people, I know there are no easy answers. But yeah, in terms of external obstacles, that is absolutely the most difficult and has affected me the most.
Can you give our readers some background on your music?
It's interesting to ask what I am known for. I think when people see a cello in my hand, that leads to a lot of assumptions. People send me classical music memes all the time or ask my questions about the classical audition process. I haven't played much classical music. As a professional in LA, it's mostly session work, which is why I'm here! So with my line of work, what I'm known for and what I really do is a lot like that meme that died a few years ago.
My main gig is producing and recording cello for clients from my home studio. I work alone, pretty much, and I have some people I reach out to for related tasks, like recording violin and viola, for example. If the high string parts end up being simple, I borrow my partner's violin and viola and record myself. Ideally, I'd like to have a balance of playing cello live and recording in my studio, but during COVID, there's not much live performance. I briefly tried live streaming from Twitch but that really wasn't for me. So my clients right now are other artists and composers who need a solo cello or string section sound to replace programmed samples. I play for all kinds of different styles, but my favorite job is writing and arranging for contemporary music, pop, EDM, folk, rap, etc. I just got my first full production client the other say, so I'm going to produce some keys, strings, mix and master.
I'm proud of my work ethic and my willingness to take calculated risks. People like to bash perfectionism, but you don't find any leader in any field embracing a "good enough" attitude. If you want to contribute to the world, you have to push yourself hard and produce more than you consume. I also stand behind the saying "the way you do one thing is the way you do everything". What is important in life is subjective, so if you decide one thing isn't worthy of a full commitment, it could actually be really important to a client and just make you look sloppy, and they'd be right, honestly. I love it when my clients point out an area of mine that needs improvement, it helps me become a better musician and better collaborator.
I think the thing that sets me apart is that I'm pretty egoless in my work, it allows me to listen, not just listen in the literal sense, but get a feeling for what my colleagues are trying to covey in their work. Lyrics in songs are hugely important for this as well. If two songs have the same composition and production but have vastly different lyrics and meaning, like, say a worship song versus a breakup song, you'd get a completely different style of playing from me. One person who does this wonderfully is American violinist and member of Grammy award-winning Punch Brothers, Gabe Witcher. His solos are spellbinding and paint stories completely in support of the music. So I try to do that too, to capture the essence of what the composer is trying to convey. In general, composers are all artists, so their message is almost always clear, whether the music is theirs or a work-for-hire for one of their clients.
Let's touch on your thoughts about our city – what do you like the most and least?
I love urban places like Los Angeles because there are so many different kinds of people and you have to try really damn hard to stay stuck in an ignorant mindset. Insults based on societal ideals don't sting quite as much here. People who try to enforce rigid societal ideals and project onto others are basically ignored here, and I think it makes everyone liberated and healthy. I also think there is a general trend toward respecting others, I see a lot of people who go out wear medical masks to make sure other people stay safe. I appreciate that a lot.
But… there are so many things that suck about LA. So many groups of people don't feel seen and acknowledged, despite the incredible irony that when I think of LA, the thing that comes to mind is diversity. I could go on all day about that, but if I had to pick one thing above all of the rest that I see as the most pressing, especially during the COVID crisis, it would be homelessness.
Having a bed to sleep in at night shouldn't be so unattainable that we have 60,000+ people, many of them burdened by deep trauma, mental illness, financial setbacks, etc., without a place to live. I admit I don't know much about housing and rental markets, but you don't have a crisis on this scale that isn't at least partly attributable to greed and the failure of human political construct. It makes my blood boil. All people, ESPECIALLY the sick, and the people who start life at a terrible disadvantage, deserve assistance in finding shelter and proper care. Anything less is absolutely unacceptable and a huge mark on our society.
Pricing:
Recording services start at $125/track
Live performances start at $125/hour + standard mileage
Live stream performances start at $125/hour
Ad-hoc remote masterclasses for serious students based on limited availability $100/hour
Contact Info:

Image Credit:
Tuomas Norjanen, Michelle Packman
Suggest a story: VoyageLA is built on recommendations from the community; it's how we uncover hidden gems, so if you or someone you know deserves recognition please let us know here.