Today we'd like to introduce you to Michael Derry.
Alright, so thank you so much for sharing your story and insight with our readers. To kick things off, can you tell us a bit about how you got started?
My earliest memories are of crayons and sketchpads and chalk on sidewalk. I took to drawing as naturally as talking, and I talk a lot! I entered my first art contest in kindergarten and won the blue ribbon. Throughout school, I bounced between art, theater, and creative writing. I graduated from Northern Illinois University with a BFA in Illustration.
After college, I moved to Chicago where I worked as a bartender at Roscoe's in Boystown. During my time there, I made many incredible, life-long friends including my friend Matt Harvat. Together we put on a few special events that I created the art for. Event invites, holiday greetings, and giant foam cut out Cupids, Santas, and mermen for the dance floor and/or parade floats! Matt and I did several special events while we worked there.
I moved to Los Angeles in '98 and landed a job as art editor for BENT magazine, a new LGBTQ publication. I created editorial illustrations, wrote a monthly artist spotlight, and created my comic strip "Troy" which ran in BENT magazine for a little over a year. When BENT folded, a friend and neighbor was starting a new magazine and asked if I would want to keep the strip going in his magazine. I eventually had the comic syndicated in papers and magazines throughout the US, Canada, Mexico, South America, the UK, South Africa, Australia, and for a short time it was translated into Turkish for Eshalem, the first LGBTQ publication in the Muslim world.
While Troy the comic was running, I also worked as a graphic designer for DaVita and worked on several freelance projects including the Telly Award-winning web series "The DiCaprio Code" for Disney.com.
I had several meetings over the years with various producers and executives about adapting "Troy" as a movie or TV series. In 2007 I had a deal to make a feature. I had written the script, which my manager at the time called "beyond brilliant," and had a great meeting with our director. The next day the bottom fell out of the economy and we lost our funding. I decided then to stop waiting for someone else to make this movie. I took my feature-length script and cut it down to 21 minutes and did it myself as an animated short/pilot. "Troy: Naked Boys Behind Bars, Sing!" debuted at BentCon in 2011 and ran in several film festivals throughout the world.
In 2015 I became the Art Director for Plug DJ, a new music sharing social media site. The site was very simply an online dance party. Users would log on, choose and avatar, and then go into one of the dance party rooms full of users from around the world. Different rooms featured different genres of music. Users would create playlists, then que up to DJ. When it was your turn, your avatar would appear in the DJ booth and your song would play. Users could vote "Yea" or "Meh." Yeas earned you points which you would put to new avatars, chat badges, or room backgrounds. Meh's got you booted from the DJ booth. We created hundreds of dancing avatars during our run. It was one of my all-time favorite projects as I got to combine my love of art, character design, and dance music! I also met my friend Bill Drastal, a very talented animator and artist along with his wife Karen.
After Plug, I went on to create a line of giant, elaborate kites for Kitedrone. I created the brand line, then in subsequent years, I created a line for DC Comics, Marvel comics, and LOL Surprise. We've shown the lines at Toy Fair in New York in 2018 and 2019.
Currently, I am working on Maxxie La Wow, an animated feature with Chubby Beagle, the production company started by Bill and Karen Drastal after we wrapped Plug DJ. Maxxie is a bit of a dream project of mine as it combines all my favorite things; animation, superheroes, and club music. All my favorite projects involve music!
I also have a line of pop art-inspired prints, t's, and other merch distributed through SwishEmbassy.com and my own site, DerryProducts.com. I started the line as a fun social media/branding project that snowballed.
In early 2019 an events promoter saw my posts on social media and passed my Insta on to his business partner who just happened to by my old BF and co-worker Matt Harvat from Roscoe's. Matt now produces massive, several thousand attendee dance events and parties for his companies CircuitMOM productions and E Meloni. In 2019, after twenty years, I started doing events graphics for Matt again. We had a great 2019, but 2020 brought Covid. We hoped and hoped for weeks but had to cancel all of our 2020 events. I am very grateful that after having to cancel almost all of our events in 2020, we were able to put on our Pride, Market Days, and Halloween parties again this year.
In 2020 a few of the Pop Art pieces were chosen as part of LICC's Official Selection and the 2nd round of voting by the Jury, singling it out as one of the best in the 2020 edition of the London International Creative Competition.
The pandemic slowed things down considerably in 2020/21, but lately, things have been picking up again. In addition to Maxxie La Wow, I have a few other creative projects starting up in 2022. Personally, I just celebrated 15 years with my partner Toby Massenburg. He's been traveling a lot for work this past year, so in December, I am very much looking forward to him being home for the holidays.
Alright, so let's dig a little deeper into the story – has it been an easy path overall and if not, what were the challenges you've had to overcome?
One of my biggest and most enduring challenges has been with technology. I went to college in the early 90's and in all of my four years never had one computer art course. Not one! It wasn't until I went on my first interview after graduating that I even heard about Photoshop. I had an interview at one of the biggest agencies in Chicago. I showed them my portfolio of illustration, my book was full of colored pencil work at the time, and one of the first questions she asked me was, "What computer skills do you have?" I was gobsmacked. I had none. Zero. Ziltch. Nada. I am still peeved that no one in the art department at Northern Illinois University thought that Adobe Illustrator and Photoshop should be required learning, but, as I said, it was the early 90's. STILL! So after four years and thousands of dollars of loans over my head, I had a degree but no technical skills. I got a job bartending to pay the bills, and I saved my money and was able to buy myself my first Mac tower, a 3G and Adobe Photoshop, Illustrator, and Macromedia Flash and a couple of thick books to learn the apps. I had made a friend who worked at Disney Online and needed Flash animators. I spent every free moment for a few months learning the software, then my friend gave me my first animation gig, "The DiCaprio Code" for Movies.com.
After that, I was able to land a full-time job doing Flash courses for DaVita. I did the bulk of my work using Flash, as well as Illustrator and Photoshop, for a good ten years. Then Bill Gates decided to kill Flash and I lost my job as a Flash animator.
I have never been limited professionally to one discipline. I've been a graphic designer, an illustrator, an animator, and writer. My biggest challenge these days is finding the time to learn new technology. I have played around with Maya, ZBrush, and Blender but have not had the time to really master those. Sometimes I lose out on opportunities because I do not have solid 3D skills. I guess the good part is I have too much work at the moment to master new technology.
Thanks – so what else should our readers know about your work and what you're currently focused on?
For better or for worse, I am known for being a gay comic artist/cartoonist. I have often wondered how many/which jobs I may have lost out on because of my "gay stuff," which at this point is a LOT!
I didn't come out until after college and my art first jobs were working on the graphics and giant cut outs for different events we produced at the gay club I worked at. While working at the bar in Chicago, I met some LA people and moved for the opportunities in the animation/movie industry. A photographer friend introduced me to publishers of a new LBGTQ magazine. They wanted someone to write and draw a gay slice of life comic and do illustrations and other graphics. I had been drawing my own comics since grade school and I had plenty of experiences working in gay bars to write a gay comics about. The first few strips were almost 100% autobiographical and maybe pissed off a couple of bad "dates" who might possibly have recognized themselves.
When BENT magazine folded, I thought that would be that but people really liked "Troy" and I had plenty of other stories to tell and the gay opportunities always found me. Publications started finding me asking me to run the strip. "Troy" was popular in the gay community and I had some friends who were in film and TV, so they often brought me into meetings about turning Troy into something for TV or film. There were so many stops and starts with people not quite knowing how to make my stuff mainstream. Add straight characters? Make the gay characters straight? Would it be animated or live action? Everyone loved my characters and stories, but for the time, it was just too gay. Too sexy. There were Will and Jack and later Mitch and Cam, but let's face it, those characters are basically gay eunuchs and my characters are hot and have a lot of sex. Off camera! It's not porn. It's just sexy talk and the occasional naked butt cheek. One of my comics got censored for the language being too vivid. Which is why I finally just did a short film on my own. Straight women on SATC could get away with anything, but if my characters said or did the exact same thing, it would be an X rating. There really are different standards for gay content.
I ended the regular comic in 2013 after so many of the magazines that ran it closed and I wanted to do other things. I felt I had taken the comics as far as I could.
I looked at Instagram and thought it was basically hot people taking their clothes off so I thought I might be fun to do something for that and try out a new style. To me, Instagram is the fulfillment of Andy Warhols prophecy that everyone would be famous but only for 15 minutes. I tried a few socially conscious pieces but the first one to really go viral was the leather Bert & Ernie. Mark Shaiman who wrote for Seasame Street gave an interview where he said he wrote Bert & Ernie as a married couple, based on him and his husband, and that really started a firestorm. Bert & Ernie can't be gay! They're puppets!!!! Puppets can't have a sexual orientation. I thought those excuses while being VERY VERY careful to not say there was anything wrong with being gay, were just excuses. If Miss Piggy and Kermit (two puppets) can be straight, why can't Bert & Ernie be gay? And if they are gay, why can't they maybe go to a leather bar or IML every once in a while and still be decent and good people?
That's what I do with a lot of my work now, I take things in pop culture/social media/the news, sprinkle it with some of the characters of my youth, and put a big, queer, twist on it.
A few years ago, a friend introduced me to an artist friend of his who was in his 80's at the time. He was one of the first artists at Warner Brothers and he worked on many of the Bugs Bunny shorts of the 1950's. We talked about our work, both commercial and personal. He warned me to not have anything remotely gay on my portfolio site or I'd lose out on jobs. I smiled and said, "Too late."
The movie I'm working on now, Maxxie La Wow, is about a drag queen superhero and the writer/producer is thrilled I'm working on it because he was a fan of my comics. So while I never set out to be a gay artist, I never shied away from it either. Maybe it's my unabashed, in your face gay humor is what sets me apart after all.
Where do you see things going in the next 5-10 years?
Right now, my industry is booming. Animation wasn't shut down because of the pandemic because productions can and have been going on remotely. Since the early 00's, I've worked remotely. In over twenty years, I only worked onsite for maybe five years. The trend right now and for the foreseeable future is remote work. Other trends I'm seeing are a lot of animated content on streaming and cartoons for adults.
Contact Info: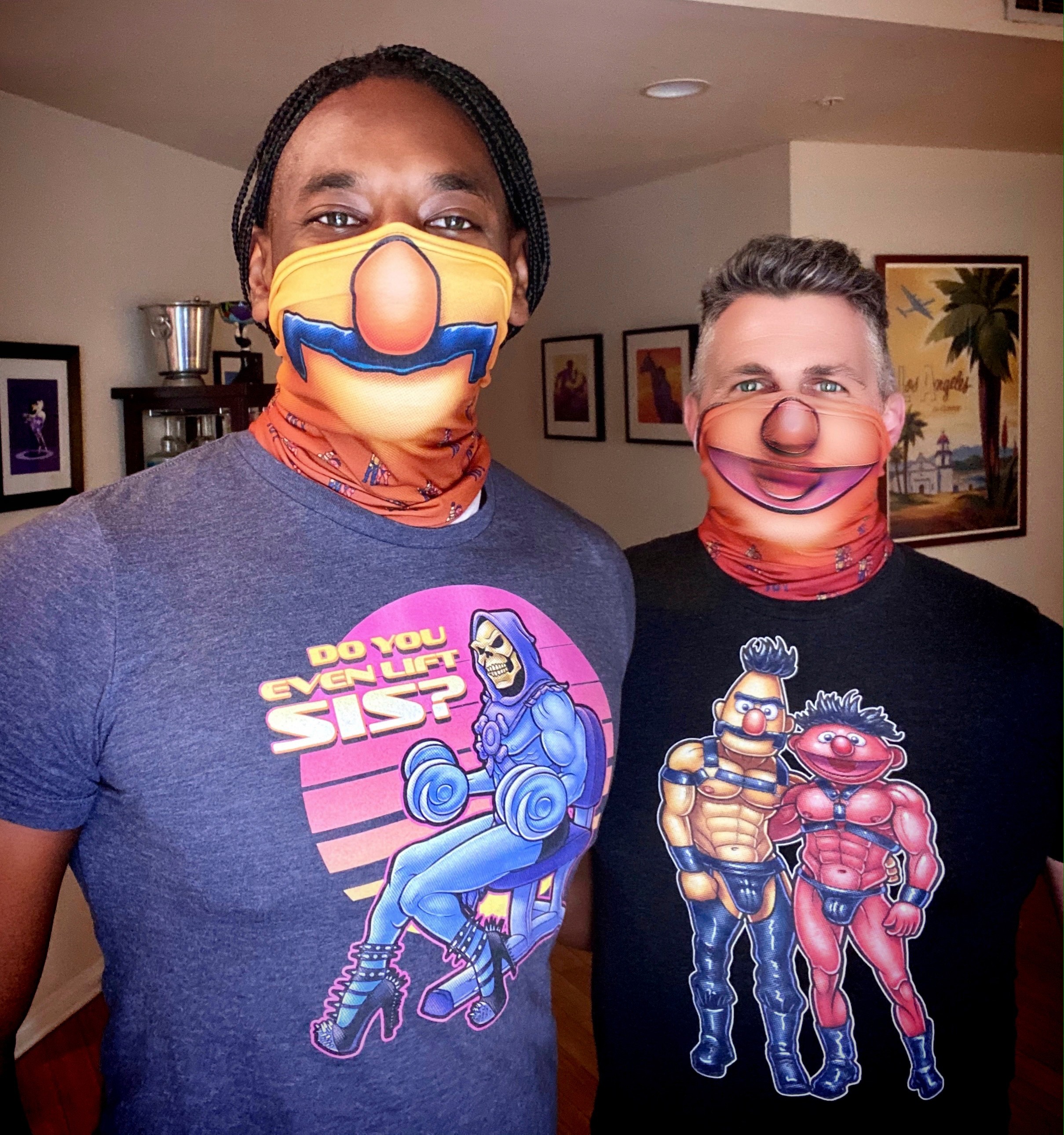 Suggest a Story:
 VoyageLA is built on recommendations from the community; it's how we uncover hidden gems, so if you or someone you know deserves recognition please let us know 
here.