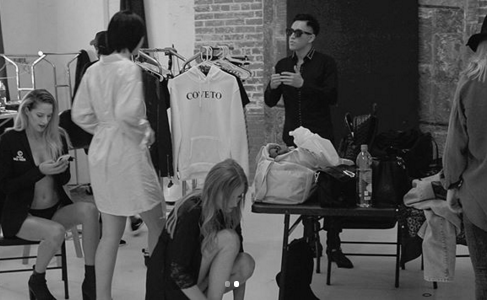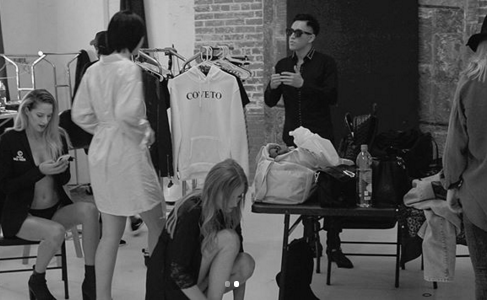 Today we'd like to introduce you to Michael Coveto.
Michael, please share your story with us. How did you get to where you are today?
I was born in the suburbs of Washington Dc to Mexican immigrants. My parents immigrated to the US in the late 80's to escape poverty and economic instability the country was going through at the time. My father often took many hard labor low paying jobs for the first few years of my childhood just to get us by, Resources were very limited for us during those times. It wasn't until my father secured a job at an Art institute nearby that my family was able to get itself on its feet. Being a first generation, Mexican American I learned the value of hard work and what the American dream really meant from a very young age. Seeing my parents come from literally nothing and make something out of themselves really inspired me to excel in whatever it is I would do with myself in life. I acknowledge I always had a talent for being artistic and creative, my father working at an Art institute often would bring me around art exhibits and events they would have as a kid. Those times definitely helped me grow and fuel my passion to what it is today. Art is what got me through my childhood, kept me out of trouble in my teens and eventually upon graduating high school. Landed me a scholarship/opportunity to move to NYC to attend design school. It was also during my late teens I started expressing myself through music. the summer of my senior year I started hanging out with some guys that were in a band. It brought out a side of me I didn't know I had. Everything that came after that was just a leap of faith and very organic for me. I spent a year in college before dropping out. Realizing everything I had been looking forward to there wasn't what it seemed. It was a very upsetting time for me. I had found myself stuck between a crossroad in walking away from everything I had been looking forward to my whole life or keep pursuing my passion on my own terms.
At that point in my life I was leaning more towards focusing on my music side of things, after a few failed attempts in starting a clothing brand of my own. What happened after that wasn't a walk in the park but I did what I had to do, between busting tables at night and landing gigs here and there during the day just to get by. I never lost sight of my goals and dreams no matter how hard times got. It wasn't long before one thing leads to another, I started going out more in the city, landing new opportunities and meeting so many creative people from all over the world, it really inspired me. I started building my network and I decided to start putting out music that following summer under a different moniker than I'm known for today. That move eventually connected me with my former manager who is still part of my music team today. He really played a key role early on in my career and helped me structure myself properly. Teaching me the industry's ins and outs. He had spent some time over at EMI records as an A&R before it was dismantled by Universal Music Group and coming on board with us. At this point I would say I had somewhat things going for myself.
Things started to look more promising than before and for the first time in a while I was running off a momentum that wouldn't let me stop even if I was unsure of were all this would lead up to. It was music that opened up the fashion world to me. It all connected. I started gaining more attention online with the explosion of Instagram and so did the perks with it. This led to more exclusivity and my first invite to NYFW. Things fell into place from there. I continued to focus on building my name and reputation as well as attending NYFW season after season. It was something I had truly fell in love with by then. The energy, the people and the atmosphere were like no other for me. It was here that I met so many great individuals and power players that I learned a lot from in the industry. This all eventually lead me to Paris and Paris Fashion week where I decided to pick up what I had left behind a few years back in New York City. I felt that by this point I had gained enough understanding of things. We launched Coveto in Paris and our first capsule collection sold out, we then followed with a few collaboration collections and are currently working on expanding offices in New York and Los Angeles for production and development to further grow the brand. Things are really coming together at the moment and I'm very excited to have put together a strong team early on that understands my vision for the brand and its future.
My life really has been a whirlwind these past few years with all the traveling involved in making my goals reality but I'm grateful to be able to call New York and LA my home at the moment. NY is a big part of my brand and its growth and LA is where I deal mostly with all my music business going on at the moment including the new management deal, I signed. I am also very proud of having launched The Coveto Foundation earlier this year. A foundation I put together as a way to give back what we can to empower kids in 3rd world countries with resources and opportunities they need to pursue their passion in the fields of art and music. We have a few projects in the works with local community centers in my home country Mexico set for 2021.
Overall, has it been relatively smooth? If not, what were some of the struggles along the way?
I was always faced with people doubting me or not understanding me for being a creative person.
Please tell us about the business.
Coveto is a luxury clothing brand, we specialize in menswear and womenswear and are currently working on expanding into jewelry and accessories. We take pride in our origins and originality.
If you had to go back in time and start over, would you have done anything differently?
I would not doubt myself and take more risks. Looking back, I realize now I held back in a lot of situations because I was scared of the idea of failing but the more you grow you learn to embrace failing in something as part of the growing process.
Contact Info:

Image Credit:
Harry Starlight , Jaime Aquino
Suggest a story: VoyageLA is built on recommendations from the community; it's how we uncover hidden gems, so if you or someone you know deserves recognition please let us know here.