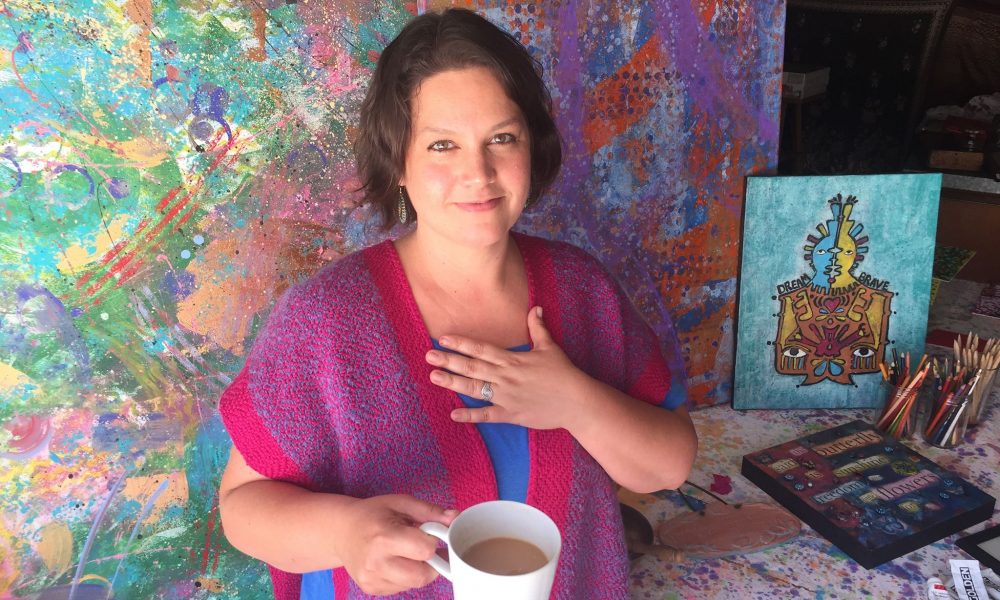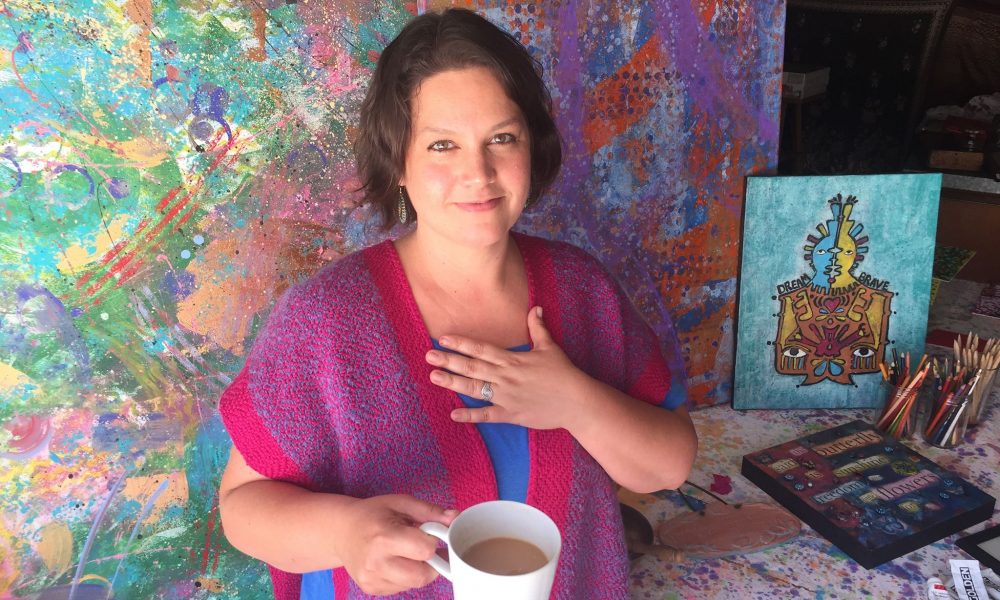 Today we'd like to introduce you to Melissa Renzi.
So, before we jump into specific questions about the business, why don't you give us some details about you and your story.
Creativity is a golden thread that has run throughout my entire life. As a kid growing up outside Philadelphia, it was creativity that turned to tie-dye at camp into me tie-dyeing every single pair of my dad's underwear and undershirts the most marvelous shade of purple. It was creativity that led me to read every book in my parents' house including the encyclopedias. And in college at Bucknell University in Central Pennsylvania, it's creativity that led me to keep choosing classes I loved until one day I looked up and I saw a double major in English Lit and Studio Art.
After college, the golden thread led me to my first real job as a copywriter at an ad agency in New Jersey. Next, the thread led me West on a business trip. The stars aligned and I was called to move to Los Angeles. And so, I followed. Little did I know my journey was only just beginning.
I spent much of my first year in California treasure hunting, living a block from the ocean in Redondo Beach. One day, in my favorite Salvation Army on PCH, I found a ceramic plaque that read: "Just living is not enough," said the butterfly. "One must have sunshine, freedom and a little flower." It was a quote by Hans Christian Anderson and I loved it right away.
I hung the little plaque in my home and forgot about it. One day, when signing up for a new email address, "saidthebutterfly" appeared in a flash of inspiration. At first, I remember feeling a little silly about it, as though I should have something more official or grown-up. Thankfully it stuck and it's been part of my email address ever since.
In late April 2002, almost a year into living in California, I was working in my garage studio on a wall sculpture I'd been commissioned to do for Loyola Marymount University. The next-door neighbor, who I'd never met, noticed me working and came to introduce herself. She said, "You have to meet my mother. She's an artist."
Legend has it that 'when the student is ready the teacher appears.' This student was ready. And so, minutes later, my teacher appeared. Her name was Gemma Taccogna. She taught art classes in her home and invited me to join. I'd soon learn she was a world-renowned artist and she was teaching so much more than art. Each time she'd demonstrate a different technique and somehow weave it all into a lesson about life.
I slowly became part of her "famiglia" and painted piles of paintings. With Gemma's direction, I signed every single one of them and hung them in my home. She ran a Tibetan bell at the beginning of every class and before we'd start creating. I was 25. Gemma was 79.
I learned that Gemma had lived and worked in New York and Mexico City before moving to Southern California. She was famous for the porcelainized paper mache that she invented and for her soulful portraits and ceramic tile painting. She'd been a student of Mark Chagall and her work was (and still is) highly sought after by collectors and celebrities including Jackie O, Frank Sinatra and most recently Anna Sui. Once, Peggy Guggenheim bought out an entire Gemma show.
But Gemma didn't spend much time talking about all that, because she lived her life, as she put it, "in the now." And she also looked ahead. She looked in her "crystal ball" and saw me teaching and running an art school. Throughout the week, Gemma had groups of devoted students, friends and followers coming to her home to learn and connect. She was teaching a "Creative Way of Life."
All these years later, I'm still unwrapping the gifts Gemma gave me in those magic, paint-splattered, coffee-filled years. Gemma encouraged me to start teaching, too. In 2003, after moving from the beach to a squeaky-floored upstairs duplex in Torrance, I taught my first classes to children. Then I started holding art classes at all over the South Bay for children and adults and even adults with disabilities. Gemma told me to tell people I was her apprentice. And it's a gift I treasure every time I'm able to share it.
By 2006, I had a bustling program for both children and adults at a park in Rancho Palos Verdes. At the end of the summer, we had an art show. By this time, Gemma's health was declining and she rarely left home. Thankfully, with the assistance of the daughter who had facilitated our meeting, also named Gemma (my dear, dear friend), she was able to make the voyage to the art show in a wheelchair that we called "a chariot." The children were in awe of her. But really, she was in awe of them.
In May 2007, after being on oxygen the whole time I knew her, Gemma took her last breath. It had been just over five years since we had met. These were the last 5 years of Gemma's life. And in many ways, they were the first 5 years of mine. Gemma passed me "the torch" just like she passed it to everyone who came into her studio and life. I planned to run with that torch. But the golden thread had ideas of its own.
A year later, in the summer of 2008, I stopped teaching and wouldn't teach again for almost 9 years. I was feeling spread too thin between all the places I was teaching and working, so I decided to close up shop. I cleared out my studio and gifted an abundance of supplies and paint to other artists, teachers and friends. But first, I wrote the vision for Said The Butterfly. I knew in my heart of hearts it was so much more than an email address. It was a lifestyle, a brand, a philosophy. I wrote a mission statement and a vision for everything it would become. Then I cut it up into a million pieces, layered them into a mixed media collage on canvas that I called "Dream Brave."
In the coming years, the golden thread led me out of the studio and into the world. It helped me rekindle my career as a copywriter and grow into a manager and leader. It inspired me to get married and become a mother, first to a son and then four years later to a daughter. It inspired me to launch a line of cards and gifts named Said The Butterfly with my mixed media collage artwork and original writing. My life was unfolding exactly the way it needed to. But there was one thing missing. With every passing year, I longed more and more to teach another art class.
Even though 'saidthebutterfly' was still my email address and even my line of cards and gifts, there was still so much that was left unsaid.
In December 2016, as I sat in the silence of my home in West Los Angeles nursing my then three-month-old baby girl, I promised myself I would not go another year without teaching an art class. On December 30th, 2016, with just hours left before the year ended, I led an art class to a group of seven in my dining room. From the very first moment I rang the Tibetan bell that day, I knew I'd never stop teaching again. In my heart, the bell is still ringing.
When I was ready to name the studio, 'saidthebutterfly' was there waiting for me. Now, Said The Butterfly Studio is about to celebrate a year and a half of workshops and retreats. I hold space for others to reconnect with their innermost creative resources and with other creative souls through mixed media: drawing, painting, collage and journaling. Each time, before we start creating, we start by getting grounded with the Tibetan bell.
And from a place of sacred silence we talk, share and connect over cups of coffee or tea.
When people sign up, the only pre-requisite is letting me know if they drink coffee or tea and exactly how they take it. It's amazing seeing attendees look up in awe at the work they have created. Like "Wow" I did that. Oh yes, you did. And I have the honor of seeing the golden thread continue to spread, the gift of creativity that, once opened and unleashed, just keeps on going and growing.
During my workshops, I often look up to see Gemma watching, her photo lovingly placed on the shelf on one side and the "Dream Brave" canvas on the other. The 'saidthebutterfly' plaque hangs on the wall reminding me that this all started with a treasure hunt. And wow, did I strike gold. The golden thread has woven itself into a majestic life that is still unfolding.
Has it been a smooth road?
No! The road has not been smooth. It's been full of blessings wrapped in obstacles, full of lessons wrapped in trails and tribulations and tests upon tests. Thank you, road, for being yourself. Thank you for leading me exactly where you led me: to California, to the Salvation Army that fateful day, to Gemma. Thank you for leading me to know when it was time to stop teaching and when it was time to start again. Thank you for leading me exactly here.
Creativity is awesome because it's a reminder that we are all allowed to be human. All the natural unfolding and surprise twists and turns that happen in life are the same exact things that happen in the studio, on the page, on the canvas. Working with what we have and making something beautiful: that is the creative process. Sometimes a "mistake" is the best thing that could have ever happened. Sometimes a "failure" leads you exactly where you needed to be. That is what I am offering through my workshops and retreats: a reminder to see life that way, a reminder of each person's own infinite creativity and wisdom.
For me, the biggest challenge is making sure to share from a place of abundance. As a mother and a creative entrepreneur, it could be so easy to stop taking care of me. I have so much more to give on a great night's sleep. And I need to make sure I weave in time alone with my heart, with a good book and to dream and stare at the sky. Getting lost in a journal entry or in the flow of writing and creating is like an instant well of peace. But only if I have the courage to wade through the fears and the resistance. This kind of spaciousness is absolutely crucial for me.
I'm falling in love with me and learning to love and share the real me, even as she is literally growing and changing right before my very eyes. I'm letting myself unfold and embracing the creative process of my own life unfolding. And that gives me so much space to do so for others.
So, as you know, we're impressed with Said The Butterfly Studio – tell our readers more, for example what you're most proud of as a company and what sets you apart from others.
Said The Butterfly Studio is a safe, sacred space for people to reconnect with and rediscover their own creativity again. It's a place where people come to be in their hearts and let themselves play. And from that place of pure, authentic, creative self-expression, they end up creating a masterpiece.
I'd say Said The Butterfly Studio is one of a kind because it's all about the people and the process. It's not "paint these flowers exactly as they appear." It's "how can I help you connect to a place in you that sees those flowers like only you can?" And then it's facilitating an experience where we can hold space for that unique vision to come forth.
All this plus the Tibetan bell and of course all the loving conversations over coffee and tea are really one of a kind too.
In this giant spread out city of Los Angeles, Said The Butterfly Studio is its own little universe of creativity and connection. A place where people can come in as strangers and leave as close friends, connecting around a common table, a common theme. It's heart-centered and process-oriented and it's all about being in the moment and allowing the journey, just like the golden thread, to unfold.
For now, Said The Butterfly Studio is only for adults. The child-free time I craved for myself is also one I am creating for others. My workshops are open to everyone, men and women. Though, at the moment, mostly women are coming, many mothers. My retreats to date have been exclusively for women. Soon I'll be adding children's offerings again, just ask.
We're adding evening classes and an ongoing series of workshops. We're doing our own soulful version of the trendy "Paint Nights" too. I'm calling it "Taste and Create" and it'll be all the wonderfulness of our morning workshops with an evening spin: wine tasting, art making and soulful connection. I'm offering staff development and team building too.
To refer back to the words that started it all, Said The Butterfly is freedom, sunshine and little flowers for all. It's space, inspiration and growth that leads to true creative transformation when you give yourself the gift of all of the above. It's something you have to experience firsthand. Come see!
What role has luck (good luck or bad luck) played in your life and business?
I see luck as the divine orchestration of many, many magical forces working together. I've always been creative and I'm also really fascinated by the co-creative. "Co" as in I know I'm not alone. I'm doing my part and I know I'm a part of something much bigger, too. Some call it God, Spirit, the Universe and I believe in all of it.
In that light, oh yes! I am lucky, lucky, lucky. The fact that I lived right next door to Gemma Taccogna, the world-renowned artist and teacher, is nothing short of a miracle. You could call it a "chance encounter" and yet for me it was a divine stroke of lightning-love-luck. And it only happened because I was outside, working on that commission. It was like a pivotal pivot on my journey home to me.
Without Gemma's presence in my life trajectory, it is doubtful that I would be teaching and creating. It's also this kind of divine orchestration that has led me to connect with the people and opportunities that continue to feed the soul of everything Said The Butterfly Studio is now and will become. There are so many examples. Thank you, thank you, thank you.
Pricing:
First workshop is $10
Ongoing workshops are $45 each
Evening "Taste and Create" workshops are $60 each
Full day creative retreats are $225 (includes splendid materials, food and beverages)
Contact Info:
Image Credit:
Gemma Taccogna, Gemma Del Rio, Sara Lang
Getting in touch: VoyageLA is built on recommendations from the community; it's how we uncover hidden gems, so if you know someone who deserves recognition please let us know here.