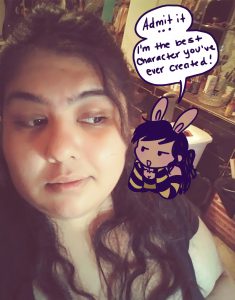 Today we'd like to introduce you to Maxi Rodriguez.
Maxi, let's start with your story. We'd love to hear how you got started and how the journey has been so far.
I have been an artist for as long as I can remember, but I do somewhat remember when I decided to be a comic book artist. I was born in Long Beach, CA but moved to San Pedro, CA when I was two and I stayed there until I was ten. Like most five-year-olds, I would draw my family and whatever would come to mind as stick figures but as I grew up, they began to develop a fuller form.
I don't remember what age I discovered comics, but I remember my mom telling me about Wonder Woman after discovering the Batman animated series back when ch. 5 CW was WB. I don't remember the full details, I just know that my little kid mind was blown away by this super strong woman who didn't need no rescuing from any man. She showed me Lynda Carter's Wonder Woman TV series, and it was the first time I yelled "Girl Powa!!!" in my head.
My mom had a job at a video/music store called "Jesse's" on 6th St in San Pedro so my little brother and I would often go to work with her after school or on the weekends and just watch movies or sometimes help with putting the returned VHS tapes back on the shelf. If we weren't watching movies, we would be doing our homework, running outside, playing tag or checking out the stores.
One of those stores happened to be "William's Bookstore" (though the owner's name was Jerry haha). I wandered into the bookstore one day, and I would just sit in the back and read until either it was time for my mom to get off from work or I had read all the new books.
One day when I was around eight/nine years old, the owner, Jerry, showed me the new rack that had the new arrival of comic books and me already being a fan, my eyes sparkled. They especially sparkled when I saw my first Wonder Woman comic; I sat in the back and read almost all the comics in the rack until I hear Jerry yell, "Hey! You never told me you were Veaney's kid!
She just called asking if you were here!" From there, I wanted to draw comics, and I remember telling my mom how much I wanted to draw. She would collect the newspaper comics, so I also grew up with Peanuts, Calvin and Hobbes, Garfield, Marmaduke, Dilbert, and many others to inspire me to draw as well as the Disney book collection. I also remember her buying both my brother and I each a Harry Potter book when it first sold in the United States, and it filled me with imagination (and I ended up being the only one being a long time fan).
My first superhero comic was called "Fenny" who was this kid who was bullied at school and used his powers (mostly his courage) to stop the bullies and defend those who needed it. In middle school, I started another comic series that was inspired by Calvin and Hobbes called, "Coney and Mr. Poppers" which was about a little girl who was a tomboy and she had a stuffed toy penguin that she talked to and also got into trouble with. As I got older, I got more into anime/manga and would try to draw more in that style while still enjoying western comics/cartoons.
In the present, I am a Latina plus size artist promoting body positivity and the creator of the small comic book series, "Chronicles of a ChubbyBunny;" a comic about a sassy plus size Latina, created by "Artist," a Mexican American artist who is being bullied by Depression and Anxiety while tackling fatphobia, racism, toxic masculinity by breaking the rules of beauty and promoting body positivity. I am also a grad student in the MFA Comics program at California College of the Arts in San Francisco, CA
It's a low residency program so I'm only in the Bay for one month in the summer and then I get to fly home and make comics while working on my thesis in the comfort of my home. I try to go to as many art shows and comic cons as I can to promote my book and my work as an artist and also meet new people and being in this kind of industry, I got to meet a lot of people including famous people who I've idolized.
Great, so let's dig a little deeper into the story – has it been an easy path overall and if not, what were the challenges you've had to overcome?
Life is never easy and honestly, just trying to get to where I am now was not the smoothest ride. Growing up, I didn't have a place where I can go and take art classes nor any artists I can talk to so I relied on the books and newspaper comics my mom would give me to teach myself how to draw.
My mom got married when I was ten, and we moved to LA not too long after. I attended Charles Drew Middle School in LA, and I was constantly being bullied which resulted in me quitting art for a year after a bully stole my art journal and ripping it to shreds in front of me while mocking me and saying that girls can never be good artists.
I developed depression when I was a kid and because of the bullying at Drew, I developed anxiety, but I never received help and even now as an adult, I am still battling these disorders. After I graduated from Cal State Dominguez Hills in 2014 with a BA in Graphic Design, I couldn't find a job within my field.
After a year of looking, I decided to get a job at an amusement in the hopes it would be a temporary thing while I try to work on my career. I did land a job as a t-shirt designer for a small company but was let go after a week of working for unknown reasons which sank me deeper into depression.
On top of that, they never paid me for my work, so my depression was worsening along with what I was dealing with at my job. My confidence shot down really low, and I remember one day grabbing my degree from the wall and preparing to smash it until my boyfriend stopped me and I cried really hard.
During that time, I did find a job as a temporary junior graphic designer at a truck parts company with a promise of it becoming permanent so I worked both there and at the amusement park, and I did not sleep for months.
After seven months, they let me go which was not much of a surprise because they had done a massive layoff not too long back, so I went back to my amusement park job, but by that time, I developed anxiety attacks and my mental health as well as my physical health worsened.
I ended up quitting my amusement park job in 2017 because I was no longer able to keep up and I kept missing work because of my health. Right now, I am still looking for work, going to school and promoting my work while also seeing a therapist for my mental health.
Alright – so let's talk business. Tell us about KasutoProductions – what should we know?
I am a freelance artist. My pen name is KasutoProductions which is also the name of my small business. I do graphic design work which includes, flyers, business cards, logos, and literature. While also being a graphic designer, I also create buttons, stickers, prints and a ton of fanart.
I am a self-published comic book artist, I organize the pages myself, and I print and bind them all myself at home. I am currently trying to raise money to create somebody positivity/feminist pins. I am also a caricature artist, and I am available for parties and private events. I have done birthdays, 1 Quince and one wedding (which I thought was cool).
Is there a characteristic or quality that you feel is essential to success?
I think it's my perseverance. There are so many moments where I wanted to just give up and put down the pencil, but I didn't. I kept going, and it's honestly thanks to my boyfriend and his mom who keep encouraging me to keep going and not giving up. Also, my family and friends who let people know what I do and promote me, so I'm well known.
The best part is some of the fans I have. I'm not a well-known artist, but I have a number of fans who do write to me and tell me how my work makes them happy, how it inspires them to love their bodies and give more value to them as a person than what they see in the mirror. I think it's because of them I still do what I do and I'm thankful for my fans, and I appreciate them.
Pricing:
Traditional Black and White 4×5.5 in Drawing $5
Traditional Color 4×5.5 in Drawing $10
Traditional Black and White 8×11 in Drawing $15
Traditional Color 8×11 in Drawing $20
Traditional Black and White 11×17 in Drawing $30
Traditional Color 11×17 in Drawing $35
Digital Drawing Prices vary by size and if you want them printed ($10-$30)
Caricatures the first two hours is $250 and after that, it is $150 per hour. A deposit of $100 is required before the day of the event.
Logos, flyers, business card designs is $45 with three free corrections; after it is $5 per correction.
Contact Info:
Getting in touch: VoyageLA is built on recommendations from the community; it's how we uncover hidden gems, so if you know someone who deserves recognition please let us know here.