Today we'd like to introduce you to Max Agabon.
Max, please share your story with us. How did you get to where you are today?
I decided to plant my flag and be an actor in 2018 but I would say my arc of being in entertainment started while I was in college. I knew I had already liked movies like most everyone else but it was while taking my AAS Psychology class did I start to examine how minorities and people of color were depicted in movies. I can just remember Dr. Uba going over films like "Breakfast and Tiffany's", "21", and "A Beautiful Mind". I'll never forget how I felt that day. I felt like movies and storytelling needed help. I didn't know how to do with my feelings but I felt like I had shifted somehow.
As luck would have it I would end up joining a creative writing class mainly on my last semester during my undergraduate studies. At first, the school wouldn't approve of me taking the class since I was already overloaded to graduate with a double major but I had a great relationship with the professor. I just wanted to be in the class to be with my friends in my last semester but by luck, the final of the class was to produce a play completely. Oddly enough, almost no one wanted to act in the play so almost by default I was one of the actors. So few people in the actual class wanted to act that we had to bring in people outside of the class. Luckily for me, one of the ringers did acting in some capacity. One day during rehearsal he asked if I had acted at all and I said no. He then said I think you should do it. I think you would be really good. After hearing that I did a great amount of thinking since I was already debating between being a professor over being in business.
I decided to ask some actors my brother had worked with since he was studying film and television. I thought it was his thing to be in entertainment so never thought of it for myself. A couple of questions later I had gathered that I should take an improv class or acting class to feel things out. I started going on the course of making money like every other person who graduates from college. Though the next four years I would get caught up with my career in financial services.
Thankfully I had told my girlfriend, who is now my wife, about my desire to work in entertainment. She had purchased a groupon for an acting class knowing it would be good for me. I was too focused on building my career that I would let another year pass and the groupon expired. My wife called the class and to see if she could still redeem the expired voucher. Luckily they did and then my wife drove to the class herself and forced me to attend saying she was there waiting for me.
The class was Screen Actors System taught by Ryan R. Williams. It was the first acting class I had ever taken. I'm so thankful for that class because after that class I believed I could make it eventually. I don't remember exactly what he said that day but I had the feeling that I just applied myself and was very honest and strategic I would eventually be able to make it work. After taking the class, I told my wife I was going to act.
I trained for about five to six months without trying to book anything. I wanted to get a feel for it and respect it as a craft since I knew I would be competing with people who had trained their whole lives. I think around September of 2018 I decided to get my marketing materials in order and start submitting. Before the end of the year, my beginner's luck would land me a couple of roles before the year's end.
Fast forward to today. In the past year, I've been in several other productions and was able to get my first agent. Although acting is my primary focus, in the past year I've also ventured out and have been hired as a director and cinematographer as well. I'm also collaborating with some other actors and creatives and I'm in the process of putting out a lot of my content.
Great, so let's dig a little deeper into the story – has it been an easy path overall and if not, what were the challenges you've had to overcome?
In the beginning, it was just a feeling. I didn't even know how to express it let alone channel it into a career path or way of life. I did have some lucky opportunities that helped propel me in the right direction. Thankfully I always had it as a possibility that I never ruled out and have surrounded myself with people that know what direction I'm headed in.
By the time I had finally realized I could and wanted to be an actor. It may sound trivial to some but I had to muster up the courage to admit to myself that it's what I wanted to do and that it was important to do now versus putting it off until my wife and I was more established.
We also had our first son, Klaus, about 5 months ago. So scheduling all the time with my family, our businesses, and continuing with my creative endeavors is a real challenge that we are striving to improve every day. Both my wife and I are self-employed so we weren't getting any extra time that we didn't create and schedule ourselves. It may sound crazy to some but this way it makes the life we want possible.
I would say the biggest obstacle and challenge is being able to make a philosophy change given new information and trusting your decision making. The biggest reason I say this is the way the entertainment industry is changing. When I attended my first acting class and decided I was going to act. I was still thinking it was firmly embedded in the 'old' way things were. My work as an IAR was not heavily weighted in social media and the last four years was a bad time not to be seeing the changes that were happening. I feel like I'm learning a lot every single day and adjusting how I should be positioned to move forward. In the beginning, you also do a lot of unpaid gigs. You can feel lost and disoriented quite often. As long as you don't judge yourself and keep moving forward. You'll be okay.
Please tell us about your work.
I'm an actor and storyteller. I tell stories whether they are more own or if I'm helping someone else. As a performer, I would say I'm most known for my sense of humor which can be very subtle and cerebral. I've always been booking comedic roles even before I had a comedic headshot or comedic reel. As a practitioner and an overall person, I would say I am known for being very reflective and big picture oriented while being very business focused.
My proudest and moments were at the end of my first year. When I first started submitting at the end of 2018 I thought to myself, let's just start submitting. I know it's the end of the year and people say there aren't a lot of gigs heading into the holidays but let's get a feel for it so we can hit the next year hard. In the last couple of months, I was able to book my first speaking role on camera, my first commercial, as well as my first lead role. My most validating moment of all of those was my first commercial. The casting call was unbranded so I just thought of it as another self-tape. I was surprised to see that it was a Vox Media and Jack in the Box commercial once I was officially booked. The commercial was mostly improved and there was surprise celebrity talent on set: Greg Jennings of the Green Bay Packers. Greg Jennings was cracking up so much during our takes that he asked if I was a planted comedian or something to that nature. I'll never forget that! Thank you, Greg!
I read a statistic about how low the visibility of Asian American actors are and I feel a call to action every time I see it. How low the historic speaking roles were let alone lead roles was something that bothered me. Although I'm not a household name, I've already done a lot of stuff that I thought would take 5+ years. I feel like I'm already playing with house money. I feel that since I don't feel like I "need" anything from anyone production, group, or gig I can do it the way I think is right and give the best value to any production or project. My work with my brother, my tenancy to look at things big picture, and my business mindset all come together to bring a lot of value. And sometimes it's knowing that I don't need to do anything else but act.
Do you look back particularly fondly on any memories from childhood?
I can't pinpoint it to any singular moment but I would say in general it was any time I could be creatively testing out something. My mind keeps going back to playing with LEGOs with my brother. Now that you have me thinking about it I remember after watching the original Star Wars movies I would try to build ships that I think could exist in the Star Wars universe. Dang those were cool XD. A more of them reaching into the bucket of parts and making things from scratch rather the first time making something. Any time I could build something or deploy a strategy in a video game I was always very into.
Contact Info: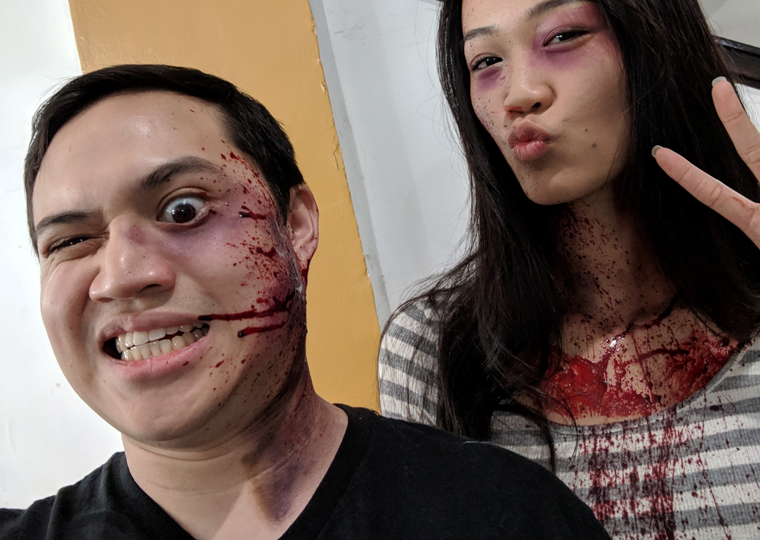 Image Credit:
HyeCinema
Suggest a story:VoyageLA is built on recommendations from the community; it's how we uncover hidden gems, so if you or someone you know deserves recognition please let us know here.