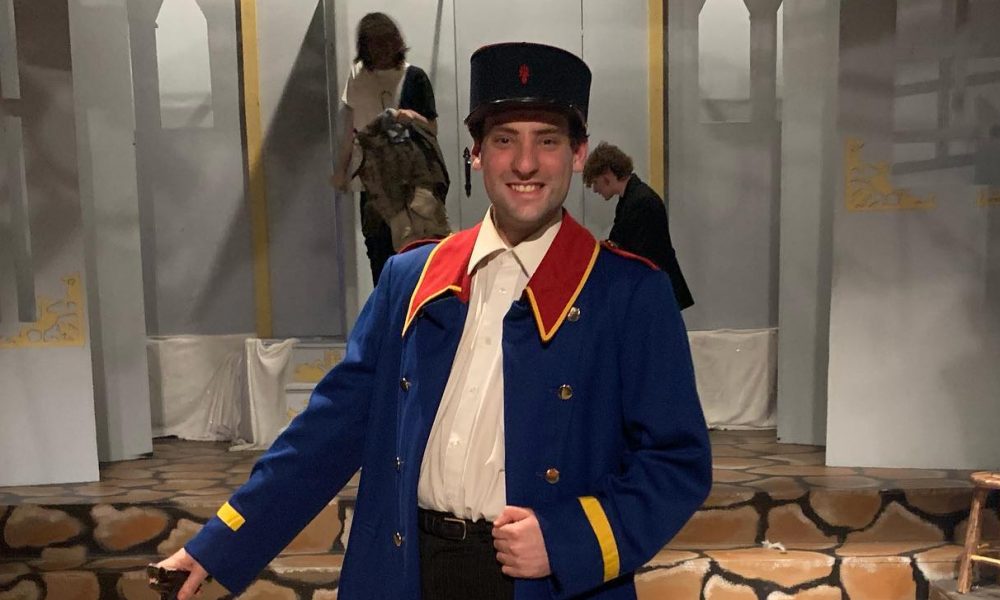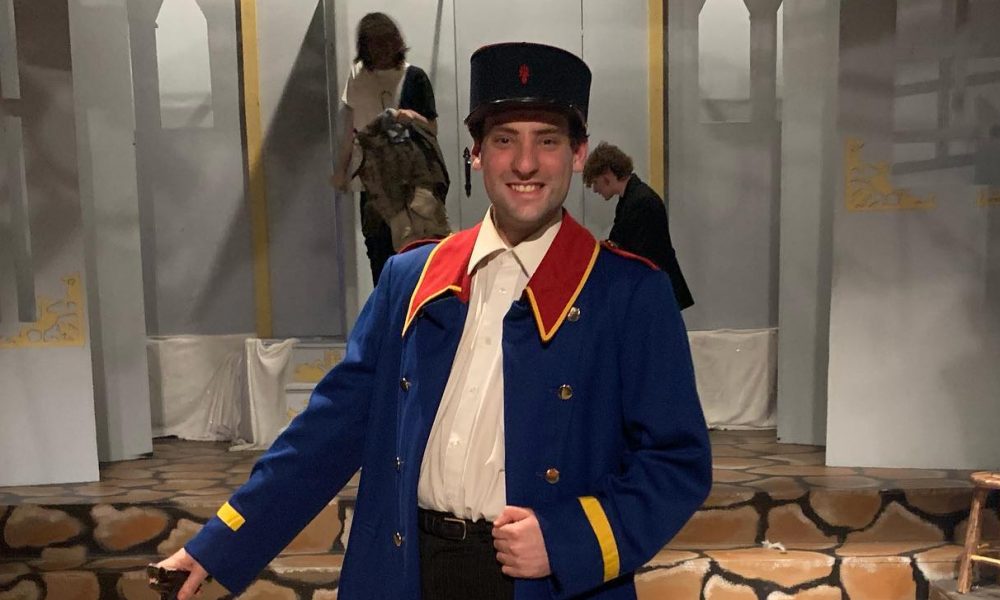 Today we'd like to introduce you to Matthew Monaco.
Matthew, please share your story with us. How did you get to where you are today?
From the day I was born it seemed like I've always known what I wanted to do with my life. I was only a year old when Toy Story (Pixar's first animated feature film) was released theatrically and I distinctly remembered watching that movie in theaters. Not only was it the very first animated film I ever saw, but it was the first movie I've ever seen on the big screen. We all remember that classic, epic scene when Woody and Buzz Lightyear lit up the rocket and went up in the air and Woody thinking they're about to be blown to bits, they instead end up flying. Or as Buzz would say "Falling with style." As soon as Woody said the famous line "To infinity and beyond" I knew exactly what I wanted to do with my life. I want to see myself on the big screen. Since then, I have seen every single Pixar film, own every film, I can perform the whole Toy Story film one man show, and still continue to be inspired by Pixar with their beautiful storytelling. They are a company that encourages me to never give up on my dream and being in a Pixar film is another dream that I have as well. As I type this, I'm actually watching Toy Story 4.
In elementary school, everyone knew that I wanted to be an actor and now that I think back, I had a lot of great friends that did enjoy my presence. In preschool, I would always wear a green striped t-shirt and everyone would call me Steve from Blue's Clues (I was a huge fan of that show). I also loved to do character impressions with Patrick Star being my very first impression. I was a huge fan of Spongebob Squarepants and I remember that show advertising like crazy on Nickelodeon and being there for the very first episode and fell in love with it immediately. What really helped me grow up the most during elementary school was watching The Muppets and Sesame Street. They are also another reason why I wanted to become an actor. Jim Henson is still considered one of my childhood heroes. Just like The Muppets and Sesame Street, he taught me how to love, show equality, and to be kind. They also helped me feel like I was special. It is because of the Muppets that I knew my letters and numbers before I even entered into school. If there ever comes the day where I'm in an episode of Sesame Street or make a cameo in a Muppet movie, that would be a dream come true as well. I know so much about the Muppets just as much as I know about Pixar.
When I was in 5th grade, I did a book report on Josh Peck, who is also one of my heroes. I constantly watched Drake and Josh and always imitated Josh. As soon as I was done with my report, my teacher said this to my mom, "You've got an actor on your hands." It was then I said to my mom that I wanted to go to a performing arts school and that's exactly what I did. In middle school, I had a lot of great opportunities when it came to acting because my drama teacher, who I still love to this day, always gave me the lead in a lot of plays published or written by him because I constantly worked hard and knew I would always be off book when it was time. I also went to a performing arts high school. I got opportunities here and there, but the most opportunities that I got is when I joined a community theater group called The Acting Studio, which was a place that helped me grow and made my high school days the best.
As my senior year in high school came close to the end, I had no idea what I was going to do for college. I knew I wanted to go to a performing arts college and I was recommended to audition for AMDA (American Musical Dramatic Academy). It was the only school that I applied to and I got in! I went to the New York Campus for the conservatory program, graduated and then went to the LA campus to get my BFA, again graduated. To this day, I am still living in Los Angeles doing the best that I can to pursue my dreams. I'm surprised that I made it this far. It doesn't make sense to give up now though, right?
As I close this part of the story, I always love sharing my top five heroes: Adam Sandler, Jim Carrey, Tom Hanks, Robin Williams, and Dustin Hoffman.
We're always bombarded by how great it is to pursue your passion, etc – but we've spoken with enough people to know that it's not always easy. Overall, would you say things have been easy for you?
It was definitely not an easy road for me both acting-wise and personally. When I was 14, my parents officially got a divorce. It was hell to go through for many years, but I realized today that it was one of the best things to have happened to me. Sometimes when you're living in the moment, depending on the situation, it can really feel that everything around you just seems worthless. But as I've gotten older, I've learned to overcome and stick up for myself and it feels great. Sometimes the bad events that happen in life can make you feel that nothing good is coming for you in the future and make you feel that the whole world is on your shoulders. But sometimes, when you look back, you can finally say that everything happened for a reason. I still struggle with this today and still try to find hope that everything will work out in the end. Steve Jobs once said "You can't connect the dots looking forward; you can only connect them looking backwards. So you have to trust that the dots will somehow connect in your future. You have to trust in something – your gut, destiny, life, karma, whatever. This approach has never let me down, and it has made all the difference in my life." It's made a difference in my life too.
I was also raised into a Jewish family. Being Jewish was part of my life. I went to Hebrew school during elementary and middle school and also had a Bar-Mitzvah. Even though I was happy to go to a performing arts school to keep growing as an actor, middle school was not a good time for me as I went through a series of suffering from Antisemitism. I had racial slurs thrown at me, being called a stupid Jew, and being told Holocaust jokes. It got to the point that after my Bar-Mitzvah I decided to not continue my religion/faith and never felt comfortable telling people that I was a Jew. During the course of Covid-19, I started to find myself like never before. I started to embrace my Jewish identity and realized that regardless of what I think religiously, my Jewish blood/identity really does matter because my ancestors/brothers and sisters went through 3,000 years of persecution. It helped me to accept and to never be afraid of who I am and where I come from. It gave me even more encouragement to stick up for myself. Antisemitism is most definitely on the rise and I would encourage people to speak up about it as well.
Going through school was tough. I was never academically gifted and was never a great test taker because of my learning disability. I was also very shy and quiet and had a difficult time talking to new people. That's why I loved acting so much because it took me away from the problems I was dealing with at school and at home and it always warmed my heart to give people a great show because they might've been going through stuff too. It always feels good to take people away from reality. During high school, I wasn't one of those popular students and even though I got opportunities with acting here and there, the most opportunities that I got was at my community theater group The Acting Studio. They always believed that everyone deserved a chance to shine, but also stated that in the real world, it is a competitive business and you're not always going to get the constant opportunity that you get at The Acting Studio. They know the business really well and they made my high school days the best.
I went to AMDA New York for the conservatory program. I went there at a young age. I was only 19. It was a difficult time for me because I didn't have a lot of friends and I was always the last one to be picked, which hurt me a lot because when it comes to acting, I'm always down to work with different people and always ready to perform. It took almost a whole year for me to talk to people and for people to talk to me. Close to the end of my 3rd semester, I admitted to everyone that I was on the autism spectrum. That's when people started to talk to me and get to know me more. They thought that it took so much courage for me to admit that. It still does to this day and I get better and more comfortable telling people, even if they don't see it. I got this diagnosis when I was 17. I have high functioning autism and a lot of people who are on that spectrum are able to live a normal life, even though it might be difficult. What I struggle with the most is being a picky eater, having sensory issues, and social issues/anxiety. I guess that explains why I've always had a hard time talking to new people. These days I feel more comfortable talking about it with people and have become very public about it.
A few months later, I graduated from AMDA New York and went back home for a year and a half. It was a miserable time. I felt like I didn't do well in New York and thought I wasn't good enough for acting anymore. It took a lot of encouragement and faith to go back to school to AMDA LA and get my BFA and I thank my Bubbie (Yiddish for Grandma) for encouraging me to go back to continue to pursue my dream. After being home for a little while, I realized how much I've missed acting and realized that I can't give up on what I'm best at. So I went back to AMDA LA and got my BFA. Even though it wasn't always perfect, I made a good amount of friends and a great support system there and it was more laid back than the New York campus. But I will always miss New York City.
For years I spent the majority of my life hating myself for who I am. As I've gotten older, I started to embrace my Jewish faith and accepting who I am. I thank a lot of the beautiful people who've helped me along the way. I've learned that when you surround yourself with the right people, the people who love you, you will always feel like you are invincible. It's a beautiful feeling.
We'd love to hear more about your work and what you are currently focused on. What else should we know?
I am an actor/writer. While being at AMDA LA, I got to do a bunch of other stuff such as a voice acting workshop, stand up comedy, singing lessons, and took a lot of writing classes. Right now, I'm mostly in the writing and the acting field.
Acting makes me feel alive and I love performing in front of people. What I like to do best when it comes to acting and studying my character is to rehearse with my partner. It's always important to study your character and write down their back story, where they come from, do a bit of a life study, etc. But what I like the most is getting to know my scene partner and then getting to know our characters more. I feel like when you get to know your partner and your partner's character that's where the best chemistry comes in. I learn by interacting. And this is coming from a person who has a hard time getting to know people. But as I said, acting makes me feel alive and open.
The types I mostly play are the shy, depressed, lonely, socially awkward and also goofy, class clown, comedic effect type of characters. It's been hard since I graduated from AMDA LA. I've gotten good opportunities here and there. I've done a couple of student projects at USC, short films at LA Film School, background work, took some improv classes at The Groundlings, a show at Zombie Joe's Underground Theater Group, and I recently became a theater company member at Loft Ensemble in North Hollywood and made my theatrical debut with them performing in The Little Match Girl and I'm very excited with my future with them and to keep continuing to grow as an artist. I also booked a web series that I will be filming very soon. Perseverance is the key to success and even though things may come a little bit slow for me, I know that one day I will reach my goal as an actor. Take any opportunity that will help you get your foot through the door.
Besides acting, I'm a huge fan of writing. I've been writing all my life. I always wanted to get done with my school work early so I can continue to write different stories. Before I went to AMDA, I knew that my writing was terrible. I took a bunch of writing classes and I started to progress. Then during my 7th semester, I wrote a short film that was chosen by the faculty to be made. I was really surprised that they chose my script, but it gave me the belief that I can do something else other than act. Since graduating, I constantly practiced writing a lot. I wrote a few episodes of a TV series I came up with, started to write a couple of short films, and wrote a full-length play. I get writer's block all the time, but the thing that I learned about writing is "Don't get it right. Just get it written" and a popular one "Write what you know". A script is never going to be perfect. There's always a bunch of work to be done within a script and that's the beautiful thing about art. A script is never really finished. I've had experiences reading original scripts from different movies and you can be surprised how lines have been cut, improved, scenes that have been deleted, characters that have been cut out, etc. Like I said, a script is never really finished. So keep writing.
"Write what you know". As I've embraced my Jewish identity a lot more, I started writing scripts based on my Jewish identity/religion such as a Holocaust movie of my own, a boy who's suffering from Antisemitism and I've even written a speech called Hiding, Hate, Happiness. It's a speech about how I've felt about being Jewish and how I overcame the obstacles and has so far been met with a positive reception. I've always loved writing about stuff that comes from life, which is what mostly everyone does, but now that I've stuck up for myself more, it makes it much easier to write.
My strong aspects are in acting and writing right now, but I still can't wait to continue and improve a lot of my skills and to keep on growing.
So, what's next? Any big plans?
During the course of Covid-19, I've still been trying to find myself. What I'm really ready for in the future for now is to continue to grow at Loft Ensemble and to work with more incredible artists. I know my friend and I plan to make a couple of short films that we've written and I know I want to team up with people to help with my scripts that I've written. My friend once told me, "When all of this is over, it's going to be a big boom for us". I am ready for it. I am ready to keep on growing.
I also made a special announcement that once the pandemic is finally over, now embracing my Jewish faith, I've decided that I want to go on my Birthright. Birthright is where Jewish boys and girls go and visit Israel for ten days. It's been a long time coming, but it's something that I've got to do and I'm so excited for it. I've also found a synagogue in Hollywood that can also potentially become my new home and will have a mentor for a whole year to guide me through my faith. After the positive reception from my speech Hiding, Hate, Happiness, people have been telling me to expand on it and make a book out of it. That is something that I would love to do. Continue my faith, write, and act.
I am ready for all of it and to keep putting my foot through those doors.
Contact Info:
Suggest a story: VoyageLA is built on recommendations from the community; it's how we uncover hidden gems, so if you or someone you know deserves recognition please let us know here.