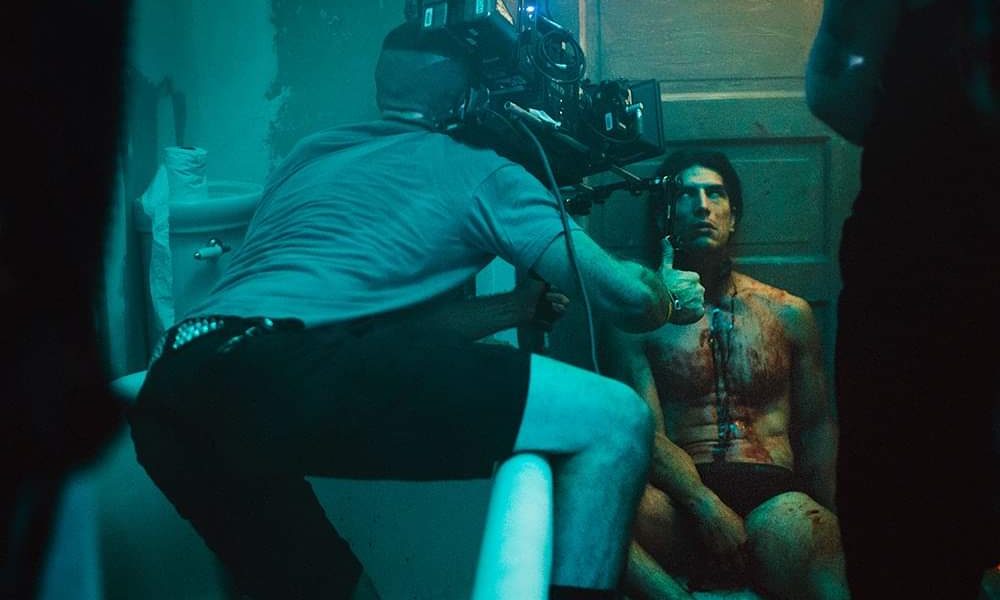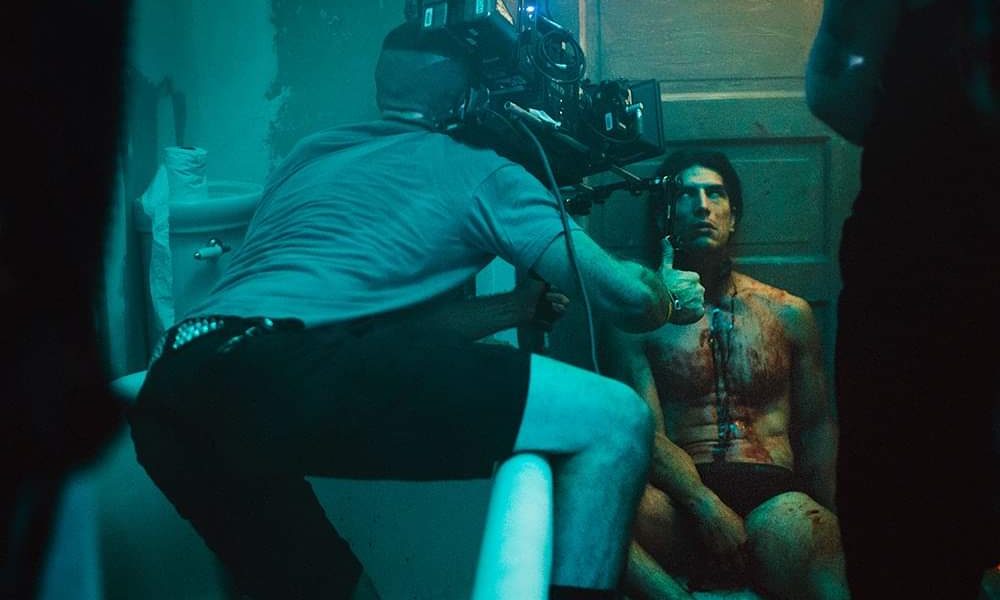 Today we'd like to introduce you to Matthew Halla.
Matthew, can you briefly walk us through your story – how you started and how you got to where you are today.
My connection with cinematography and visual language started as a kid when I would spend hours and hours drawing. For some reason, I loved to draw detailed representations of one thing more than anything else, basketball shoes. I don't know why basketball shoes exactly. I wasn't good at basketball. I liked new shoes and I wasn't broke as a kid, but my parents were teachers so we always had to spend time keeping our sneakers clean if we wanted them to stay looking new as long as possible. Whatever the case, I think my drawings of shoes was where I discovered that something visual could have a deeper appeal than just being an image. When I drew shoes, it made me feel good, the design and the lines came together to speak to me on a level different than words. It was a connection to the power of aesthetic.
The design of shoes I think, as in the case of cinema, depends both on form and function working together to accomplish their goals successfully. The physical product has to be a vehicle to transport an emotion or feeling, but it also has to be visually appealing to be able to speak visually to those who view it. Form and function depend on each other to be successful. I do think that words have power, but the image, especially in filmmaking and visual storytelling adds exponentially to the final message and the deeper psychological connection that is possible with cinema. The huge power of cinema specifically came to me when my Dad showed me Fitzcaraldo by Werner Herzog for the first time. It wasn't like a thing, he was just like, you're ready to experience the deepness of this.
With that, I first felt how the combination of the visual and the story could immerse you so heavily into the life, emotion, struggle of the human condition, and how a connection through well portrayed and presented characters on screen could be made. I was experiencing the characters struggle with the character. I was there with them but even more importantly, inside their head, feeling and experiencing with them. It was then that I knew that movies meant something deeper to me and then that I started on a path to pursue making impactful images professionally. I learned so much in USC's cinematic arts program, but once I was on a set and I felt the power of capturing a great performance in a realistic way I was hooked. I have an addiction to watching great actors perform/be alive in front of my camera. I get immersed deeply in how they exist in front of the camera. Voyeuristic I guess but also an experience that makes me feel alive.
Has it been a smooth road?
Has my filmmaking path been a smooth road? Definitely not. Just like in any good dramatic script there's so many highs and lows in filmmaking and it's an inherently emotional experience. There are career highs and lows, one minute you're worried what the next job is going to be, then the next you're films are getting into festivals, people with great movies are wanting to work with you, there are highs and lows on set, you nail a complicated camera move perfectly, the light is making your actors eyes sparkle in the most beautiful way or a silhouette is speaking volumes about the characters emotions, the next you're struggling to figure out why there's a weird spill of light or the red doesn't look as punchy through your camera as it does in real life.
Being on set daily takes both physical endurance and mental endurance, it also takes being emotionally available and aware for the creative team. The rollercoaster ride of the creative profession is wild, and then to put all the uncertainty of everyday life in the film industry (which is good in a way because it doesn't hold you down, it keeps things fresh) to put that on a person who has pushed themselves to feel real human emotion from within storytelling, to feel things deeply, to experience things as fully and deeply as possible, to try to create and capture that, it's a crazy ride. I'm my own biggest obstacle but I always just keep pushing forward and never give up. I'm not afraid of failure because if I do fail it won't matter because I'll just keep trying. If I don't fail then I'm not setting the bar high enough.
I think I'm lucky to have found a job that I can put 100 percent of myself into all day every day. It's a profession and a craft that defines me. I'm a cinematographer. It's my dream job. There's nothing else I want to be. I do love writing and try to write every day, I love generating worlds and characters from the ether but I will always want to be creating the physical visual representations of feelings or mood or ideas. An image that speaks with mood is intriguing in a way that words can't communicate. It's a different language than the written word.
We'd love to hear more about your business.
What I try to focus on most as a cinematographer is a connection to the story. When I read a script, I'm trying to feel the mood and emotion of the characters. All of my lighting style, camera framing, movement, camera behavior comes from this. I try to feel it and put that into the image or the overall mood of the image. It's having an instinct about what characters are feeling.
I also think that I'm good at making sure that cinematography isn't just about the technical aspects. The tech isn't what makes great cinematography and it's actually what distracts from it the most. Connecting the technical into something that is pure emotion, conflicted by having movie lights all around, the crew staring at the performance when you want the deep emotion of a single person to reach through all of this technology into the person who is viewing the frames, that can be two totally opposite and opposing processes. It's a delicate thing but I think I'm good at making sure that first the actors don't feel intimidated by this because I make sure that they know it's about them first. I can let them do what they want, show them through my attitudes that the technology isn't what matters, it's performance and realism that is most important and most important to me.
When the actors feel respected, comfortable, not aware of all of this technology that's around them, that makes my image better because the actor can stop acting and hopefully be real. They can live naturally in front of the camera. This is important to me because without performance all of that technology around them is pointless because there's no emotion in the image, nothing to connect to. It's just beautifully lit robots. No one can watch that for more than a few moments because there's nothing to connect to.
I got my masters in cinematic arts from USC. I don't think that USC is the best cinematography film school but I know that it's the best story film school. I'm thankful that I was guided to a better understanding that everything in a film and film production revolves around the story. At USC, I learned to make a story the base and foundation to my cinematography and my attitude about the image.
Is our city a good place to do what you do?
LA is the best place to be if you want to be in the film industry. Something is always getting made and if you really wanted to you could work one twelve hour day shoot, wrap that and then go to a 12 hour night shoot, all day every day, 365 days a year. Fortunately, it's also pretty easy to get away from LA too so that you can recharge your creative batteries because being creatively inspired in other areas of life is just as important or sometimes even more important than being creative while making movies. There's great camping and hiking all around Los Angeles and LAX is a transit hub to get you anywhere in the world to get you away from work to be inspired by the world and people around us.
I'm looking forward to making more movies and the crazy experiences that comes with it. Movie making is always a huge challenge, and overcoming those challenges is very satisfying. Being on teams of creative people also shows me something new and rewarding with each new movie I shoot. I always understand who I am as a person better with each successive film set and group of people that I work with. I love that about working so closely and intensely with your friends or new people. I love learning about the world and people from cultures different than mine. I love travel shoots, I've shot in China, Guatemala, Taiwan, all over the US and I'm heading to Baltimore and DC between the holidays to shoot a feature with a USC friend that's centered around a woman trying to save her families Filipino restaurant from closing. So, I'm looking forward to getting to capture that great story and eating a lot of Filipino food while I'm at it!
Contact Info:

Image Credit:
Matthew Halla
Getting in touch: VoyageLA is built on recommendations from the community; it's how we uncover hidden gems, so if you know someone who deserves recognition please let us know here.