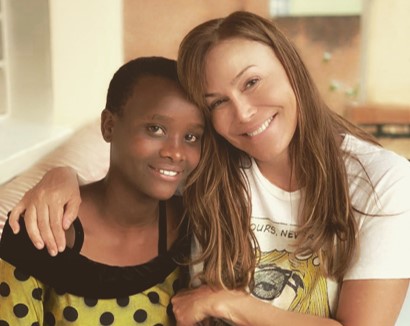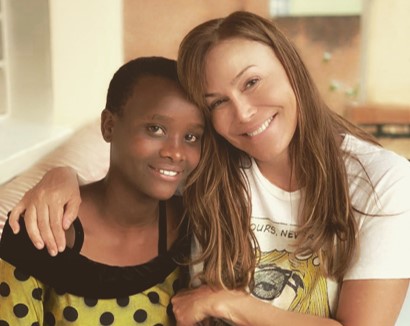 Today we'd like to introduce you to Mary Fanaro.
So, before we jump into specific questions about the business, why don't you give us some details about you and your story.
OmniPeace began as a small t-shirt collection in June 2007. I had no idea what was about to happen, but because it was one of the first items in retail that had a mission attached to it whereby the proceeds built schools in Africa, it became an overnight sensation.
Every celebrity started wearing the t-shirt in the press; David Beckham at the Lakers game, Courteney Cox was my ambassador, Jennifer Aniston, Gwen Stefani, Casey Affleck wore it on Larry King Live, Liam Neeson in interviews for movie TAKEN and the list goes on, and the rest is history.
By 2016, we had built seven primary schools, sent two convoys into Somalia with the New York Giants to feed 10,000 families, rang the bell at the opening of the New York Stock Exchange, and launched an international t-shirt campaign with Courteney Cox, Jennifer Aniston, and Sheryl Crow called 'Stamp Out Violence Against Women and Girls of Congo. Proceeds from the sale of these T-shirts went to the City of Joy, a treatment and healing center created by Eve Ensler, for women and children rape victims of war over conflict minerals in the Democratic Republic of Congo.
Then I went gorilla trekking in Rwanda which was hands down one of the most incredible experiences of my life. But after the trek, something strange happened. I was sitting in my lodge in the Virunga Volcanoes so high up in the clouds I felt like I was in another solar system. I've just been this far away from what feels like King Kong's ancestors; AND I'm in Rwanda – a country only 22 yrs. old from one of the worst genocides in history. And if that's not enough to make anyone a bit uneasy, I'm also all by myself.
So I start to have a panic attack. I feel like either something really bad is about to happen or something really amazing. I was scared and excited all at the same time. So, I reach for the AA book that I've had by my bedside for almost 16 years, and I've read it thousands of times but for some strange reason this time, I happen to open to a page and paragraph I've never seen before, and it says this…
Your job now is to be at the place where you may be of maximum helpfulness to others, so never hesitate to go anywhere if you can be helpful. You should not hesitate to visit the most sordid spot on earth on such an errand. Keep on the firing line of life with these motives and God will keep you unharmed.
And now I know exactly what I'm supposed to do which is to build a music school in Rwanda. And how I know this is because my cab driver who picked me up from the airport when I first arrived in Rwanda (who also became my guide and driver for the rest of the trip) was also a keyboard player in his church. He knew I built schools in Africa and started asking me every day to please build a music school in Rwanda. He thought it would be such an incredible thing to do for the children because there was no music for them in Rwanda, and especially music for children who could barely afford to eat.
I kept saying NO because it was like asking me to build a spaceship. I knew nothing about music, I didn't really know people in the music business, and I wouldn't have the first clue on how to pull that off. But then I thought, well, I do know something about schools.
I had started a nonprofit that built schools in Senegal, Mali, and Malawi – so maybe there was something to this. I couldn't shake it.
We have just completed our 10th school Feb 14th, 2019 and 3rd Rwanda Rocks Music School in Rwanda. I have seen music transform the lives of children living in extreme poverty like nothing I have ever witnessed before.
From the moment they touched and played an instrument for the very first time in their life, something happened. Something one has to witness with their own eyes to really see that moment where music fills the heart and brings life to their souls, and they are never, ever the same.
OmniPeace Foundation will continue to bring music to the lives of at-risk youth in Rwanda and provide a safe space for them to do and become anything in the world they can dream of.
Overall, has it been relatively smooth? If not, what were some of the struggles along the way?
I feel like when I knew finally came to understand what was happening and that clearly this was not a fluke but a calling, it was fairly smooth. It's like when you get on the path you are supposed to be on, not the one you have been fighting to be on or think you should be on, something happens that frees all the roadblocks up, and the vision becomes clear.
I think the biggest challenge was getting diagnosed with cancer two weeks before our launch in 2007. I remember telling my doctor that the timing was not good for me (as if cancer could wait) and that I had to launch this company I had been working on. But nothing could be postponed, so I launched the T-shirt line at the celebrity store, Kitson with Courteney Cox hosting with me and then started chemotherapy the very next day.
For one year, I did chemo as the company took off and I had no choice but to show up and take meetings with a cap over my head and sometimes an IV drip in my arm.  If it was after chemo and I needed fluids to replenish my body and prevent me from getting sick, I had no choice.  But I was on a mission now that was bigger than me and nothing, and I mean NOTHING was going to stop me. Even cancer!!
Alright – so let's talk business. Tell us about OmniPeace Foundation – what should we know?OmniPeace Foundation partners with on the ground organizations to help build or secure locations for OmniPeace schools. The first seven schools were built within Dr. Jeff Sachs' Millennium Villages Project. Dr. Sachs was a partner of OmniPeace's and is also an economist and Head of The Earth Institue at Columbia University.
OmniPeace was an integral part of his goal to transform poor villages into self-sustainable villages within five years by addressing all aspects of extreme poverty. OmniPeace schools fulfilled the education sector.
OmniPeace Foundation recently launched its Rwanda Rocks Music Schools. These schools are located at The Gisimba Orphanage in Kigali, Rwanda; The Kiziba Refugee Camp, Rwanda (this was also the first music school ever built inside a Refugee Camp; and the third school is in a district called Kacyiro, Rwanda.
To create these schools, OmniPeace secures the financing, finds the location, hires the teachers, enrolls the students and creates the curriculum. The students are from three organizations: 1/ Gisimba Orphanage which is now an after-school center, 2/ MEG Foundation which provides educational opportunities to the poorest and most vulnerable children in Rwanda, and 3/ Musicians Without Borders whose students are also underprivileged and many afflicted with HIV.
Any shoutouts? Who else deserves credit in this story – who has played a meaningful role?
One of my best friends in the world is Courteney Cox. We have been friends since we were 25 and she became my first OmniPeace Ambassador. She launched every collection with me, came to every event and continues to show up for me for every occasion. She helped me get the enormous press we got which launched the brand into a whole other stratosphere.
It was before people really started using celebrities to brand their collections and I had about 50 wearing my shirt at any given time. That would never happen again today, and one could not pay for that kind of publicity… but it was awesome, and we were unstoppable. Harold Owens is the Senior Director of MusiCares. Because I knew nothing about the music business or many people in it, Harold, on the other hand, was the King.
Everyone knew him and loved him, and there was nothing no musician wouldn't do for him. So when I walked in his office and pitched him; music, children, poverty, and Africa..he was in!!! He then proceeded to make some calls to a few music manufacturers and between the two of us we got Gibson Foundation, ROLAND, and DW Drums to donate hundreds of thousands of dollars worth of instruments.
And if that wasn't enough, he then picked up the phone and called Rock-It Cargo who shipped all the instruments to Rwanda for free. As a matter of fact, those instruments were on their way to Rwanda before I really even believed the music school was going to happen or before I had even bought my own ticket.
Contact Info:
Getting in touch: VoyageLA is built on recommendations from the community; it's how we uncover hidden gems, so if you know someone who deserves recognition please let us know here.