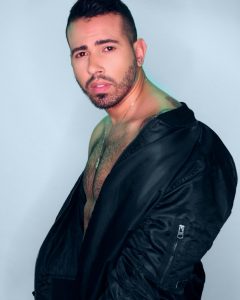 Today we'd like to introduce you to Mark Figueroa.
Mark, can you briefly walk us through your story – how you started and how you got to where you are today.
I've always been inspired by music and commercial dance since I could remember. Being born into a Puerto Rican family in the Bronx, NYC, rhythm and dance was just a natural part of me. However, I had no clue that I would grow up to be a professional dancer/ choreographer & young entrepreneur being that those were just things that sparked my soul and happiness.
I had no clue as a child that I could make a living off of the things I loved. I would watch JLO, Janet, Justin, Usher, & Britney videos until I knew all the choreography and song lyrics (I also wanted to make music & later would be.) Blasting music in my living room while my parents were away so I could dance as full out as I could to my favorite songs, with fingerless gloves that I made from winter mitts my mom bought us lol. Growing up, my parents moved us a lot in hopes of creating a better life for me, my sister and cousins who she had taken custody of for a while. I've lived in a total of 6 states now which was really hard for me at times, having to start over often with friends and schools but now that I am grateful for because it's contributed so much to my diversity in music, style and the ability to understand more than one perspective.
I didn't take my first dance class until I was 17 years old. My dad had been admitted into the hospital for a brain tumor and my mom wanted to keep me and my sister busy so my sister signed up for a hip hop dance class at the YMCA in Pennsylvania. My sister being the shy type got nervous and decided to back out, so I decided to take it myself so the money wouldn't go to waste. It was later that week I was asked to be a part of & help create a hip hop group that would soon win numerous competitions and be a staple for hip hop dance in the town that I was living in. within the next year, I had realized that dance was such an amazing outlet for expression and had saved me from so much trouble that I wanted to do it all the time. Because I had always been bullied growing up, especially in Boston I decided to see if I could opt out of gym for dance.
Luckily I got my wish, just not in the way I had expected. I thought it was going to be the super fun hip hop class I had seen through a class window one day while walking the hallway of William Allen High and boy I was way wrong. I was thrown into a ballet class where I was the only boy, and although I thought I might hate it I was lucky enough to have such an amazing and innovative ballet teacher who opened my eyes to another layer of dance. Because I had taken this class and had good grades and performed well in the showcases I was later asked to be a part of the schools Elite Dance Academy where I would then meet a woman by the name of Ms. Lorenzetti who had truly changed my life and train in numerous styles of dance including modern, jazz, ballet, hip hop, afro modern, and a bunch of other specialties like Bollywood and Choreography opportunities.. Because my dad was on a death timeline according to the doctors I didn't know how to handle that on top a being a teenager with so many questions about himself. I started hanging with the wrong crowd, contemplated dropping out of school, thoughts of suicide and tons more I won't bore you with but Ms. L managed to show me the true potential I had in myself at the time. Acting as a disciplinary and role model for not only myself but the other kids struggling in class as well.
Long story short, I started teaching free dance classes to the community and had eventually been offered jobs to sub at multiple dance studios. This was all after performing at tons of parades in NYC, opening up for Ciara, Ne-yo, Fat Joe and performing at Giants Stadium. I went to college three times, however, I dropped out as I quickly learned that was just not the route for me, although I do encourage education, some of us take other routes. My father had survived his brain surgery, I picked up jobs teaching and traveling for dance companies all over the tri-state area, dancing at amusement parks and training in NYC. Sort of creating my own path in a sense. I would later get a job at Millennium Dance Complex (the Philadelphia branch.) Which would then open up more opportunities for me like teaching at more of the branches, becoming an official dancer for Warner Brothers GOOD GIRL, teaching at colleges like Lehigh University and so much more.
Fast forward to Summer 2017, I decided that after managing two restaurants, teaching at four studios and then getting dumped and losing jobs that I was just unhappy and had to finally follow my heart, the heart I had neglected for years. I saved for only two months while still paying bills and decided to just pick up and move to LA. I quickly spent the money I made on first months rent and food plus travel, as we all know LA can be a bit expensive, on top of getting so many tickets for parking in K-town, where we all know the parking signs can be a little crazy. After the money ran out, I was able to stay with a good friend for another two weeks rent free and was able to find a job within that time and book my first gig (although unpaid) dancing for Amber Rose. The two weeks flew by and before I knew it I was living in my car homeless for the next six months BUT that wouldn't stop me from pursuing my dream, the reason I sacrificed everything and flew thousands of miles away from my family for. It was HARD I can't lie, there were days I would sit and cry, days I couldn't shower or eat, I felt so alone butt sucked it up because I knew that it would all be worth it in the long run. I continued to live in my car while showering at planet fitness, training and networking at dance studios. I had submitted to my agency relentlessly and went to every audition I heard about until one day I direct booked a gig thanks to a good friend of mine by the name of G Madison who saw something in me and was determined to kick my ass until it came out.
Shortly after that, I would have an agent and a few new amazing friends who helped me out in this crazy industry. I finally got my place with one of my closest friends here and started almost instantly booking work. I am proud to say that I am now solely living off of all my artistic abilities as an artist. Teaching at Studios like IDA Hollywood, EXPG, working as an Adidas Brand Ambassador, dancing for people like Manila Luzon, Alaska Thunderfuck, Jaki Nelson &ESPNW, being on tv shows such as the Versace crime story and choreographing for multiple artists and venues like Matinee Las Vegas and the opener for Aaron Carter this summer. I'm still training in all styles of dance, taking up trades, making music and possibly going to back to school for business.
Overall, has it been relatively smooth? If not, what were some of the struggles along the way?
Not at all haha, I've dealt with so many things from struggling financially, to being homeless, lied to, picked on for so many things including my masculinity or weight. The industry I work in (entertainment) is such. Tough one. You HAVE to have tough skin and experience some kind of low and rise from that to thicken up. Thankfully I feel like my east coast roots and upbringing made it easier for me to have that hustle mode mentality. Breakthrough or be broken.
We'd love to hear more about your work and what you are currently focused on. What else should we know?
So I consider myself to be an artistic entrepreneur, but you could say that I am known for my choreography/creative mind or teaching/ability and passion for encouraging others. I'm most proud of being able to stay true to myself & artistry while trying to deliver truth in all my work, hoping to inspire others while doing so. I would say that I am most proud of my work ethic and perseverance. The things that may definitely stand apart from others is how RAW and bold I am. I sometimes take the risks that no one is willing to take and doing it all with a smile or some kind of humor.
If you had to go back in time and start over, would you have done anything differently?
If I had to start over, I would have definitely loved myself a lot sooner! Made decisions based off of MY OWN happiness and saved some more money, haha but these experiences shape us to be who we are now and frankly I'm in love with who I am and I am excited to continue the growth process.
Pricing:
I make flyers starting at $10 and up
For private lessons or studios to please contact me via email or Instagram @therealmarque
Contact Info:

Image Credit:
Leo Madrid, Diego T. Photo, Emilly Perry, Rich M. Carter, Evita, Alaska Thunderfuck
Getting in touch: VoyageLA is built on recommendations from the community; it's how we uncover hidden gems, so if you know someone who deserves recognition please let us know here.