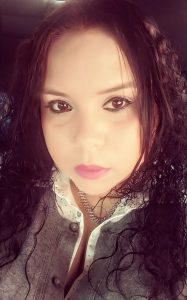 Today we'd like to introduce you to Marisol Valle.
Marisol, can you briefly walk us through your story – how you started and how you got to where you are today.
I was born in Boston, Ma in 1979 I am Puerto Rican and growing up there was always music in the home even when cleaning and cooking. My passion was always art and music. I used to dance and sing all the time until I had a surgery gone wrong and I become disabled in 2013. I met my husband Esteban Gonzalez now in 2015 he was a drummer and I bought him his drum set from there he joined a band named At Your Six which then I became their manager and started booking shows for them then I became manager of a band JustSayN and kept booking shows.
I was in my room bored and when you are disabled there is not much you can do so I thought how about making a Facebook page where all bands from all over the world can communicate and share their music? Well, one turned into 5000 to many and I was sent music from all over the map to check out. Then little by little I was booking shows at venues, Charity events, fundraisers, County Fair, and booking bands from Los Angeles The CheeseBergens, The Band Sebastian, Living Darkness, from Orange County like Dreams of Vertigo, La Piel, from the United Kingdom NATA, and our very own Local bands Hoodlife Hippiez, Black House, and so many talented bands to mention. From one thing to another Mega Mari Talents blew up all. There are so many amazing people who were and are still involved in this journey.
A special thank you to God for always being there, my husband Esteban you are my rock, my kids Isaiah, Katrina, Mariana, Jerry.
To my band AY6: Steven Hilliard, Esteban Gonzalez, Tyler Skelton, James Quintana, August Rodez.
My band JustSayN: Paul McDonald Senior, Paul McDonald, Justin Davis, Matthew Romero, Art Costello.
Joy Garcia & Sue Frogees in Apple Valley.
Richard & Peter Mettias Route 66.
Inglis Classics first sponsors.
James & Jacklyn From Foulk Ink customized all our band shirts.
Tacos Romero & Chachas Catering always at our events.
Jay and everyone at Epic Television for interviewing our bands.
Israel Williams with Mystic Cheer for always having us at the fundraisers.
Rochelle Holguin-Andrade with Type 1 Diabetics in the High Desert for coming together with Mega Mari Talents for the Charity events.
San Bernardino County Fair for trusting me in bringing over 30 bands to the fair.
To Morbid Media, N2F, Mirk Beniah, Syniister for being the first Hip Hop group I worked with.
Dewey Weathers for having our local bands perform at the Down & Dirty Festival.
Herelarryis Joe for combining his comedy shows with my music shows.
The CheeseBergens for think of me.
To VoyageLA Magazine for this opportunity.
But the biggest thank you goes to all the local bands and the venues who welcome them & the High Desert community for your continued support for Mega Mari Talents!
Can you talk to us a bit more about some of those challenges and the impact they had on you.
Living with JRA since I Was six then chronic pain and other health issues is a struggle every day but I have a great support system from my husband and my kids they keep me motivated. I may have to show up in a wheelchair or with assistance to shows but it's ok. I am blessed by breathing.
We'd love to hear more about your work.
Mega Mari talents started as a networking page for bands, now it has gotten well known as the go-to for booking shows and for venues in need of bands they come to Mega Mari Talents. I am known as the only female promoter of the High Desert. I don't charge for my services or charge the venues. My rewards are being able to find a place for these local talents to play and help at events. What sets me apart from others is I am me. I am happy I can bring so many people together and there are so many people that were and still are part of this Mega Mari Talents journey.
Given everything that's happened along your journey, how do you think about luck and its role it your life and carrer?
My bad luck was becoming disabled I lost my career, I have gone through an emotional roller coaster my life began to change when I started thinking positive and saying God has a purpose for me and now I accepted how I am and I spend more time with my kids and husband and the love of music and working with these bands makes me see life in a different way.
Contact Info:
Phone: 760-910-0868
Email: Megamari.management@gmail.com
Suggest a story: VoyageLA is built on recommendations from the community; it's how we uncover hidden gems, so if you or someone you know deserves recognition please let us know here.