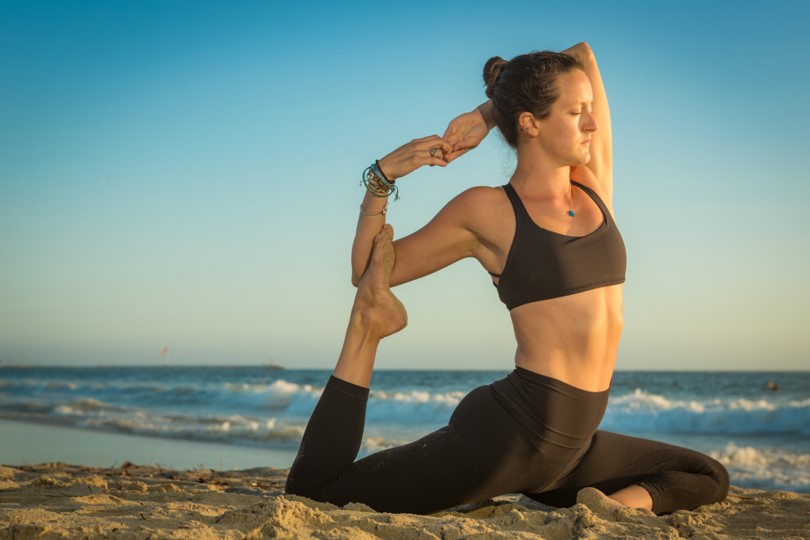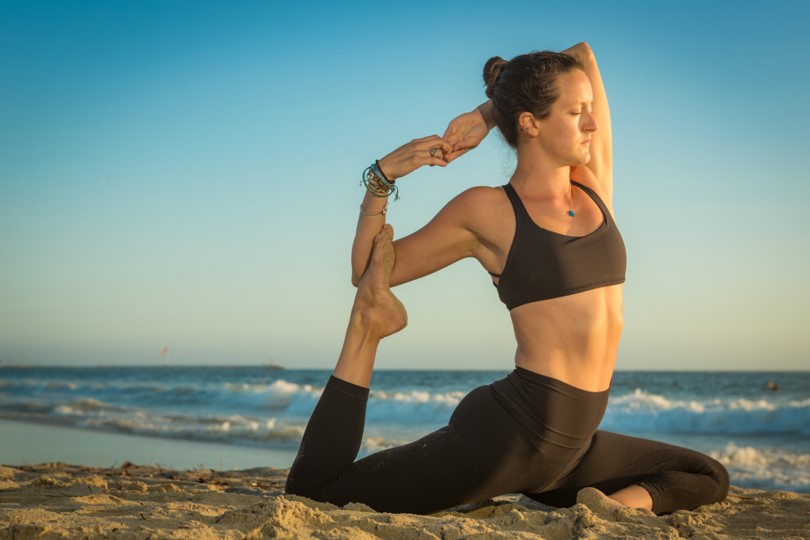 Today we'd like to introduce you to Marielle Ebersol.
Marielle, can you briefly walk us through your story – how you started and how you got to where you are today
When I first started practicing yoga in the fall of 2009, I had no idea how my life would change. My youngest brother was in the midst of his darkest hour living with Lyme Disease, and I came home to Connecticut from California to help.
I had moved to California to pursue acting in September 2009 after graduating from Kenyon College, but without a job, I made the decision to go back home to help my family. All of a sudden yoga became a very important ritual to me.
While my brother slept every morning, I went to the studio and stepped onto my mat and took care of myself. Yoga has taught me how to be a more patient, empathetic, and caring person and I continue to learn more every time I step onto my mat.
When I first started practicing, I had no idea that it would become my life. That I would move back to California a few months later and eventually become a yoga instructor myself. Since the age of 12, I told anyone that would listen that I was going to move out to Los Angeles to become an actress.
It took me until the spring of 2014 to realize that yoga (and not acting) was what made me really happy. I took my 200-hour training that spring and discovered my voice. For most of my life, people told me that I would be a really good teacher, but I always backed away from it.
My mom is an incredible Montessori teacher, and I always thought that she was the teacher and not me. I could never do what she does. But when I took that training, I discovered my own voice, and I have never looked back since.
When I made the decision to leave the dream of acting behind it felt like I had taken a very heavy backpack off of my shoulders and all of a sudden I saw Los Angeles in a different light.
Has it been a smooth road?
My biggest lesson from the practice of yoga has been to slow down. To be in the present moment and be with every single breath. To be there for every inhale and every exhale.
In this fast-paced world of ours, it can be so easy to get sucked into the busyness of life, but we have to remember to slow down and take care of ourselves. We are constantly being told that we need to be working every moment to be successful. But then we get burnt out, and we forget why we are working so hard in the first place.
On January 1, 2013, I decided to step onto my mat to get out of a funk, and I challenged myself to do so every day that month. That month became a year and a year became five and a half years. I went from one day of yoga to 365 days of yoga to 1000 days of yoga and finally this past June to 2000 days in a row of yoga.
Throughout that journey, I did my yoga teacher training, and I became a yoga instructor and started to teach. Throughout the consistent days in a row of yoga, I learned more and more about myself. When I first started to practice every single day, I would take a 75-minute class every single day and in my eyes, nothing less than that counted.
But as I moved throughout my practice and my life, I realized that it really wasn't necessary to do such a full practice. And even if I did a full practice I could still be practicing if I was resting. I did yoga on days I wasn't feeling 100%, the morning after I got my wisdom teeth out (I was crazy!), and on days I definitely didn't feel like practicing.
But every day when I stepped onto my mat, I was so happy that I did. It has taken me years to learn that I can step onto my mat and do half of the practice and then spend the rest of it in child's pose or on my back in more restorative poses. I have come to realize that there is only one of me and I need to take care of me.
I have learned to listen to that voice inside when she really needs to rest. I have also learned to really listen to that voice when she really doesn't need to go to yoga every single day. But when I do go, I can stop and slow down and rest at any moment. In my class, I really encourage my students to listen to themselves.
To allow the practice to feel good in their bodies and to slow down when they need to slow down. I encourage resting in any moment, and I give them permission to allow their practice to unfold in whatever way they need it to. We all step onto our mats coming from different places and every single day is different.
We are coming from a different place, physically, mentally, and emotionally, and we need to be mindful of that. One day you may need a really strong practice and the next day you may need to lie down and rest and use that time to focus solely on your breath. And to really listen to that voice is a beautiful skill that is hard for so many of us.
In order to really listen to that voice, I recommend closing your eyes and really getting clear on what it is that you need in each moment. As you step onto your mat listen to what it is that you need in each moment. And if what you need is to drop to your knees and take a child's pose or to lie down on your back and close your eyes, can you give that to yourself?
Can you close your eyes and instead of worrying about what everyone else is doing, can you focus on you and what you need? And beyond yoga, can you do that in your life? If you are moving through something and you haven't taken any time for yourself, can you go for a walk? Can you pour yourself a bath? Can you take a nap? Can you write in your journal? Can you get clear on your boundaries? Can you learn to say no instead of yes?
All of that is taking care of you. The more you take care of you the more you can show up as a kinder better version of yourself, and you can make the people in your world feel the same. It is a ripple effect. You take care of you, and those around you learn how to do the same. My students know that they can come to my class and do as little of it as possible.
I am there for them through whatever they may be moving through, and they know that my class is a safe place for them to be able to move through everything. I will never push you. I will encourage you to listen to yourself and trust that you know what you need from my class. I have begun to slowly realize how rare that is in this city.
Is our city a good place to do what you do?
Absolutely. It isn't easy, but it is such a thriving community full of so many incredible people, teachers, and students alike. I continue to learn so much from my teachers, and that makes me a better teacher.
I really do think that this is a great place to start because you will quickly realize if it is for you or not. There are so many teachers, but we all have something different to offer.
You have to discover what it is that you have to offer that is different. But it is so important to remember that there is enough for all of us.
Contact Info:
Image Credit:
Nir Livni IG: bigcameraman
Getting in touch: VoyageLA is built on recommendations from the community; it's how we uncover hidden gems, so if you know someone who deserves recognition please let us know here.