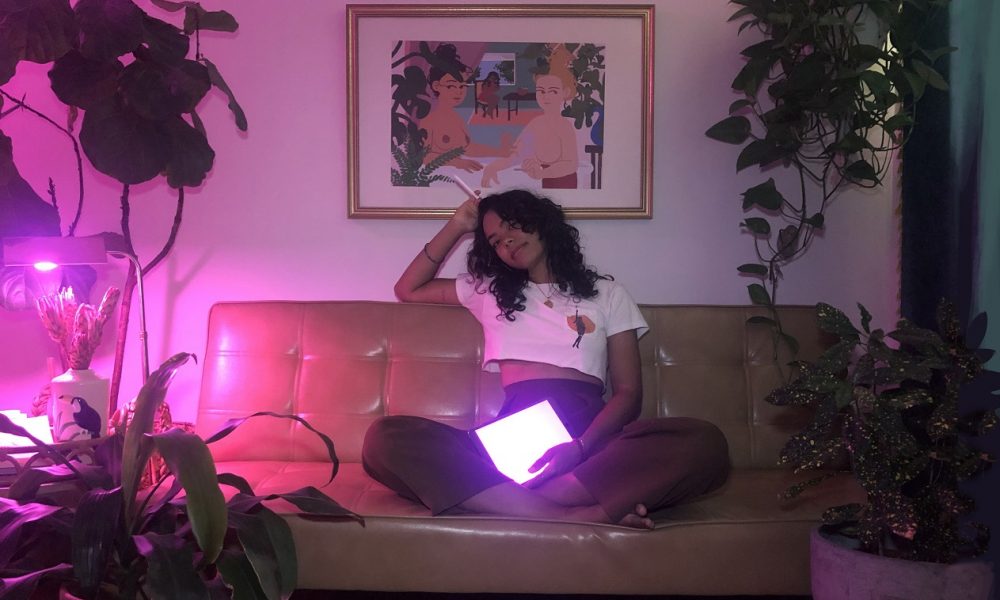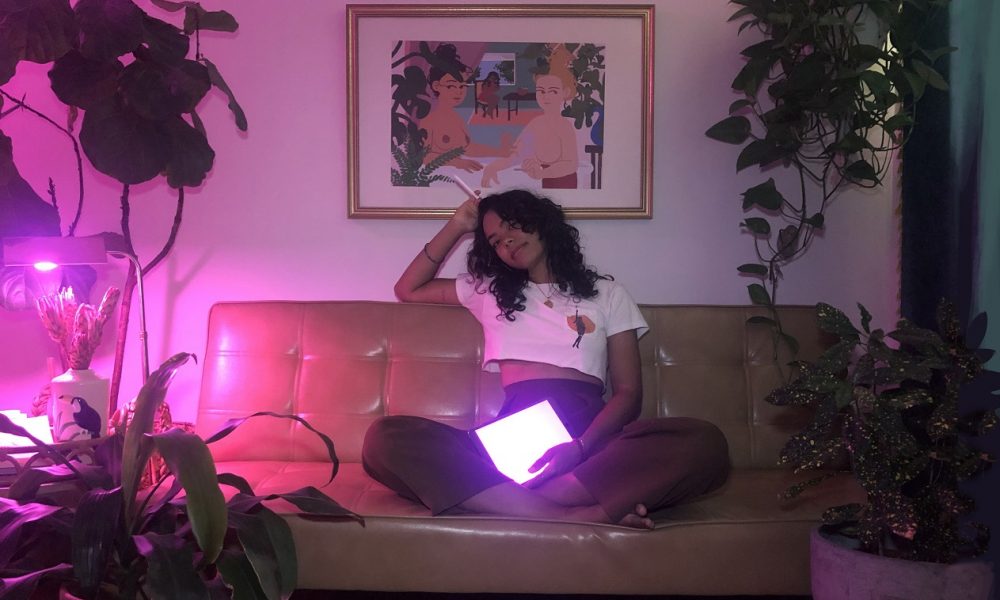 Today we'd like to introduce you to Mariah-Rose Marie.
So, before we jump into specific questions, why don't you give us some details about you and your story.
I grew up moving every few years and lived all over the US, but at this point, I've lived in LA longer than anywhere else. I came here to go to university, but it was financially impossible for me so I instead went from part-time jobs and community college straight into full-time work.
The beginnings of where I'm at now began when I left my job storyboarding at Warner Bros. Animation in 2018… you can imagine some of the reactions I got from that. Animation pays well if you land union work, but it's still a job that requires you sitting at a desk all day, and knew I had to at least try something else.
Honestly, I was terrified. Times got tough growing up and the specter of homelessness always haunts you when you've been there before. But I'd saved like a maniac and was determined to not let fear keep me from living my life. Since then things just… opened up for me. I got a passport and traveled outside the US for the first time. I got really into Brazilian Jiu-Jitsu and won some medals fighting in tournaments. I published an educational zine on native plants. I started volunteering at places focused on equity and sustainability around the city. I won a chapbook prize and published a book of angsty poetry about climate change and identity and sex.
Career-wise, things really took off too. I've always put my work online, but now I'd had the time to put out a lot more and I was noticed. I went from having one thing on my resumé to publishing with The New Yorker for humor comics, The Nib for educational, historical, and autobiographical pieces on queer, Native and Afro-American struggles for equality, writing & teaching a comics course at Center for the Arts Eagle Rock and the UCLA Labor Center, and working with all sorts of other nonprofits and collectives for illustration and design work.
Sadly none of those things pay great. The freelance struggle is real. But I wasn't ready to go back to an office, so it was go hard or go home. My nomadic inclinations made this an easy choice though, and I sold or gave away almost everything, left my apartment and moved into a family farm in this gorgeous mountain range outside of Barcelona where I maintained gardens, chopped wood and milked goats in exchange for room and board, still freelancing on the side.
I'd planned to stay for three months, just studying the hell out of what it means to be self-sustaining until my visa was up, but l ended up bouncing around the EU & UK for the whole year via the Jiu-Jitsu equivalent of couchsurfing and all sorts of work-travel programs. I even got into my first artist residency and spent a month creating and exhibiting in Bulgaria. I didn't know anyone in Europe before I'd left and had no idea what to expect, but I met such lovely people everywhere and was vastly accepted with open arms. It was the best kind of culture shock and the most incredible year.
I got back just in time for quarantine. It was meant to be temporary, but now I'm storyboarding again with a whole new outlook on life and a renewed determination to really be there for the people in my community no matter where I am.
Great, so let's dig a little deeper into the story – has it been an easy path overall and if not, what were the challenges you've had to overcome?
Definitely not. The family you're born into determines the outcome of our lives much more than us Americans like to admit. The whole "pulling yourself up by the bootstraps" thing we like to tell each other is garbage. But my mom busted her ass to get my sister and I into the best public schools of every place we moved to. Often these were the most expensive, so we were often struggling underneath a veneer of normalcy. People wouldn't guess that there were times we got to go to the movies only if we collected enough bottles from people's bins to trade for cash at the recycling center.
I only got my foot in the door at Warner Bros. because I managed to win a national contest for a scholarship-internship in high school. I only was able to do that because I was given the tools to do so by a local nonprofit for low-income kids interested in art. Animation is a vastly white and male industry that's notoriously difficult to break into. I didn't even know it existed until a visiting college recruiter in school mentioned that being paid to make cartoons was a thing. I learned all the industry-standard programs and practiced my hands off to land my first art job. Everything thereafter was fueled by the fear of not being able to pay my bills, and powered by the amazing people I have in my life who lifted me up and opened all the doors they could for me. (And of course, me furiously drawing all the while.)
Access is everything, and thank the internet connecting people in order to make the process of entering these industries less opaque. But like always, there's still a long way to go.
Please tell us more about your art.
Well, the state of the world has pushed my art more towards politics in recent years, but underneath everything is my love for the wildlife and the natural world and the variety of histories, folklore, food, languages and landscapes that makeup humanity. You know, all the things under threat by climate change and racism and such, haha. I think people know me best for my personal comics, which are often just silly and autobiographical but express my most common themes: racial, sexual, and national identity & freedom, nature, vulnerability, humor, and the effects of hierarchy, from the individual to the global.
I'm most proud of the people that have come to surround and support my work. Sometimes I'll just poke around the profiles of my Instagram followers or wherever and find a dude making anti-Bolsanaro songs out of Brazil. Or a grandmother of five who likes to paint in Indonesia. Or a nonbinary person in the French countryside who's whole feed is just ID's of local plants. I can't tell you how honored I am to have these people's support.
This summer, in the wake of George Floyd's murder and so many others, I felt enraged and helpless. Nothing new there. If I can manage it, I always try to make an art response to human rights issues by selling merchandise for charities. With these sales I've been able to raise money for everything from children's aid in Palestine, legal help for families who've been separated at the border by ICE, to voter empowerment in Native communities. But this summer was different. With print & t-shirt sales of a peaceful scene I drew from a post-police world, we raised over $2,500 for Black Lives Matter LA and organizations empowering black & brown trans women. I know it's not much in the grand scheme, but it really helped me just, emotionally, to get that kind of response… to know that more and more people are finally seeing and even joining the struggle.
What do you like best about our city? What do you like least about our city?
My relationship with LA has changed a lot over the years. At times it's felt like a cage. At others, something like home. But one thing that I've watched get worse is the income gap. Just after one year away, I was shocked to come back and see how many more homeless encampments have sprung up around the city. Our mayor and city council seem bent on giving these high-rise luxury condos and hotels multi-million dollar tax breaks instead of investing into combatting the housing crisis, which is now only getting worse with COVID. (Join your local Tenants Union folks!)
LA's car culture is also related to that. Yeah, the urban sprawl is maddening, but it could be better connected. When I first came out here, I didn't have a car. But it wasn't just the terrible transit system that got to me, it was the stigma of using it. Just total horror from my peers at the thought of me walking a half a mile to my bus stop on a typically beautiful sunny day. If there was real infrastructure, and it was normalized for everyone's use – not just poor working-class folk – it would be incredible… and help with our terrible pollution problem as well. (Shout out to ACT-LA's upcoming proposal to move police funds towards better transit, illustrated by yours truly!)
But on the love side: LA is the undeniable cultural center of the west coast – and for many of the unindoctrinated to Chicago and NYC for example – the cultural center of the entire US. While I don't usually care much for what Hollywood puts out, I am a music and museum fiend, and pre-quarantine LA has never left me wanting for incredible performances and access to artists from all over the world. I also feel really blessed to live so close to the ocean, which is a real place of respite for me.
Center to it all, the heart of LA will always be the immigrant communities and families that have been here for generations. What would this place be without the spas in Koreatown, the tacos in Boyle Heights, saffron ice cream in Tehrangeles, the block parties in Leimert park? LA is so vast and disconnected, it can be a very lonely and isolating place (though I think that's what makes the radio so good, haha) but there's somewhere for everyone here if you look for it.
The best I've seen out of this city is when transplants really integrate with longtime locals and not just each other. We've got to care for each other more. There's so many hidden gems and wonderful, supportive people and orgs to be found this way. Though it seems like COVID has crushed any possibility of doing this, I'd argue that I've seen more solidarity amongst Angelenos this year than ever via mutual aid, demonstrations, and organizing. Just keep that 6 feet of distance!
Pricing:
Patreon has been an amazing support. You can see all sorts of art I post nowhere else for just $1 per month at patreon.com/biophonies
Contact Info:

Image Credit:
Rose Marie Brown for portrait
Suggest a story: VoyageLA is built on recommendations from the community; it's how we uncover hidden gems, so if you or someone you know deserves recognition please let us know here.