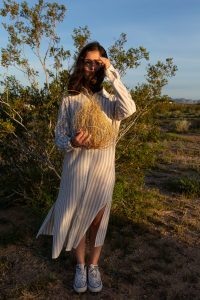 Today we'd like to introduce you to Maria Vertiz.
Maria is a composer, producer, and songwriter originally from Mexico City and based in LA. She grew up in Mexico and started working on music from a very young age. At two years old, she sang her first commercial, at six years old, wrote her first song, and at barely 11 placed a song for the first time in a movie composed by Mark Mckenzie. Throughout her youth, she studied with renowned composers and teachers such as Tomas Barreiro and Maria Antonietta Lozano.
She was awarded best composition at the GEMS Film Scoring Workshop by composer Chris Young (The Grudge, Spiderman, etc.), Gary Schyman (Bioshock, Torn, etc.) and orchestrator Pete Anthony (Us, The Hunger Games, etc.). Maria graduated with honors from the Film Scoring Program at Berklee College of Music. She was invited to collaborate on upcoming feature John Henry, starring Ludacris and Terry Crews, by Will Forbes and Carlos Morales. She later joined Illuminating Music Group, which is a ground-breaking team of seven award-winning female music composers with whom she continues working. Aside from her film-scoring career, she has also placed music and worked with renowned artists such as Vazquez Sounds, Peche, Nicole Zignago, Ire Pelusa and Dru Flecha. Maria currently resides in Los Angeles, where she works with and is mentored by James Newton Howard and Chris Westlake (Castle Rock, Before we go, etc.).
Has it been a smooth road?
Being a woman in an industry that has been mainly run by men until now is hard work. It has been quite a journey, from stripping myself from the sexist ties and ideas that I grew up with, to deciding to do something with them. Thankfully, people in the film industry have just started to realize its lack of diversity as an issue and in return Hollywood's starting a journey into inclusiveness. However, the root of the issue has been rarely discussed. The stigma around femininity, sensibility, and sensuality hasn't been talked about. There is a misleading understanding that women are more fragile and emotional and so their sensitivity makes them more unreliable in businesses as demanding as ours. This, in my opinion, has led female professionals in many industries to believe their feminity is something to "hide" or "repress" and that in order to succeed professionally they need to be more "reliable", "strong" or "manly". I struggled with finding balance within work and my emotions, even though as an artist one is crippled without the other. It's been hard work realizing the IMPORTANCE of inviting my sensibility in as a source of connection to my power and creativity.
There is also collective fear within the music and film industry in which men and women suffer alike, and that needs to be fixed for creativity and sanity's sake. We live in a society in which lack of sleep is praised whilst rest is seen as laziness and where the show must go own at the expense of our mental health and physical integrity. It doesn't cease to surprise me how many times a week my coworkers compete to see who's had more cups of coffee a day or who's slept less and how little I've actually heard them talk about their art. There is always this crippling anxiety about thinking that while you're sleeping that extra hour, or watching a movie, or having a drink with your friends, there is always someone getting ahead of you. Ever since I moved to LA tapping out of this fear that wasn't even mine, to begin with, has been hard. However, I believe it is my responsibility to set these boundaries both myself and the people that I work with; and to have more conversations like this so we can slowly begin to change our industries to become more conscious and healthy environments.
Can you give our readers some background on your music?
I am a composer, producer, and songwriter. I bring a mixture of genres and cultures into my music. I grew up with a big influence from Celtic and Ethnic music from my mom, rock, and classical music from my dad, pop from American influence, and obviously Mexican music from my heritage.
I have always been passionate about discovery and learning, which I try to bring on into every project I work in. I try to face every project I work with, with curiosity in seeing how can I create an individual sonic universe to it. I am passionate about bringing stories to life through the emotion that music brings. I am very excited about what 2021 will bring. I have been very lucky to have been working alongside people I truly admire such as Tomas Barreiro, James Newton Howard, Chris Westlake, Oren Hadar, Peche, Andrekza, and Camilo Velez.
How do you think the industry will change over the next decade?
I think the world is waking up to a new reality. After 2020 we'll be forced to transcend our old ways. And I believe it's a wonderful time to be an artist. There is so much to say and so much to speak up for.
Contact Info:

Image Credit:
Leire Kelly (The mirror picture). The studio Pictures are MCO Studios.
Suggest a story: VoyageLA is built on recommendations from the community; it's how we uncover hidden gems, so if you or someone you know deserves recognition please let us know here.