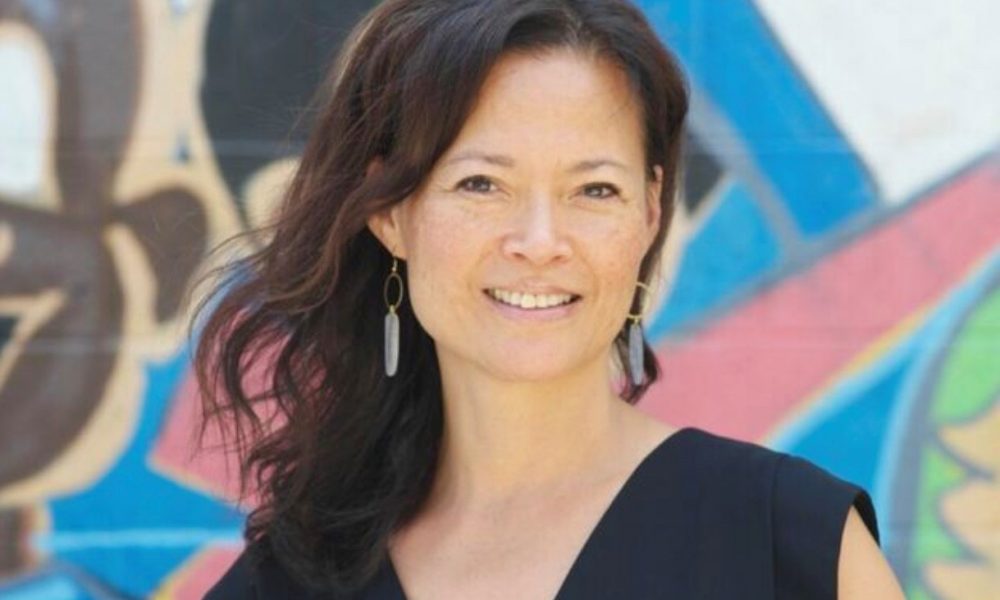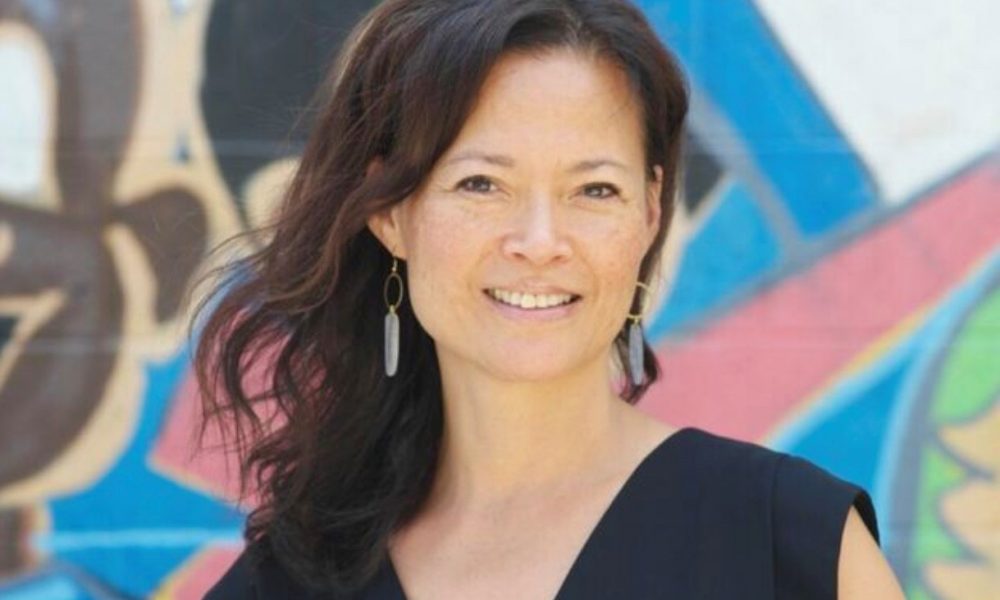 Today we'd like to introduce you to Maria "Mo" Groezinger.
Maria, let's start with your story. We'd love to hear how you got started and how the journey has been so far.
My family and I moved from San Francisco in 2001 to work for a very close friend with an apparel company. Having been in the beauty industry for the past 18 years, I thought the apparel industry would be similar, man was I wrong. I was asked to come to LA due to my background as an account executive in the higher end beauty market represented in Saks Fifth Ave, Neiman Marcus, Nordstroms, anyone remember I-Magnin? My job in Los Angeles was to be in operations, the company had 8-10 million in annual sales to department stores and boutiques. I learned quickly, manufacturing apparel is hard, its labor and financially intensive with its own language. Starting in operations was a good bridge for me. A month into it, I was feeling less like a deer in the headlights. Then it happened, 9/11 and the apparel industry would never be the same.
Fear drove stores to start canceling their order or substantially reducing it, the domino effect of this in Los Angeles hit everyone hard. Within three months, our cash flow was coming to a halt, the production manager moved on and I had to take on the additional role. I knew nothing about making the clothes or how to manage the process. I did not know the difference between a cover stitch and an overlock, but the orders we did have had to be made. I cried every night for a year as I was determined to learn this job after all, I had moved my family here. It was only thru the grace of my female co-worker who themselves had to cover multiple jobs as they were teaching me and basically getting me out of hot water everyday. A year and half of working in production under the gun of trial and error was my learning curve. We all did our best, but the company did not survive, we never recovered from financial blow after 9/11, the company closed. I had learned a lot, so the pain of the past year was now going to be of value, the designer and I opened our own small business. We made clothes for tween girls, filling needs for my daughter's ages then 8 and 11 years old, the girls now in their 20's went on to create their own swimwear line.
We had MoBee's for girls for four years, we made everything here in the U.S.A. the cost of goods vs wholesale prices and what stores needed to retail for kids couldn't sustain us. I stayed in apparel manufacturing, working for companies ranging in contemporary sportswear, lingerie, swimwear and activewear. During this time, people would also ask me for advice, or if I saw newbies making mistakes as I was visiting with contractors, I would offer my take on it and as they say 1 client leads to another. We opened MK Apparel Industries LLC dba, LA Apparel Services in 2014, now in its 5th year, we have had the opportunity to meet some amazingly creative people. We love to bringing to life what has been floating in people's heads sometimes for years. Our team of LA artisans works from design development to production in Los Angeles as well as various overseas factories. LA Apparel Services has been very fortunate to be mentored by some of the industries smartest people who happen to be part of our team. We are working to be greener, more sustainable here in Los Angeles, it's an uphill climb, but well worth it for all. Consumers are demanding to know the sustainability of their clothes, calling their retailers, retailers calling on manufacturers, this creates accountability.
To me, being sustainable also means social justice, spiritual and an overall well being with foods and a physical practices. Giving and receiving is the same to me, you cannot receive until you make room by giving. This wouldn't be a full story about me if I didn't mention Peace4Kids.org. Having grown up during my teens in Foster Care, I make it my mission to make sure our youth in care are not forgotten. I take Serving on the BOD for P4K very seriously, people who are close to me know where ever I go, I generally don't talk about my business, but instead introduce them to our program, We all get to volunteer, encourage and mentor youth in Foster Care located in the Compton/Watts area of Los Angeles. Currently, LA Apparel is working on a buy one give one model. "Wrap with MoLove" the "giving one " will be distributed thru the department of family and children's services. Launching pilot program during the holidays. www.wrapwithmolove.com
In my spiritual practice, I am always working toward my state of grace, I follow the teaching of Sadhguru, a mystic and Yogi, whose teaching encompass the greater good and that speaks to me. Sadhguru works tirelessly addressing the current global state, as he teaches us to go inward to find our bigger hearts to embrace the world. 4 years ago, while running my growing business with my daughter, I entered into a 5 level 600 hour Classical Pilates program, well lets say, I'm glad I did it now, The program at Whole Body Method is physically and mentally challenging and to be honest, didn't know if I could finish. It did take me longer that the rest of my class to fulfill the hours, but I eventually I did graduate. Now teaching three nights a week in two studios, I know I am supposed to be here. I have been blessed to get the support and encouragement from my family and friends, every wacky thing I want to try, they cheer me on. LOL, I just bought pastels to draw the landscapes I see when driving up and down the coast.
Overall, has it been relatively smooth? If not, what were some of the struggles along the way?
When I first starting in the apparel business, I was a deer in the headlights, I was at the mercy of people having more experience than me, most of the vendors and contractors were kind and helped me the best they could. The Apparel Manufacturing Industry was very different than other careers I had been in. The community is very family orientated, yes we are all here to make money, but if you show people you are sincere in wanting to take care of them and be fair, they will do anything to make sure you succeed. That being said, I had to grow up fast. I had to process details that I didn't know existed and thru this, I learned I had a knack for facilitating. I've made a lot of mistakes, everyone does, it is a trial and error business when you first start. I was lucky to have the women in my office who truly wanted me to succeed at my first production job, I am here, because of others who helped me, so it's only fair to share my knowledge, it's my way of giving that same kindness and encouragement. I am happy to give a free consultation and explore whether you are already in it or thinking about it. www.calendly.com/laapparelservices
Alright – so let's talk business. Tell us about LA Apparel Services – what should we know?
LA Apparel Services is located in DTLA, we provide a full-service apparel manufacturing experience, from " Do It With You" to "Do It For You". Our team works from concept and development to production and beyond we specialize in new and seasoned companies. Our team loves the creative process, we have worked on the tiniest bikini to ball gowns, as well as, yoga wear and athleisure, which is super in right now. We specialize in working from contemporary sizes to contemporary plus sizes. Who would have imagined that something as simple as a tee-shirt can still spark the imagination and make you millions.
I personally spend a lot of time consulting with new startups. I help to connect them with vendors and walking them thru the manufacturing process with lots of field training. My goal is to have the client be able to run their company and to understand the basics but they always know I'm a call or text away.
Seasoned companies have different needs depending on their stage of growth. I am honored to be of service, always remembering, I started this business and didn't know a thing.
Any shoutouts? Who else deserves credit in this story – who has played a meaningful role?
For sure, I am one of the luckiest people on the planet!!! I am surrounded by "YAYsayers", we welcome ideas and encourage each other to take chances, give honest and sometimes harsh feedback. I absolutely do my best to protect the people I work with and in turn, they take care of me and my clients. I have worked with some of the vendors and contractors for 16 years, Depending on my needs, I may not see them for years, but when I come back, it's as if I just saw them yesterday.
Manufacturing has changed drastically since I started 18 years ago. Hats off to the peoples who are still in the game. My MoBee's business partner, Bee Lebrun is one of my greatest supporters, my mentor, she was one of the women who was there in the first office. Bee and I have a seamless relationship, we are there for each other and our families. We laugh a lot, still finding humor in things that made me cry in the earlier days. You have to find support, no one will understand your days in this business like a person walking it with you. A huge shout out to Frances Harder at Fashion For Profit, I met her 18 years ago, we saw each other here and there, but in the last few years, we have collaborated on a deeper level. Frances has connected me with a great deal of industry insiders and has always encouraged to up my game.
Contact Info:
Address: 850 South Broadway Street
Suite 606
Los Angeles, CA 90014
Website: www.laapparelservices.com
Phone: 3234182777
Email: maria@laapparelservices.com
Instagram: @laapparelservices
Facebook: @laapparelservices
Suggest a story: VoyageLA is built on recommendations from the community; it's how we uncover hidden gems, so if you or someone you know deserves recognition please let us know here.