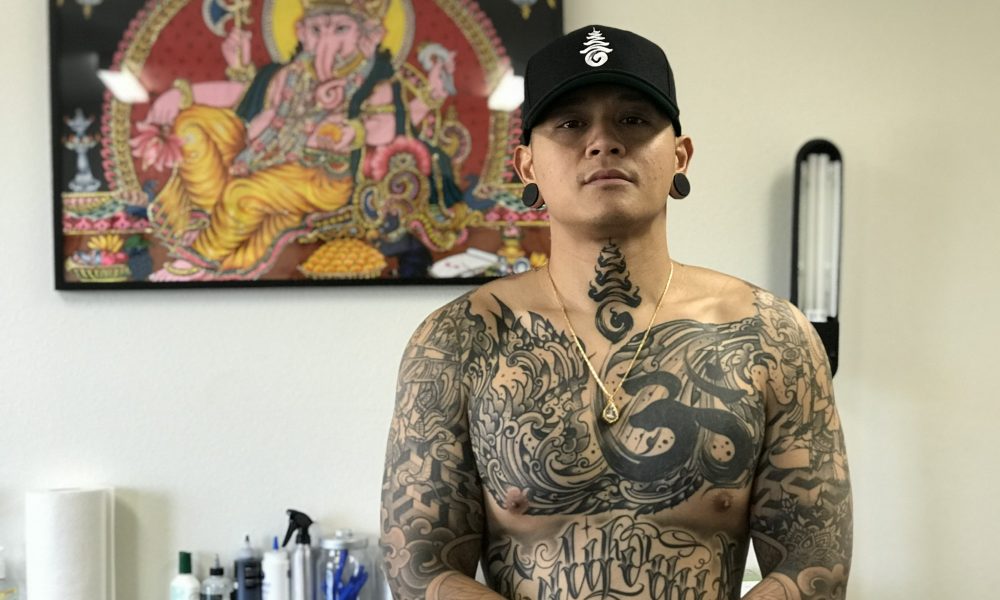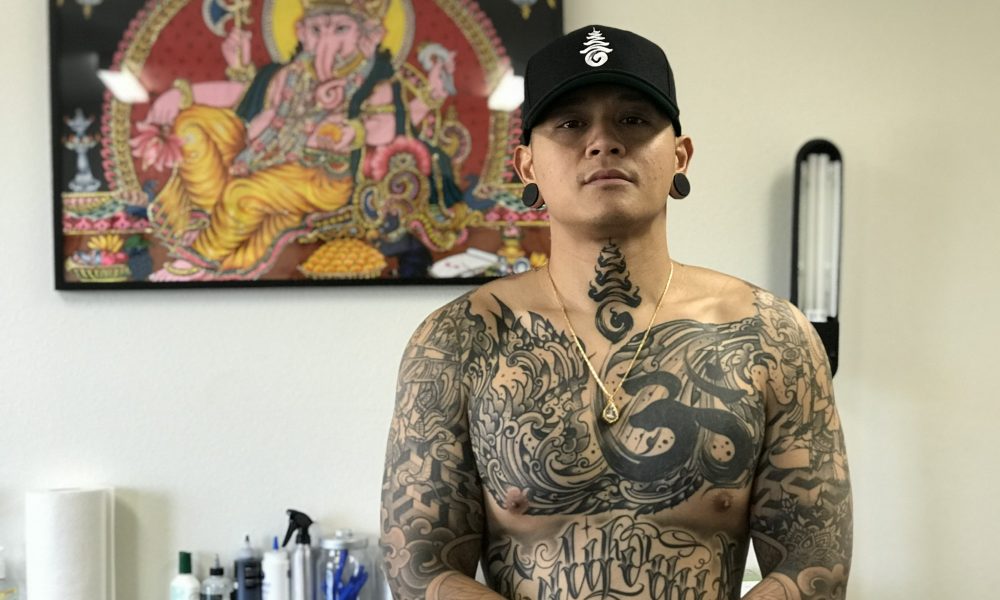 Today we'd like to introduce you to Maneen Tattoo.
Thanks for sharing your story with us Maneen. So, let's start at the beginning and we can move on from there.
I sat straddling that familiar white chair inside of Silverlake Tattoo, gripping the bars of its backrest, my body tightly flexed, one degree away from breaking a sweat, my face in a grimace, as the liner needle dragged across the flesh of my back. Braaaappp. Red's tattoo machine always sounded so aggressive. Six feet in front of me, sat another client in the same type of chair. The chair looked like it got boosted straight out of a dim sum restaurant in Chinatown. Cracked white cushion with blotchy, faded gold legs and 5 bars for the backrest that came to a crescent at the top. The client had an elaborate dragon half sleeve drawn up in pen on his left arm. I watched the entire drawing process. I could sense the client getting irritated as he puffed up his chest. I kept staring. How the fuck was Tom able to draw a dragon like that straight onto the skin? Amazing. Braaaap braaap. Tom hit the foot switch and his machine screamed. Tom, Red's master, was known for having a heavy hand. The first line ripped across the client's arm. He looked straight into my eyes. Then his eyes rolled into the back of his head and he passed out.
After the client had regained consciousness, he asked for the design to be changed into a small Chinese character the size of a dollar coin. I went outside with Red for a cigarette. "Can you teach me how to tattoo?" Red had long jet black hair, tied back in a ponytail. His face was serene and youthful. His eyes deep and aged, like he had lived a hundred lives prior and remembered all of them. He wore a red and white 3/4 baseball T with tight light blue jeans that flared at the bottom exposing half of his all-black Chuck Taylors. A dragon head peaked out of each red sleeve on his inner forearm. Red blew smoke slowly out of his mouth, as if holding his breath, looked straight into my eyes and replied, "Do you want to learn about tattoo? Or do you want to learn about life?" I was caught off guard. This was some kung fu shit. "Uh, both I guess…" And the journey began.
Great, so let's dig a little deeper into the story – has it been an easy path overall and if not, what were the challenges you've had to overcome?
I stood there inside the tall white concrete walls of the RedWindArt Private Tattoo Studio deep in the SF Valley, staring in awe as Red drew up an elaborate Phoenix tattoo on his client's back. His client possessed an intimidating build. He stood there, shirt off, black snapback sitting high on his head with the brim pulled low and curved over his forehead barely exposing his eyes, his long basketball shorts hanging off his plaid boxers. A knife tucked on the waistband of his shorts which ended well below his knees, exposing his high white socks and white k-swiss. The wings of the Phoenix flared out majestically across the client's shoulder blades. It's chest puffed out, talons outstretched and five extravagant tails flowing harmoniously in all directions over the client's mid and lower back. Red was amazing with that ballpoint pen. The blue ink appeared like magic as it glided across the client's back to form the whipping tip of the last tail. It was a masterpiece.
A year had passed since that day at Silverlake Tattoo. I had been tattooing on my own doing house calls in Sunland and Tujunga for everyone and anyone who was willing. I tattooed in kitchens. In garages. In bathrooms. On unmade beds, dirty couches, toilet seats, dining tables, chest press benches. Once a week I met with Red. Always at a teahouse in SGV. I would start by turning in sets of needles wrapped neatly in drawing paper that I had soldered for him the night before- 3 liners, 5 liners, 6 flats, 7 mags. I would also turn in my drawing homework. Stacks of drawing paper littered with 5-star asterisks and spirals. We talked about life in philosophical ways. We talked about how art is in everything, from how we walk, how we sip tea, how we smoke a cigarette, how we interact with other people. We talked about the importance of breath, Buddho, the Way and being Here and Now. We talked about how the way you do something is the way you do everything. We talked about the HEART. We rarely talked about tattooing.
Red's client tried his best to look at his back in the mirror. His body was filled with mythical beasts that Red had tattooed on him. A Dragon, a Foodog, a Kirin, and now, a Phoenix. A beautiful elaborate Phoenix drawn on freehand with a ballpoint pen covering every scare inch of this client's large framed back. "Cool" the client muttered. Then Red dropped the bomb. "My apprentice will be doing your tattoo today." Red's client-directed his eyes towards mine. "Cool" the client muttered. I don't know what he saw in my eyes at that moment but I had figuratively shit myself. My stomach twisted and my palms were moist. Ask any tattooer if tattooing is easy. The answer will always be unanimous. You're marking someone permanently for life. There is no eraser. No white-out. No "back" or "edit" or "delete" button. There's no way to make a shaky line straight or a blown outline crisp. Then there are the endless amount of variables. Every client's skin is different and therefore requires different hand speed, needle depth, but that also changes depending on the area of the body. And don't forget that there's the threat of overworking the skin. Should I push or pull the line? How do I shade that?
Then there's the amount of stretch required for the skin to be taut, the quality of the needle you just made, the way your machine is running, the voltage your machine is running at, the amount of A&D to apply, the client staying still, etc. And the variable causing the most anxiety for me at this particular moment is tracing over the drawing that will indefinitely smear off 5 minutes into the tattoo because it's drawn on the skin with a ballpoint pen, forcing me to try to remember how it looked and haphazardly make it up as I go along trying to complete the outline of this large, permanent tattoo. At least Red will be here to redraw anything that needs to be redrawn. I excuse myself from the room to have a cigarette. Red joins me outside, his bag slung over his shoulder. He lights one up as he puts his bag in the passenger seat of his car. "I'm going to take off." Red says. "What?" Red takes rip of his cigarette, blew smoke slowly out of his mouth, as if holding his breath, looked straight into my eyes and replied, "You got this. Don't fuck up. He's from WaChing."
We'd love to hear more about your work and what you are currently focused on. What else should we know?
My name is Maneen. I am a Tattoo Artist who works out of a Private Studio in Eastvale. I specialize in custom, hand-drawn, one-of-one tattoos that are tailored for each individual. My tattoos are most influenced by Thai art and culture, California black and grey tattoo culture, and creating art that tells my clients' stories on their bodies. Two years after I started tattooing, I decided to move to Thailand and ended up staying for over four years. I became enamored by the art, the architecture, the statues, the temples, the stories, the teachings of the Buddha, Thailand's national epic the Ramakien, the characters in the Ramakien, the various deities people prayed to, what each deity represents, why people wear amulets of these deities, just the culture as a whole. It has become a lifelong study for me and one of my personal goals is to be able to learn as much as I can about my culture, celebrate it through my art and tattooing, and hopefully, be able to give something back to it.
I look at every person that I tattoo as a collaborator. Tattooing is a primal ritual, and the connection and experience is paramount. Whether it's being done as a right of passage, an a homage to one's culture, a statement of pride or rebellion, a memorialization of a person, place or event, or even just something that is witty or funny or just looks badass, the reasoning, meaning, and end product is second to the experience. It's the time spent with other individuals, connecting and curating new stories and experiences together, walking side by side through the mystic ritual of creating a permanent mark that they will wear for the entirety of their life, that makes what I do so fulfilling and purposeful. Community is what I have tried to build with my tattooing. A collective of individuals who share a love and passion for tattoos and art that I have the opportunity to make in my style, through my lens, for my community.
What moment in your career do you look back most fondly on?
Being able to fully support my family and have the full support of my family as I LIVE THE DREAM.
Contact Info:
Phone: (818) 940-7289
Email: maneentattoo@gmail.com
Instagram: @maneentattoo
Suggest a story: VoyageLA is built on recommendations from the community; it's how we uncover hidden gems, so if you or someone you know deserves recognition please let us know here.