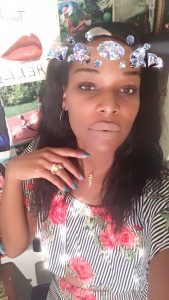 Today we'd like to introduce you to LynnQuinEtta Alissa James-Boyd.
LynnQuinEtta, can you briefly walk us through your story – how you started and how you got to where you are today.
My life started in the mean green streets of Detroit, MI. Even though I never really experienced the mean streets growing up. My parents kept me pretty sheltered. That's why when I started my career in New York as a high fashion model, I was more than ready!
At 16 I was the first African American signed to Marilyn's Top Ten Agency, and was thrown into the New York minute. I worked and lived as a model and went to school at St. John's University in New York for several years. Even got the opportunity to represent the U.S.A. in a couple of pageants and received a title. Face of the Americas' 2006. I met many of my peers in New York including Jessica Washington (Chillbachi) and Vanessa Simmons (Pastry; Glitter and Lace) to name a few.
In 2005, after being on America's Next Top Model In LA, I fell in love with it even more. I would flight out often with modeling job and to see family. In 2009 I officially moved out here. To make matters better, MTV gave my friends a show called "Daddy's Girl's!" It lasted two seasons and it was basically a show where they just followed us around in our glamorous lives. And we had a lot of creative freedom but not all of it. Which drove me crazy!!!
Getting a taste of the acting world on a big scale gave me the drive to want to act more even though it had always been one of my dreams. But not just act but write, direct and produce as well. I have worked on over 300 productions out here in LA and counting.
I took classes at Los Angeles City College in Cinema. And also Journalism like at St. John's University. I got to learn under a great program in Cinema. I also got influenced by Professor Rhonda D. Guess. She encouraged and helped me polish my skills in broadcasting.
I got the opportunity of a lifetime in 2015 when I was asked to be a season Utility Stand-In at ABC for the hit series "Criminal Minds." I was the main Stand-In for Aisha Tyler— one of my mentors as a teenager. But more than anything this experience was a school of hard knocks of the acting game. It taught how demanding a hit show can be. It also showed me how wonderful it could be to be working and doing what you love and it not feel like work at all, I will always appreciate the skills and opportunities my experience has taught me and I know it is by God's favor and grace I am here today.
After standing out too much as a "stand-in" on Criminal Minds, I had to move on in my career as an entertainer. As I was leaving, I said "I'll probably have my own show soon." I was so crushed but I did not let that stop me. Not knowing at the time, that a year later I would. And I would have complete creative control! "My Beauty Corner Show " was on the way with a vengeance. A kind and loving vengeance of course, ☺️
I have this thing about if you did it once you can do it again. "I had a show before so let's just do it again, " I would always tell myself. And I still do. For seven weeks in a roll, I shoot, filmed and produced a video and fashion blog about fun free things to do in LA. I called it "My TV Show On the Internet."
By the 7th week Cyberlink, app guru, contacted me about a launch of their Beauty app YouCam. They wanted me to film a 60 min show on their network at which I would have complete creative control and be able to write, direct, and produce content of my own. I was the prototype for many of the other casters to base their shows off of. It was such and is still such a dream come true. With over 500 shows under my belt and 110,500 followers and counting. I get about 1000 new followers every week. It only two and a half years!
I am also focusing on a few projects where I will be traveling to Flint, MI and helping the water crisis with the influence I have now. I want to be the change I want to see and I know it starts with me. My music being one of them.
Has it been a smooth road?
Well, we all go through things in life but instead of letting adversity get me down, I use it. I use as a way to push me to go harder towards that goal. Heartbreak seemed to be my downfall often. Loving the wrong people in the wrong time. Having my beautiful daughter Izabella Emma, out of wedlock was a bit of a struggle but she is such a blessing that she lightens the load. Having my friends turn their back on me from big city to big city and learning to stand alone and lead was also a challenge.
So let's switch gears a bit and go into the "My Beauty Corner Show" by Love Always story. Tell us more about the business.
My Beauty Corner Show by Love Always is an empowering live video blog that encourages you to just be you! Your natural beautiful state. We can use fashion and makeup to have fun with but it is not what defines us. I share beauty tips, motivation tips, fashion tips and self-love tips. I also travel and show fun free things to do in select cities from time to time. Every Thursday I have a "Weekly Picks" Show I film on location somewhere cool in LA and I feature it along with some select picks and quotes.
My motivation station is what I am known for. It is the section of my show where I encourage people to stay positive. I read powerful quotes and proverbs and encouraging meditations. The more positive you are the more positivity you are going to bring in your life. Some people just come to my shows to hear that. I also add etiquette on my shows for the old school and new. My audience ranges from 6 to 60 years young and I love it!
I even sing to every person who watches me on their birthday. I often do the "Write A Song With Me" section on my shows as well to practice and to interact with my audience more. Beauty Tutorials are often done and fashion themes as well as skincare and momlife and recently wife life 🥰. I talk about the real ups and downs of being a co-parent as well. And I am relatable because I feel like it is very important to show the realness and the bounce back.
How do you think the industry will change over the next decade?
I see shows being in hologram form. I see people being able to feel the beauty products they try on in filter apps like YouCam. My app I work with lets you try on the products in a filter. We work with all of the major makeup and beauty companies. In ten years you will be able to feel the filters I think. Literally. Or it will be so realistic you will have no need to go to the physical stores ever again.
Contact Info:
Address: My shows are on:
Mondays at 11:00 a.m. PST
Thursdays Live at 5;00 p.m.
Friday at 7:00 p.m.
Saturday at 8:00 p.m.
**please download to watch Live**
The YouCam MakeUp Selfie Makeover App
Website: Reverbnation.com/lqe
Phone: 3234120275
Email: mybeautycornershow@gmail.com
Instagram: @77.77.77.77.7777
Twitter: @lajames7

Image Credit:
Lynn James
Suggest a story: VoyageLA is built on recommendations from the community; it's how we uncover hidden gems, so if you or someone you know deserves recognition please let us know here.