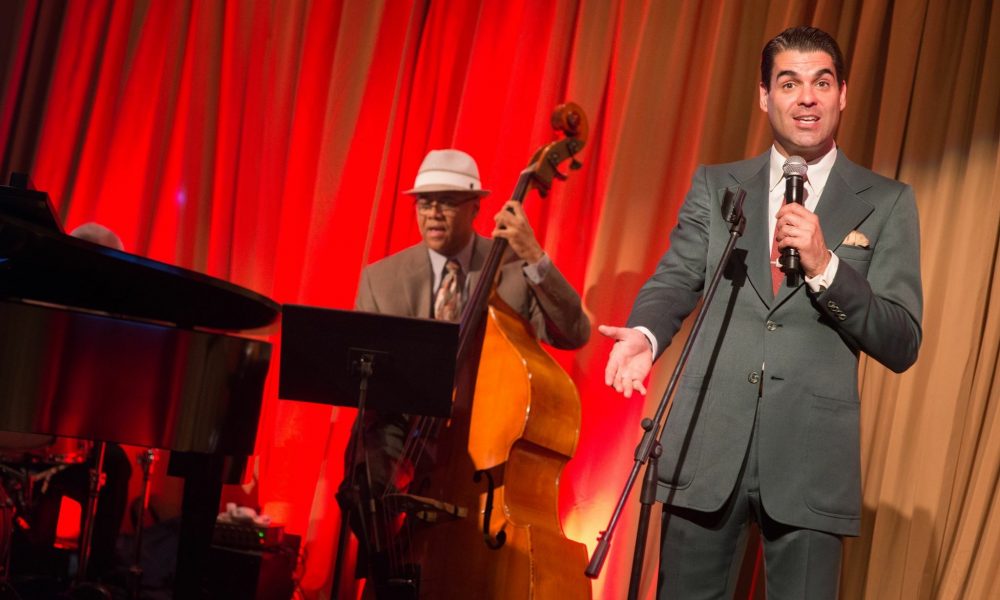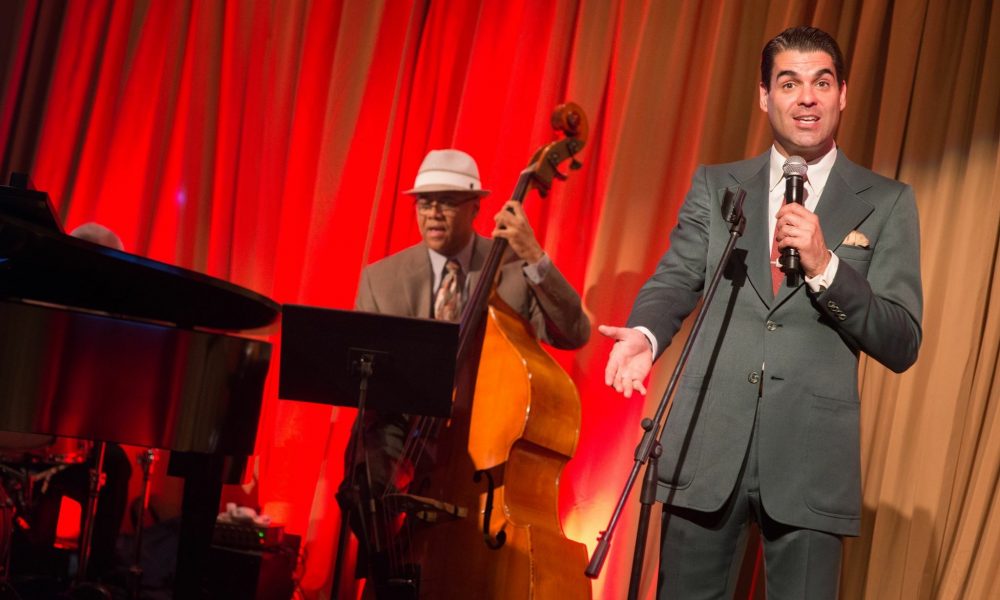 Today we'd like to introduce you to Luca Ellis.
Luca, let's start with your story. We'd love to hear how you got started and how the journey has been so far.
I first started singing professionally at Mastro's Steakhouse in Costa Mesa California in June of 2006. I was working as a food runner for them at the time. They hadn't had a musical act for their Sunday dinner service for a few weeks. After a few months of pleading from me and the executive chef Matthew Briggs, the Regional Manager finally had me audition and then offered me the job. Within a month, my piano player got us another gig at the Ritz Restaurant in Fashion Island. That put me at two nights a week within a month. About 3 months later, Mastro's opened their 4th CA location in Thousand Oaks. They asked me to give up my Sunday in Costa Mesa and in return, they'd hire me for Sunday and Monday in their TO location. That's when I went full time! I was a bonafide full time Crooner in 3 months! Not a bad transition period to go pro! I continued to sing at the Ritz and Mastro's for the next 3 years. Went on to sing at numerous different places. Mostly 5 star hotels and fine dining supper clubs.
I didn't move to LA to be a Jazz singer. I actually moved here like so many other dreamers, in the pursuit of acting. I can honestly say I "fell" into singing professionally. Let's rewind a little bit. It was late 2004, I decided to pick up a Frank Sinatra album. I was still living in Denver at the time. Needless to say, it changed my life! Honestly, I didn't know I was a true baritone until I started singing along to Mr. S. I think, I initially approached Sinatra as an actor. What really made Frank standout compared to all other singers way back then and since, was that he was a storyteller. His style was so easy and conversational, not to mention the phrasing and breath control. Once you learn to approach a song that way, there's really no other way to sing in my opinion. I'm still an actor and instead of singing a song. I tell stories through monologues set to a melody. A marriage of words and music. I think that's what makes the Great American Song Book so special. It's art in it's highest form.
After playing Sinatra in numerous musicals spanning from North Hollywood all the way to the Sahara Hotel and Casino in Las Vegas. I approached one of my Musical Directors and pitched him an idea. I wanted to recreate the taping of a Frank Sinatra TV Special titled "Frank Sinatra: A Man and His Music". The idea was to transport a theatre audience to the mid sixties to the production of one of these specials. A theatre audience transformed into a live studio audience if you will. Directed and co-written by Jeremy Aldridge, the musical was a run away success! "Hoboken to Hollywood" ran for seven months at the Edgemar Center for the Arts in Santa Monica. It went on to win the Ovation Award for Musical Direction and it swept the LA Weekly Awards 3 for 3 Musical Direction, Best Direction of a Musical and Musical of the Year. This gave me a new title. Award winning playwright.
Another highlight came when the Beverly Hills Hotel approached me about launching their live music series at Bar NineteenTwelve. It was all part of the Centennial celebration. The old "Pink Lady" had turned a hundred. That summer the General Manager and Regional Director for the BH Hotel Edward Mady and the Assistant Director of Food and Beverage Robert Rouleau decided to open the pool to the public for the first in a hundred years. For entertainment they had the Luca Ellis Quartet playing from 6 to 8. In between the two sets, the audience was delightfully entertained by the world's most glamorous water ballet troop "The Aqualillies". The event was titled "Friday Poolside Soirees". That's where I had the pleasure of meeting Cory Martin of Cory Martin Events (Recently changed to Martin & Vanegas Agency), now a colleague and dear friend. Mr. Martin was dubbed the "Event King" by LA Confidential Magazine. This guy is soaring straight to the top! The "Big Up There!" In fact! He was recently interviewed by your wonderful publication "VoyageLA". This is a people business and I'm honored to be playing on the same playing field as people like Mr. Martin. I strongly believe that in order to be successful, one must surround themselves with successful people. Again, it's a people business. By the way, I still sing at the Beverly Hills Hotel on Thursdays.
Has it been a smooth road?
One particular challenge my production team and I faced was with musical clearances. About three weeks before the opening of our musical Hoboken to Hollywood. Warner Bros. blocked our request to use their songs in the production. Since FSE (Frank Sinatra Enterprises) declined on giving the production their blessing. In turn, Warner/Chappell decided to revoke our request because of their working relationship with Tina Sinatra and company. We were pretty surprised since Frank Sinatra hadn't really written any of these tunes nor had he ever owned the publishing on them. Even after painstakingly removing the name Sinatra and even Frank from the play, they wouldn't budge. We were then forced to replace half of our songs with new ones. Luckily, when you have all these lyrics from songs you've been singing for years floating around in your head, it didn't take that long for me to pick other tunes that were similar in substance. Having such an amazing team with Peach Reasoner our producer, Paul Litteral our musical director and especially Kendall Wallace our arranger, we pulled it off in time. Not only did Kendall have to come up with all new arrangements, but we had to have the band ready and rehearsed in a matter of two weeks. Peach Reasoner hustled in insuring the musical clearances were obtained before opening night. Again, you really need the right people behind you for true success. Obstacles come in all shapes and sizes.
Having the right team is everything. I can honestly say it turned out to be a better production. Not having the typical chestnuts for the playlist made for a more interesting musical. Songs people had never heard, or tunes they hadn't heard even on the radio for over 30 years. People were delighted. As far as losing the name of the character I was playing made for an edgier and cooler play. After all, Frank Sinatra was certainly a man who needed no introduction. People would ask me, is this play about Frank Sinatra? I would merely say, who do you want to be about? That also turned the musical into a salute to the songbook. It wasn't as much about the man as it was about the true star of the production, it became more about the music. Hence the tag on the title Hoboken to Hollywood "A Journey Through the Great American Songbook" We were not only entertaining people but educating them at the same time. It's funny how most obstacles in life can turn into true blessings.
We'd love to hear more about your business.
Since 2006, my company has provided live entertainment for all sorts of occasions. I've had the pleasure of working with some of finest musicians Southern California has to offer. We cater to any and all types of events. Weddings, birthday parties, corporate events of all sorts and live entertainment for restaurants and hotels. Ensembles from a Jazz Duo all the way to a Big Band. What sets my company apart from all others is my unique signature sound. Many have tried to duplicate it, none have truly succeeded. The only one to have the sound that I have would have been my predecessor, Francis Albert Sinatra. In an interview with Walter Cronkite, Sinatra was asked "What do you want to be remembered for?" He merely answered "I would like to be remembered as a man who brought an innovation to popular singing and I wish someone would hurry up and learn how to do it so it doesn't die where it is" Mr. Sinatra taught me this innovation and it's a torch I intend to proudly carry for the rest of my career. If there's any chance I can inspire someone the way he has inspired me, well that'll be a life worth living.
Is our city a good place to do what you do?
I think LA is a great city for this business. Not only is the restaurant culture booming which creates venues for live entertainers but there's also a lot of money in California. Individuals and corporations who would need my type of services. Corporate events and fundraisers are a big part of our business. Also, if you happen to create your own content, original music and so forth. You'll have the entire entertainment industry to pitch your licensed music to. The music business has changed tremendously since the birth of the internet. People don't buy recorded music like they used to, everything is streamed. Licensing is where good money can be made. My other advice would be is find your niche. Being specialized in something eventually makes you an expert at it. Find your calling and then take it head on.
Contact Info:
Image Credit:
Aaron Perko, Michael Town, Mark L. Rappaport, Jenz Mize
Getting in touch: VoyageLA is built on recommendations from the community; it's how we uncover hidden gems, so if you know someone who deserves recognition please let us know here.