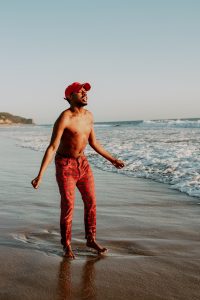 Today we'd like to introduce you to LReco Aireon.
LaReco Dixon, also known to the internet as Official LReco now renamed LRECO AIREON, is an American Actor and quickly rising Social Media superstar, and YouTube personality. He is the creator of many projects including this podcast "Self Approved with Official LReco & Jayo Staxx" and soon to be a published author for his book "Officially Becoming Me".
Born a South Carolinian to being raised as a (Houston) Texan to now taking on the life of a Californian Hollywood boy, as Kyle the artist would say "enjoy my views from Hollywood". Taking over just one step at a time. From a boy to a Bawse. We could go on and tell you more about him but through all of the work he does you will get to learn him. So pay close attention and make sure you support him now because soon he will be on the biggest of screen and around the nation he will go spreading positivity and love through the truth, which is his mission. When he has a plan he goes after it, or what he says "I create and I DOMINATE". Let's not forget he is also the creator of Followed: a Docu-series on YouTube (https://www.youtube.com/playlist?list=PLd3j-_5Pysbk_JdClATwki3eonWTe_w9N) and newly LReco has been creating and relaunching his new magazine (March 8, 2020) the tag is "Artist Becoming Legends. 2020. We can see now we BECOME" inspired by our former First Lady Michelle Obama. "You can always become something." – LReco Aireon
The Bawse*, LaReco Dixon is a bi-costal Actor, Dancer, Singer, Director, Photographer, & Podcaster. Born in South Carolina, and then raised in the big city of Houston, Texas. He isn't a superstar, LaReco isn't a human but he is a unicorn, actually what he calls himself the "Official Unicorn".
An actor is a person who portrays a character in a performance. This is my home, my truth, my calling. That line was stolen from Marissa Moses, having been fueling since in Elementary, I never understood it. It's hard to tap into who you are when throughout life you've been portraying yourself as another character. Finally it hit him. In the above description of the word, "actor" uses the word "portraying" and portraying is to an actor as fact is to truth My soul, Cries for my attention. This is who I am. Truth bleeds into all my creative endeavors. It is through roles both for the camera and on stage that I find access points into understanding myself more fully. This is the power of art in all disciplines and uniquely palpable for me within acting with the power to access empathy more deeply and create a fully realized character to share. I believe in self-discovery through storytelling. Every character worth embodying has a journey that is universally human.
Creators are individuals who produce content. In addition to being on-camera talent, creators frequently produce, edit and promote content across multiple platforms. There are so many words to describe LaReco, but the creator is definitely one of them. "If you want an original story, write about your own." Tyler Perry said these words and he took them to heart he became the creative weirdo that he is. His most current project is the Self Approved campaign. The goal of this campaign is to encourage more love, positivity, and support among each other to help end "self-loathing" and "self-deprecation". Self Approved goes beyond positivity and community—it empowers everyone with confidence and the resources to become incredible leaders. LaReco has been working on his debut book "Officially Me". Creating a guide to being whom you are meant to be. Not trying to fit in but to stand out. Having support from the phrase "you're official by your own approval". Recently, LaReco created a spin-off of the campaign to spread these same messages through truth by launching a podcast with a co-host Jayo Staxx. This isn't even the half of the original work done by Reco. A mission to help spread positivity and love throughout the world, even when he makes his content for YouTube. Hoping others will get the lesson that a verified badge doesn't make him and a pair of shoes don't break him.
*A Bawse is a human being who exudes confidence, turns heads, reaches goals, finds inner strength, gets hurt efficiently and smiles genuinely- because they've fought through it all and made it out the other side. The double-handed praise was created for them. https://larecodixon99.wixsite.com/larecodixon/about
Overall, has it been relatively smooth? If not, what were some of the struggles along the way?
It definitely have not been smooth. This has been one of the hardest things I've ever had to go through. Moving away from your comfortable spot can be a bit hard. Really hard honestly. I had to basically understand how to be an ADULT without being and ADULT. For a long time, I've wanted to quit because of finances, even times where I didn't even know I was going to stay but every time my faith in God, the Christ Jesus, kept me here and He kept supplying for me. I have to before I go any further say Thank you Jesus because all of the things I have done and will continue to be able to do I all through the favor and grace of Jesus. I am a firm believer of what I believe in and supporting hat you love and NOT bashing what you hate. But yeah going without food, and almost no place to stay, as well as, just struggling with acceptance and finances. It was pretty rough but when God send you no man can do away with His plans. Jeremiah 9:11 KJV "For I know the plans I have for you," declares the LORD, "plans to prosper you and not to harm you, plans to give you hope and a future." and Revelations 3:8 KJV "I know your deeds. See, I have placed before you an open door that no one can shut. I know that you have little strength, yet you have kept my word and have not denied my name." These are just a few of the many that I keep in my mind but also Beyonce has said "If you're feeling significant, you better think again, wake up because you're apart of something bigger. You're not just a spec in the universe, you're not just some words from a Bible verse, you are the living word, you are apart of something way bigger".
Bawse Visual Productions – what should we know? What do you do best? What sets you apart from the competition?
One of my most biggest inspiration of all time is Uncle Tyler Perry. This man has worked his self to the bone to create a legacy and he's built his dreams because someone is tied into his dream and that someone is me. Uncle T went from being homeless to putting on his first show and about roughly 30 audience members showed up in 1999. And now this man has a studio that is bigger than Disney world and Universal put together. Wasn't ready for that one I know. So the person I am trying to be what I was called in high school "little Tyler Perry". For years and over two decades this man has help our family heal and brought joy through screens in our homes. This man is the reason our family is as strong as it is. When we felt down we would pop in some of his materials and we would watch, sing, cry, laugh, and then feel better. "Sometimes you have to laugh to keep from crying." and that is what we're doing. To sum this all up, this is who and what I dream to be. I want to keep creating avenues for other up and coming artist to get started and be known. I refuse to sit around and allow all of these other human that is just putting out projects for clout but there are also other artist that is putting everything they have in them self, literally following the words of Beyonce again "step out your estimate and step in your essence", and they have stepped out of what people said about them and then stepped into even greater, their essence.
I am most proud of becoming who I am. If I had to be specific here's a list of my proud accomplishments in my life from the year 2019. https://www.facebook.com/lrecodixon/posts/2503703993181655 oh and my podcast is the best, The Self Approved Podcast. "Spreading Love and Positivity through the truth."
And the magazine: Becoming Magazine (https://www.larecodixon99.wixsite.com/becomingmagazine).
I am an ACTOR, CREATOR, PRODUCER, DANCER, SINGER, etc. I do alot. I have a company called Bawse Visual Productions. Formerly known as DCS Photography and Bawse Visual Photos, changed on August 1, 2018. Created in August 2014, re-branded in August 2018, LaReco Dixon, founder and CEO, wants to spread the love and positivity through visual style and production. Bawse Visual Productions is to help encourage communities to create & conquer.
Excited to announce, Founder LaReco Dixon has been working endlessly to create something he loves. As you can see, he's changed names and mottos so many times. All behind creating a Plan A and making it Plan A 2.0 instead of changing the entire plan. After all, this new motto is "Create & Conquer". To cre·ate is to bring (something) into existence and to con·quer is to successfully overcome (a problem or weakness) or to climb (a mountain) successfully. Whether it's metaphorically or literally you have to be proud of what you do and how you publicize your work. It helps to spread positivity, which is to "support what you love and to NOT bash what you hate". Now introducing to the world, Bawse Visual Productions. Get your logos, t-shirt designs, flyers, business cards, photography, and other graphic needs right here.
Remember a Bawse is a human being who exudes confidence, turns heads, reaches goals, finds inner strength, gets hurt efficiently and smiles genuinely- because they've fought through it all and made it out the other side. Being a "bawse" means you are not someone who survives life, you are someone who conquers it. That's the best way to describe it. Whether it's your personal life or your work life, your relationships, it's someone who really takes care of being the best they can possibly be.
What is "success" or "successful" for you?
Success and being successful are two in the same. And yes, I said two in the same see. Success is defined (noun) as the accomplishment of an aim or purpose, and successful is defined as (adjective) accomplishing an aim or purpose. An adjective is what describes, so I rather Success, because in order to become successful I have to gain success.
Success is wealth, sanity, positivity, love, caring, family, creating, acting, dancing, capturing moments.
Pricing:
Self Approved x GLAAD x HRC S4 Tee – $20.00
Self Approved x GLAAD x HRC Hanes Tagless Tee – $25.00
Self Approved x GLAAD x HRC Long Sleeve Tee – $30.00
Self Approved x GLAAD x HRC Hoodie $40.00
Self Approved x GLAAD x HRC Mug $16.00
Contact Info:

Image Credit:
Bawse Visual Productions, Heidi Nicole Photography
Suggest a story: VoyageLA is built on recommendations from the community; it's how we uncover hidden gems, so if you or someone you know deserves recognition please let us know here.