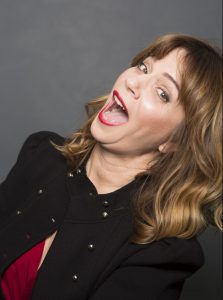 Today we'd like to introduce you to Lori H. Schwartz.
Thanks for sharing your story with us Lori. So, let's start at the beginning and we can move on from there.
This is a chapter from a book I'm writing, that I hope is valuable to use for this:
When I arrived, I worked on a bunch of movies. One day, I met Paul Michael Glaser, who played Starsky in the hugely successful 1970s crime-solving, quirky TV series Starsky and Hutch. The movie we worked on together was a "blockbuster" hit called Kazaam! It still kind of makes me laugh. This is the combined live-action/animation/visual effects movie that co-starred Shaquille O'Neal, which introduced him to L.A., several years before he became a Los Angeles Laker. The movie had a lot of visual effects, which I liked.
Working on those effects had a profound impact on my life and career direction. At the same time, as it turned out, Apple was experiencing and driving the desktop publishing explosion with the MacIntosh computer. During those mid- and late 1990s, publishing changed forever with programs like Quark Express and Final Cut Pro. Now we could design pages or cut films if we learned the programs — a very empowering form of do-it-yourself, long before DIY became a consumer buzz phrase.
I knew what I saw — and jumped on it. I started interning and volunteering at Apple, which held to classes in Santa Monica. Then I started attending shows that featured high-tech and digital. It just happened. Next, I got a job at an Internet company, my first direct experience in that space. The whole idea while I was trying on all these new career options and learning the heady new technology was quite simply, "I want to direct, I want to perform." I was shooting short films, I was writing comedy, I was just trying to find ways to express it all.
Soon thereafter, about 1995, I was hired by another Internet company that was later bought out by Interpublic (IPG), one of the biggest marketing and communication companies in the world. Once the acquisition dust settled, I was considered the 'new stuff' person at IPG, because I'd keep saying to leadership, 'This is happening. Video's going online. We've got to get in. I know how to use Final Cut Pro. Let me set up Final Cut Pro for us.' I set up Final Cut Pro, compressed video, and volunteered to attend trade shows. I quickly became regarded as the 'new stuff' person by this massive company.
While discussing desktop publishing and new technologies with others, I found it really hard to explain how these programs worked, and how revolutionary they really were. Today, we call this type of technology "disruptive", because it changes the face of its market sector as well as the public's idea of what is possible because of that technology. Sometimes, it changes the entire industry. Think laptop computers. Or iPhones. Desktop publishing promptly changed the face of the publishing world. When Oracle, CNN and America Online partnered to launch the first online news service and website in 1996, CNN.com, they permanently disrupted publishing. Digital publishing largely rules now.
A light bulb went on in my head. I went to leadership and said, "We need a lab to showcase this stuff. I can't explain what's happening. I need to do demos, show how this stuff works." At the same time, they were talking about a lab, so they funded a technology content lab for marketers and brands. Today, building a tech lab or demo area is common (many cities and rural counties lure young workers and new businesses with tech labs and start-up incubators as part of their long-term economic development strategies). In the mid- and late 1990s, it didn't exist.
IPG Emerging Media Lab became the first such media-creative lab in the world. We housed it in a million-dollar space on 5700 Wilshire Blvd. in Los Angeles, in the Variety building. Our lab was a heart an education center. We showcased the latest consumer platforms as the iPhone revolution took hold. We did demos. We did technology tours. We hosted innovation days for Fortune 500 companies to teach their senior leadership about where consumer eyeballs were focusing, and the importance of approaching storytelling from a multi-platform perspective. We also emphasized that they needed to factor 'technographics,' what consumers were doing with tech, into their communications plans. We were the first space to showcase tech to brand, media and tech companies — the first time all three were together.
For the next five or six years, I ran that lab. We had a lot of fun. We faked wireless video and outfitted a living room with an X Box utilized as a set-top box (which it later became), but nobody understood at the time. Our gaming room doubled as a college dorm room, a digital home wall, and a retail space. This is standard stuff today, but fifteen or twenty years ago? It did not exist in the larger world.
After that, I started receiving invitations to speak at industry events, because I was running the lab and I presented well on stage. Plus, when you're known by an advertising giant as the 'new stuff' girl, your public persona starts to build, whether you've jumped onto the fast-moving train or not. Fortunately, I loved every bit of it. I was funny, a good host and an informed moderator. I was able to explain the new tech in a way that everyone understood. When I look back, this was the biggest entry point into what I do now. I was sent onstage, time and again. Then I started moderating my own panels.
Five or six years after we started the lab, things began to change. IPG moved the lab to New York, the media entity's headquarters. We had proven over and over that our education space was winning the IPG agency business. However, in the end, it was a cost center and they needed to monetize it more formally. There was also a war going on between the creative, media and tech agencies… and still is, in many ways. Integrating these three is key to true consumer engagement, but leadership then was really siloed, focusing only on their specific areas. I firmly believed that media, tech and creative have to work together. I still do. Talent and resources should be aligned with skill sets, not stuffed into a box or a preconceived notion of what you need.
Eventually, they asked me to run a lab focused on selling media products. I was not interesting in being a salesperson. Maybe my ego got in the way, but I saw myself as a fire starter, a teacher, an innovator.
In the real world, though, innovation must be monetized. It's beyond being just a word that lights us up.
I understood that IPG was running a business. When you do that, you have to identify which products will make money so you can remain in business. However, the bigger part of me said, "No way. This is becoming a world where content is king. Media and tech and creative will swirl together." I moved into a different business unit and started working with different leadership. My boss, Greg Smith, was a real visionary who understood the need to operationalize innovation. We had to find a way to explore startups and weave their thinking into the company, organically harvest new ideas from the staff, and create a culture of engagement. Greg called himself a "technology catalyst". He designated one person in each region to become one. We called ourselves Tech Cats — a pretty catchy name.
After two years of working for and learning from Greg, my baby girl was born. I left IPG and decided to go independent. I was hungry to make my time matter at a time when I felt my agency colleagues were happy with the status. As I pondered how to brand my services and make a splash as an entrepreneur, I thought to myself, "This Tech Cat thing… there's a character there!" Drama majors and improv performers definitely know how to populate characters. I began interviewing industry experts, innovators and visionaries as the Tech Cat because I found that I loved interviewing others and also being part of the conversation rather than just conducting straightforward question-and-answer sessions. I decided to start a podcast, a radio show, with this interviewing format.
Back in 2012 and 2013, podcasts were barely happening, few people knew what they were. (Now, we can look back and see that podcasts and streaming video were two disruptors that merged into our lives in the 2010s.) I worked my way onto live Internet radio and, several times per month, interviewed a significant influencer or creator in the technology, media, entertainment or content space. I became really good at it and began to build a dedicated audience.
That became the birth of The Tech Cat Show.
The Tech Cat Show fit everything I was doing professionally, that I loved, that impassioned me. It also kept my constantly curious, my constantly churning mind fully occupied and enthralled. Suddenly, it made sense to leave my big job, and it helped me to craft what I was going to do for a living as I moved forward. It also fits my idealized profile of being a female who was able to go on a podcast, TV or on a live stage and speak tech, and media and creative. It all swirled together. That's what the last six years have been about.
Now part of my job when I was at IPG was to introduce and evangelize new technology and I did that by bringing clients to the Consumer Electronics Show, really the biggest Tech show in the world and using their words, the home for "Global Innovation". I walked executives around and explained everything to them. Working with some colleagues who were also independent, we formed a company together called StoryTech, because we were explaining the story around tech; we started offering tours and other innovation 'education' services to them.
Now, along with my 'Tech Cat' platform, I market myself under my company StoryTech. I consider myself an experiential marketing executive and StoryTech is really focused on pairing brands, storytellers and technology companies together to create experiences that foster business success. StoryTech's trends briefings, curation & tour products are well known globally through work @CES, @NAB, @NATPE and @IBC to name a few.
Has it been a smooth road?
Well, I've never had a #metoo movement, but I have felt the 'thousand paper cuts' thing that Sheryl Sanders referred to, where opportunities and considerations didn't come my way because of my gender. I can name many occasions over and over again where I'd be in a room of senior leaders, mostly male, where I said something and my male counterparts got the credit. Or the culture impact of not being 'one of the guys'. The other aspect to that is being someone who sees the future ahead of everyone else, who is a mix of creative, production and tech ….well, that can be very intimidating to some folks…a lot of dismissal due to fear. But the truth is, while I've felt all of that misogyny and misunderstandings of being this unique combo, I haven't let it get in my way. I just keep going…but there are moments when I acknowledge it and hope that my daughter will have an easier path.
How do you think the industry will change over the next decade?
I think we are in a rare moment where the speed of changing is moving so fast, that it's overwhelming. You can introduce a new idea and a trend, and then instead of 3-5 years out, it's happening. And many people talk about Moore's law no longer being valid, because the processor speed is more than doubling, we are now looking at a new GPU law, where the speed and power of graphics cards are enabling a who new level of content generation and experiences, real-time graphics processing that will change the nature of what we see and consume as content. I also believe that because all these trends are working in synergy (AI, 5g, VR, AR, Blockchain), the results of that combination are pushing things forward as well.
Contact Info:
Suggest a story: VoyageLA is built on recommendations from the community; it's how we uncover hidden gems, so if you or someone you know deserves recognition please let us know here.